THIS IS A SMALLE SELECTION OF WHAT WE SELL
WE IMPORT TWO WORLD FAMOUS BRANDS TRAXXAS AND HPI
CLICK ON LOGO FOR MANUFACTURERS WEB SITES
WE OFFER FULL REPAIR SERVICE AND FULL PARTS BACKUP
Traxxas X - Maxx 8s brushless. innovation in every nut and bolt. €1250.00
50Mph + out of the box.
not for the faint hearted.
read the reviews and watch the videos all the magazines and websites back up the claims nothing comes close out of the box. now taking pre orders for the new and improved 8s with even more power straight out of the box.
LIMITED AVABILITY WORLDWIDE!!!!
The ultimate in off Road R/C the best truck money can buy. known globally as the best R/C Truck over.
X-Maxx is an all-new, clean-sheet design, engineered from the start to take Traxxas Tough to a whole new level.
Unrelenting 4X4 power, mammoth size, and ferocious determination makes this mighty monster a truly worthy
successor to the Maxx legacy.
X-Maxx is enormous. Size wins by giving you the advantage to power over and through extreme landscapes. Mammoth
8-inch tall tires, long-arm suspension, and huge ground clearance dwarf the surroundings for virtually unstoppable
Monster truck fun.
Wildly over-powered, X-Maxx stays true to form with its Maxx ® DNA. 8s 30+ -volt dual-LiPo muscle and a Velineon
1600XL Big Block motor propel X-Maxx with brutal authority and an exacting quickness that completely defies its
enormous size. Before X-Maxx, monster trucks would sometimes roll over upside down, bringing the action to a
screeching halt. Now, press a button and in most cases this exclusive patent-pending Traxxas innovation flips X-Maxx
back over onto its wheels so that you can quickly get back to having fun.
Brushless Power System 50+ MPH Speeds. Waterproof Electronic Speed Control Improved Stability Management.
High Output Radio System Improved Body Mounting System. 4x4 Wheel Drive. Improved Motor Mounting System For
Easy Access and Maintenance Modular Composite Parts For Customization and Maintenance Aluminum GTX Shocks.
Energy Absorption Bumpers. Compatibility for Back-End Accessories And Much More!
The World's Fastest Ready-To-Race ® Supercar 100 MPH €995.00
0-100mph in under 5 seconds! REAL SPPED NOT SCALE
Traxxas ® is The Fastest Name in Radio Control ®. For over 25 years, they have made it their mission to innovate. To lead. To find the next level of performance and capability. They are driven by a passion for speed and power, and now Traxxas has redefined the meaning of both. State-of-the-art technology. Cutting edge design. A total focus on quality and precision. All have been distilled into one vehicle that could only come from Traxxas. 0-60 in 2.3 seconds. 0-100 in 4.92 seconds. Top speed over 100mph! Simply put, the XO-1 is the world's fastest Ready-To-Race ® radio controlled supercar.
NEW Traxxas Stability Management
TQi 2.4GHz Radio System with Traxxas Link Wireless Module
Bold ProGraphix Painted Bodies
100+mph Out of the Box with optional Power Cell LiPo batteries
Castle Creations Mamba Monster Extreme Speed Control
Traxxas Big Block Brushless Motor, Powered by Castle
Integrated Speed, RPM, temperature, and voltage Telemetry System
All Wheel Drive
Traxxas Muscle, Powered by Castle
When the goal is 100+mph, "off the shelf" is out of the question. Traxxas partnered with Castle Creations to develop the Mamba Monster Extreme power system specifically for the unique power requirements of the XO-1. The proven Mamba Monster Extreme System has been enhanced for higher output when used with 6S LiPo power. From its integrated capacitor bank to the proprietary software created just for XO-1, the Mamba Monster Extreme speed control represents the state-of-the-art in big-volt power delivery. The custom Traxxas Big Block brushless motor invites "cubic inches" to the party for massive acceleration and true supercar performance with the largest brushless motor ever offered in a Ready-To-Race model.
Accelerate Faster/Corner Faster/Brake Harder/Stay in Control
Traxxas Stability Management (TSM) allows you to experience all the extreme power, speed, and acceleration that was engineered into your XO-1 making it much easier to control on common slippery surfaces such as dusty asphalt, smooth concrete, and even ice and snow. Punch it off the line and TSM goes to work sensing the vehicle's direction and making steering corrections to provide straight-ahead full-throttle acceleration without fishtailing, spinouts, and loss of control. TSM also works during cornering, first making intuitive corrections to maintain your line, and then allowing you to hammer the throttle earlier in the turn for much faster exit speeds. Braking is dramatically improved as TSM works to keep you arrow straight until you come to a complete stop.
The World's Most Advanced Ready-To-Race ® Radio System Now Connects Wirelessly to the Traxxas Link App
The Traxxas TQi paired with the Traxxas Link app is the most advanced, feature-rich, Ready-to-Race ® radio system available. Now, TQi connects wirelessly to the latest Traxxas Link app for the ultimate in ease-of-use and control. The TQi radio system can be equipped with the Traxxas Link Wireless Module to unlock exciting features such as instant Bluetooth ® connectivity; access to the full range of powerful TQi tuning and telemetry tools through an intuitive high-definition graphical interface; and the ability to have a friend remotely monitor real-time telemetry while you focus on mashing the throttle. Your co-driver can even make adjustments for you, remotely, while you drive. No other radio system can do that. Just like the speed and performance Traxxas engineers into the vehicles, the power and capability of TQi and Traxxas Link expands your fun into all-new territory. Only from Traxxas, The Fastest Name in Radio Control ®
Required to run:
2 x Battery Pack, (2x 8.4volt NiMh or 2x 2S or 3S Lipo)
Charger
4 x AA Batteries
Ford Fiesta ST 4WD Rally, NOS Deegan 38 €445.00
Traxxas athlete and motocross legend, Brian "The General" Deegan may be an expert on two wheels, but he has earned his stripes in short course racing and rally cars. The Traxxas NOS Deegan 38 Rally captures the look and spirit of Brian's Ford Fiesta ST with this authentic replica body. The low, aggressive stance is amplified by the wide fender flares and replica rally wheels and tires. Brian's NOS livery is faithfully executed in stunning detail on the fully painted heavy-duty body. The decals come pre-applied to get you driving in minutes out of the box.
The Traxxas NOS Deegan 38 Rally rolls out of the box ready for driving fun with factory-adjusted TQ 2.4GHz radio, XL-5 power system, Power Cell 7-cell NiMH battery, and detailed instructions. Traxxas backs the Rally and all of our products with top-notch support that is second to none. A staff of skilled representatives is on hand to answer your questions via phone, website, or e-mail. Unmatched parts support keeps your Rally running strong with parts and support from thousands of hobby dealers worldwide. Your investment is also protected by the Traxxas Lifetime Electronics Warranty. Traxxas goes the extra mile to ensure that your R/C experience is easy and fun--and fast!
QUICK FEATURES ON NOS DEEGAN 38 RALLY
Officially Licensed Ford Fiesta ST body with Brian Deegan/NOS Energy graphics
Full-time 4WD
TQT 2.4GHz radio system
iD-Equipped 7-cell Power Cell NiMH battery
Waterproof electronics for all-weather, all-season R/C excitement
Titan ® 12-Turn 550 modified motor
Powerful XL-5 waterproof electronic speed control
Built brushless ready for easy upgrade to Velineon power
Low-CG fiber-composite monocoque chassis with high approach angle front bumper
Race-proven sealed Revo-Spec ® differentials
Scale all-terrain front and rear tires offer superior on- and off-road traction
TRAXXAS SKULLY €335.00
GREAT VALUE QUALITY TRUCK BY TRAXXAS
It's a cage match that can't be contained. Two new headstrong competitors have been unleashed for a brutal, headbanging fight to the finish line. Skully is full of screaming rage with it's blistering ghost flames and hard charging attitude. Craniac is the darker menace with its otherworldly looks and punishing stare. No matter which side you choose, the ensuing battle is nothing but pure monster truck driving fun for you. Skully and Craniac bring a whole new wheels-up, bone-crushing attitude to the best-selling Traxxas Stampede platform's proven performance, incredible waterproof durability, and unsurpassed value. Learn more about Skully's rival Craniac here.
Based on the best-selling Stampede, Skully brings a new face to monster truck action. Skully is a heavy-hitter with legendary ruggedness and a whole new attitude, ready to jump into the ring and take on its arch rival Craniac! It's pure monster truck driving fun.
Skully takes the fight seriously with massive torque ready to grind opponents into the dust. Combine the horsepower with the tall, drive-over-anything ground clearance; ultra-tough suspension; exclusive waterproof electronics and easy operation, Skully quickly crushes its way to the top of the podium leaving a mass of carnage on the arena floor.
Skully is one headstrong monster truck! Crushing cars, catching big air, and wheelies have never been this much fun. Skully's unique style, capability, and Traxxas-tough durability is unmatched. When it comes to speed, the Titan 12-turn 550 modified motor and racing-style Magnum 272 transmission launch Skully to speeds over 30mph*. The integrated cooling fan in the Titan 12T pulls air through the motor keeping it cool. Airflow is routed through cooling channels molded into the motor plate. A cooler running motor delivers faster speeds, longer runtime, and extended motor life.Skully benefits from its Traxxas heritage incorporating advanced Revo technology to bolster performance. The Magnum 272 transmission is fully sealed and comes equipped with efficient and precise ball bearings and an advanced Revo-Spec Torque-Control slipper clutch. Terra Groove tires provide sure-footed traction no matter how extreme the terrain. Terra Grove tires are mounted on bead-locks style wheels. The tires grip the pavement, tear through rocks, and have the ability to kick-up massive roost. Wherever your next grudge match lands Skully will be ready.
TRAXXAS E-Maxx EVX-2 TSM (TQi/ No Batt or Chg) €525.00
The Traxxas E-Maxx ® takes 4WD monster truck thrashing to the next level of fun and excitement. To go along with the torquey 16.8-volt EVX-2 dual-motor power system, key improvements have been engineered into the suspension, driveline, chassis, and electronics to make this the toughest, most versatile E-Maxx ever. The E-Maxx is equipped with Revo ® sealed pivot ball suspension; dual-servo steering; an all-new transmission; Revo sealed differentials; a new, longer chassis; and waterproof electronics. And that's just the start. Everywhere you look on E-Maxx Traxxas engineers have thoughtfully integrated enhancements and features that make E-Maxx stronger, easier to use, and most importantly, more fun!
TRAXXAS QUALITY RELIABILITY PERFORMANCE
QUICK FEATURES ON E-MAXX
Traxxas Stability Management (TSM)
TQi 2.4GHz Transmitter (Bluetooth Ready - Not included)
Waterproof servos & ESC
Single speed transmission (Two-Speed optional)
Revo ®-Spec sealed pivot ball suspension
Revo ®-Spec sealed differentials
Revo ®-Spec sealed outer and center driveshafts
Low-CG chassis design
Stronger chassis braces
Tough transmission skid plate
Scaleable battery compartments
Snap-lock battery hold downs
Dual-servo steering system
Integrated servo saver
Hex hardware throughout
3.8" mirror chrome Twin-Spoke wheels
3.8" Maxx ® chevron tires
TRAXXAS E-Revo EVX-2 (TQi/No Batt or Chg) €615.00
ONE SERIOUS BIT OF KIT
E-Revo is equipped with the world's most advanced Ready-To-Race ® radio system. The all-new Traxxas ® TQiT arrives with a full complement of tuning features and offers the unbeatable convenience of "no channels, no crystals" 2.4GHz technology-but that's just the beginning. Automatic model recognition instantly recalls your settings for up to 30 Traxxas Link-enabled models. Just switch on and drive, no naming or "model memory" settings required. Power up the transmitter and the model you want to drive, and the settings for that model are dialed in immediately! The new TQi 2.4GHz transmitter is fully adjustable: steering and throttle end points can be set precisely, and the Multi-Function knob can be programmed to control Steering Sensitivity (Expo), Throttle Sensitivity (Expo), Steering Percentage (Dual Rate), Braking Percentage (Dual Rate), or Throttle Trim. TQi's ergonomic case design provides all-day driving comfort, and the unique internal antenna contributes to its sleek, modern look.
Traxxas Stability ManagementT (TSM) allows you to experience all the extreme power, speed, and acceleration that was engineered into your E-Revo making it much easier to control on common slippery surfaces such as dusty asphalt, smooth concrete, and even ice and snow. Punch it off the line and TSM goes to work sensing the vehicle's direction and making steering corrections to provide straight-ahead full-throttle acceleration without fishtailing, spinouts, and loss of control. TSM also works during cornering, first making intuitive corrections to maintain your line, and then allowing you to hammer the throttle earlier in the turn for much faster exit speeds. Braking is dramatically improved as TSM works to keep you arrow straight until you come to a complete stop.
Required to run:
2 x Battery Pack, (2x 8.4volt NiMh or 2x 2S Lipo)
Charger
4 x AA Batteries
HPI

SPRINT 2 FALKEN PORSCHE 911 1/10 4WD ELECTRIC CAR €315.00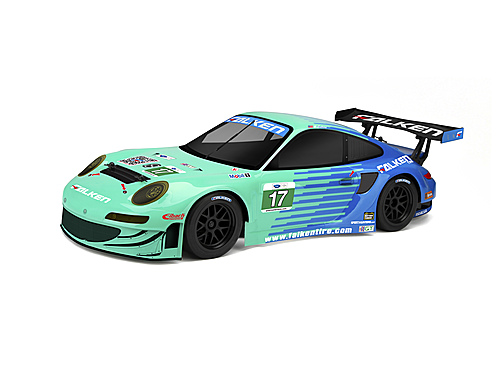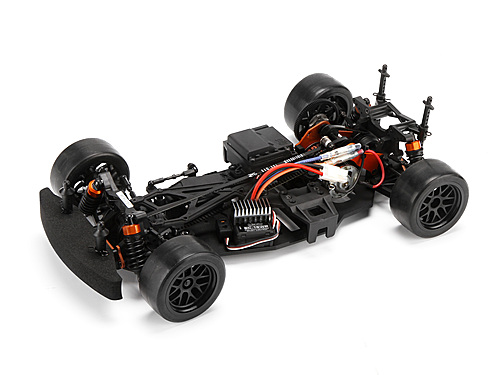 The Ever-Popular Sprint 2 Sport, now with the 2012 Falken Tire Porsche 911 GT3 RSR!
The RTR Sprint 2 Sport is a fun, easy to drive and simple to maintain street car, featuring a completely pre-assembled race car chassis for amazing fun and loads of action! We've packed in all the latest features like 2.4GHz control and complete waterproof protection! The RTR Sprint 2 Sport is also fitted with our latest bodyshell, the 2012 Falken Tire Porsche 911 GT3 RSR painted in authentic Falken racing colours for awesome sports car good looks!
The chassis is factory assembled right out of the box, making the Sprint 2 Sport a quick and easy way to get straight into driving, racing and honing your skills! This is a complete racing machine that looks and drives just like the real thing!
WATERPROOF!
The updated RTR Sprint 2 Sport is now fully waterproof and ready to tackle wet conditions like rain and snow. The new 2.4GHz receiver is safely stored in a brand new waterproof receiver box, protecting it from the elements and ensuring glitch-free operation. The new SF-10W waterproof steering servo and SC-15WP waterproof electronic speed controller complete the package, allowing you to enjoy the action on the road no matter what the weather is like!
2.4GHz RADIO SYSTEM
All of the latest HPI kits are now fitted with a comfortable and feature-packed HPI 2.4GHz radio system for supreme control and confidence! The radio features a pistol-grip design with drop-down steering wheel, 3 channel functionality, easy carry handle, fold-down aerial, end point adjustments, servo reversing and steering dual rate. It's also extremely lightweight due to it requiring only four AA batteries.
You won't have to worry about radio crystals or what channel other RC racers are using with our 2.4GHz technology - the radio does all that work for you! The radio prevents frequency conflicts automatically and changes channels if there is any interference. Finally, if you ever lose radio signal or battery power, an electronic failsafe will bring it to a safe and controlled stop. You'll have professional-level control in one easy RTR package!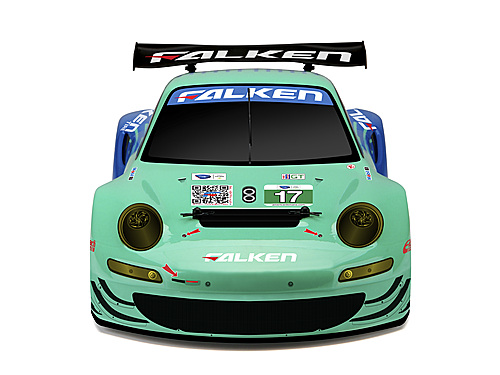 LOOKS GREAT
The RTR Sprint 2 Sport features a pre-painted BMW M3 racing body with authentic detailing and decals. The body comes completely trimmed and mounted for the ultimate in ease, and a functional racing wing is fitted for supreme control at all speeds. You'll have concours quality appearance, and you can always customize your car with any of the clear or pre-painted polycarbonate body shells from the huge assortment of HPI bodies and other manufacturers as well! For great looks, the RTR Sprint 2 Sport is topped off with a set of officially licensed bronze Rays/Volk TE37 wheels with pre-mounted HPI X-Pattern tyres.
PERFORMANCE DRIVEN DESIGN
The RTR Sprint 2 Sport chassis features a host of racing and durability features, as well as the capability for race tuning, should you want to hit the track! This car also has the exact same drivetrain as our Sprint 2 Flux, so it can handle some serious power - this means that it's durable enough to handle just about anything you can throw into it. Read on for more details!
Dual Belt Drive
The drivetrain of the Sprint 2 features dual drive belts and rubber-shielded ball bearings for the ultimate in durability and efficiency. From the mid-mounted motor and spur gear, the layshaft and center pulleys gets the power to gear diffs front and rear through sturdy drive belts which are made from urethane for extreme durability and wear resistance.
Fully Independent Suspension
The suspension built into the Sprint 2 allows for complete flexibility and easy, neutral driving characteristics through the use of four-wheel independent suspension with dual-wishbone design, just like modern full-size supercars. Real oil-filled racing shocks provide consistent damping action for fantastic grip and control.
Race Car Tuning
Built into the Sprint 2 design is the capability to completely custom-tune the handling to suit your particular driving style, or emulate the type of driving you're into, whether it's road course, gymkhana, drift and more. Use camber link and shock mount locations, widen the track of the car, change the camber and caster, alter the Ackerman and even adjust droop and ride height!
FULL ASSEMBLY INSTRUCTIONS
Just like all HPI cars and trucks, you get a full, in-depth instruction manual with step-by-step instructions that allow you to easily disassemble and reassemble your car for maintenance and easy servicing. The manual also includes a handy parts list and full-scale drawings of the parts and hardware. And the included HPI RC Car DVD is your personal RC car expert in a box!
THE COMPLETE PACKAGE
From the authentic sports car looks to full adjustability of the suspension geometry, the RTR Sprint 2 Sport is the complete package. 2.4GHz radio, full ball bearings, waterproof electronics, silicone oil-filled shocks - it's all there on the RTR Sprint 2 Sport, precision built from the factory!
Features:
Officially licensed Porsche 911 GT3 RSR racing body
2.4 GHz radio system for crystal-free, comfortable control
Waterproof SP-15WP electronic speed control with LiPo safety cut-off
Waterproof SF-10W steering servo
Waterproof receiver/battery box
Orange anodized aluminium chassis parts
Officially licensed Rays/Volk TE37 wheels. 6mm offset rear wheels fill out the fenders and give the wheels the wide look seen on full-size racers
HPI X-Pattern rubber tyres for realistic appearance and great handling
Foam bumper protects the car from potentially damaging impacts
Adjustable rear body posts allow you to mount a variety of different bodies without trimming or replacing the posts
Adjustable turnbuckles to fine tune your suspension
Complete set of ball bearings for a smooth and efficient drivetrain
Oil-filled coil-over shock absorbers with specially chosen springs for drifting
2 degree and 3 degree rear hubs for additional tuning choices
Durable injected moulded nylon main chassis
Front and rear shock towers with optimized shock absorber and camber link positions for ideal suspension geometry
Optional low profile front shock tower is included in the kit which allows the use of the full range of HPI 190mm or 200mm wide bodies
Droop screws allow you to "race tune" your suspension settings
Precise bellcrank steering
#108220 RTR SPRINT 2 SPORT w/ 2.4GHz Radio System
1/10th Scale Pre-Assembled 4WD Touring Car with 2.4GHz Radio System and Painted 2012 Falken Tire Porsche 911 GT3 RSR
SPECIFICATIONS:
Length: 431mm (17")
Height: 127mm (5")
Width: 200mm (7.9")
Wheelbase: 254mm (10")
WHAT YOU NEED:
Nothing!
Everything you need is included!
KEN BLOCK 2015 FORD FIESTA ST RX43 MICRO RS4 €170.00
READY TO RUN FROM THE BOX
SERIOUS AMOUNT OF KIT AT A GREAT PRICE
Drive With Ken Block!
When you want to drive like your motorsports hero, there's no better way to do it than by getting behind the wheel of his officially licensed and authorized replica! HPI Racing offers the only official RC models of the cars driven by the legendary Ken Block, and they're available in TWO different sizes, in either electric or nitro power!
Features
Officially authorized replica of Ken Block's "Intergalactic"
Ford Fiesta ST RX43
Pre-Built, Ready to Run 1/18th scale racing car
Drives just like a larger RC car!
4WD for maximum control and speed
Belt drivetrain for efficient power transfer to front wheels
Double-wishbone independent front suspension
Coil-over inboard cantilever front shocks
Real rubber slick racing tires
Front universal dogbones
Front and rear gear differentials for ultimate cornering grip
Fully equipped with ball bearings for maximum efficiency
EN-2 electronic speed control for total control
2.4GHz radio system for long range reception, no frequency crystals needed
Ergonomic pistol-style radio transmitter with steering wheel
180-size motor for fast speeds and quick acceleration
6v 1200mAh battery for long driving times and plenty of power
AC wall charger included for extra convenience
4 AA batteries included for transmitter
#115387 Ken Block Ford Fiesta RX43 Micro RS4
1/18th Scale 4WD Micro Car with 2.4GHz Radio
Specifications:
Length: 227mm
Width: 110mm
Height: 85mm
Wheelbase: 140mm
Tire Diameter: 36mm
Drivetrain: Full-Time Belt 4WD
What You Need:
Absolutely nothing! All batteries and charger included to get you driving right away
HPI RS4 SPORT 3 RTR CHOICE OF 3 CARS €289.00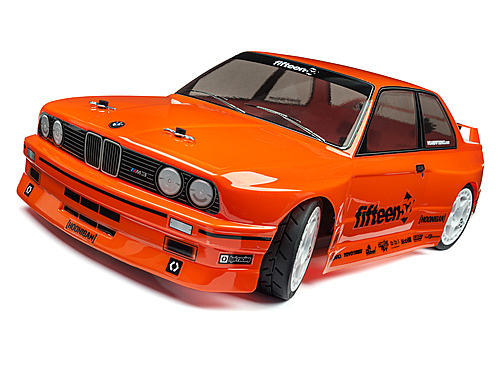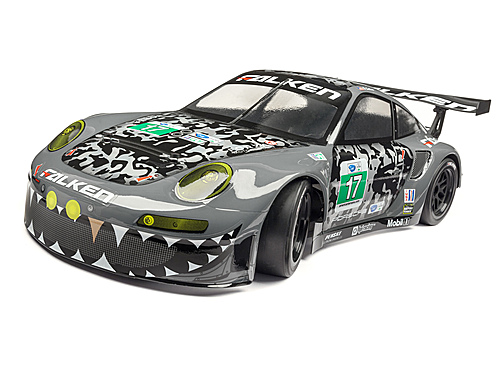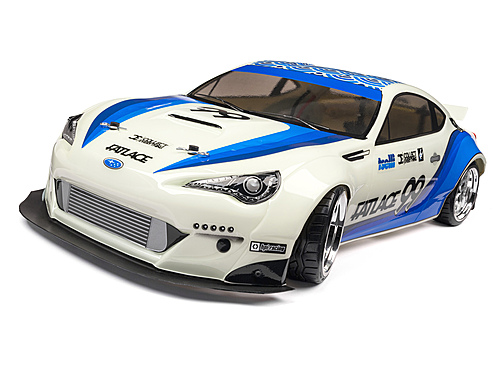 RS4 Sport 3: the icon is back!
The RS4 Sport 3 is the all-new touring car chassis from HPI Racing! In development and refined for over a year, the RS4 Sport 3 features a completely sealed and highly efficient shaft drivetrain, coilover shock absorbers plus waterproof electronics. The fully contained drivetrain means there are no exposed gears, belts or drivetrain parts to get stuck with rocks or dirt. Finally, the RS4 Sport 3 is finished with realistic tires plus a licensed replica body and wheels for an authentic look that will grab the attention of all RC and motorsport enthusiasts!
The first RS4 Sport 3 Drift features the HPI Racing x FATLACE liveried Subaru BRZ, a super-popular sports car and phenomenal drift machine. Complementing the stunning HPI Racing x FATLACE livery are a set of replica Yoshihara Design Champion wheels in silver and replica Falken Azenis RT615K HPI T-Drift tires, for instant easy drift action!
The HPI Firebolt 15-turn motor powers the RS4 Sport 3, and it's controlled by a waterproof HPI speed controller for reliable and trustworthy operation. An enclosed box houses the 2.4GHz radio receiver, ensuring that you have constant control through the HPI pistol-grip steering wheel transmitter.
Replica Yoshihara Design Champion Wheels
The replica Yoshihara Design Champion wheel comes straight from the design studio of Formula Drift Champion Dai Yoshihara. The HPI Racing 1/10th scale replicas are 26mm with a 9mm offset all the way around for a perfect fitment to the wide body Subaru BRZ body.
Replica Falken Tire Azenis RT615K T-Drift Tires
Extra hard compound HPI Racing replica Falken Tire Azenis RT615K T-Drifts (featuring the exact tread pattern as it's full scale counterpart) rounds out the scale realistic drift package.
The HPI Racing x Fatlace Super Wide Body Subaru BRZ
Combining HPI Racing's passion for RC Drifting with the creative energy at FATLACE, the HPI Racing x FATLACE Subaru BRZ RS4 Sport 3 Drift was born. The awesome FATLACE designed livery wraps over the wide body Subaru BRZ body shell for a perfect match with the HPI Racing RS4 Sport 3 Drift chassis. Realistic aerodynamic body detailing up front with the extra wide splitter plus the vertical wing and lower winglets at the back end completes the realistic detailed package.
One-Piece Molded Chassis
The main chassis is formed from a single piece of reinforced plastic and features the drivetrain tunnel molded right down the middle, just like a real car. It's a step beyond any plastic tub chassis car available today.
Oil-Filled Threaded Shocks
The RS4 Sport 3 is fitted with a set composite coilover-style oil-filled shocks, just like what you'd see on a real race car. The fully adjustable shocks are fully tunable to provide the optimum chassis performance on a wide variety of road surfaces. The ride height is quickly adjustable by using the threaded shock collars. Further tuning adjustments are also possible by changing the springs and shock oil weight.
Tough Front End Suspension
The RS4 Sport front end uses the strong C-hub style suspension seen on the latest RC touring cars, with a vertical ball stud camber mount that lets you change the front end roll center - which is a critical racing adjustment that allows the RS4 Sport 3 to be a step above other sport-level RC touring cars. The suspension arm also features multiple shock mounting holes for easy shock angle adjustment.
Tunable Rear Suspension
The rear hub is fitted with a vertical ball stud style adjustment that allows easy adjustment of the rear roll center. Moving the ball stud up or down with the optional spacers changes the traction characteristics of the rear end as the car goes through the turns. The suspension arm also features 3 different shock mounting holes for easy shock angle adjustment.
Double Bellcrank Steering
The performance tested adjustable double bell crank system provides optimum steering precision at all speeds. A metal drag link plate connects the cranks for extra durability, the additional drag link mounting positions also allows for Ackermann angle adjustments.
Rugged Spring-Loaded Servo Saver
Fitted to the HPI SF10W waterproof servo is an adjustable multipiece servo saver, which protects the servo from crash damage. In the event of a crash or collision, the front wheels usually take a big portion of the blow and transmits the impact directly to the steering servo. The strong spring-loaded cam action of the servo saver is designed to absorb this force and protect the servo internals from the impact!
Rear End Chassis Diffuser
The built in rear end chassis diffuser element smooths out the air flow underneath the chassis for maximum aero efficiency.
Rubber-Sealed Ball Bearings
The RS4 Sport 3 is fully fitted with a set of rubber-sealed ball bearings for maximum efficiency. The rubber seals keeps the dust away from the internals while the smooth precision bearings provides for optimum power delivery from the power source out into the driveline.
Rugged Front Bumper
To protect the front suspension, chassis and body from impacts big and small, an extra thick foam bumper is securely fastened to the front of the RS4 Sport 3.
Customize Your Look
A huge variety of option bodies, wheels and tires from HPI lets you fully customize the style of your RS4 Sport 3 to suit your style.
Adjustable Height Body Mounts
The adjustable height body mounts let you fit any 1/10th scale touring car body from HPI Racing on to the RS4 Sport 3 chassis. All you need to do is adjust the front and rear body mounts to allow the wheels and chassis elements to fit properly underneath the body. Body pins hold the mounts in place, and the multiple mounting hole positions allow you to fine-tune the exact body fitment.
Body Choices
You can fit any 1/10th scale touring car body from HPI Racing onto the RS4 Sport 3, from hot hatches to supercars, pick-up trucks to supertouring racers. All you need to do is adjust the body mounts front and rear to allow the wheels to fit underneath the body properly. A simple system using body pins hold the mounts in place, and you can fine-tune the fit to get the exact ride height you want.
Comprehensive Instruction Manual
All HPI Racing kits include a detailed multi-language instruction manual. Exploded diagrams and extensive information about your RS4 Sport 3 ensures that you have the knowhow when it comes to maintaining and upgrading your kit. You can also download a digital version of the manual to your personal electronic device and keep it with you for easy reference on the go.
MYhpi: The Ultimate Resource for Your RS4 Sport 3
Once you've got your RS4 Sport 3, add it to your MYhpi garage to get direct information about what will make your car faster, more adjustable and easier to tune. Add your entire HPI collection to your MYhpi garage so you can directly access manuals, videos, tips and help for each of your HPI cars!
#114356 RS4 SPORT 3 DRIFT RTR SUBARU BRZ
1/10th Scale Pre-Assembled 4WD Touring Car
with 2.4GHz Radio System and Painted
Subaru BRZ Body
Specifications:
Length: 431mm (17")
Height: 127mm (5")
Width: 200mm (7.9")
Wheelbase: 254mm (10")
Includes:
4 AA batteries
7.2v 2000 mAh NiMH battery with standard plug
Wall battery charger