WELCOME to our Xmas club 2020 for young and old
IMPORTNAT UPDATES 2020
WITH VIRUS ISSUE AROUND THE WORLD AND POSSIBLE LOCK DOWNS WE CAN NOW WORK TO 6 WEEKS ONLY
HOWEVER WITH PRE ORDERS YOU SHOULD BE ABLE TO GET TILL XMAS IN SAVINGS CLUB
IF AN ITEM IS IN STOCK OUR ADVICE IS TO TAKE THERE AND THEN
TO HELP WITH YOUR XMAS ORDERS WE CAN GIVE 6 WEEKS TO PAY WITH PRE ORDERS THIS SHOULD REACH XMAS
WE ARE ALSO FLEXIBLE AND CAN DEAL WITH AN INQUIRY AND HELP AS WE HAVE LAST 20 YEARS
SIMPLE EASY TO JOIN IN STORE OR OVER THE PHONE
* PAY DEPOSIT ON JOINING ONLY € 75.00
* PAY WHAT YOU WANT WHEN YOU WANT IN STORE OR OVER THE PHONE BY CARD
* MAKES PAYING FOR THE ULTIMATE XMAS GIFT FROM IRELANDS NUMBER 1 BIG BOYS TOY STORE
* GET IT DELIVERED WHEN EVER YOUR READY
* OUR QUADS+BIKES SELL OUT EVERY YEAR SO THIS WAY YOUR ENSURING YOU ULTIMATE GIFT
* MAM-DAD-KIDS SOEMTHING FOR EVERYONE
* OUR GIFTS LAST A LIFE TIME NOT JUST ONE DAY
* GIVE THEM THE GIFT OF BEING UTDOORS HAVING SOME MUCK AND FUN
* GET YOUR ITEM DELIVERED ANYWHERE IN IRELAND OR UK
FOR FULL INFO E MAIL This e-mail address is being protected from spambots. You need JavaScript enabled to view it
TEL 086 1936623 or 087 9799089
ITS INTEREST FREE
LAST YEAR WE HAD OVER 900 PEOPLE USE OUR FREE XMAS CLUB
Something for everyone enjoy the search for your ideal gift - More information on each item can be found in the section for the machine on our web site
SMALL SELECTION OF WHAT WE DO
-------------------------------------------------------------------------------------------------------------------------------------
MUD ROCKS GT KIDS BUGGY
The Hammerhead "Torpedo" 136cc off road buggy is one of the most advanced kids buggies on the market. Designed for the younger children in mind this off road buggy is ideal for gardens as well as having the extra power for hill climbs and to take a passenger. The high build quality and extremely reliable engine, as always from Hammerhead, makes this petrol go kart far more robust than the usual kids buggy. Ideal for the younger one approx 4-8yrs.
HAMMERHEAD MUD HEAD KIDS OFF ROAD BUGGY ONLY €1999
BUILT to last a life time - 1 year warranty
START them young and learning how to drive makes a safer adult driver
There is also a bigger version as in pics for older riders and drivers . Has its own advert on donedeal
THE biggest selection of buggies is on muckandfun.com with buggies by Hammherhead torpedo / Hammerhead Mudhead / Hamerhead Gts / Quadzilla Mini bug / Quadzilla Wulf all with prices and videos and specks
THIS is a very high quality buggy
COMES with1 year parts and labour warranty
VERY powerfull 160 CC engine which is more enough for hills - the beach - Sideways fun - BUT YOU HAVE A SPEED REGULATOR to slow to walking pace
GT50 buggy now includes a 4 point safety harness, a push button electric start, stop go foot pedals fully auto simple and easy to use
Electric start
Remote control stop start
4 Point seat belt safety harnesses
Automatic transmission
Pull Start back up
Bucket seats
Adjustable throttle and brake pedals
BEWARE fakes of our machines
MEETS all EU safety requirement comes with full CE approval
HAMMHERHEAD MUDHEAD € 1895.00
The 2015 Hammerhead Mudhead now comes with full USA specifications. Assembled by us in the Wicklow. The Mudhead comes equipped wth a 208cc LCT electric start engine as well as an additional backup pull-start. Other standard features include adjustable drivers seat with a manual choke underneath for all weather starting, LED head lights, electric start, horn, dual head lights, wheel fenders and canopy top.
The Mudhead has a suggested age range from 8-13yrs (height dependant )
Supplied Fully Built and Tested WITH FULL 1 YEAR WARRANTY
The Hammerhead Mudhead is one of the most advanced Kids Off Road Buggies on the market and as Hammerhead are known throughout the world for quality and reliability you can rest assured you have made the right choice.
Please do not compare this buggy with the cheaper unknown brands.
Available in Blue, Red, Black or Orange
This Buggy with full USA specifications is only available from us or as we have sole Irish rights
HAMMERHEAD GTS 150 MEGA BUGGY WHOLE FAMILY FUN € 3250.00
CHEAPEST KIDS ENGINE BIKE IN IRELAND AND VERY HIGH QUALITY FROM € 345.00
DESCRIPTION
New updated version of our mark 1, the new #1 Cobra 50cc Mark 2 with better specs, features and quality!
This latest bike from Cobra has truly upped the game for all mini dirt bikes, never before has there been a bike this good looking with this quality!
Already sold over 500 units of our cobra making it not only the best kids dirt bike but the bestselling in Ireland.
The Cobra range has been predominantly designed for kids 4 years and up, with a maximum weight capacity circa 60KG.
Colours: Blue, Green, Orange, Red, Black
Specifications:
2-stroke
49cc single cylinder
Easy start pull starter
Responsive acceleration,
Front telescopic forks,
Rear mono shock suspension,
Disk brakes
Motocross styling
Big bike attitude
fully automatic, so just twist the throttle and go
Brake levers on the handlebar activate the front and rear brake just like on a bicycle.
COBRA FOUR STROKE 50 CC €640.00 stunning bike
HANDY Push button start
This Tonka type bike is built like a tank
Front and rear suspension smooths out the bumps
Fully Automatic - Just Rev 'n Go
Soft Power Delivery
Will Fit In The Back Of Most Hatchbacks
Strong Enough For Mum And Dad To Ride Too!
Brand New Frame Design
Extended Rear Swinging Arm
Uprated Hydraulic Front Forks
Strong enough for mum and dad to ride too!
- Brand new frame design
- Extended rear swinging arm
- 3M Graphics kit
- A fully enclosed chain
- Rocker style kill switch
- Reinforced brake levers
- Chrome handlebars
- Wavy disc brakes
Easy for any child or parent to operate
- Very low maintenance
- Will fit in most cars
COBRA 50 CC high power two stroke serious little bike speck - quality - performance €699.00
THIS is serious cool ,ids dirt bike
QUARTER of the price off ne KTM 50yet serious mount of more power
VERY limited supply mega value was €755.00
IF real life this bike looks even better and we are sure would make any young person more than happy on Xmas day
BROUGHT to you by Irelands largest off road shop by a long way with over 200 quads - buggies - mx - jet skis
FREE to you first and second dervice - HELP for life - COST price on any gear you may need -
SOUNDS like like a full on adults mx race bike
BULLET proof literally never ever brake
EXCLUSIVE and backed up by us
PART of Irelands number 1 kids dirt bike starts off with our cobra from €325.00 then our cobra pro and now are all new cobra mxr 1
YOU Wont find better at 3 times the price
FULL Chrome race exhaust unreal sound for a small bike
KICK start make starting easy
DISK BRAKES
HIGH SPECK MINI DIRT BIKE
50 CC TWO STROKE RACE ENGINE
PROPER KIDS MX RACE OR FUN BIKE
STUNNING IN REAL LIKE
FULL CHAIN GUARD
WHITE POWDER COATED FRAME
FRAME IS REINFORCED FOR ANY TYPE OF OFF ROAD USE
MX STYLE TIRES
WAVY DISKS
BRAND NEW BIKE
SLAM MXR 70 BEST KIDS PIT BIKE ON THE PLANET €795.00
IRELANDS best selling quality kids dirt bike
DESIGNED by us
BUILT by us in Wicklow supporting Irish Jobs
THIS bike is very famous all over Uk and Ireland . We even get adults buy them for fun JUST shows how well built they are
BEWARE fake copies being sold claiming to be Slam
IF Honda built this is would €4000.00
EXCEPTIONAL value in a bike that will literally last a life time
70 cc FOUR stroke engine
PROPER kick start - starts first kick
DISK brakes
GROW with the bike we have restricted Carb that can be changed to unleash 40 mph when they get the hang of it . It standard form is slowed down for safety making it easy to learn on max would be around 20 mph and it delivers smooth power
LOTS of famous people have bought this bike from us
BEST of both worlds it has a semi automatic gear box . THIS means when learning put bike in second gear use as fully automatic and then when they are ready they have the fun of 4 gears but no clutch so it wont stall . JUST like a fully auto car
WE cant rate this awesome kids dirt bike more highly
------------------------------------------------------------------------------------------------
KIDS QUADS HUGE SELECTION
QUADZILLA BUZZ 50 (2 YEAR WARRANTY ONLY €1275.00
Quadzilla Buzz 50 2K10. An ideal quad for beginners with it's small size and great safety features.
THE perfect Christmas present.
Get deposits in early to avoid dissapointment for Santa!
Fully enclosed footwells.
Small brake levers for ease of reach.
Safety remote control engine cut off.
Full 1 year warranty on parts and labour.
Electric and kick start.
Twin head lights
Comes in two colours: Red and White
QUADZILLA R 100 €the best 100 cc quad on the planet €1895.00
Originally sold by Honda Ireland for €2600.00 which says a lot about its quality
Usual full 1 year warranty and designed and proven to last a life time.
Suits children from around 9 years old straight through to adults.
Fully Automatic with Reverse
Speed regulator
Lights
Highly recommended great all round family fun and good enough for Irelands Quad junior racing circut
96cc Engine
Fully Automatic
Reverse Gear
Electric and Kick Start
68cm Seat Height
2 Stroke Autolube
Low Oil Warning Light & Reverse Light
Adjustable Shocks Front & Rear
Drum Brakes all Round
Safety Footwells
Safety Wrist Tether
Fully Restrictable
12 months Parts & Labour Warranty
CE Approved
QUADZILLA PRO SHARK 100 PURE SPORTS QUAD FOR KIDS AND ADULTS €2195.00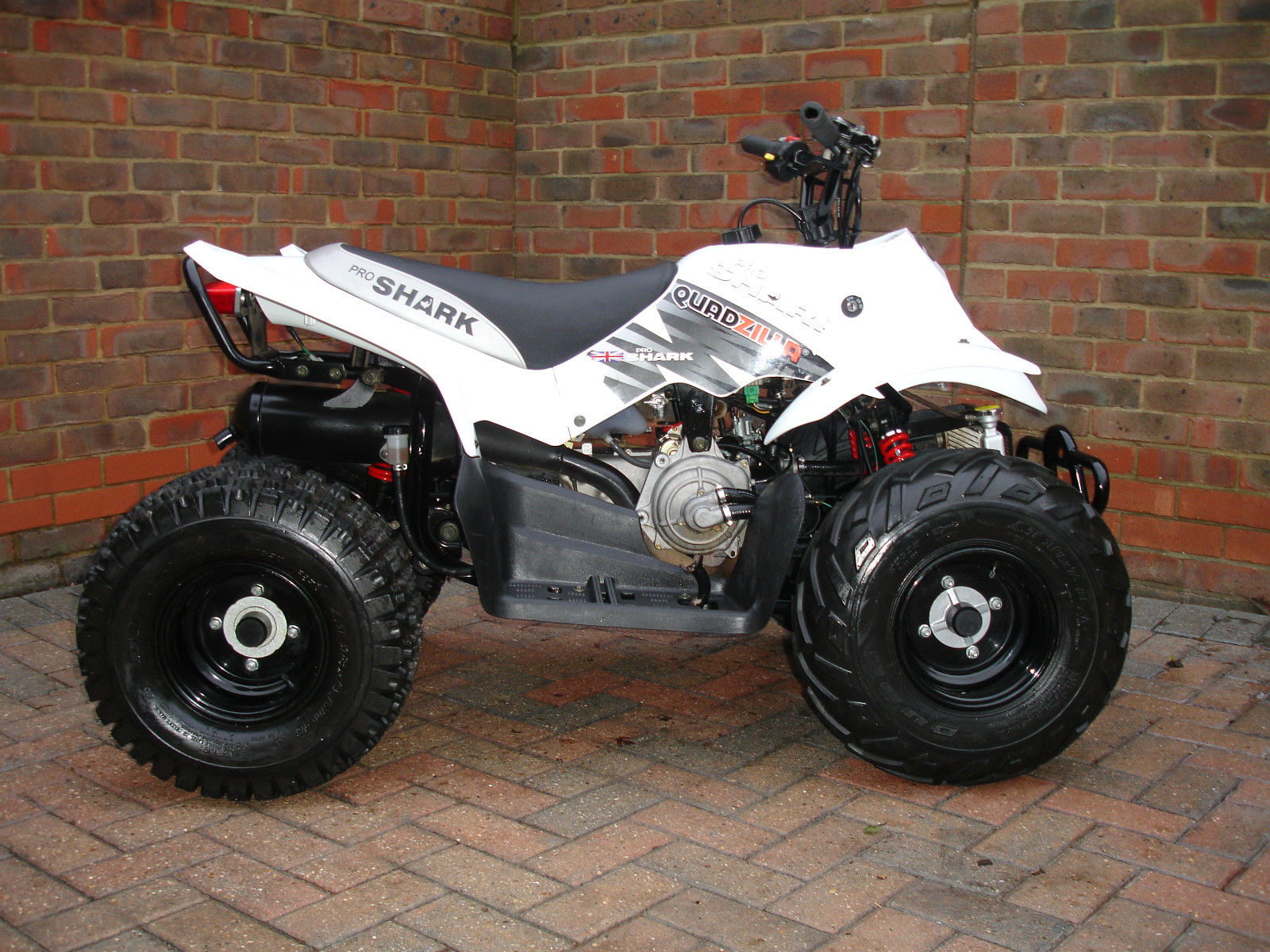 Truely awesome, the fastest 100cc quad in the world!
The Pro Shark has the won the UK racing champioship for the last 5 years . Oversized so Mam and Dad can enjoy the fun too!
Perfect from children aged 11 through to adult. Serious machine - Nothing like it anywhere else.
High-Specification off road 100cc quad that boasts a Race developed High Power 2 Stroke reed valve induction, liquid cooled power plant.
Great quality ride with adjustable shocks and lengthened, strengthened swing arm.
Foot Operated Rear Disc Brake
Twin oversized Front Drums for superior stopping,
Super light weight alloy radiator,
Powder coated lightweight steel rims
Re-worked high torque exhaust.
Colours Black,White
Dimensions 1540 (l) 890 (w) 945 (h) mm
Wheel Base: 1020 mm
Seat Height: 730 mm
Ground Clearance: 170 mm
Dry Weight: 120KG
Tyres: 19 - 7-8
18- 9.5-8
Front Brake Twin Oversize Drum
Rear Brake Disc Foot Operated
Suspension Oil Damper / Adjustable
Type 2-Stroke Single Cylinder
Bore Stroke 53.0 - 45.0
Displacement 99.3
------------------------------------------------------------------------------------------------------------
PIT BIKES (BUILT AND DESIGNED BY US THE BEST FULL STOP)
SLAM MXR 125 THE best all round and value for money only €995.00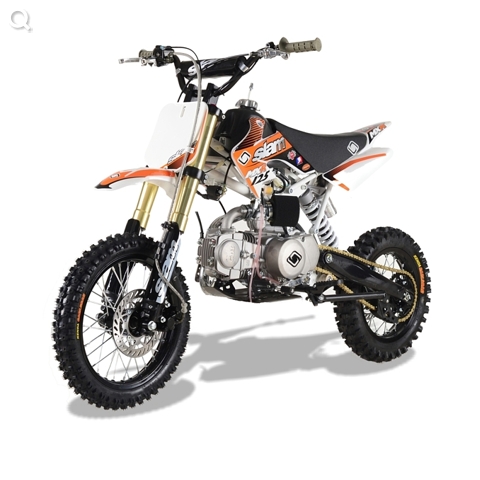 SPECIFICATION SLAM MXR125 125CC PIT BIKE
ENGINE MODEL
ENGINE TYPE
COOLING SYSTEM
COMPRESSION
BORE X STROKE
MAXIMUM OUTPUT
STARTING SYSTEM
CLUTCH TYPE
TRANSMISSION
BRAKES
SWING ARM
SUSPENSION FRONT
SUSPENSION REAR
----------------------------------------------------------------------
QUADARD OUR FAMOUS KIDS 50 CC QUAD BIKE ONLY €495.00
EVO POWERBOARD 1800 WATT WORLDS FASTEST SCOOTER €850.00 60KPH
EVO POWERBOARD 71 CC 2 SPEED €685.00 50 MPH
EVO POWERBOARD 50 CC 2 SPEED €635.00
QUADZILLA CHEETAH 150 cc Buggy FAMILY buggy full size
ALL new Quadzilla Cheetah 150 cc Family buggy
PART of our massive range of kids and adults buggies all on muckandfun.com
FIRST ones ever in Ireland just arrived
FULL 2 year parts and labour warranty for piEce of mind
STUNNING looking buggies
ALL new design taken the best of all our buggies and putting them into this one
BUILT and tested by us in Wicklow creating Irish jobs
FAST enough for the whole family to enjoy and has speed regulator for younger drivers
VERY high quality and stunning design
HAS hitch for two bar
FULL roll cage
FULL safety harness for driver and passenger
LIGHTS front and back
CHAIN driven
REAR carrier for light work also
FULLY adjustable drivers seat
RAIN canopy
SERIOUS fun guaranteed to put a smile on your face
GRAB bar for passenger
DISK brakes all round
FULLY automatic with reverse
A-ARMS setup just like a race quad for serious handling
HIGH Quality quad style tires
HORN
MUDROCKS GT 200 Package Deal € 1995.00
CW 50 KIDS 50 CC FOUR STROKE DIRT BIKE
CW 90 KIDS FOUR STROKE DIRT BIKE
CW 140 PIT BIKE € 1195.00
CW 125 SEMI AUTO PIT BIKE € 895.00
10TEN 125 R PIT BIKE € 995.00
10TEN 140 R € 1195.00
ORION 70 KIDS QUAD € 850.00 stunning quad
STRIKER 110 KIDS QUAD WITH REVERSE € 850.00
YAMAHA PW 50
MORE TO FOLLOW