WELCOME TO IRELANDS LARGEST RANGE OF BUGGIES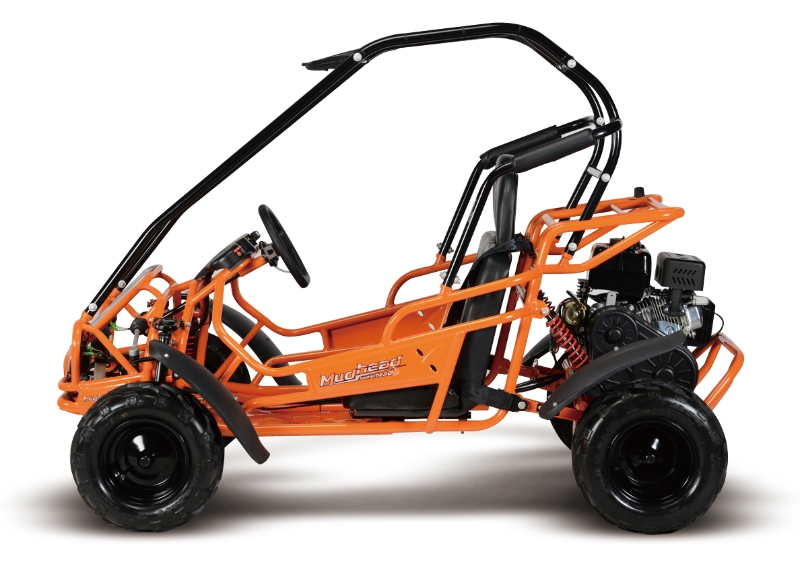 On or Off road we do all the major Brands - OUR HAMMERHEAD BUGGIES are official USA spec exclusive to us in the republic of ireland. We are the main importer for Quadzilla Mudrocks Hammerhead in the republic of ireland
Kids or adults - Single or two seater we supply a huge range


We offer full 1 Year warranty PARTS+LABOUR on our range of buggies no one else does BETTER
Full spares Back up - Also as you or your child grows and wants bigger we offer trade ins to upgrade again the only ones in Ireland WE only supply the major quality brands
So buy in confidence from the best in ireland who build - test - support our valued customers there is nothing about buggies we dont know
----------------------------------------------------------------------------------
Buyers beware of cheaper internet- shops in Ireland selling non brand buggies . These are no brand machines with no spares back up . As soon as you buy their gone . All ours are 1 or 2 year warranty and brand names with world wide dealers so your never stuck for anything .
---------------------------------------------------------------------------------
ALL BUGGIES ARE BUILT AND TESTED BY US
IN RATHNEW Co. wicklow IRELANDS LARGEST OFF
ROAD STORE SUPPORTING IRISH JOBS . WE
BUILD EVERYTHING WE SELL
------------------------------------------------------------------------------------------------
WE ALSO OFFER : FREE FIRST SERVICE / PHONE HELP FOR LIFE / FREE HEALTH CHECK AT OUR SHOP ANY TIME FOR LIFE / COST PRICE ON OUR FULL RANGE OF WELSPORT MX RANGE SAVE YOU A FORTUNE ON RETAILS

. SECOND SERVICE IS NOW ALSO FREE
---------------------------------------------------------------------------------------------------
ORDER TODAY GET DELIVERED ANYWHERE WHERE IN IRELAND AND UK
TEXT SALES ON 086 1936623 OR 087 9799089 TUESDAY TO SATURDAY 10 TILL 6 OR WHATTSAPP
WHERE ON THE PHONE WE ARE 1 OR 1 FOR ALL QUESTIONS AND ORDERS
----------------------------------------------------------------------------------------
Our hammerhead Gts 150 Irish legend Conor Mcgregor bought from us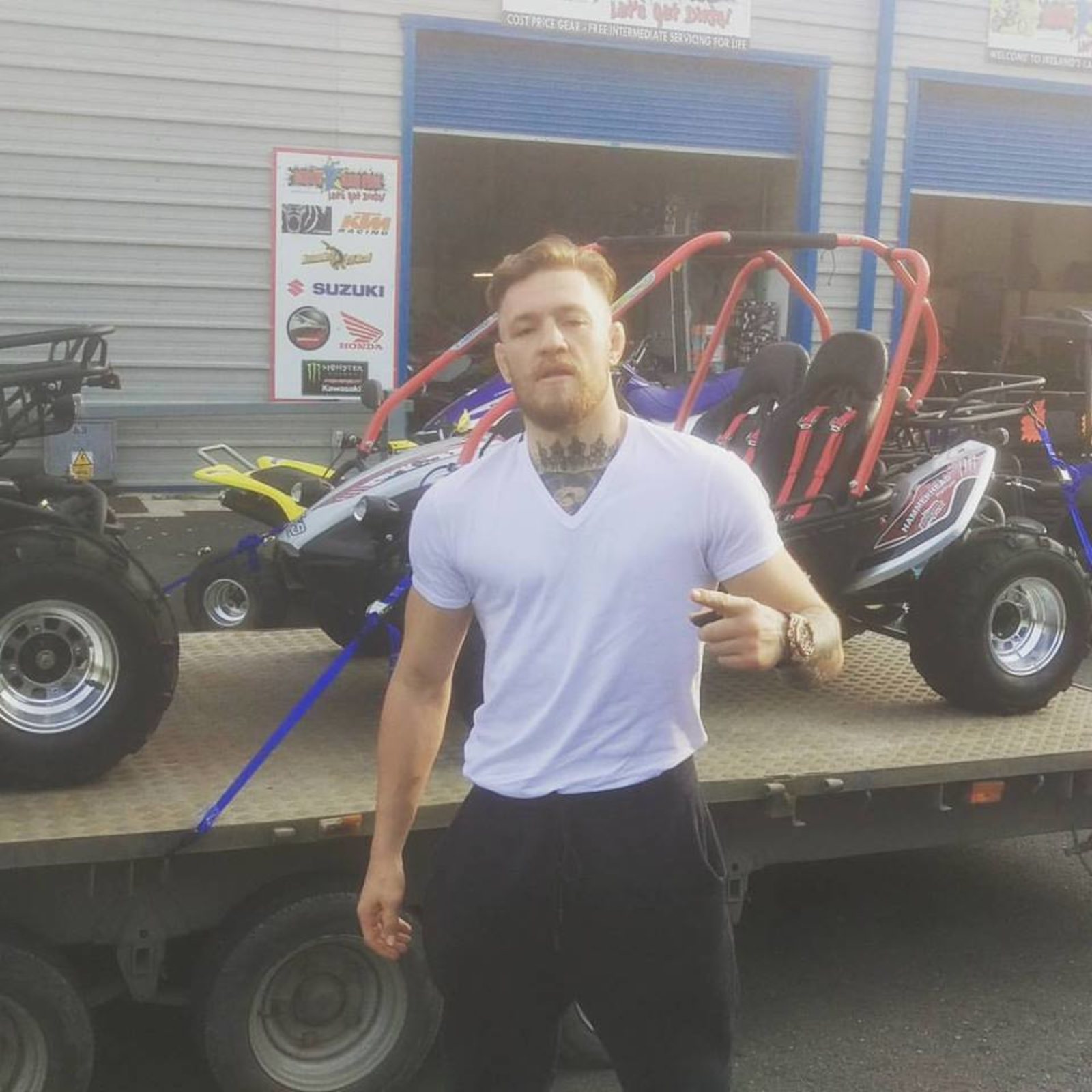 -----------------------------------------------------------------------------------------
XMAS CLUB NOW ON FOR 2023 TEXT OR WHATTSAP TO JOIN 086 1936623 OR 089 2793529 YEAR ROUND
NEW MODEL QUADZILLA TWISTER JUNIOR SIZE BUGGY €1895.00
STUNNING BUGGY 2 YEAR WARRANTY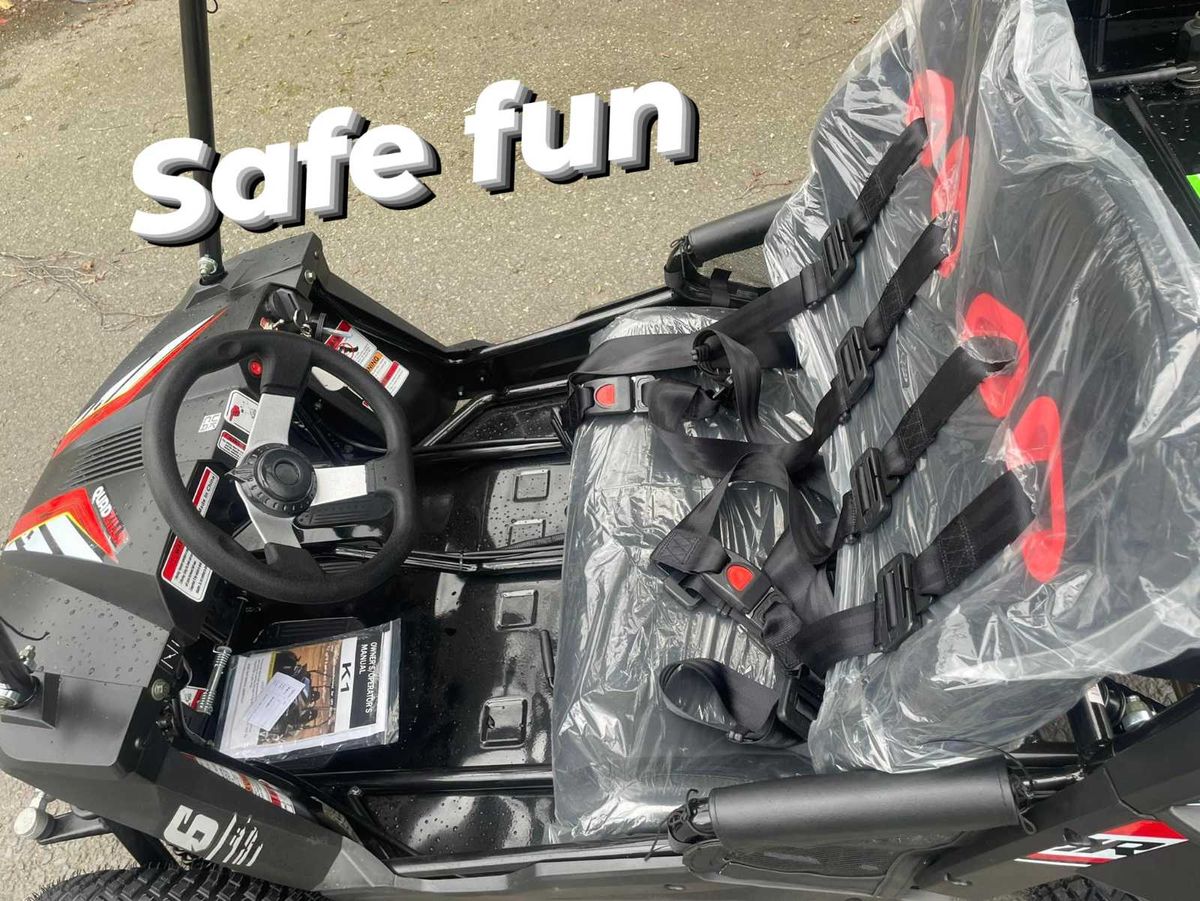 HOME DELIVERY ARRANGED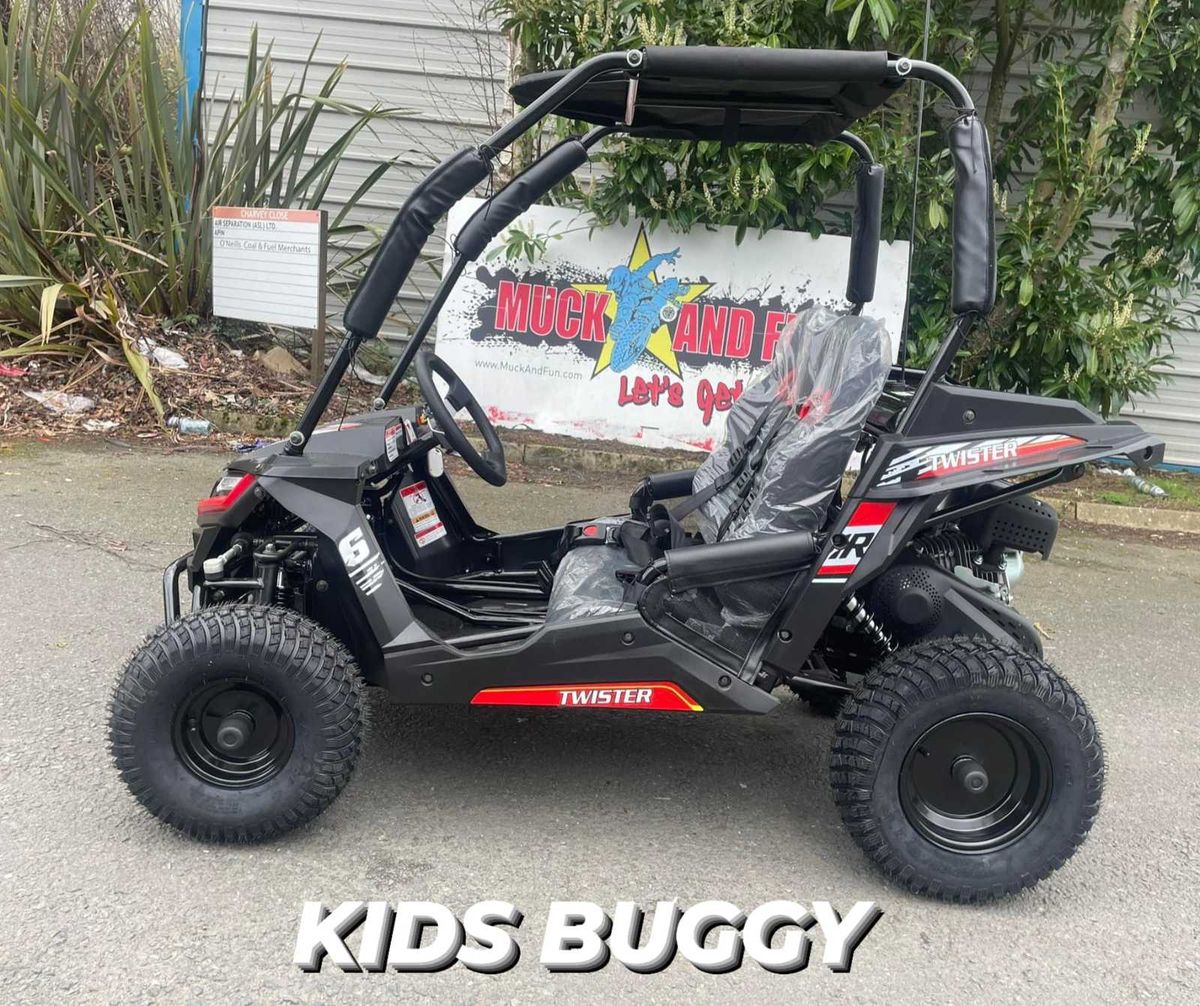 WHATSAPP CHAT ON 086 1936623
TEXT and Whatsap Chat on 086 1936623 for quick replies and info shop hours
The Quadzilla Twister kids off road buggy has safety as a number one priority with features such as 4-point harness seatbelts and high back seats with built in headrests.
This new kids off-road buggy is powered by a reliable 163cc 4-stroke, single-cylinder, air-cooled engine with a top speed of around 22mph. It's easy to start too with an electric start and pull start back-up.
The Twister is a stylish and fun off-road buggy, the perfect first taste of off-roading for kids.
NEW JUNIOR OFF-ROAD BUGGY MODEL FOR 2023
ELECTRONIC IGNITION WITH PULL START BACK UP FOR EASY STARTING
4-POINT HARNESS SEATBELTS FOR ADDED SAFETY
AUTOMATIC TRANSMISSION FOR EASY REV AND GO OPERATION
FORWARD & REVERSE GEARS FOR ADDED CONVENIENCE
DUAL A-ARM FRONT SUSPENSION FOR A SMOOTH RIDE
THRU-SHAFT DUAL SHOCK REAR SUSPENSION FOR ADDED STABILITY
AVAILABLE IN BLUE OR RED COLOUR OPTIONS
Engine
ENGINE: 4 STROKE – SINGLE CYLINDER – 163cc
START SYSTEM: ELECTRIC IGNITION AND PULL START BACK-UP
TRANSMISSION: CVT AUTOMATIC
MAX SPEED: 35KM/H
MAX POWER: 3.2KW/3600RPM
MAX TORQUE: 10.8NM/2800RPM
GEARS: FORWARD AND REVERSE
BRAKES: DISCS FRONT AND REAR
SUSPENSION: FRONT: DUAL A-ARM, REAR: THRU-SHAFT WITH DUAL SHOCKS ARM
TYRES FRONT/REAR: 145/70-6 / 16*6-8
FUEL CAPACITY: 3.6L
DIMENSIONS: 1590 X 910 X 1250mm (LxWxH)
PEDAL TO SEAT BACK: 710-820mm
WHEELBASE: 1110mm
SEAT HEIGHT: 360mm
MIN GROUND CLEARANCE: 90mm
Need help or advice just let us know
PLUS much more
NEED any more inf let us know
ALL NEW MUDROKS TRAIL BLAZER 150 ONLY € 3395.00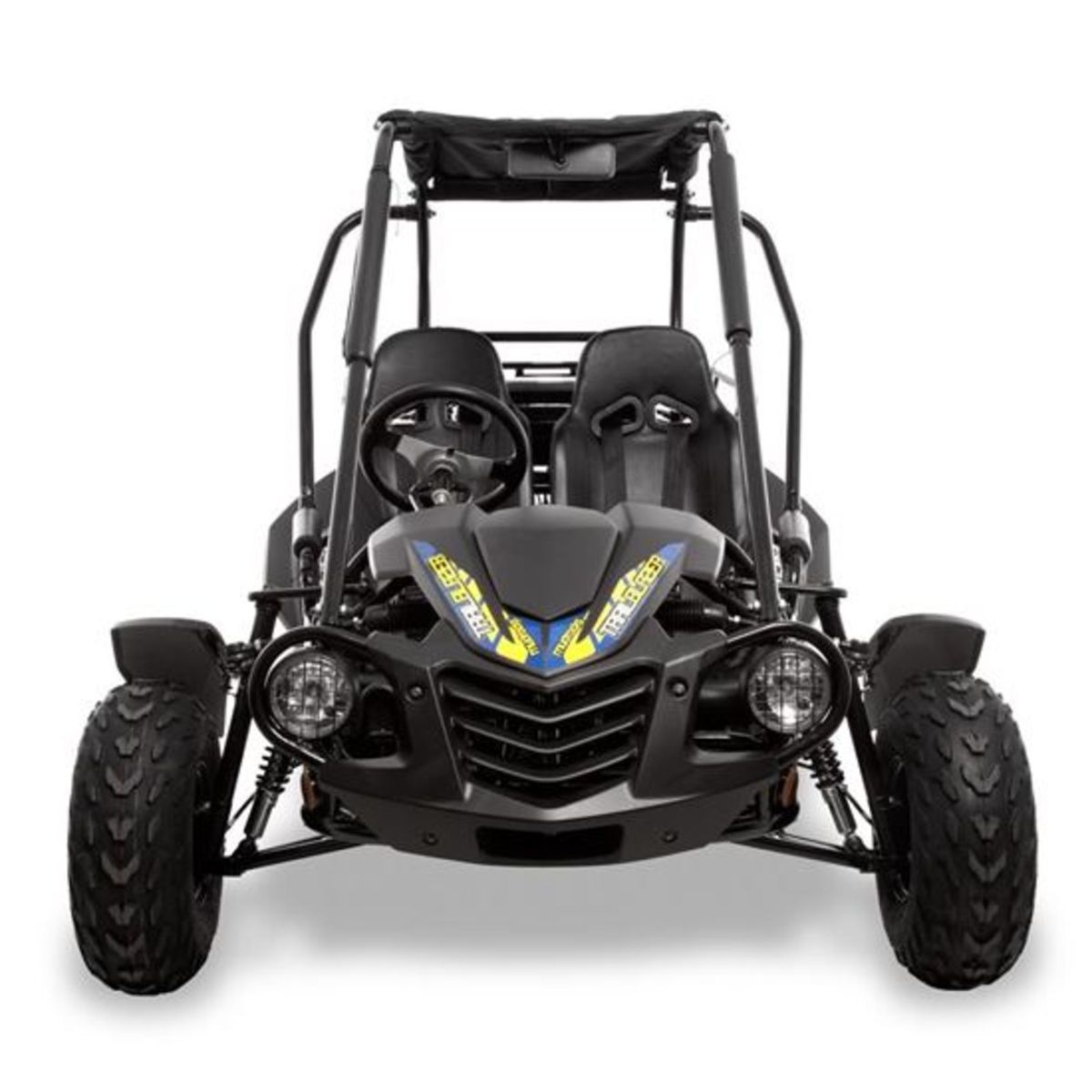 STUNNING BUILD QUALITY + DESIGN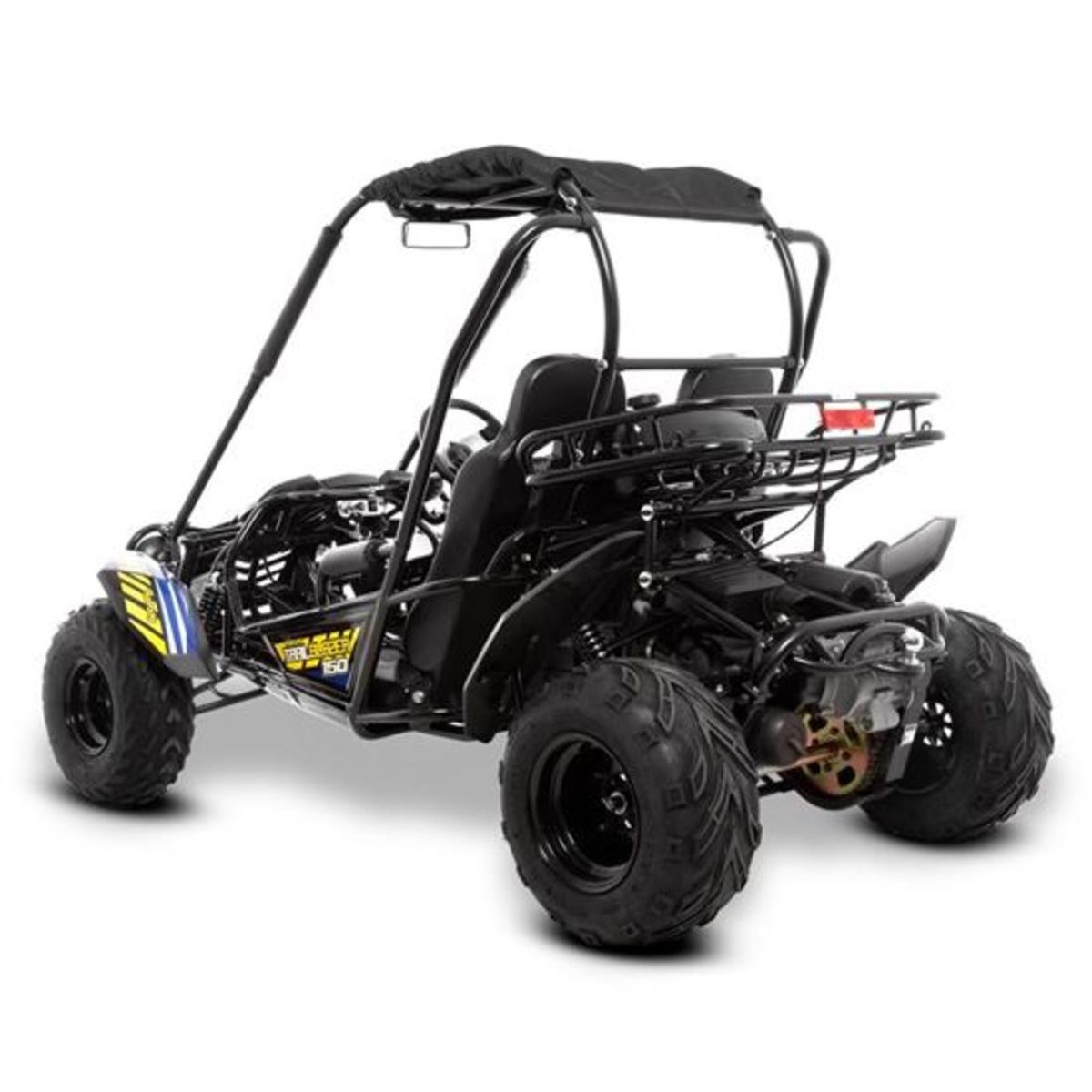 SPECIAL OFFER NOW ON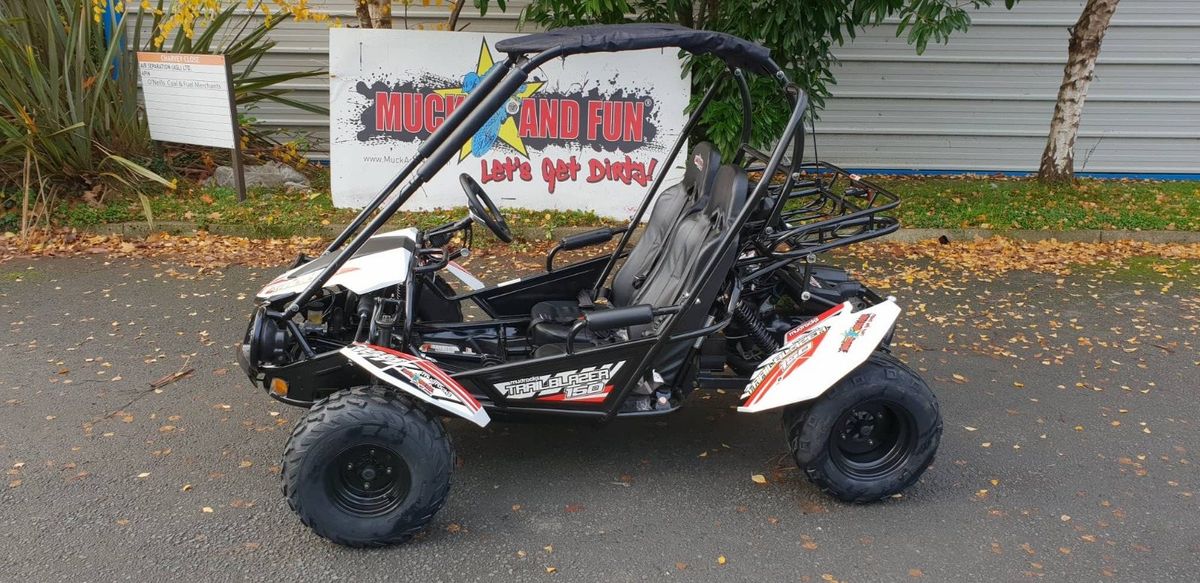 OUR best selling buggy brand MUDROCKS all new FULL size buggy
ALL new 2023 versions now in
GET it delivered to you for only € 60.00 arrives built tested ready for fun
FULL 1 year parts and labour
It is powered by a tried and tested GY6 150cc engine that has been powering powersport products for decades - BULLET proof
The buggy boats some fantastic key features including 4 point safety harnesses, dual adjustable bucket seats (92-106cm),
ADJUSTABLE steering wheel, forward and reverse gear.
FULLY automatic simple to use
FULL roll cage and loads of safety features
LOOKS even better in real life
ORDER TODAY GET ANYWHERE IN IRELAND FOR ONLY € 60.00
ALSO COMES IN BLACK TOW BAR IS STANDARD ON THIS BUGGY
NEW BUGGY LAUNCH QUADZILLA CHEETAH 150 FULL PRICE € 3395.00 SOLD OUT
SUITS OLDER KIDS AND ADULTS FULLSIZE BUGGY
FIRST ONES NEW IN IRELAND - BUILT BY US
QUADZILLA Z 1000 STREET LEGAL MEGA 4WD PRICE ON APPLICATION
FULLY ROAD LEGAL - DRIVE ON CAR LICENCE
FULLY road legal - Yes this beast can be registered for the road
KIDS Electric Go Kart (1000 watt) ( SUIT AGE 5 TO 10) € 1295.00
QUITE SO WONT ANNOY THE NEIGHBOURS
1000 Watt means loads of power
LOW noise so your neighbors will thanks for over a petrol engine buggy
3 DIFFERENT speed settings
1000w 48v brushless electric motor
Forward & reverse engine function
LED battery status indicator panel
Adjustable seat - the back of the seat to the foot pedal is approximately 72 - 80cm
The battery life is around 45 – 90 minutes
SPEED 1 = 6MPH SPEED 2 = 13MPH = SPEED 3 (UNRESTRICTED) = 20 - 22MPH
SINGLE GO KART STYLE RACING BUCKET SEAT (ADJUSTABLE)
BIGGEST BUGGY SHOP IN IRELAND AND UK !
!
KIDS Petrol Go Kart 2023 (MUD MONSTER-DELIVERY) € 1095.00
SAFE FAMILY FUN SUITS KIDS AGED 6 APROX TO 11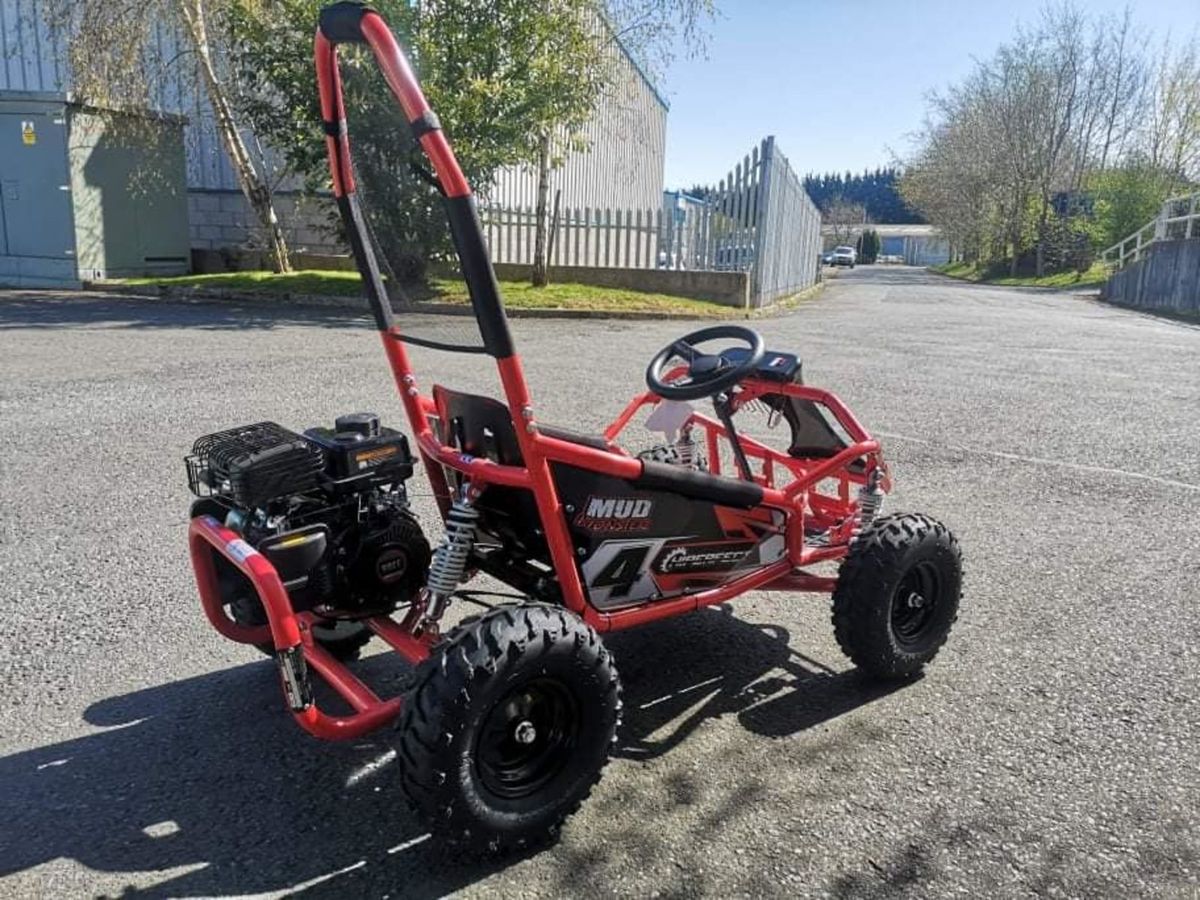 HOME DELIVERY ALL IRELAND AVAILABLE
HOME delivery all Ireland only € 60.00
COMES built tested by us ready for fun
WE have the biggest range of buggies in Ireland or the Uk all on MUCKANDFUN.COM
1 year PARTS AND labour warranty
SIMPLE and easy to maintain
TOP speed 25 mph aprox but you can slow down
NEED any more info let us know
NEW 2023 HAMMERHEAD TORPEDO SE PRICE € 1450.00 SUIT AGE 4 TO 10
FUN FUN AND VERY SAFE - SUIT AGES 4 APROX TO 10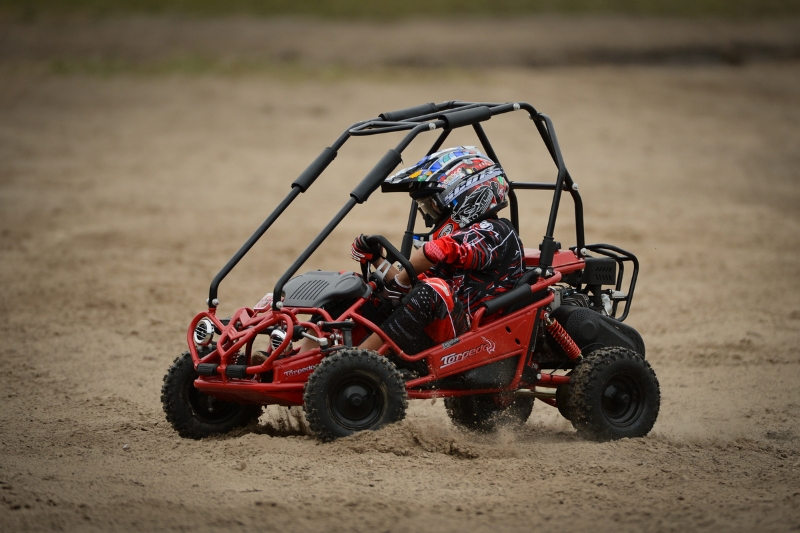 ARRIVES TO YOU BUILT TESTED READY T GO
EXCLUSIVE USA MODEL TO US
New for 2023! The Torpedo 'SE' model features a full size padded bucket style seat and full safety harness
The Hammerhead Torpedo buggy is the entry level kids off road buggy from Hammerhead and an excellent machine to start kids with.
This

buggy is suitable for children of 4 years upwards.
The beauty of this buggy is in its simplicity, the engine features a simple 'rev & go' operation and so even a complete newbie driver can soon get to grips with it! Parents need not worry about the kids driving off to the shops as the engine speed can easily be limited right down to a walking pace if required.
Please click the link here to see a very informative safety and information video about our Hammerhead Buggies.
The drivers seat distance to the brake & throttle pedals is as follows -
Front of seat Tbc / Rear of seat Tbc
The Torpedo buggy comes fully equipped with a compact 136cc LCT (USA brand) engine with pull-start. Peace of mind comes from a 12 month engine warranty, backed and honored by LCT USA.
Key Features –
Mini LCT USA brand GP engine

Fully automatic 'rev & go' CVT transmission




CE approved and plated

Padded seats and safety belts


Rear hydraulic brake

Supplied with detailed owner's manual
Please Note: We are genuine Hammerhead SHOP . Only products sold through our authorised dealer network are genuine Hammerhead Buggy products and come with a 12 month parts + labour warranty and as well as excellent after sales service with spare parts available at all times. Please be very aware of any companies that appear to be selling Hammerhead products or lookalikes .
NEW QUADZILLA MINI WOLF ALL NEW FOR 20223
SLIGHTLY BIGGER VERSON OF OUR WORLD FAMOUS MINI BUG OLDER MODEL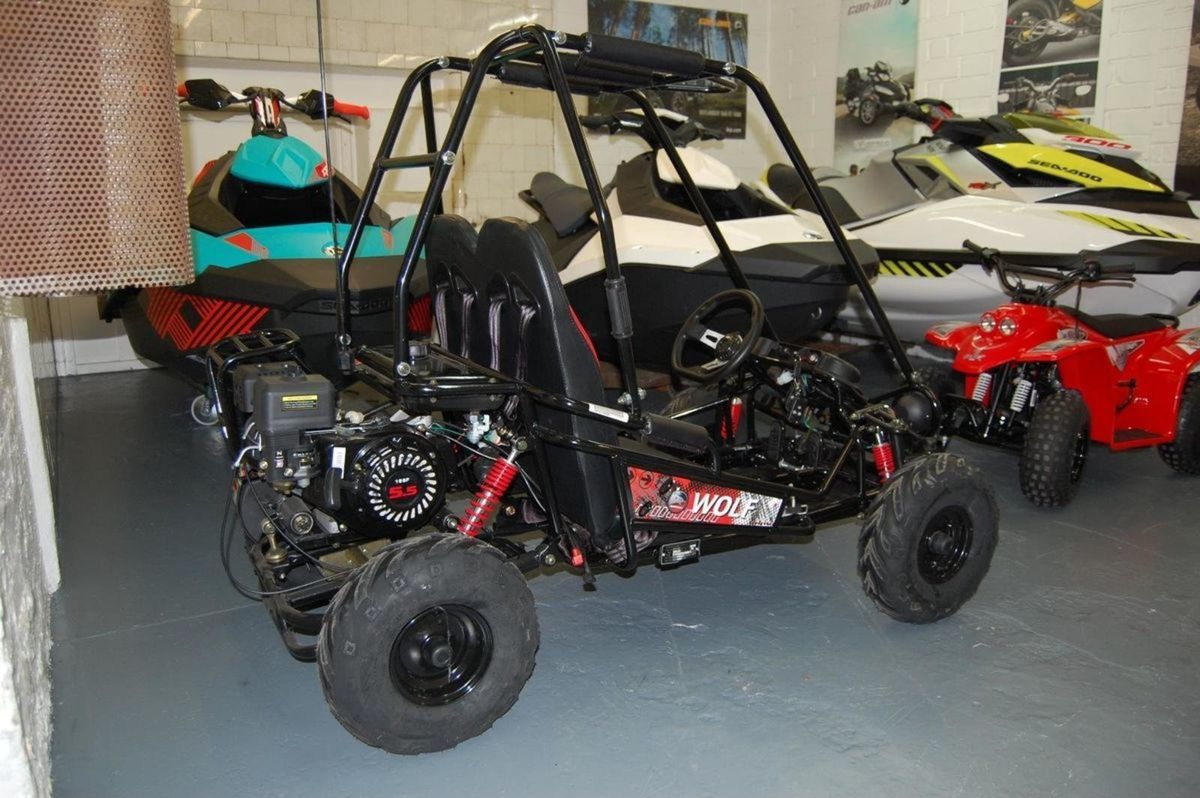 BUILT - TESTED - BY US IN WICKLOW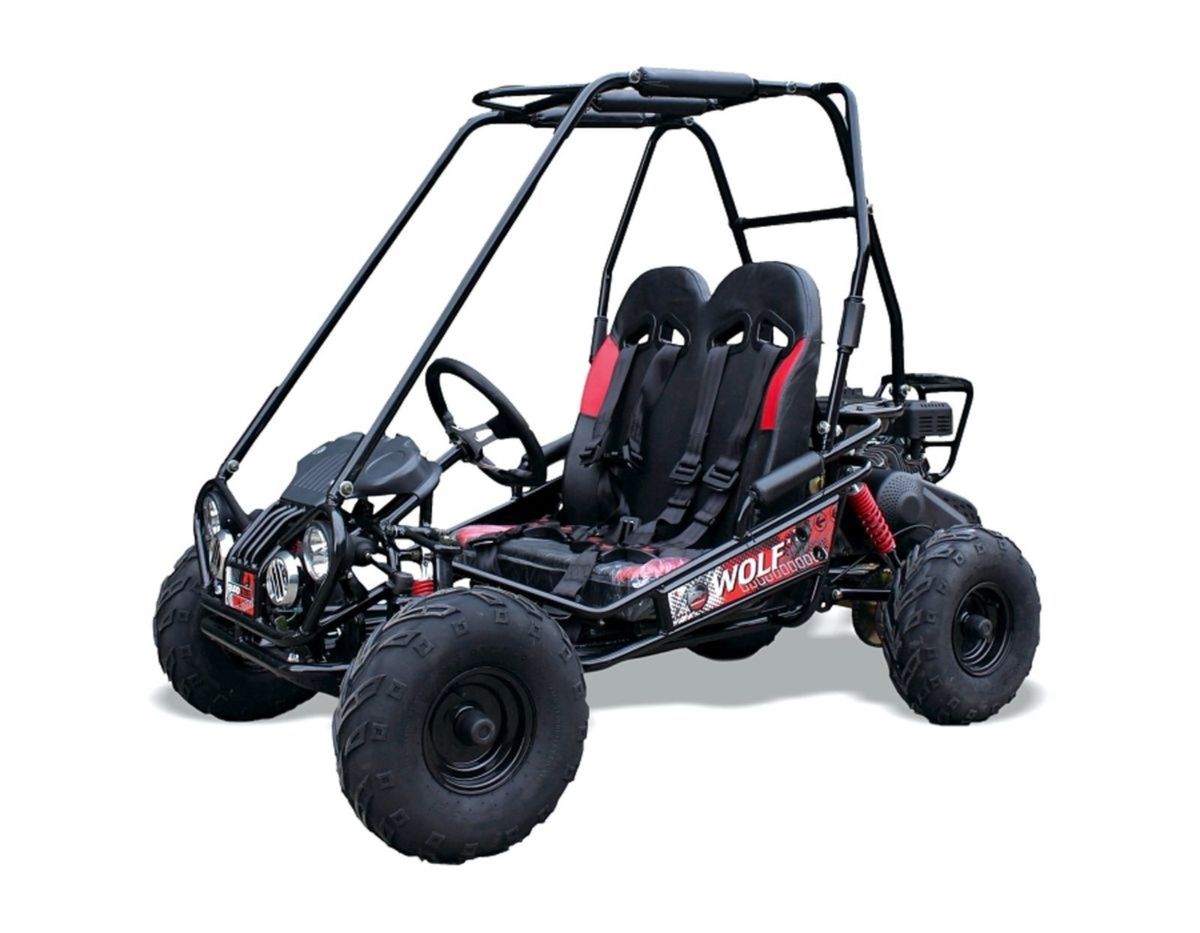 SUPERB BUILT QUALITY
TH
E OFFICIAL RELEASE OF OUR ALL NEW QUADZILLA WOLF MINI
Carrying in from OUR best selling bigger one we released earlier this year and is officially sold out HUGE demand
OTHER buggies quads bikes we do in pictures
DESIGNED to look like its famous big brother
THIS buggy is build and tested in Wicklow BY US creating Irish jobs
FULL 2 year parts and labour warranty
THIS is the real deal in buggies . COMES with a powerfull engine so they can have proper buggy fun going sideways up and down hills even on the beach .
BEST OF all it has a speed regulator so you can slow to walking pace
POWERFULL 168 cc engine producing 5.5 HORSE power means loads of fun but YOU still have speed regulator to walking pace
VERY safe machine with 4 point safety harness just lie a rally car
YOU get two free services - YOU get cost price on any gear you may need - YOU get free help for life on the phone or at the shop NO charge
ELECTRIC start with backup Pull start we though of everything
INDEPENDENT FRONT DUAL A-ARMS
LARGE OFF ROAD TYRES WITH 6" WHEELS
SERIOUS speck and UNREAL fun for all the family
SUITS AGES 4 aprox to 10 aprox (adult can squeeze in also)
---------------------------------------------------------------------------------------
WE ARE MAIN IMPORTERS OF HAMMERHEAD
HAMMERHEAD 150 new model 2023 just realeasd
ours are the new GTS lots of upgrades over OLDER model
PRICE € 3895.00
STUNNING Buggy SUIT TENNAGE+ADULTS
supplied built test by us in wicklow town
IMPORTANT ANNOUNCEMENT : OUR stock Gts buggies are the new MODEL dont get caught out with older versions .
NEW model is now POLARIS world famous Jet ski - buggy - quad Manufacturer also OWN Subaru. WE HAVE 2021 version with UPGRADES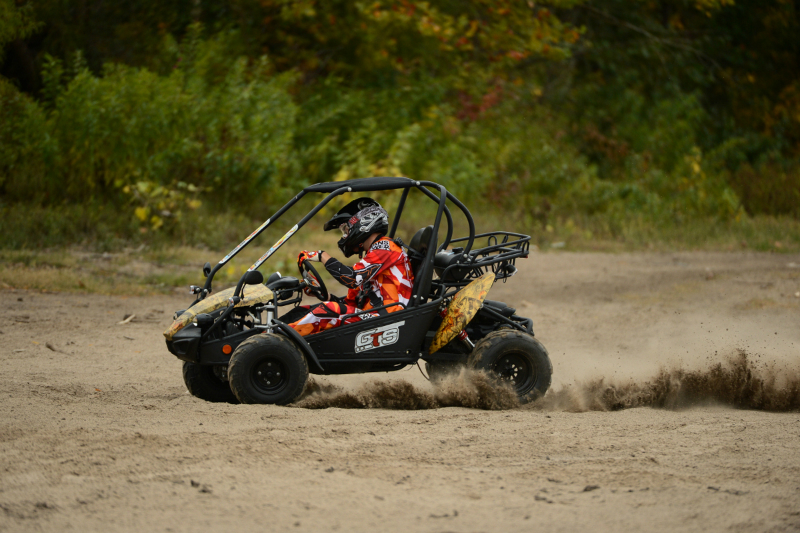 BULLET PROOF NO OTHER SHOP IN UK OR IRELAND MATCHES OUR 1 YEAR WARRANTY
THIS STUNNING 150GTS BUGGY IS THE LATEST HAMMERHEAD DESIGN WITH USA SPECIFICATIONS
Comes with the well known GY6 air cooled engine with the addition of an external oil cooled system for optimum reliability
IF YOU WANT THE BEST --- THIS IS IT
Included are the following upgrades:
Performance Exhaust -- Chunky Off Road Tyres with gold effect wheel hubs -- Dual horns -- 2in Tow ball -- 12v Power supply on dash for MP3 player, Sat nav or phone
Supplied fully built and tested with owners manual covering detailed servive and repair instructions
Drivers seat adjustment : Back of seat to pedal distance 94-105mm
NEW WINDSCREEN FOR YOUR GTS JUST RELEASED € 245.00
BULLET PROOF BUGGY FUN
USED MODEL IN VIDEO
---------------------------------------------------------------------------------
NEW LIMITED EDITION GTS 150 EXCLUSIVE TO MUCKANDFUN SOLD OUT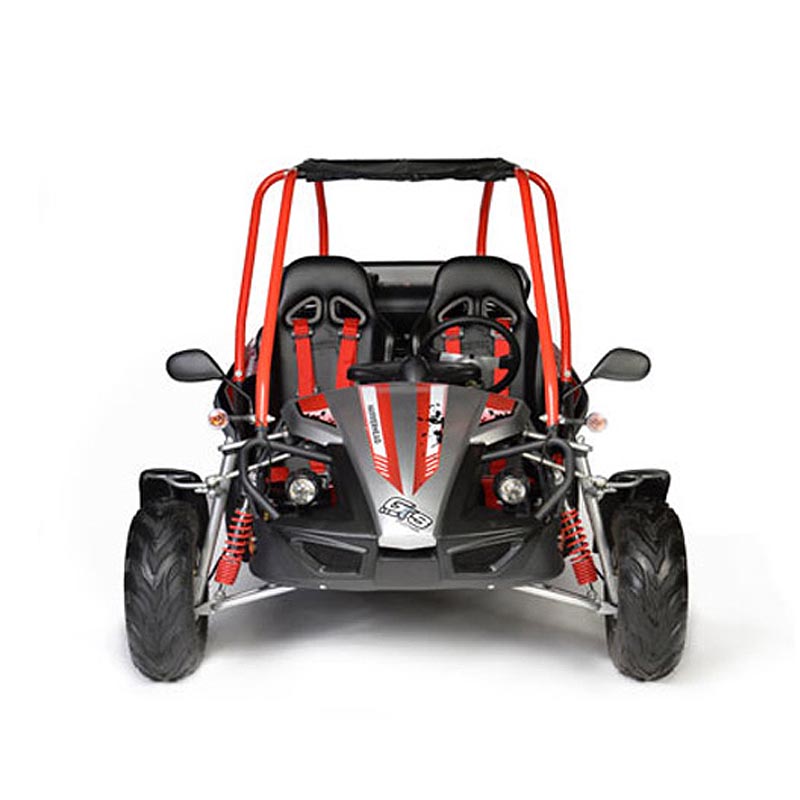 ALL NEW 2022 QUADZILLA Wulf Xl MID size Family BUGGY €2250 SUIT AGE 8 TO ADULTS CAN FIT IN
We are the very first stockist of this all BUGGY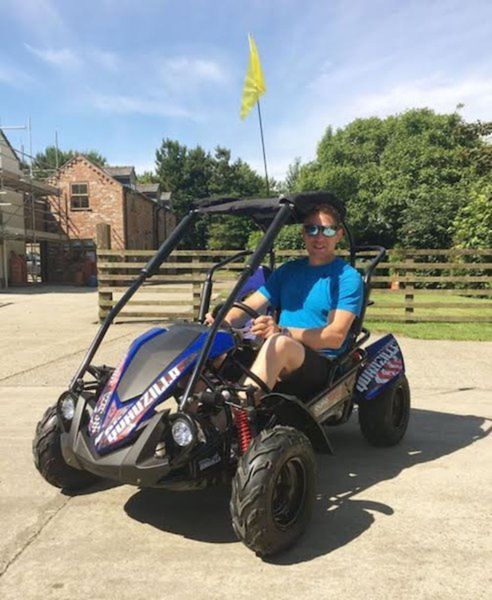 FAMOUS ISLE OF MAN TT RIDER FIRST 1 TO GET NEW XL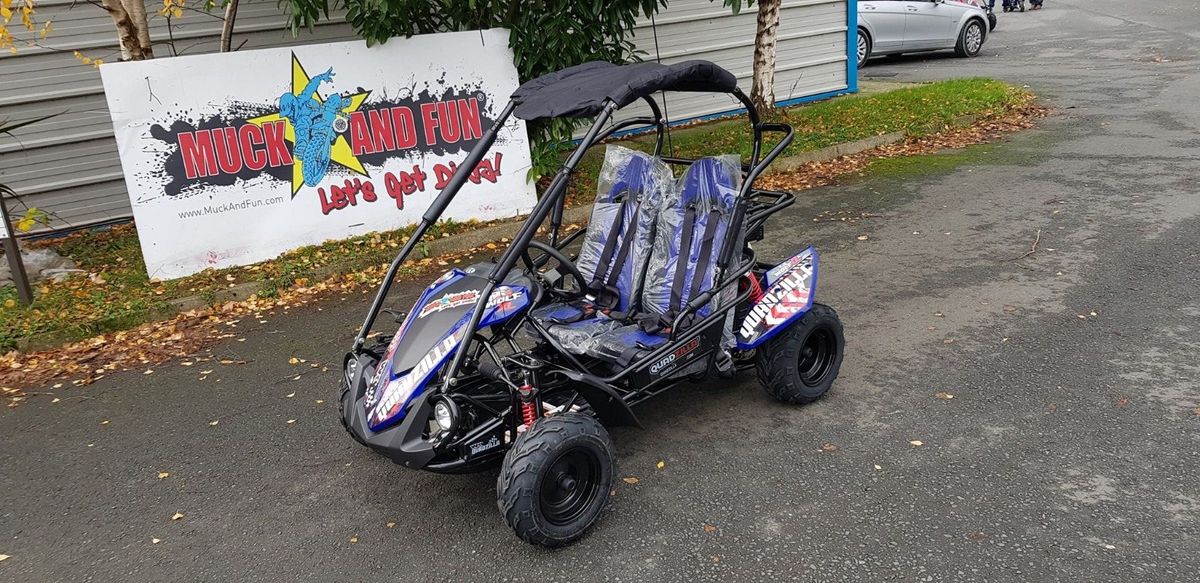 suit ages 7/8 all the way to adult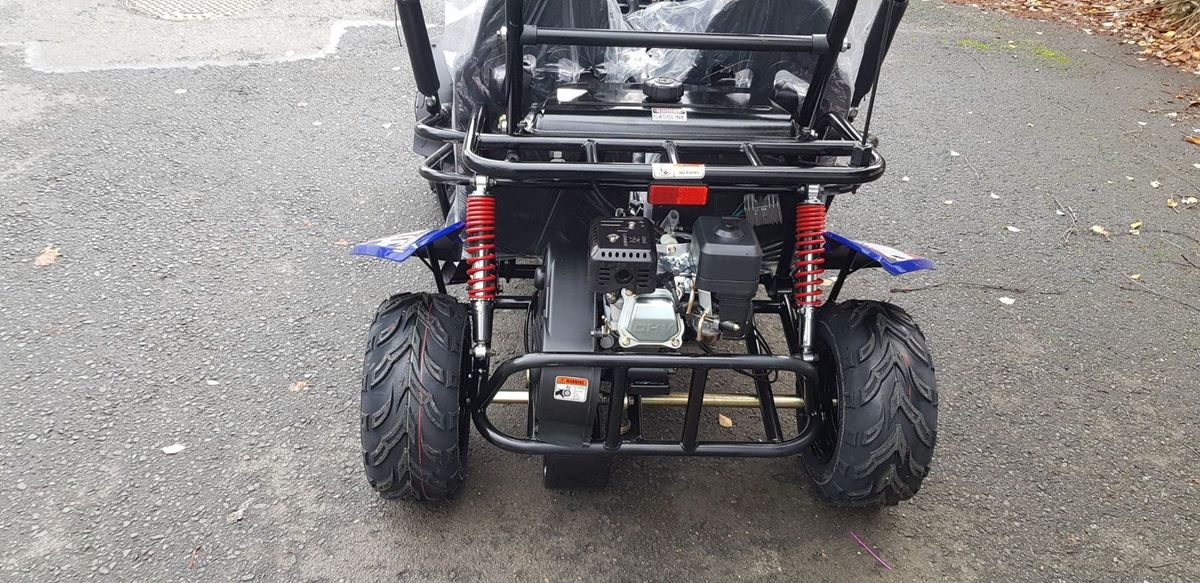 FULL 2 YEAR PARTS AND LABOUR
STUNNING LOOKING BUGGY
THE ALL NEW Quadzilla WULF Xl off road buggy
WORLD famous ISLE of Man TT rider + His new buggy
TAKES over from our famous Quadzilla Midi Bug
ITS also bigger than normal so Kids from around 8/9 to 100 Years yes it will take ad adults not a problem so Mam and Dad can have it go
WE HAVE THE FIRST BATCH WORLDWIDE we always bring you the latest and greatest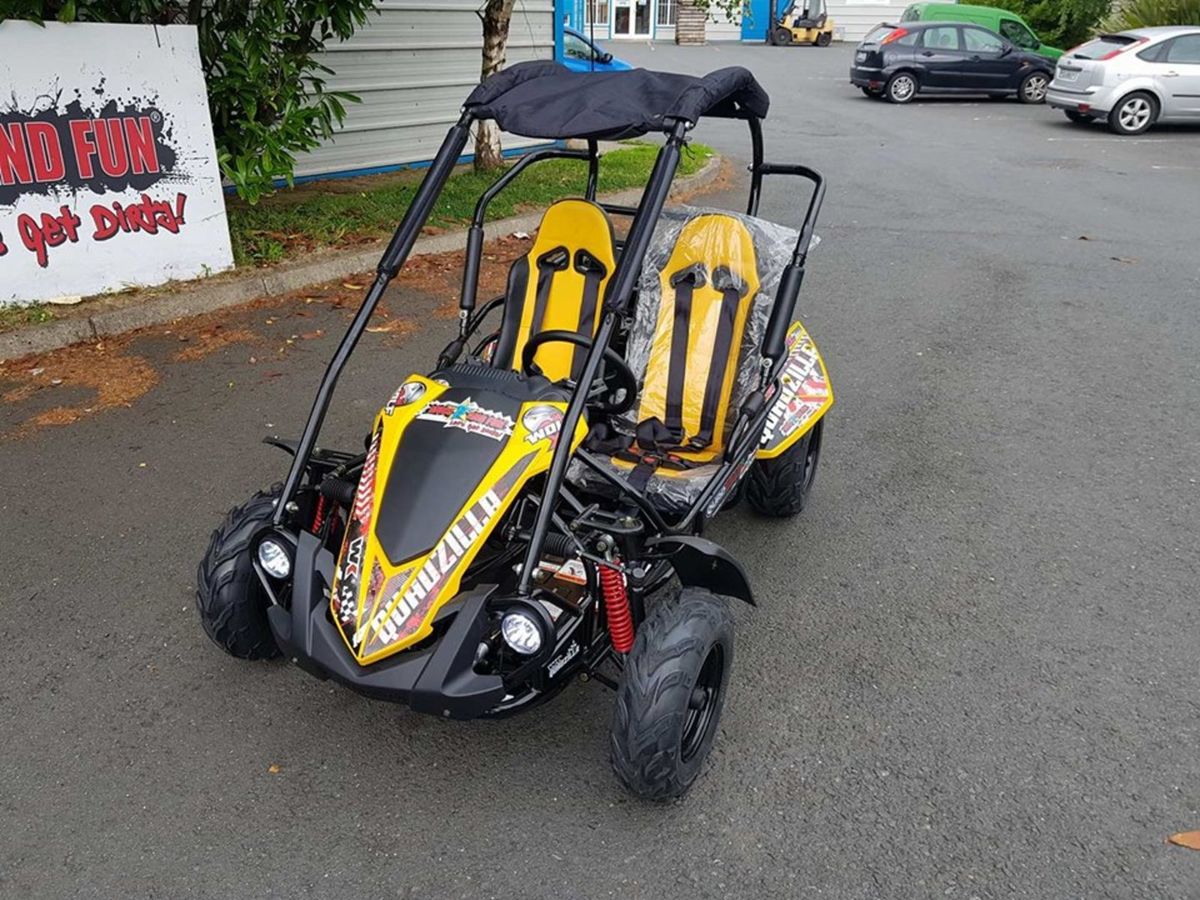 QUADZILLA's newest mid-size kids go-kart featuring the latest innovations in off-road buggies. Produces excellent power and low-end torque. Comfy sport bucket seats with 5 point harness for safety.
Features:
CANOPY ROOF
MANUAL CHOKE
LED HEADLIGHTS
HORN
ALL WHEEL MUDGUARDS
5 POINT SAFETY HARNESS
SAFETY PADDING ON CAGE
STRIKING GRAPHICS

ENGINE - 200cc, 6.5HP 4 STROKE LATEST AIR COOLED OHV
START SYSTEM - ELECTRIC START WITH PULL START BACK UP
TRANSMISSION - CVT AUTOMATIC (REV AND GO)
PERFORMANCE - MAX SPEED: 35MPH (CAN BE RESTRICTED)
BRAKES - HYDRAULIC DISC BRAKES
SUSPENSION - INDEPENDENT DUAL A ARMS - SWING ARM & TWIN OIL DAMPED SHOCKS
----------------------------------------------------------------------

HAMMERHEAD mud head NEW 2023 SPECIAL OFFER this is new model from USA andis now exclusive to muck and fun € 2450.00
MID SIZE BUGGY WITH REVERSE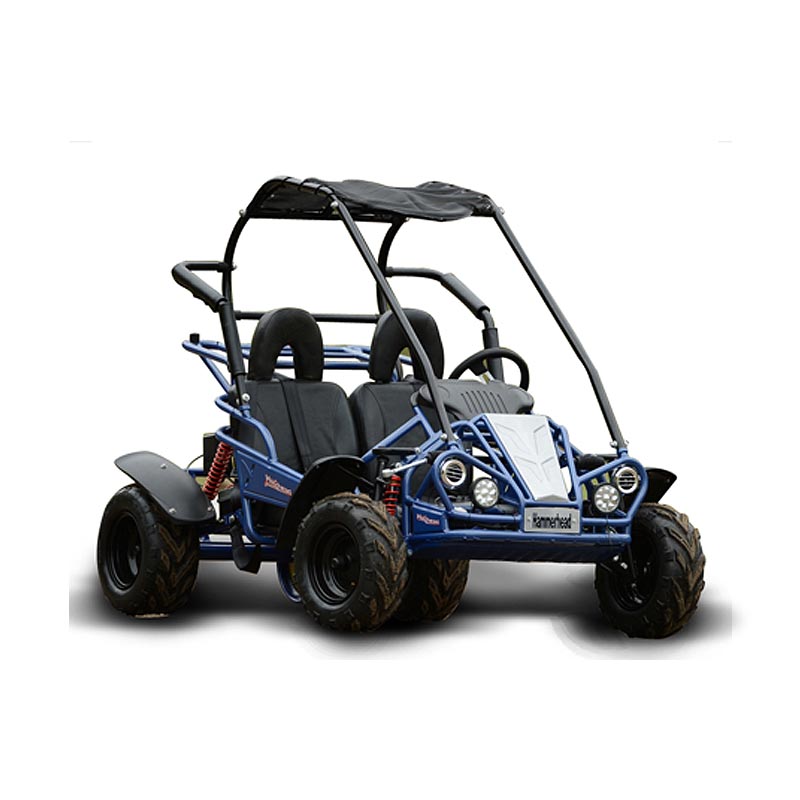 BUILT BY US SUPPORTING IRISH JOBS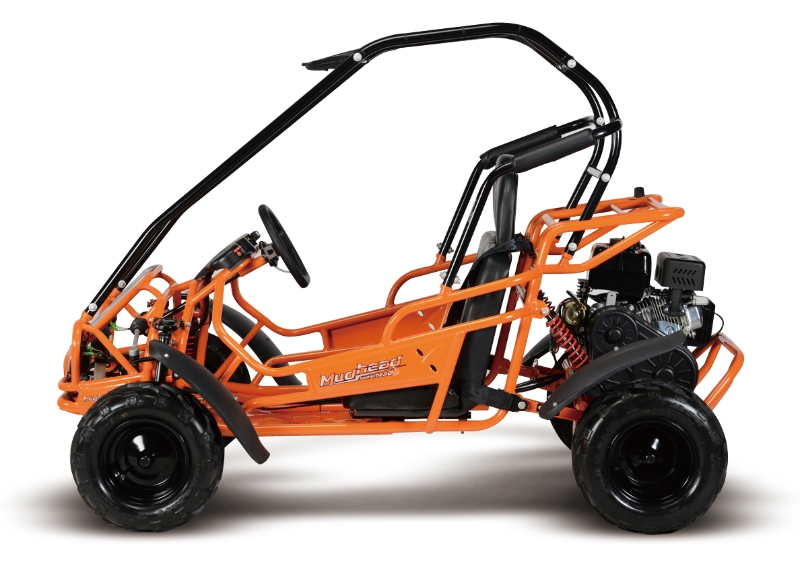 THE WORLDS BEST SELLING BUGGY IN ITS CLASS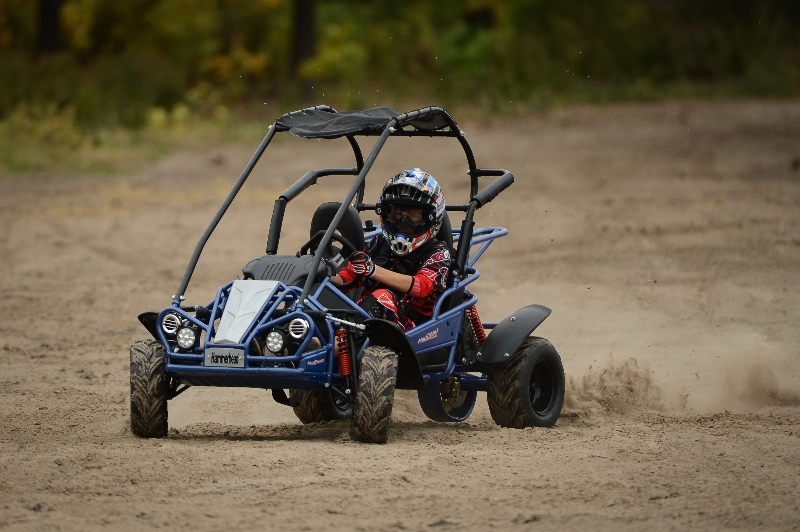 SUIT AGES 8 APROX TO ADULT CAN SQUEEZE IN AND DRIVE
JUST RELEASED IN THE ALL NEW HAMMERHEAD MUDHEAD . 6.5 HP which means 208 CC.. which means enough pwoer for your kids to have some ssideways fun or up and down hills . You can still regulate the speed . Our most popilar buggiy in its class and packed with new features for 2023 model year
The 2015 Hammerhead Mudhead now comes with full USA specifications. Assembled by us in the Wicklow. The Mudhead comes equipped wth a 208cc LCT electric start engine as well as an additional backup pull-start. Other standard features include adjustable drivers seat with a manual choke underneath for all weather starting, LED head lights, electric start, horn, dual head lights, wheel fenders and canopy top.
The Mudhead has a suggested age range from 8-13yrs (height dependant ) or ADULT
Supplied Fully Built and Tested WITH FULL 1 YEAR WARRANTY
The Hammerhead Mudhead is one of the most advanced Kids Off Road Buggies on the market and as Hammerhead are known throughout the world for quality and reliability you can rest assured you have made the right choice.
Please do not compare this buggy with the cheaper unknown brands.
Available in Blue, Red, Black or Orange
This Buggy with full USA specifications is only available from us or as we have sole Irish rights
| | |
| --- | --- |
| ENGINE | LCT 208cc. Single Cylinder |
| COOLING | Oil Cooled |
| START | Electric With Pull Start Backup |
| TRANSMISSION | Automatic |
| FINAL DRIVE | Chain & Shaft |
| SEATS | Sports With Headrests |
| PROTECTION | Body Protective Brush Guard |
| SEAT BELTS | 3 Point |
| STEERING | Rack & Pinion |
| FRONT SUSPENSIOM | Dual A-Arm |
| REAR SUSPENSION | Swing Arm |
| FRONT TYRES | 16 x 6-8 |
| REAR TYRES | 16 x 7-8 |
| WHEELS | Black Steel |
| BRAKES | Hydraulic Disc |
| TOP SPEED | Adjustable (user limited) |
| STEERING SIDE | Left Hand Drive |
| DIMENSIONS LxWxH | 1780 x 1100 x 1295mm |
| WEIGHT | 136 kg |
FUN FUN FUN EVEN DAD CAN SQUEEZE IN
--------------------------------------------------------------------------------
MUDRocks Gt 50 KIDS PETROL ENGINE BUGGY €SUIT AGE 4 TO 10 € 1595.00
CLASS LEADING BUGGY !!!!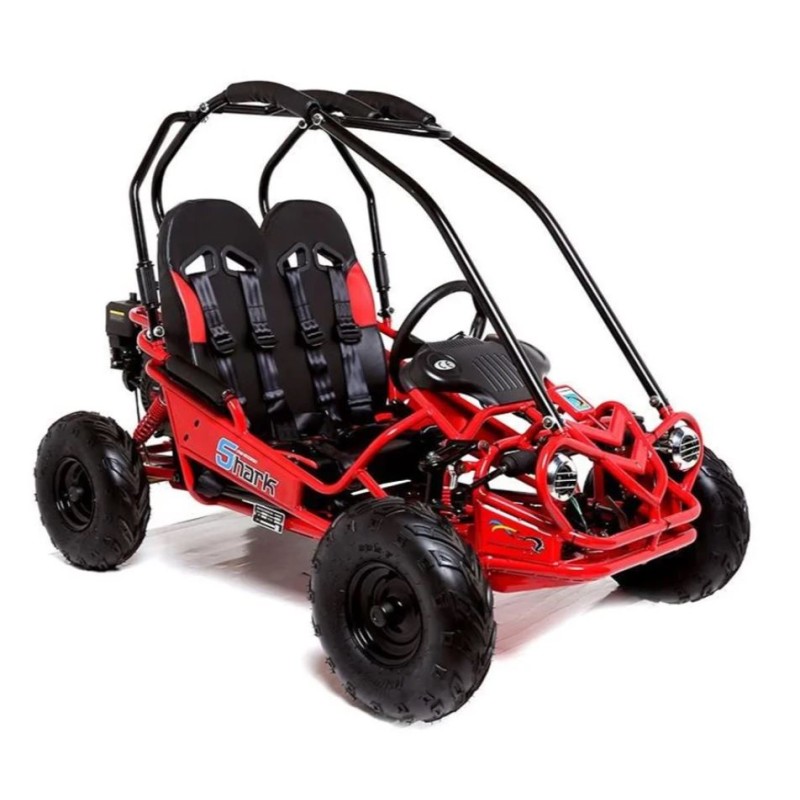 NEW MODEL KIDS BUGGY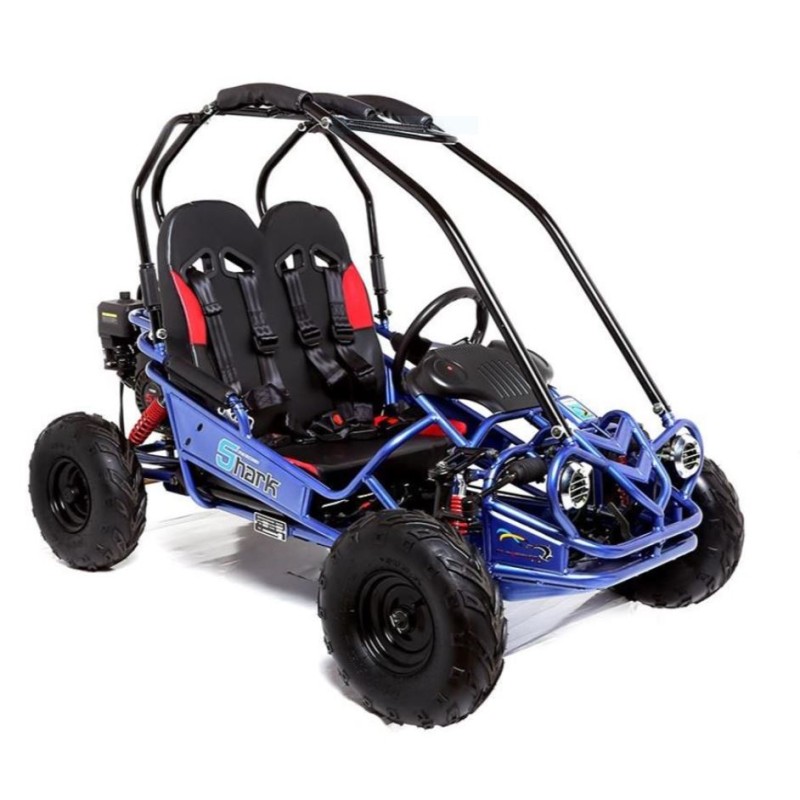 1 YEAR PARTS AND LABOUR WARRRANTY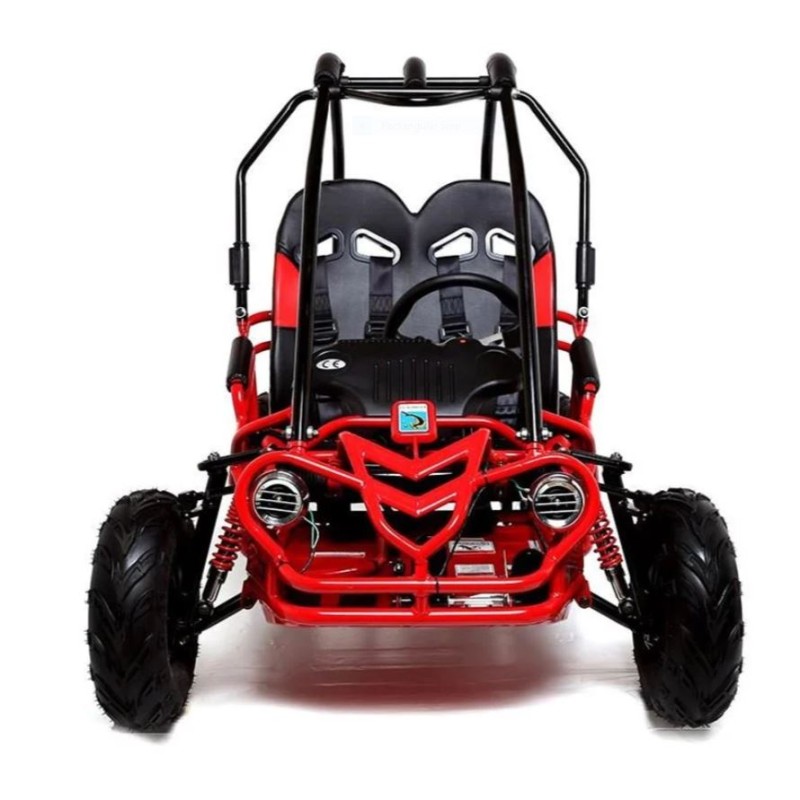 STUNNING BUGGY BUILT TO STAND THE TEST OF TIME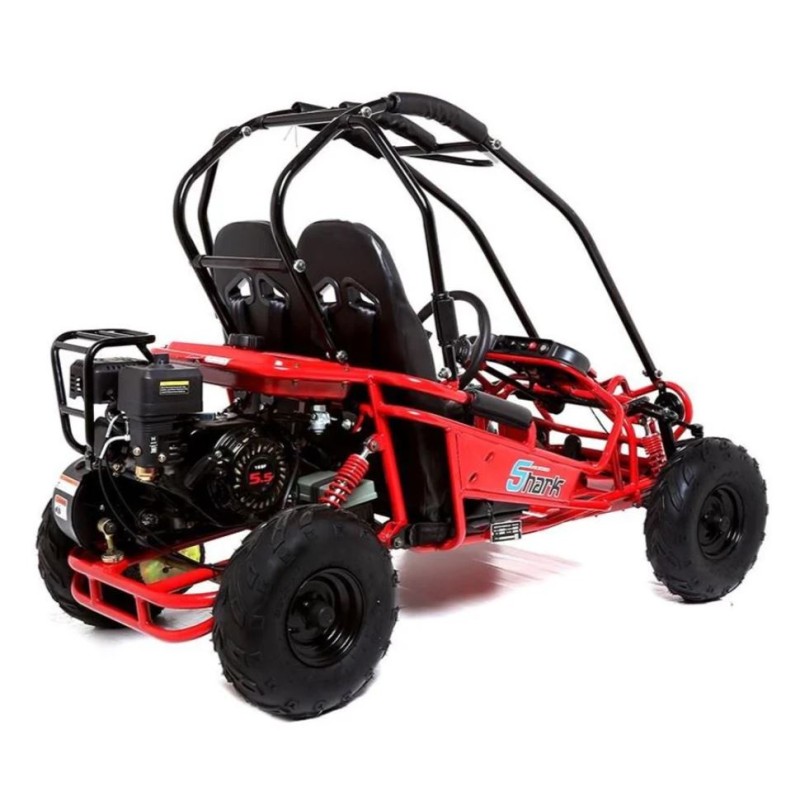 all NEW MUD Rocks gt 50 kids buggy 160 cc engine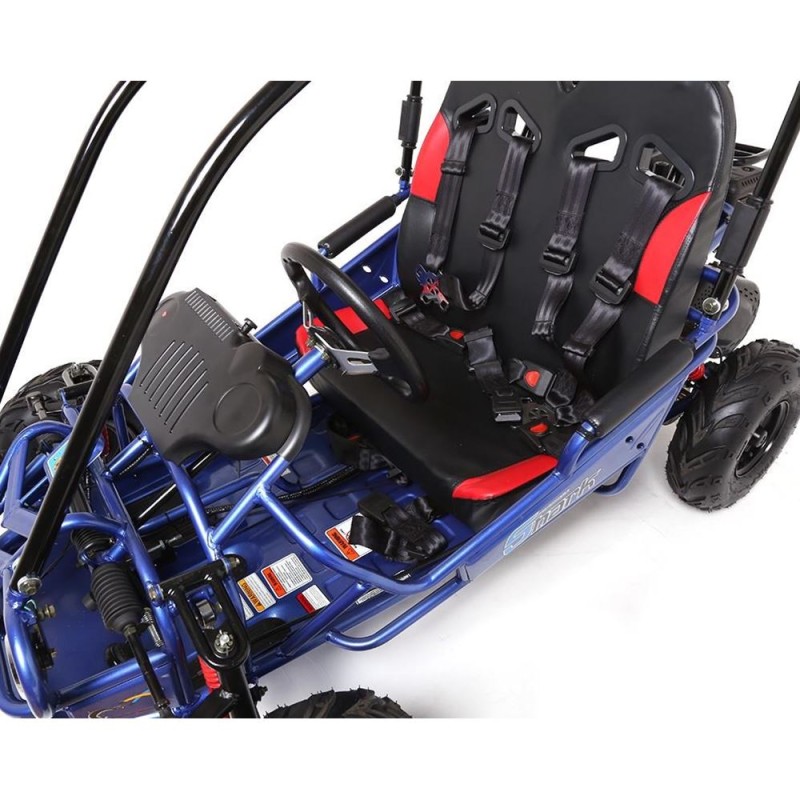 VERY powerfull 160 CC engine which is more enough for hills - the beach - Sideways fun - BUT YOU HAVE A SPEED REGULATOR to slow to walking pace
GT50 buggy now includes a 4 point safety harness, a push button electric start, stop go foot pedals fully auto simple and easy to use
Remote control stop start
4 Point seat belt safety harnesses
Adjustable throttle and brake pedals
BEWARE fakes of our machines
MEETS all EU safety requirement comes with full CE approval
BROUGHT to you by muckandfun.com the largest of road shop there is with over 200 quads - buggies - Jet sks - Pit bikes - Mini motos - side x side - Euduro - Supermoto plus much more
------------------------------------------------------------------------------------------
ALL NEW MUDROCKS 200 cc € 2195.00 SUIT AGE 8 TO ADULTS CAN SQUEEZE IN
STUNNING ALL NEW DESIGN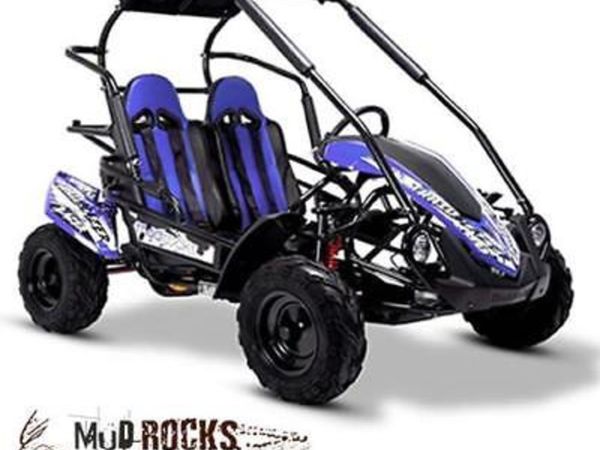 GREAT BUGGY FOR KIDS AND ADULTS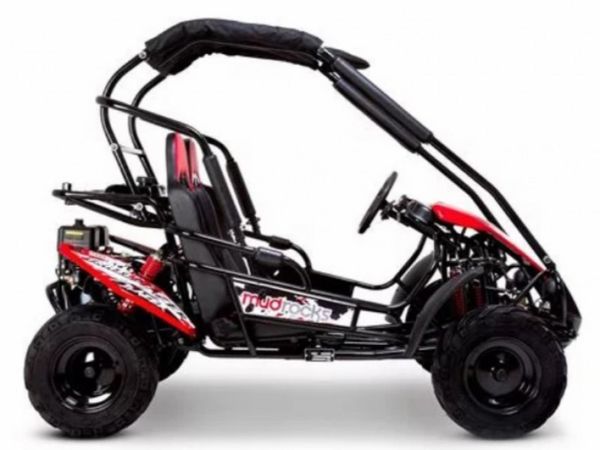 HOME DELIVERY ALL IRELAND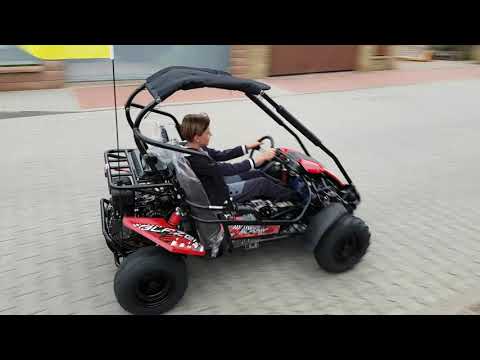 LOOK EVEN BETTER IN REAL LIFE
SAFE FAMILY FUN FOR EVERYONE
PWOERFULL 200 cc engine means proper buggy fun . Up and down hills - the beach - side ways fun can all be done with engine of this size . You can still slow it down till they get the hang of it
ALL buggy and very first ones in Ireland
STUNNING design and quality
FULL 1 YEAR parts and labour warranty
LOOKS even better in real life
ORDER early is best policy
2WD live axle for side ways fun
Off road tyres go anywhere
Torque converter clutch system
Rack and pinion steering FOR great handling
SPEED regulator so you can speed up and slow down
FULL ce approval and meets all EU rules and regulations
COMES fully built - tested - ready to go
------------------------------------------------------------------------------
FURY Kids Electric Off Road Buggy SOLD OUT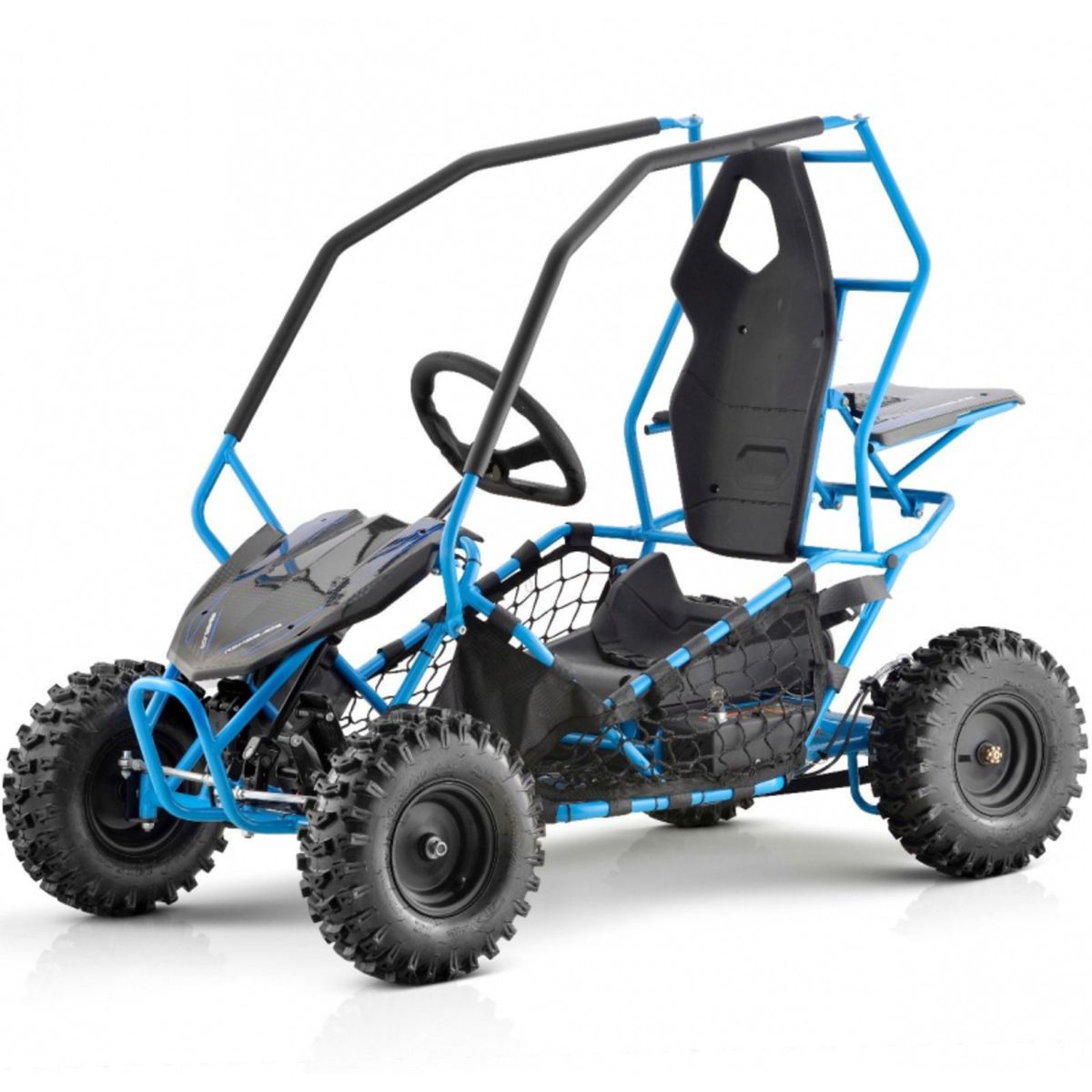 QUADZILLA Tornado 175 (WARRANTY-DELIVERY-CHOICE)
€ 3650.00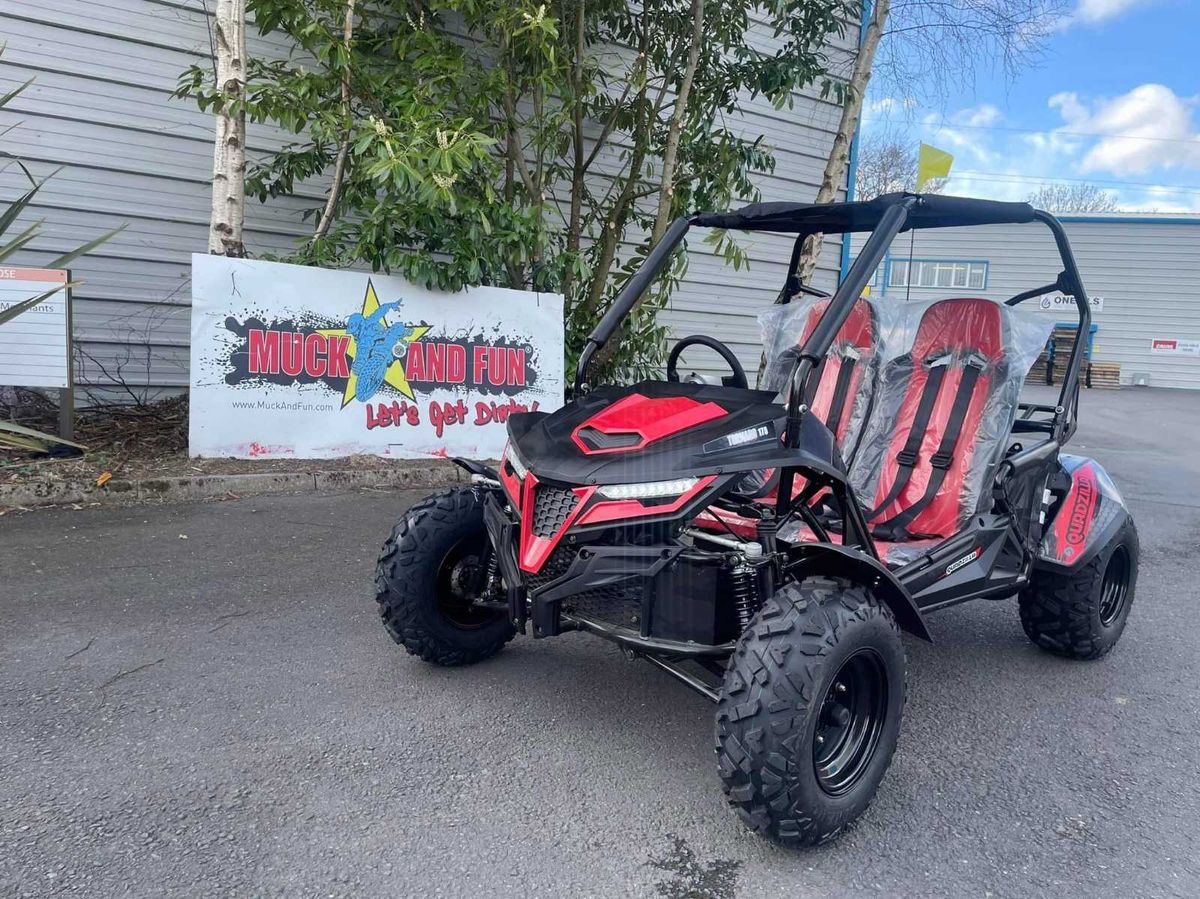 NEW MODEL FOR 2023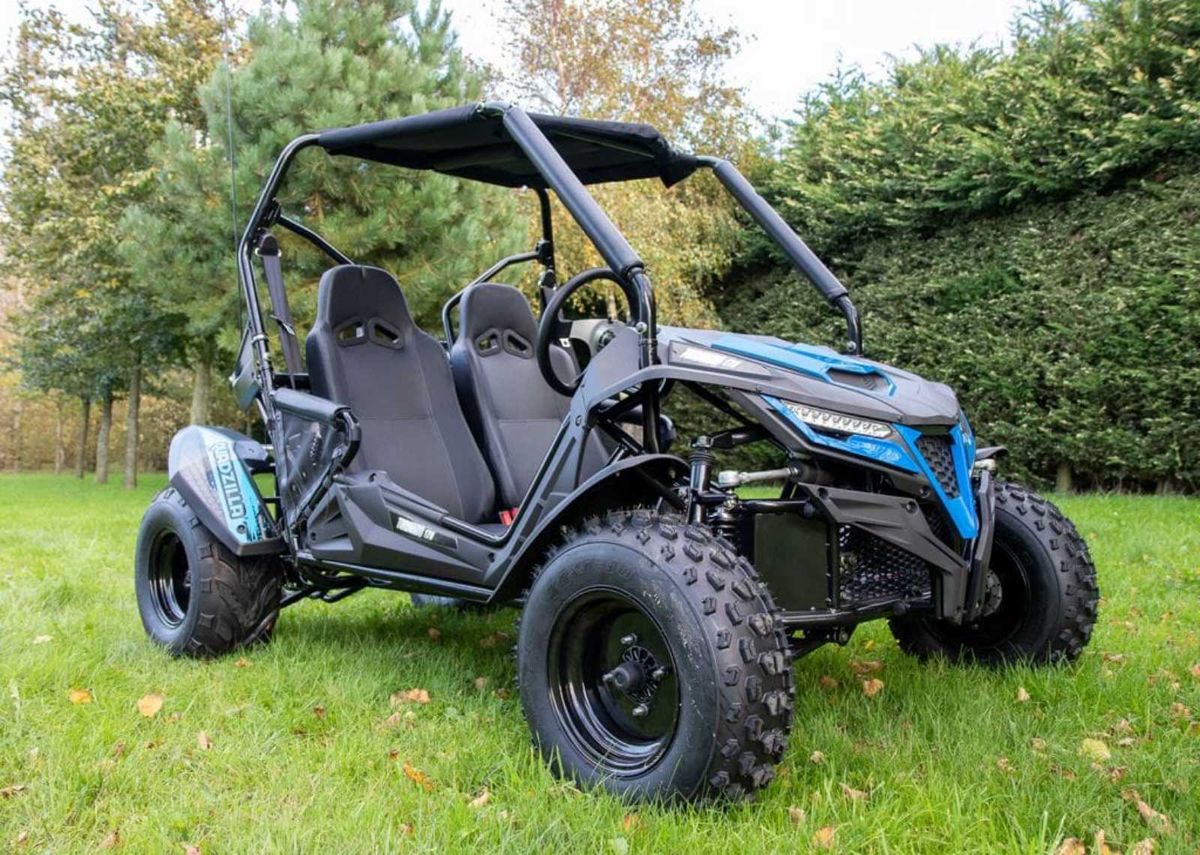 HOME DELIVERY ALL IRELAND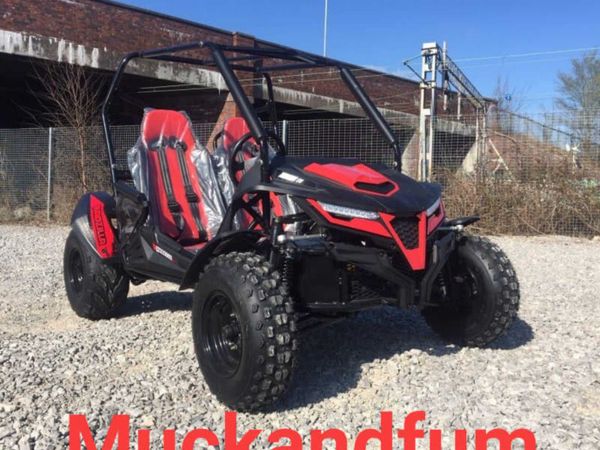 BUGGY FUN FOR THE WHOLE FAMILY
FULLY AUTO WITH REVERSE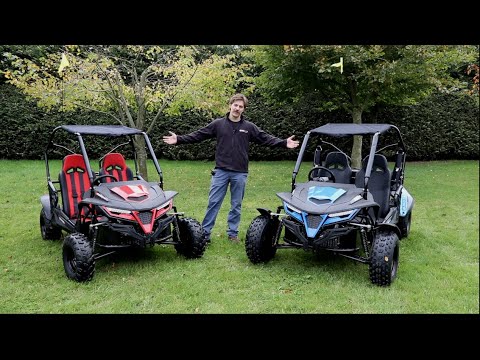 NEW Quadzilla's largest off road junior buggy from MUCKANDFUN
With a 169cc scooter type CVT engine including a forward and reverse gear.
HOME delivery all Ireland only € 60.00 comes built tested by us ready to go
WE also give you 2 FREE services to say thanks for your custom
WE are the biggest buggy shop in Ireland or Uk big range
2 YEAR WARRANTY brought to you by muckandfun IRELANDS largest off road shop
Text and whattsap chat on 086 1936623
Now upgraded to feature multipoint harnesses to keep both passenger and driver in.
All four wheels have mudguards to help keep mud from the users.
LED lights and indicators integrated with the all new styling to give an aggressive look.
What better opportunity to get kids in the great outdoors!
MIN GROUND CLEARANCE 15cm
PEDAL TO SEAT BACK 92-106cm
Need any more info let us know
We also do hammerhead mudrocks mud monster moto roma plus much more
NEED any more inf let us know
2 FREE SERVICES - COST PRICE ON ANY GEAR THE BIKE
QUADZILLA Stingray (Family size-Delivery-Choice) € 2750.00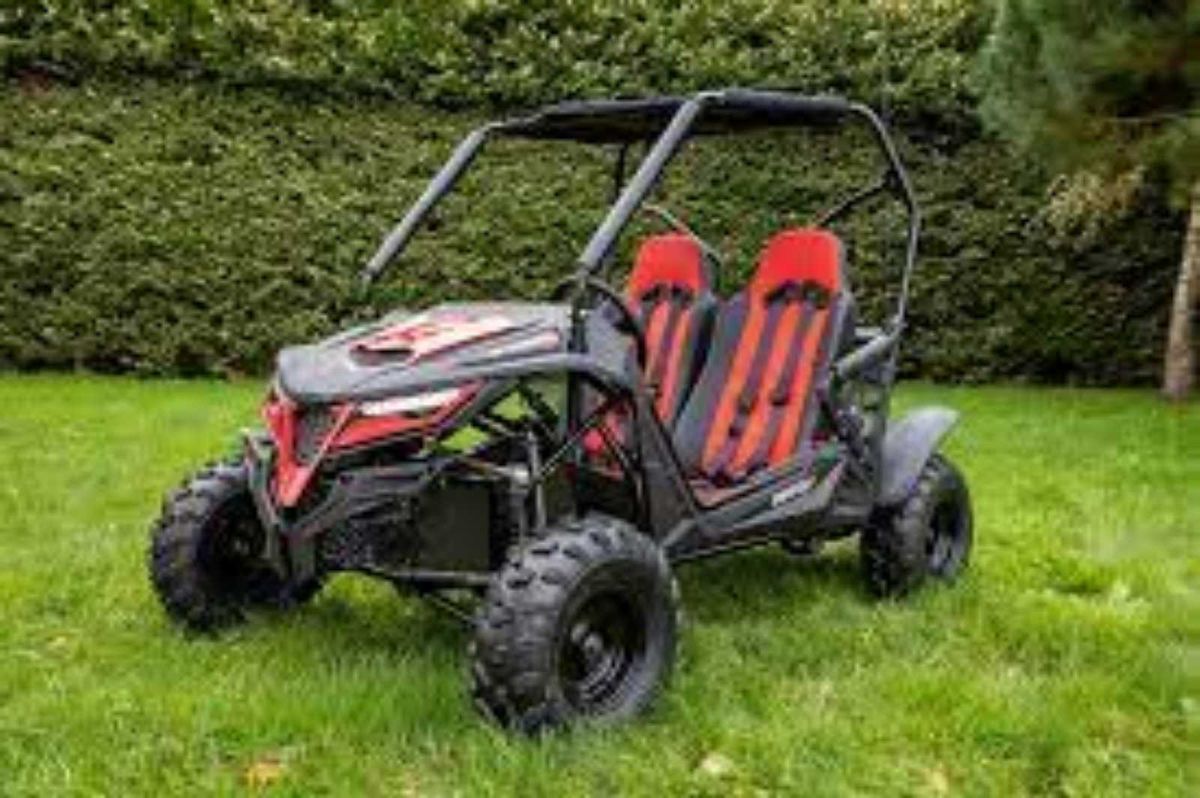 NEW MODEL BUGGY FUN FOR ALL THE FAMILY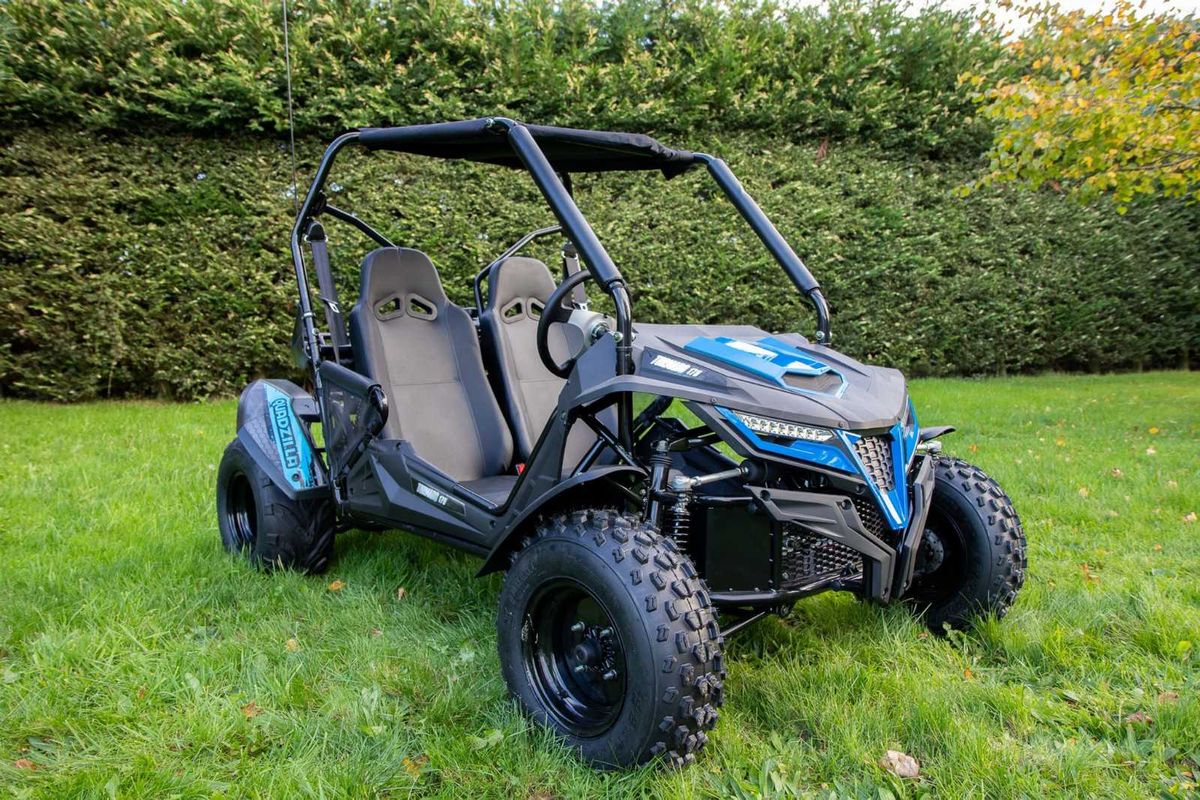 HOME DELIVERY ARRANGED ALL IRELAND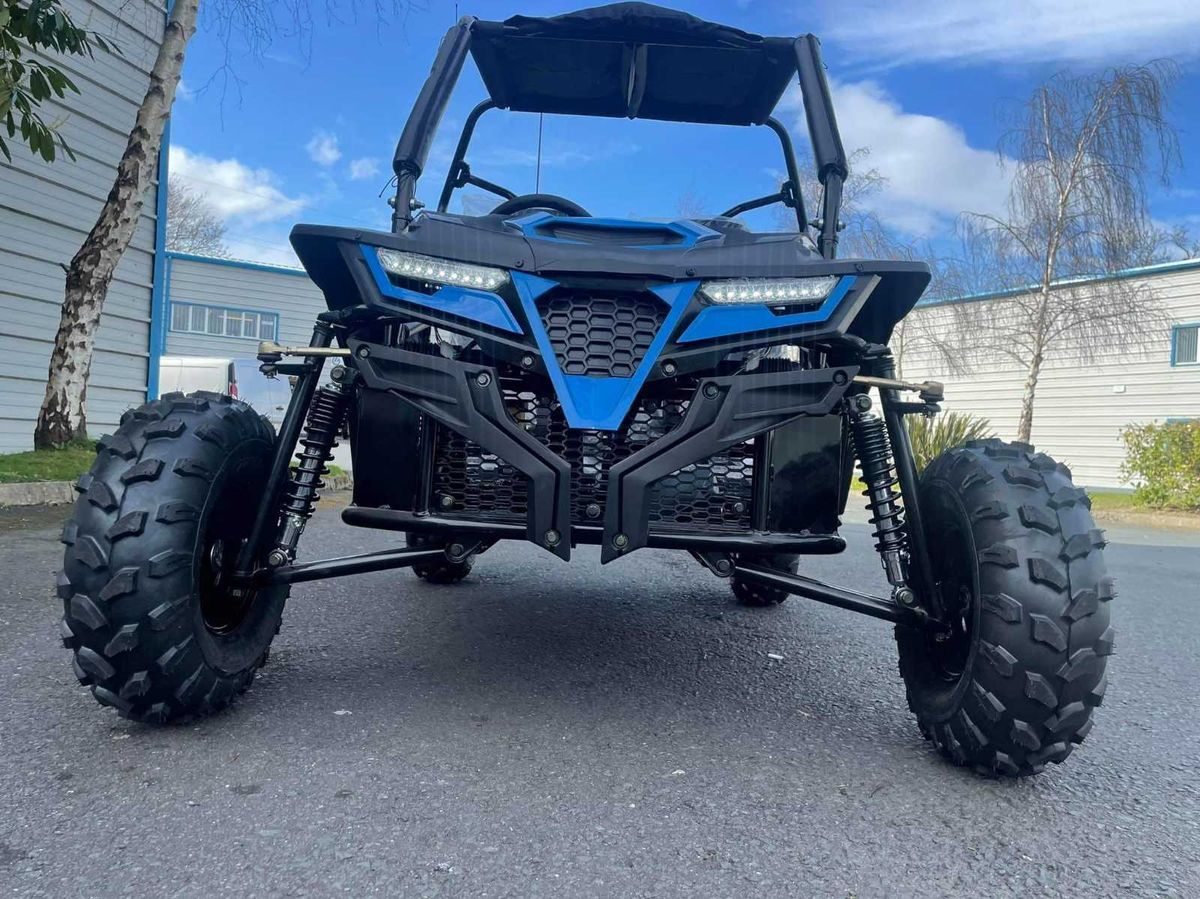 2 YEAR WARRANTY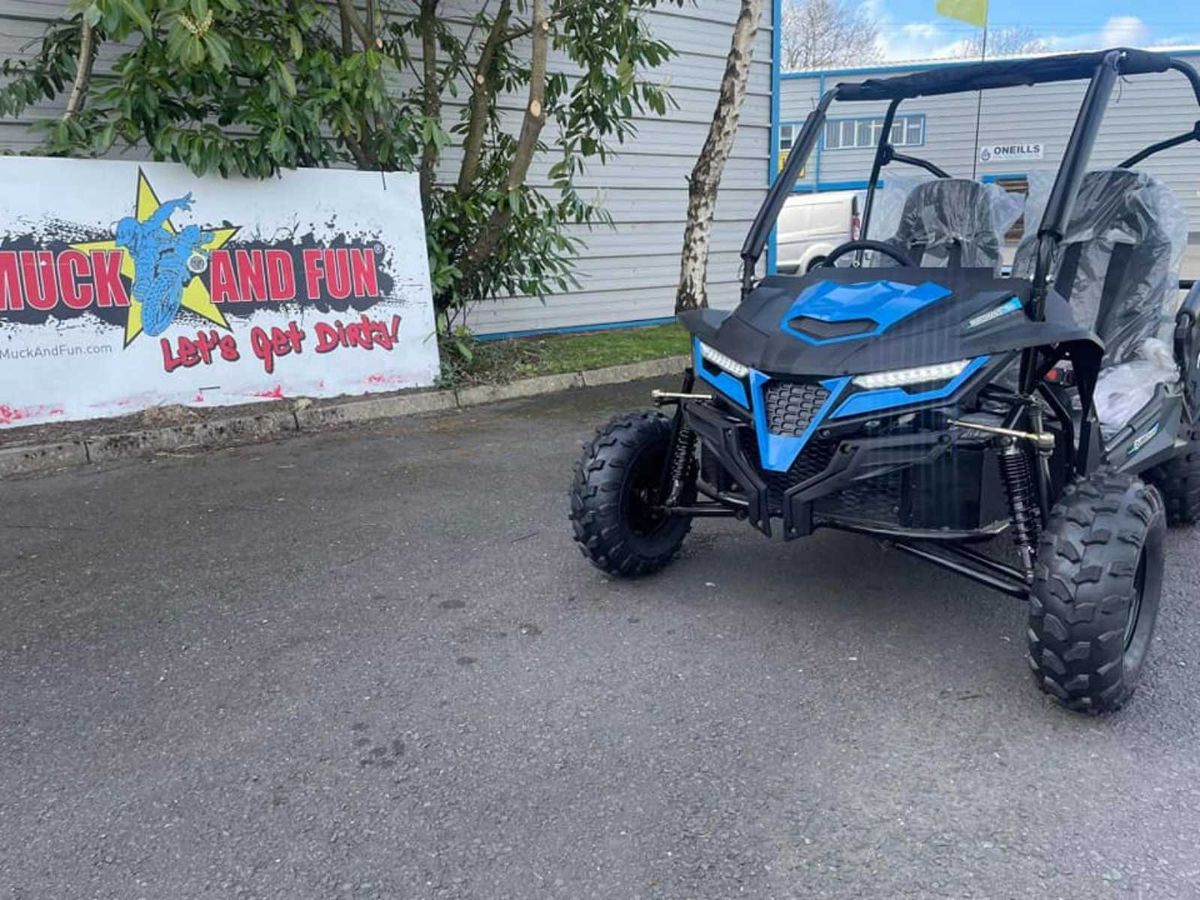 The latest in the mid-sized junior off road buggy from Quadzilla.
Home delivery all 🇮🇪 only €60.00
WE are Irelands biggest off road shop with over 250 machines in stock
Family fun buggy size suits everyone . Mid size for kids and adults can squeeze in
Text and whattsapp chat on 086 1936623 or 089 2793529 shop hours
We also give 2 free services to say thanks
Using the same tried and trusted 208cc engine, but now featuring forward and reverse gears!
The chassis is new from the ground up, with increased ground clearance and bigger tyres making for an all round better machine.
The new sports styling with LED lights and indictors with improved protection from the mud.
The 4 point harness for both driver and passenger.
A great buggy which allows kids to get out in the fresh air and even get to learn about vehicles and mechanics!
Adults can also squeeze in
MIN GROUND CLEARANCE 10cm
PEDAL TO SEAT BACK 82-96cm
Some of our other buggies at end of pics
NEED any more inf let us know
2 FREE SERVICES - COST PRICE ON ANY GEAR THE BIKE
POLARIS RZR 1000 XP ROAD REG RACE BUGGY
2018 RZR 1000xp
She absolutely flys and great fun to drive runs like a dream and fires up first time even after months of sitting around.
It's road legal mot'd till km on the clock.
Sti 14inch bead lock rims with part warn on/off road tyres.
Brand new System 3 15inch beadlock wheels with brand new all terrain BF goodrich tyres.
Brand new drive belt not quite run in.
Ken Block made these famous all over the world
Race machined brake pads with race calipers and discs.
Comes with spare set of brake pads.
Hardly used Hess 1.5/1ratio steering quickner and hess boss and steering wheel.
Sparco drivers bucket seat and original RZR passenger seat.
Dragon 4 point harnesses.
Side bars and bumpers.
Hrp skid plate.
Walker evans racing shocks all round. Full road lighting kit indicators, hazards, horn, fog light.
Rear mounted rad for racing.
Hess rear radius arms.
Metal roof and half height windscreen.
Wing mirrors.
Hand brake.
Amazing speck real big boys toy
QUADZILLA RL500 Top of the RANGE on or off raod buggy
( UNREAL BIG BOYS TOY ) OUT OF PRODUCTION AT THE MOMENT
MORE NEW MODELS COMING ALL THE TIME STAY TUNNED
BUGGY Fun with Muck and Fun this could be you !