www.sxt-scooters.de NOW @ muck+fun
WELCOME TO SXT SCOOTERS @ MUCKANDFUN @ SMILEYSCOOT
FACEbook.COM/SMILEYSOCOOT
ALSO WE HAVE EVO PETROL SCOOTERS ON ANOTHER PAGE CLICK HERE TO SEE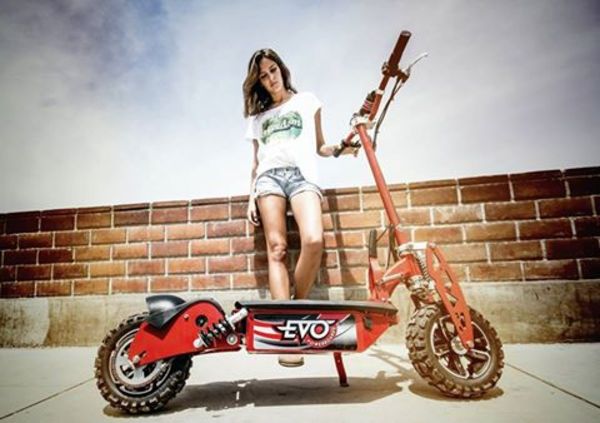 HOME DELIVERY ALL IRELAND AVAILABLE 2 YEAR WARRANTY
SCOOTERS TO SUIT ALL TYPE MASSIVE RANGE
FULLY BUILT TESTED BY US IN WICKLOW
AMAZING QUALITY DESIGN AND PERFORMANCE
FROM 20 KPH TO 83 KPH INTERNATIONAL ORDERS WELCOME
E MAIL : muckandfun@gmail.com TEL 086 1936623 WHATTSAPP this number
ALSO Facebook Messanger OPEN Tuesday to Saturday 10 till 6
WE have mega store scooter heaven in Wicklow to View
JOIN THE REVOLUTION
BEST SELLING SXT 1000 WATT TURBO 40 KPH ELECTRIC SCOOTER € 750.00
SEAT COMES OFF AND SCOOTER FOLDS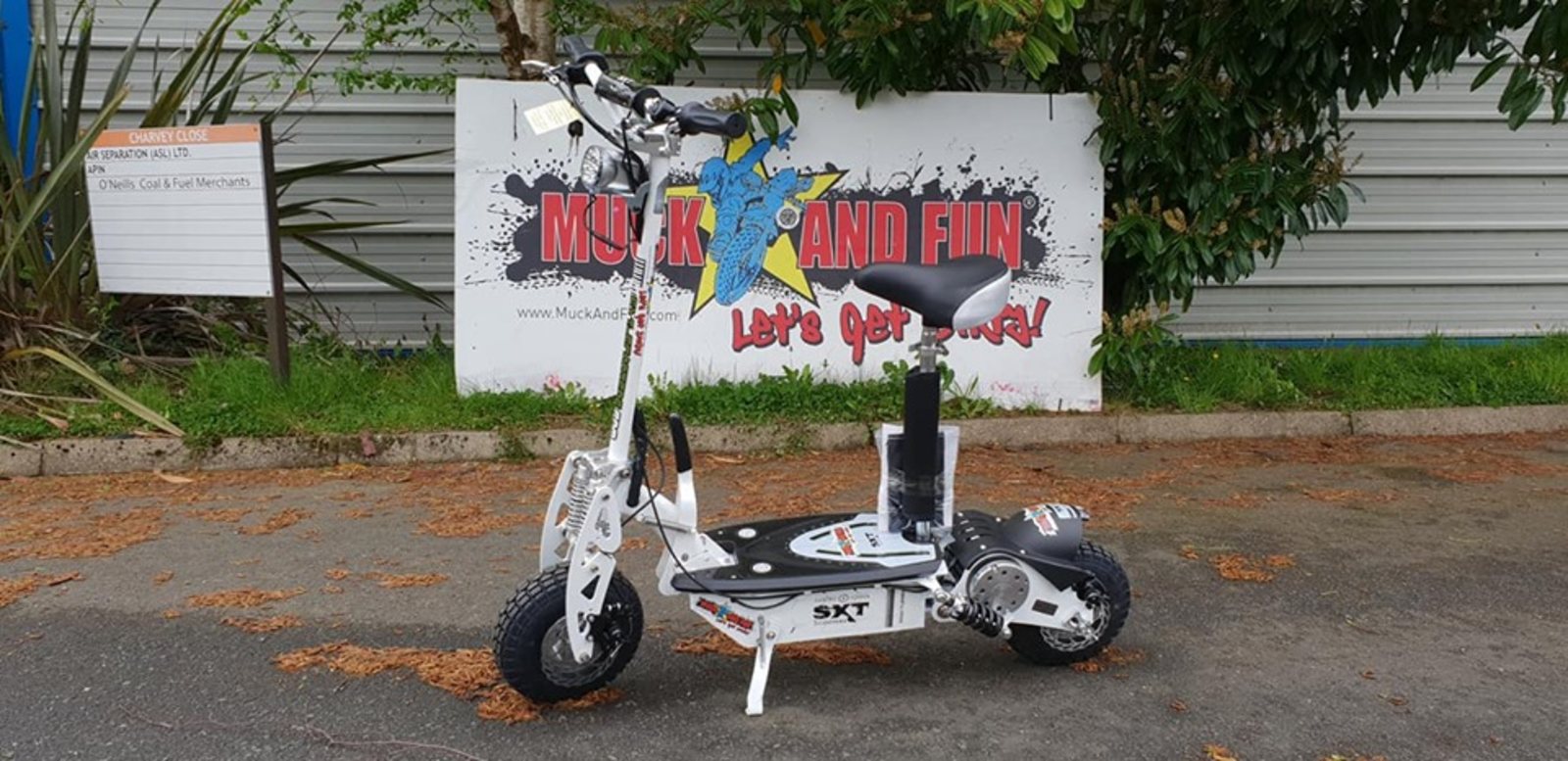 VERY FAST SCOOTER AMAZING BUILD QUALITY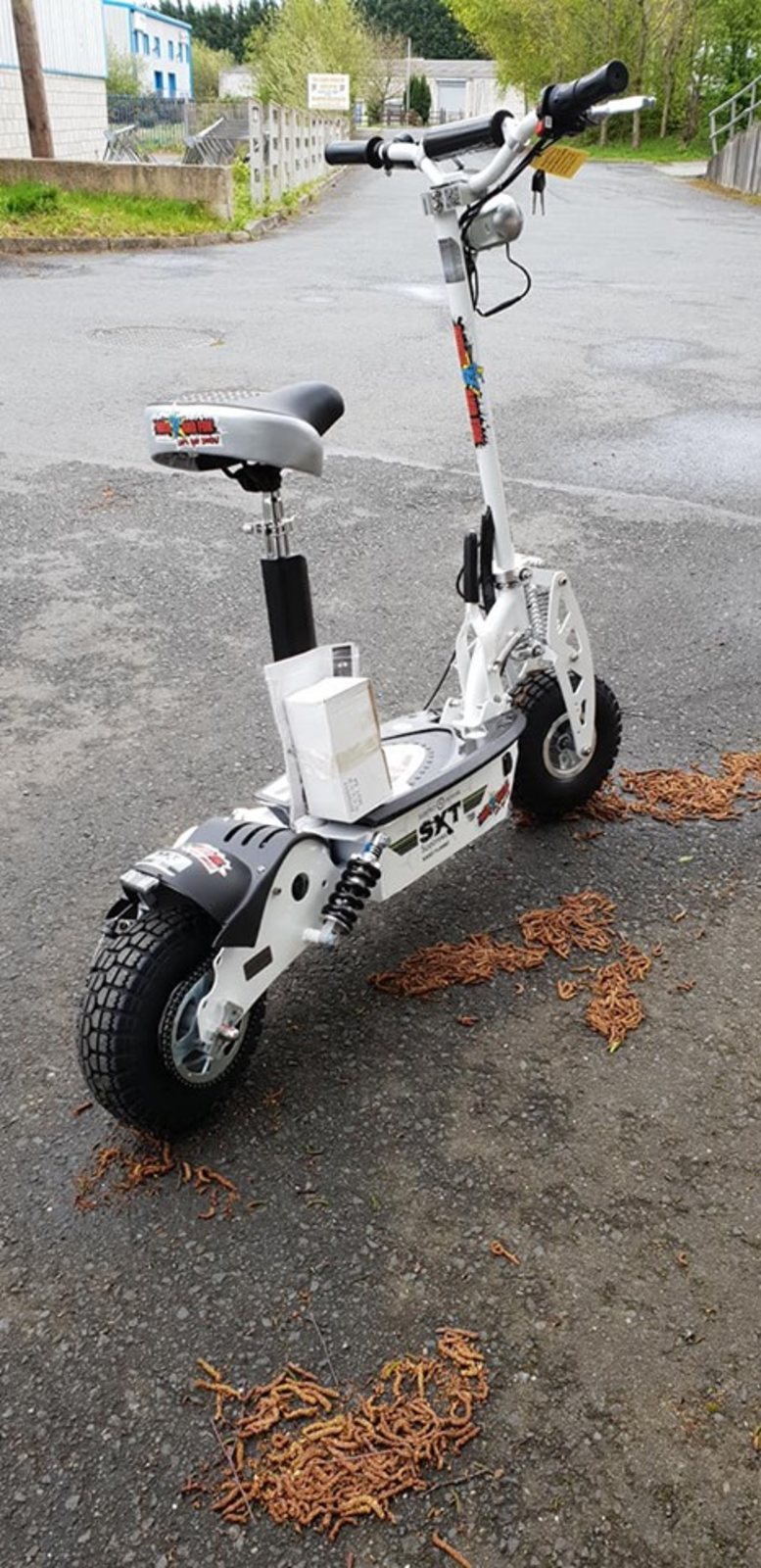 WE sell - Fix - Repair all our scooter NOT some Ebay no backup shop we are number 1 for BACKUP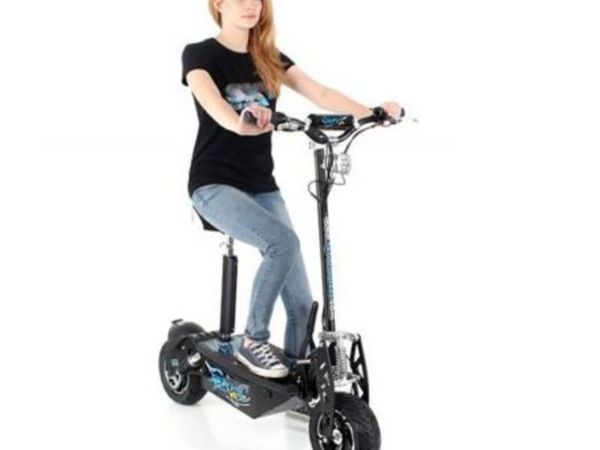 VERY high quality scooter
SCOOTER folds and the seat comes off
ECO mode and cruise mode limits scooter to 20kph furthers battery life and make for comfortable nice and easy scooter pace
What about the driving comfort?! The SXT Scooters' saddle is human-engineered and in comparison with many other scooters it has a wider and much more comfortable seating area in order to guarantee comfortable long distance rides. SXT scooters are also equipped with three shock absorbers – one located in the front and two at the backside of the scooter. Thanks to the air inflated tires the driving comfort is really superior and it doesn't really differ from a "normal" scooter. Even when you drive at a higher speed SXT scooter always feels safe and comfortable.
Each SXT 1000 Turbo model has a lightening system with low power consumption LEDs (light-emitting diodes). The front light is assembled at the handle bar tube, the back and brake lights can be found at the rear mudguard. Lifetime of a LED is up to 10.000 hours and they do have extremely low power consumption.
he Scooter also has a so called "Click & Lock" saddle bracket system, which allows the user to remove and put back the saddle easily and fast. Locking takes place by means of foot lever.
SXT Buddy V2 (E SCOOTER-35KPH-LITHIUM-40KM RANGE) € 1095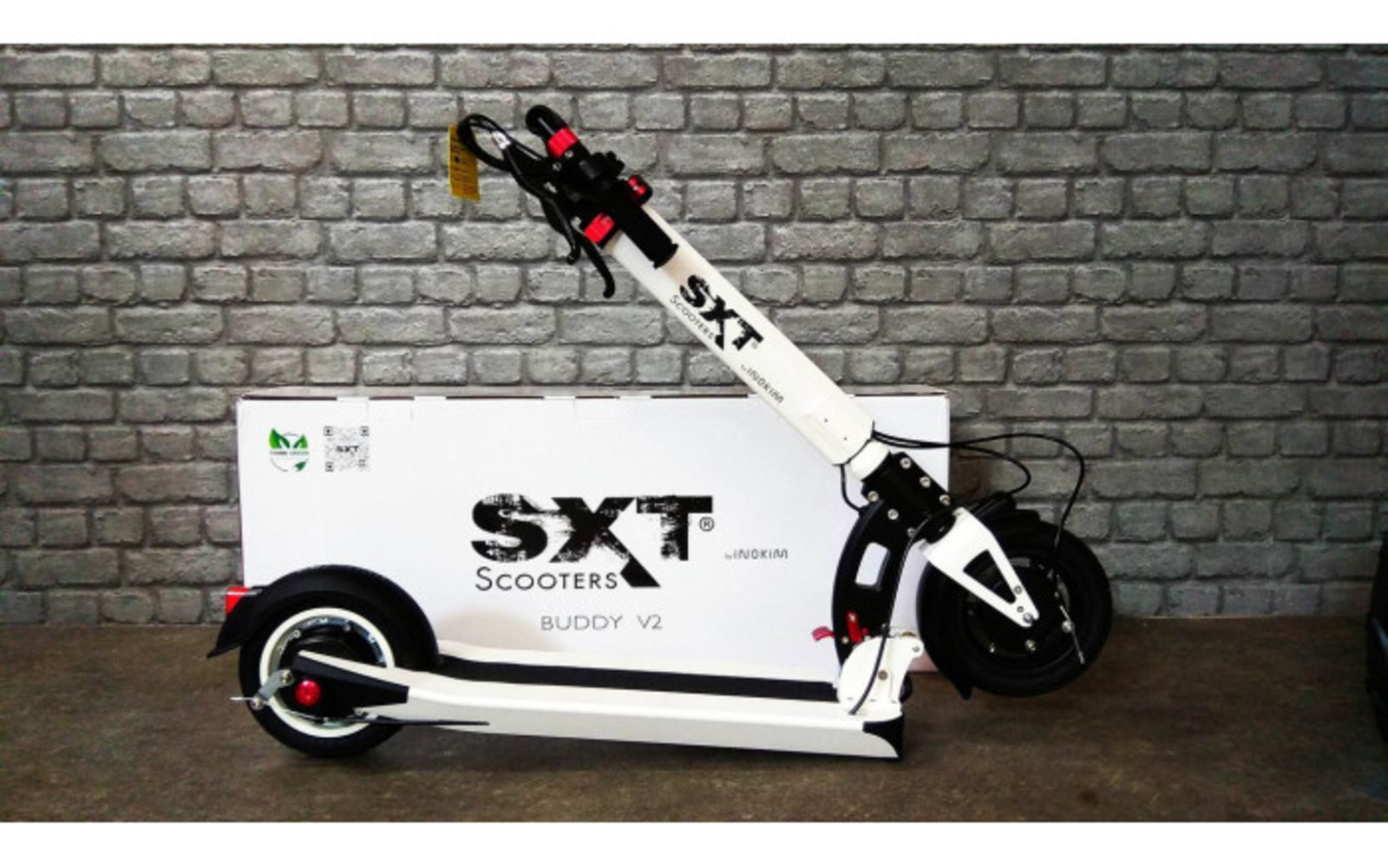 LOVE THIS SCOOTER HAVE 2 AT HOME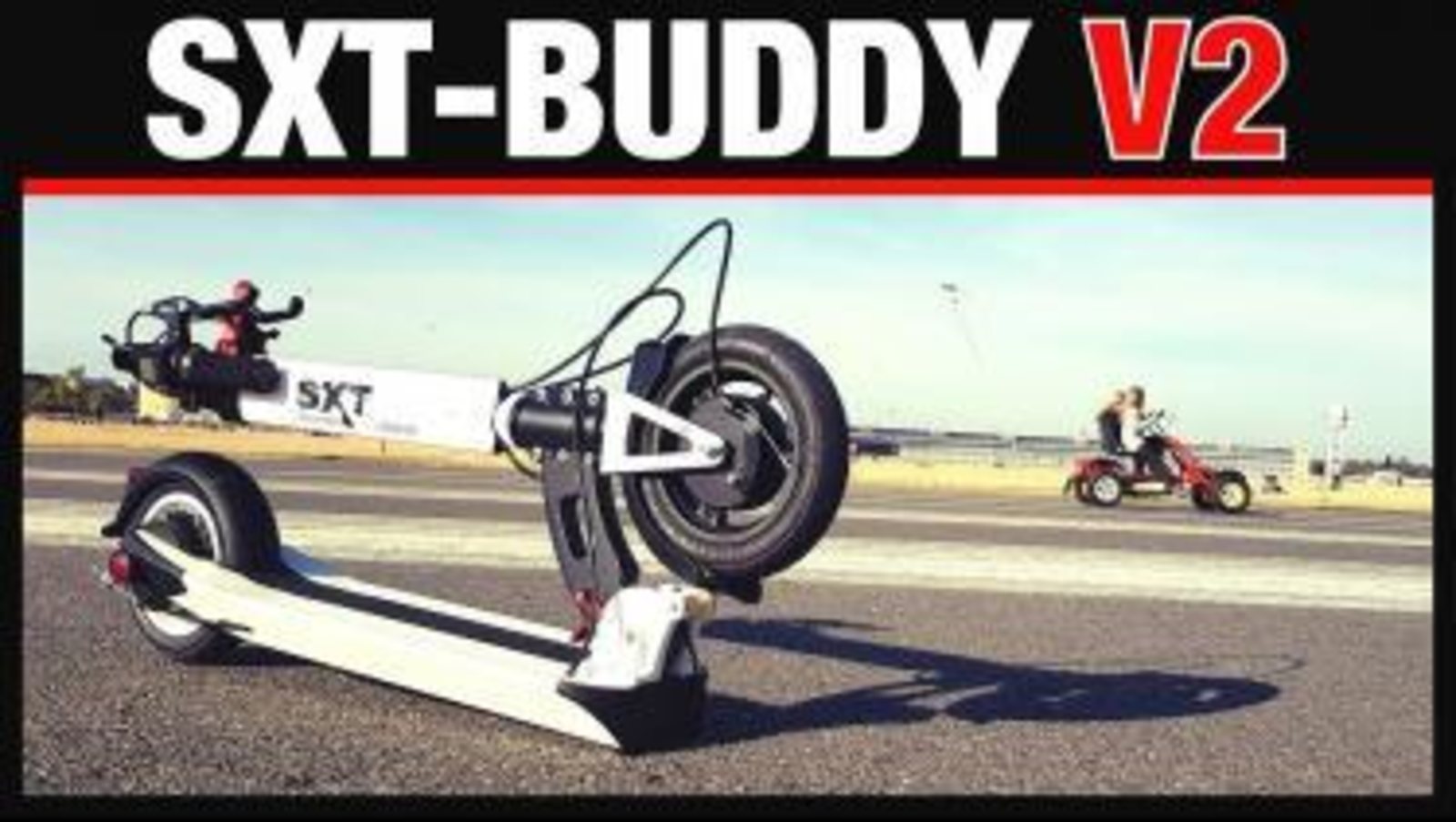 BUDDY BY NAME BUDDY BY NATURE ITS MY BEST FREIND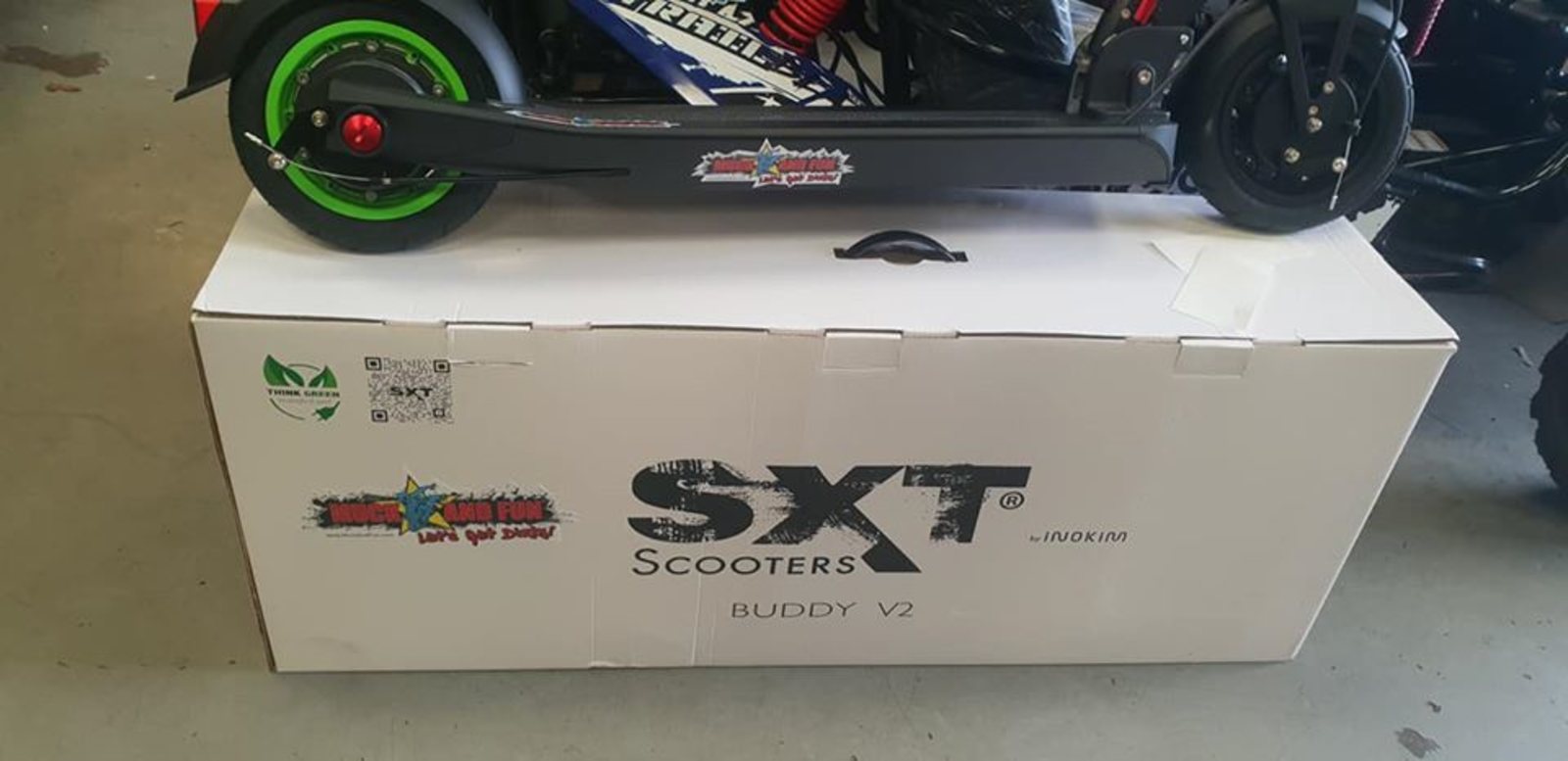 VERY LIGHT I CAN EASILY CARRY 2 AT SAME TIME
The amazing Sxt buddy 2 v2 scooter Simply amazing quality presentation from Germany 2 year warranty
THIS is not your normal run of the mill scooter this is top of the range with serious technology for the best ride €1095 35 kph plus top speed 650 watt powered lithium battery Scooter folds Road legal as to get going you just push off and then it's ready.
Human assisted so legal Piece of engineering masterpiece So light you carry with one hand i can carry two no issue 3 speed settings up to and above range of 35 km ROAD legal as you push off to get going making it human assisted
Home delivery all Ireland
2 year Sxt factory warranty This is a game changer About all HEPS US ALL SMILE AGAIN SCOOTER fold up and you could carry two of them HAS cruise control standard built in battery with high capacity of 10,4 Ah with LG brand cells optimized waterproofness of the battery compartment
Tire upgrade to CST tires The built-in engine in the vehicle is a brushless, maintenance-free hub motor with a capacity of 650W max. The electrical power is supplied by a 36V Lithium Ion battery with a capacity of 10.4 Ah now with two mechanical brakes (low-wear drum brakes)
One of the lightest performance scooters in the world WHY MUCKANDFUN FOR ME ? 1+2 Year Warranty's on new machines 20 Years experience Home delivery next day anywhere in Ireland FREE 2 services Cost price Protective gear saves many €€€ We take deposits / arrange finance / Xmas club Free phone + Help at our shop for life Part exchange welcome Quads-dirt bikes- buggies-Jet skis-Scooters-Mx-Mini+Pit bikes
BIGGEST off road shop in Ireland We open Tuesday to Sunday close monday muckandfun.com for loads more fun NEED help or advice please let us know IRELANDS BIGGEST DIRT BIKE SHOP JOIN us on facebook.com/muckandfun.com LOTS TO CHOSE FR
OM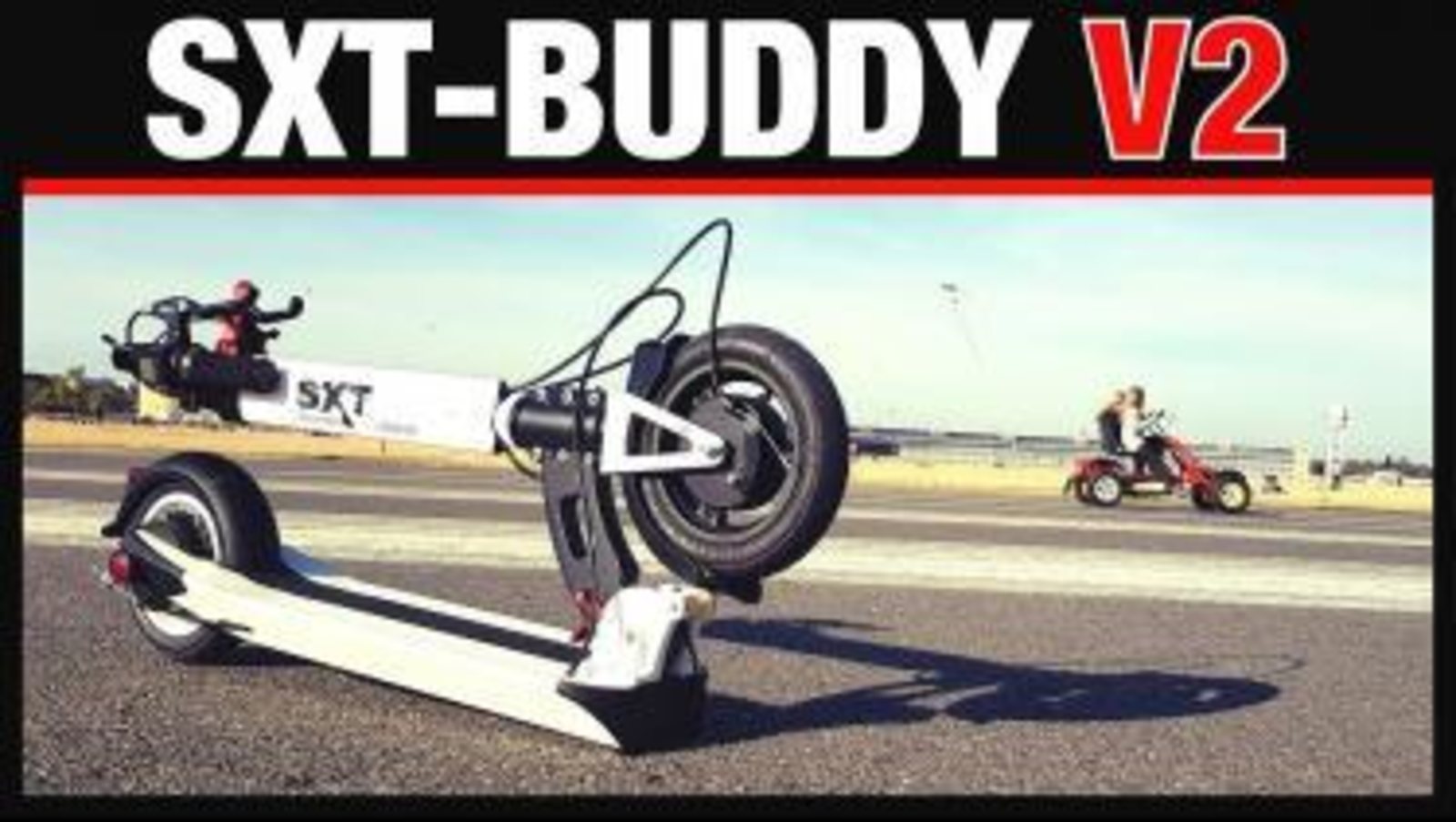 SXT 3600 WATT 83 KPH 1 OR 2 WHEEL DRIVE PRO SCOOTER € 2275.00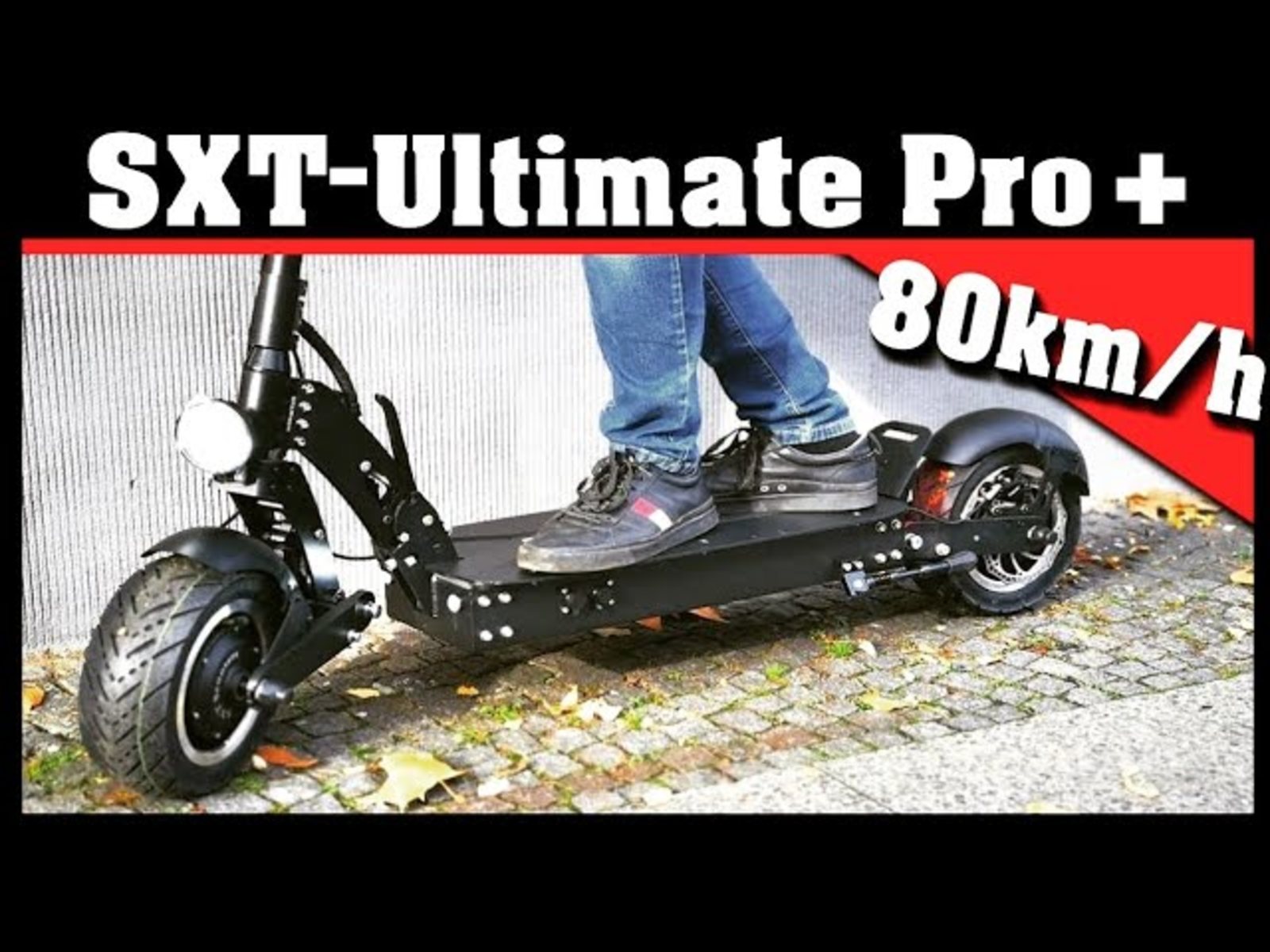 AMAZING PERFORMANCE NOT FOR NORMAL SCOOTER USE EXTREME SCOOT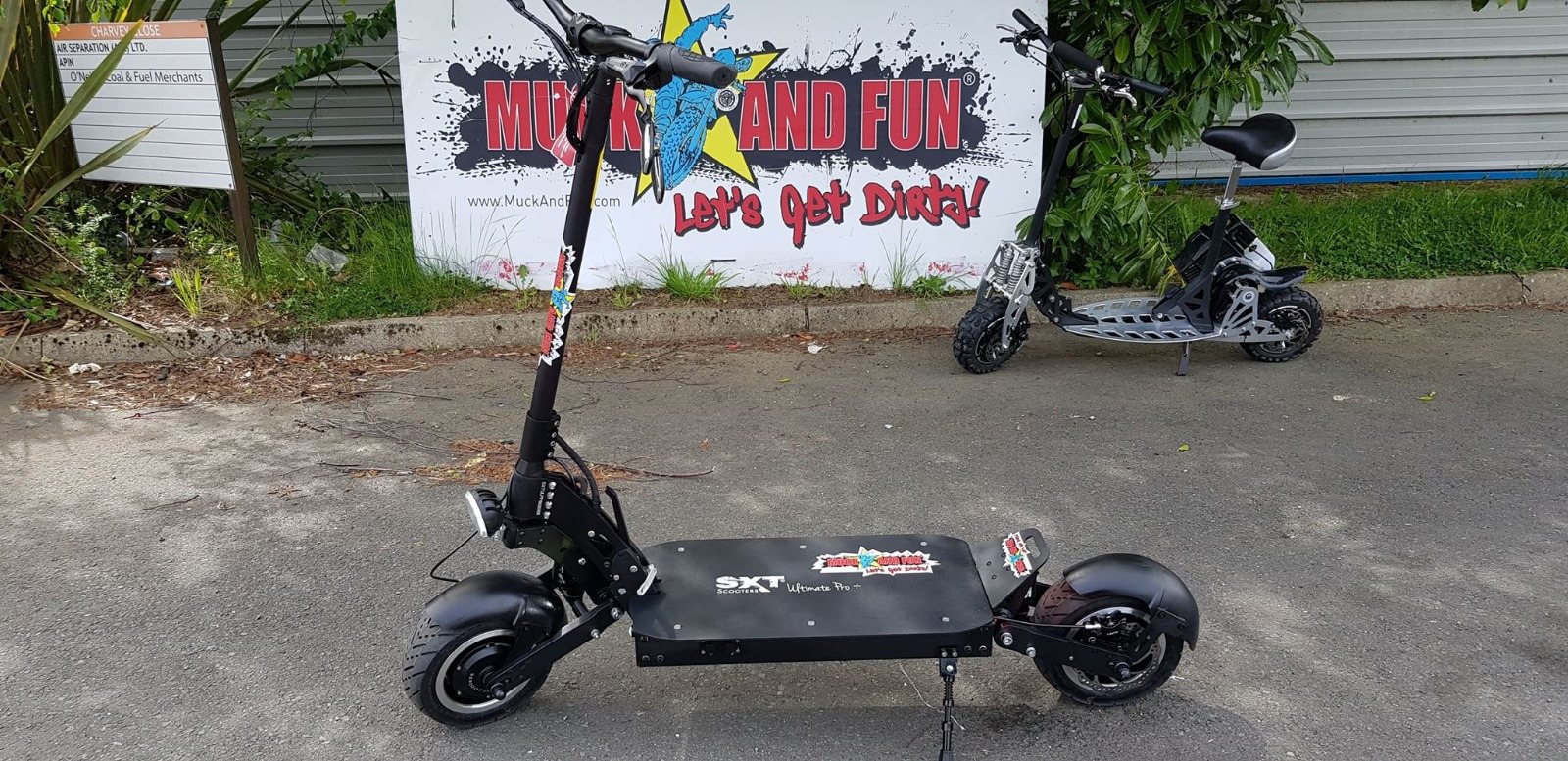 SPEED IN A WHOLE NEW WAY I OVER TAKE CARS ON MINE
BUILT IN ALARM SYSTEM THE SCOOTER FIGHTS BACK IF YOU TRY TAKE IT
6 SPEED SETTINGS SO YOU CAN VERY SLOW RANGE OF UP TO 50 KN
FULL SAFETY GEAR ADVISED SUPPLIED AT COST TO HELP GET SAFE
NE amazing E scooter SXT Ultimate PRO 3600 watt 83 kph scooter
FROM muckandfun + smileyscoot in Wiklow Ireland largest off road shop for mx-quads-buggies-jet skis-scooter all on muckandfun.com
ONE and 2 wheel drive just like a quad bike
SERIOUSLY fast over 18 only full safety gear should be used
SCOOTER folds with one touch lever
PROPER disk brakes serous stopping power
BUILT led lights front and rear
BUILT in alarm system with a feature that the scooter pulls against you and will not let you take it away . Alarm goes and if touched it goes forward and backwards against which ever way someone tried to take it
PROPER pro link style suspension SO jumps of paths etc are easy and comfortable
WHILE its an extreme scotoer it has 6 speed settings . So you can set your top speed to like 17 kph making it safer
3 SLOW speed in 1 wheel drive THEN hit the button you got TWO wheel drive AND all hell brakes loose serious fun
90/65-6.5 CST pneumatic tires with tube and have an outer diameter of 11 inches, mounted on two-part aluminum rims.
60V 23Ah Li Ion battery TOP of the range hence a 50 km range
Legendary 2 x 1.800 W max. engine power - so combined 3.600 W all-wheel drive
NEED any help or advice just let us know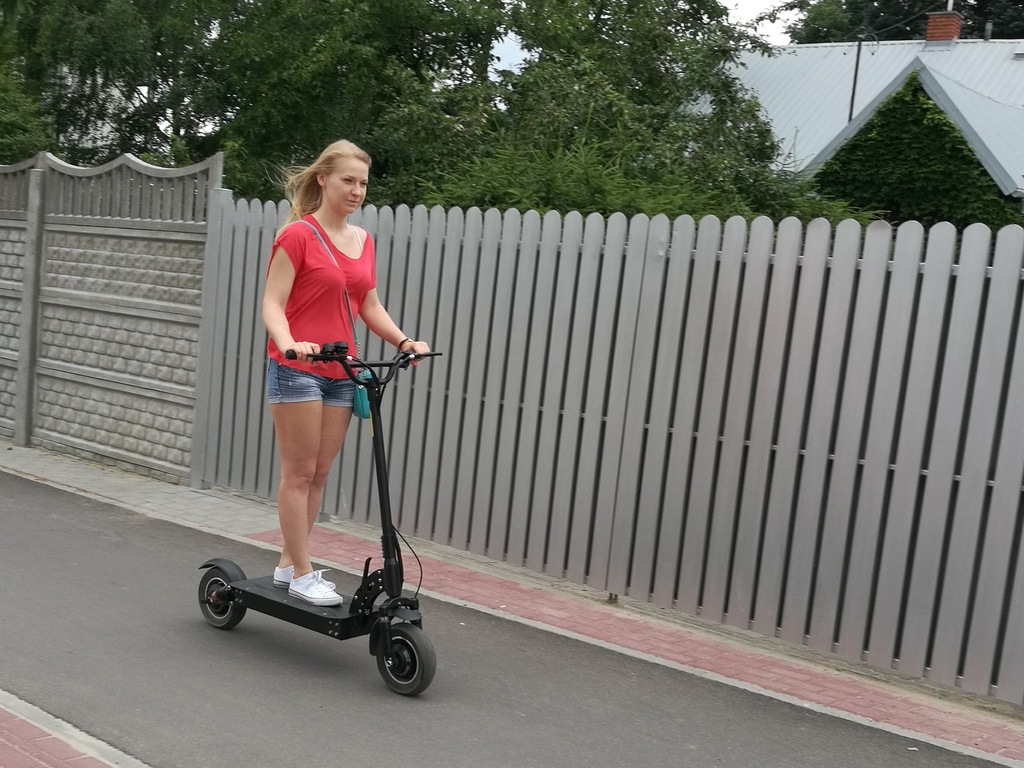 SXT 1600 WATT 55 kph E Scooter € 999.00 XL VERSION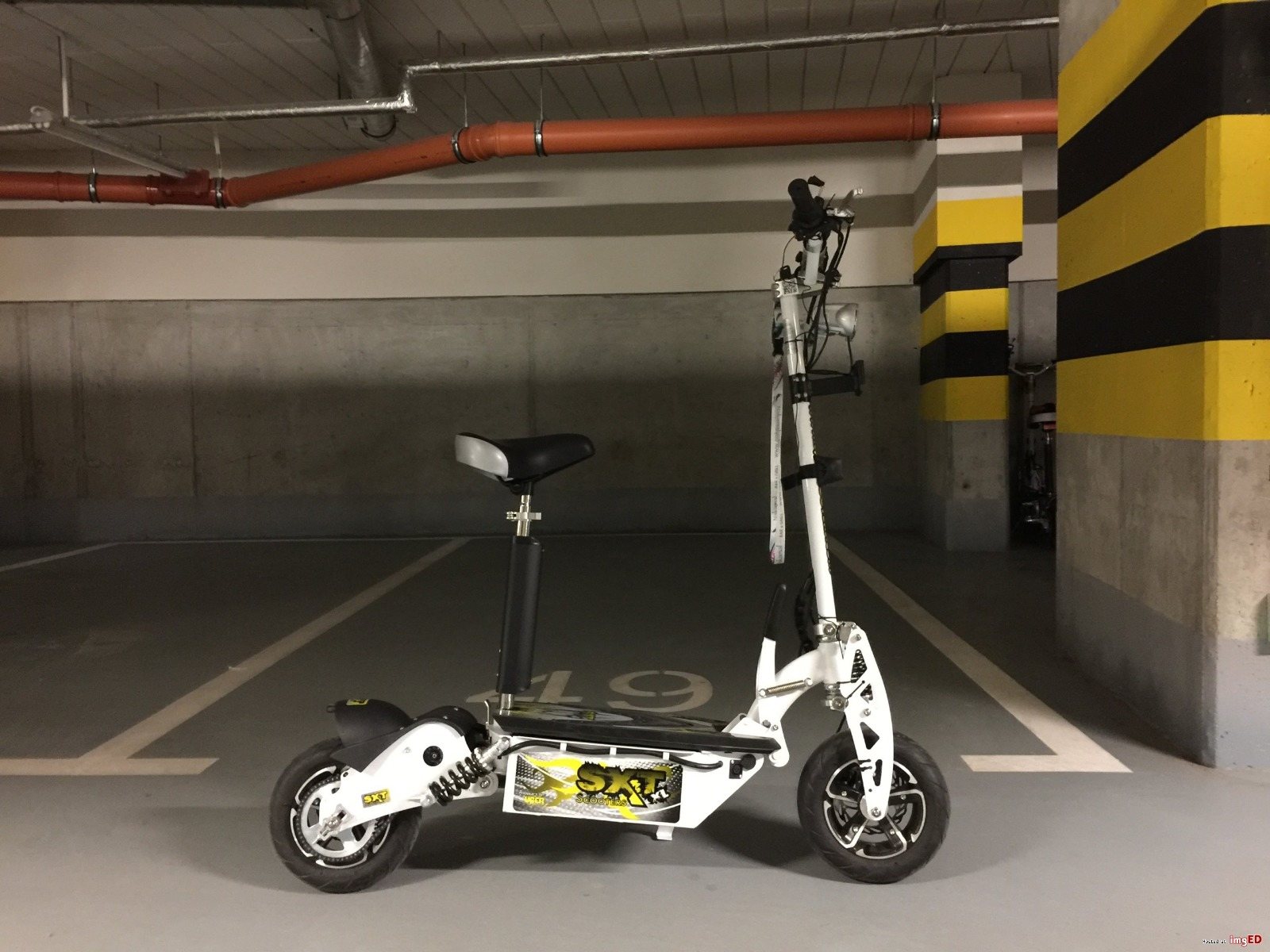 THIS SCOOER MAKES YOU SMILE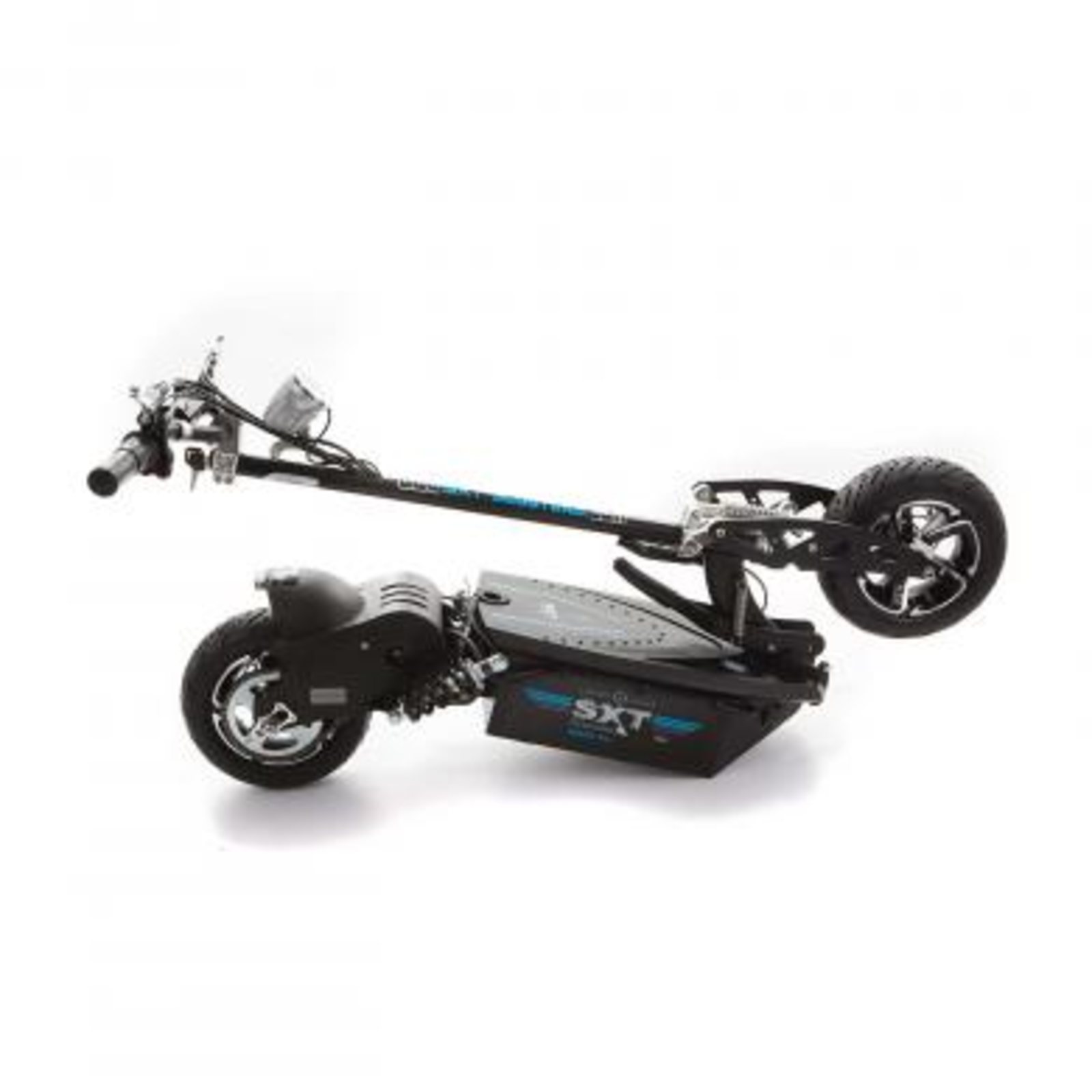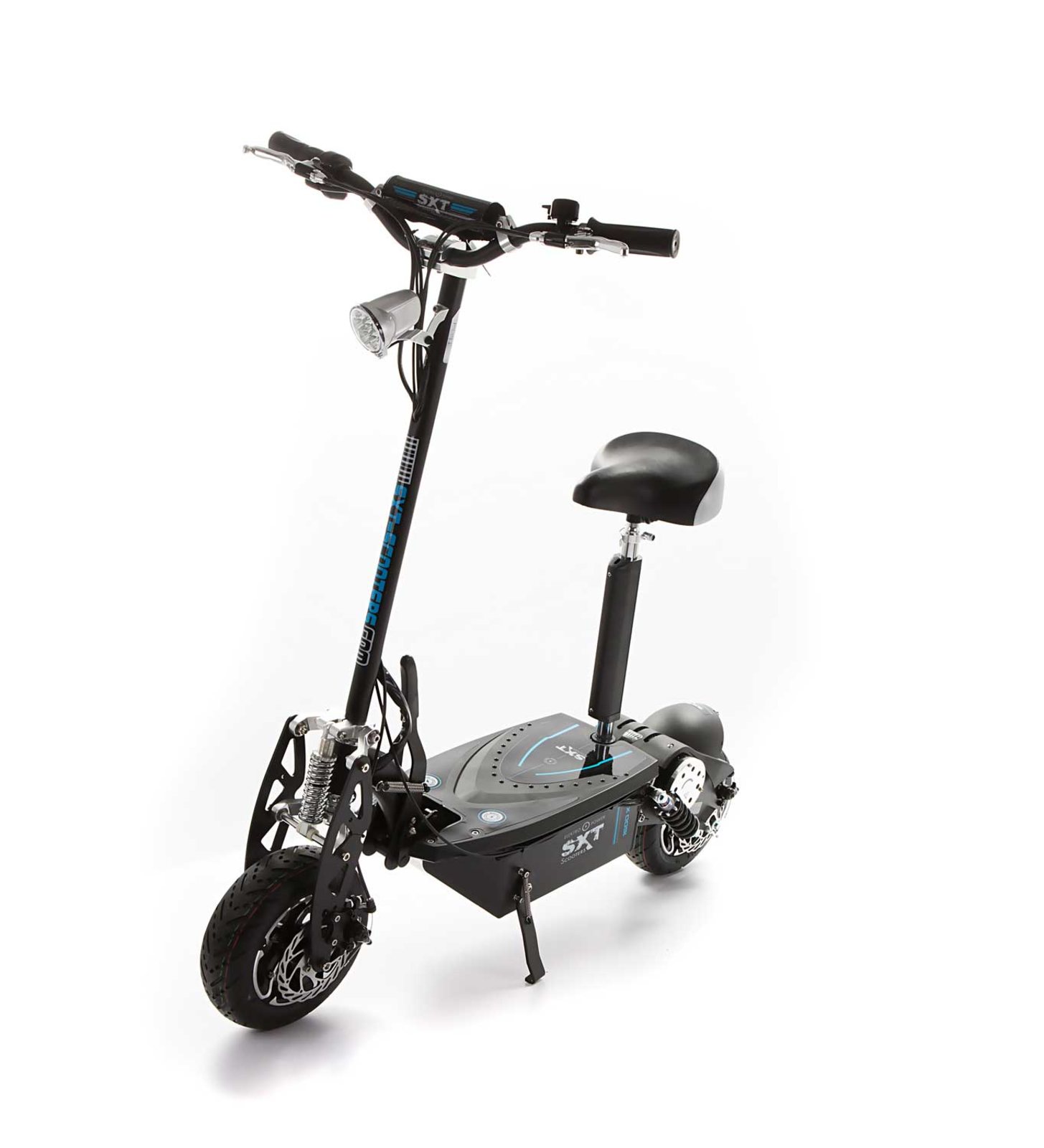 SEAT COMES OFF AND THE SCOOTER FOLDS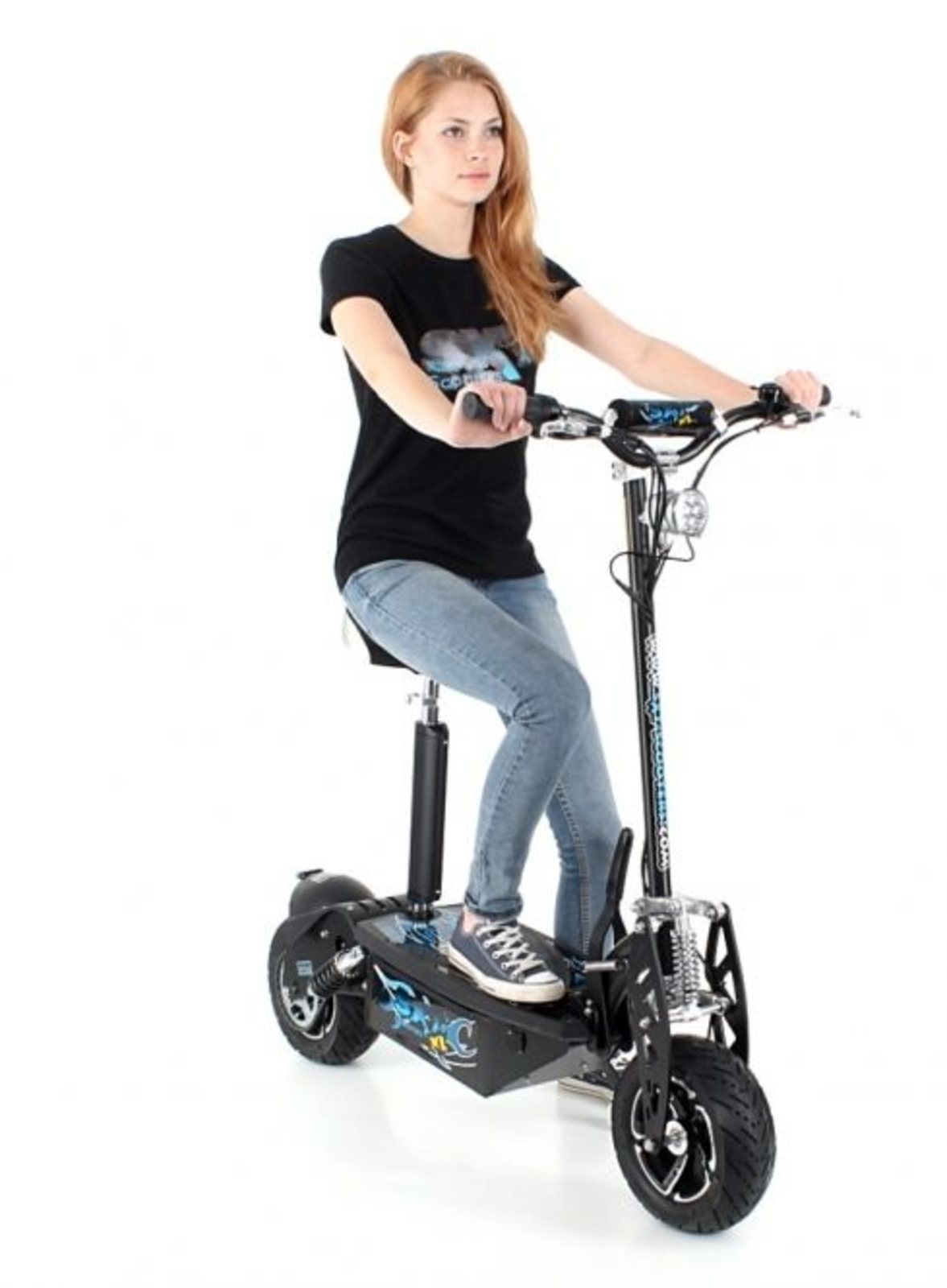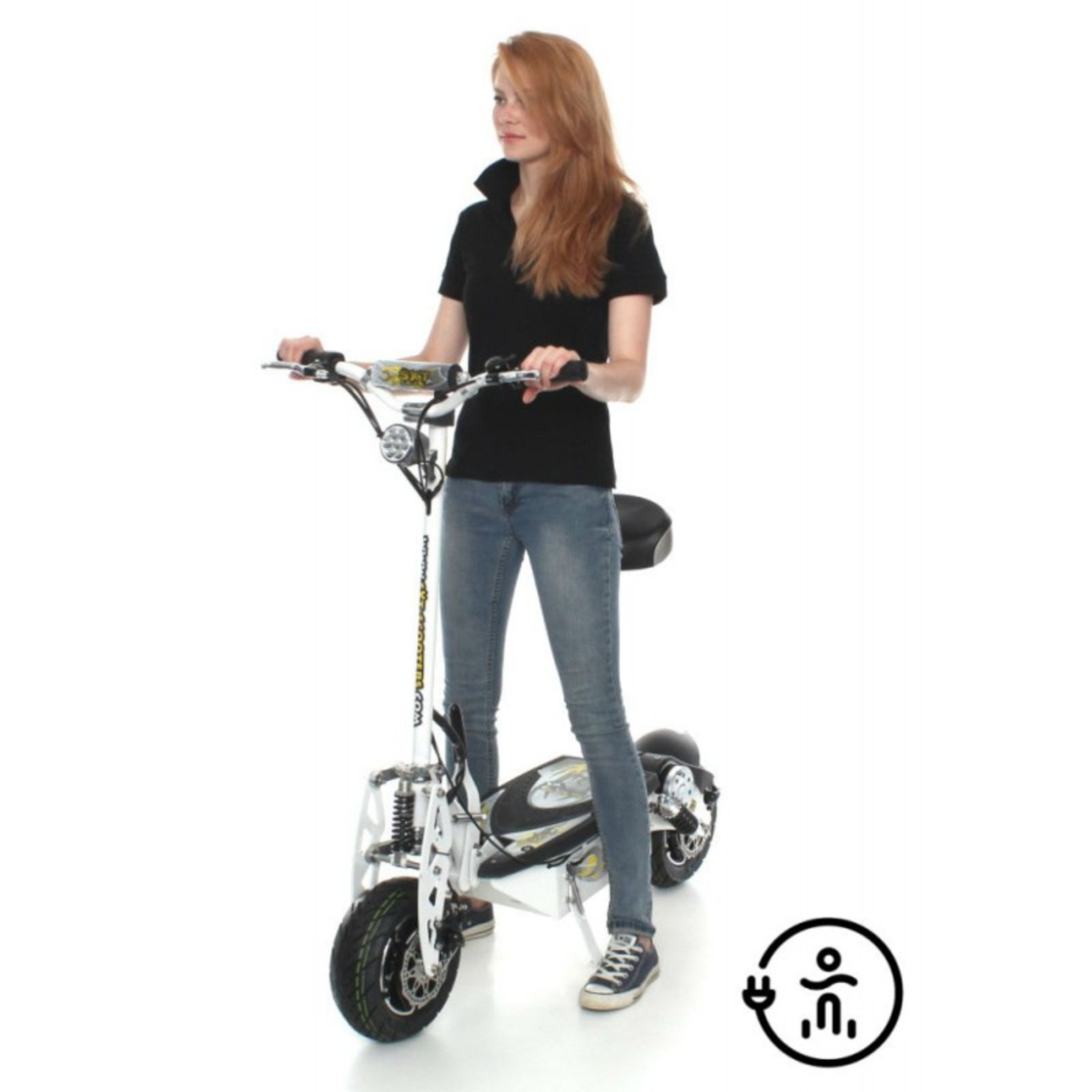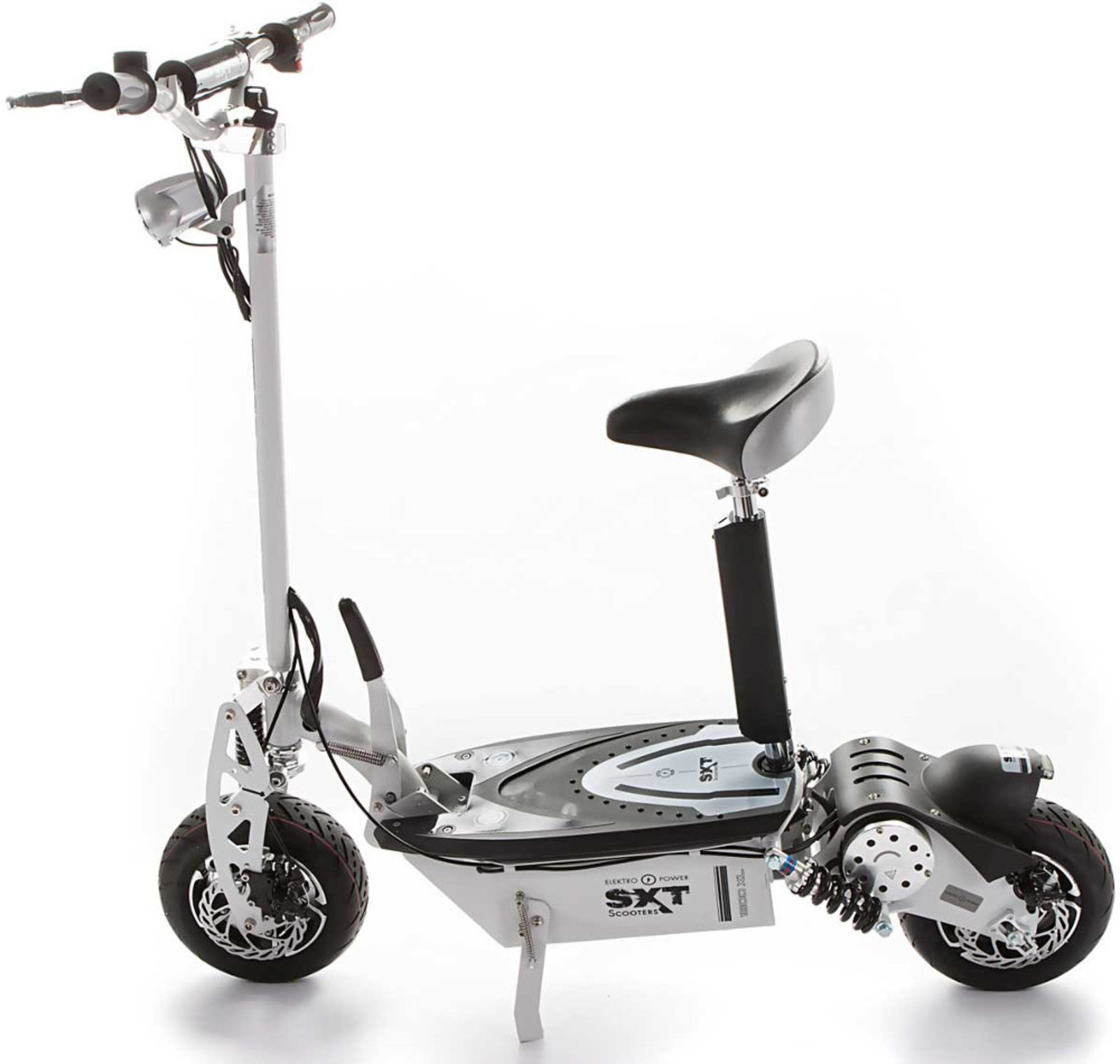 SXT 1600 mega scooter @ muckandfun + muckandfun
AMAZING scooter top speed of up 55 kph AND range of 20 to 25 km
ITS fast its fun and you can also drive slow
ABOVE all makes you smile again
SCOOTER folds and THE seat comes off
FULL range of muckandfun.com and ALSO facebook.com/smileyscoot
2 YEAR sxt factory warranty
WE have the biggest range of performance scooters in petrol and electric
The SXT1600 XL is the big brother of our SXT1000 Turbo. The differences lie in the big, beefy tires that give the scooter a larger and more massive appearance as well as in the "firing" with extremely powerful 48V batteries. Result of higher operating voltage is to increase the maximum distance on a whopping 30 km in ECO mode with the standard lead-acid-battery.
The ECO mode is activated by activating the small red button on the throttle. The scooter then runs to approximately 850 watts derated engine performance and saves a lot of energy.
SXT 1350 WATT 45 KPH SCOOTER CAN BE VRT FOR THE ROAD € 995.00
AMAZING SCOOTER - DESIGN - SPECK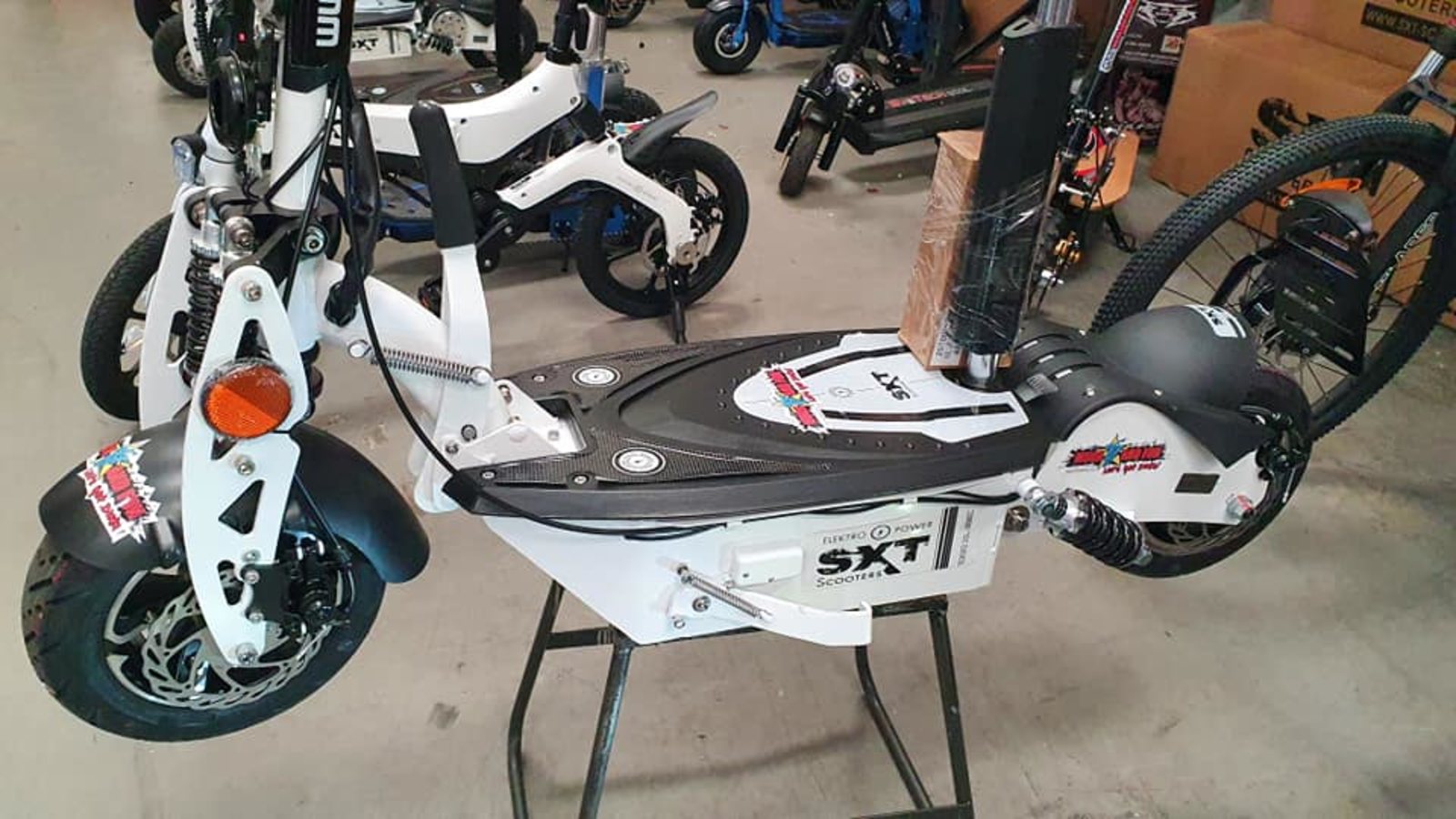 THIS SCOOTER CAN BE REGISTERED FOR THE ROAD ANY EU COUNTRY
THE all new HIGH end German brand SXT 1000 Fully EEC approved road legal scooter
AMAZING machines quality and speck
PART of the wrolds biggest range of performance scooter at muckandfun.com and aso a fun page for our scooters in facebook.com/smileyscoot
ROAD legal means its comes with all the paper work TO OFFICIALLY register for registration number and any country in Europe .
MOST customers never ever register but its nice to know its possible and shows the quality of these machine
SERIOUS SPECK SCOOT not to be confused with others
1350 watt so actually more than the 1000 name it has
TOP speed of 45 KPH in video we managed to get nearly 60 kph
SEAT comes off and scooter folds and battery can be easily taken out
BRUSSELS hub motor so no chain
DUAL front suspension for amazing comfort
FULL LCD dash with speedo
LED lights front and rear
LOVELY scooter to ride very smooth
HOME delivery all IRELAND ONLY € 35.00 as scooter arrives fully built tested ready to use from us
SXT MONSTER 3000 WATT IS € 1495.00 AND 2000 WATT IS € 1285.00
LITHIUM BATTERY IS € 2275.00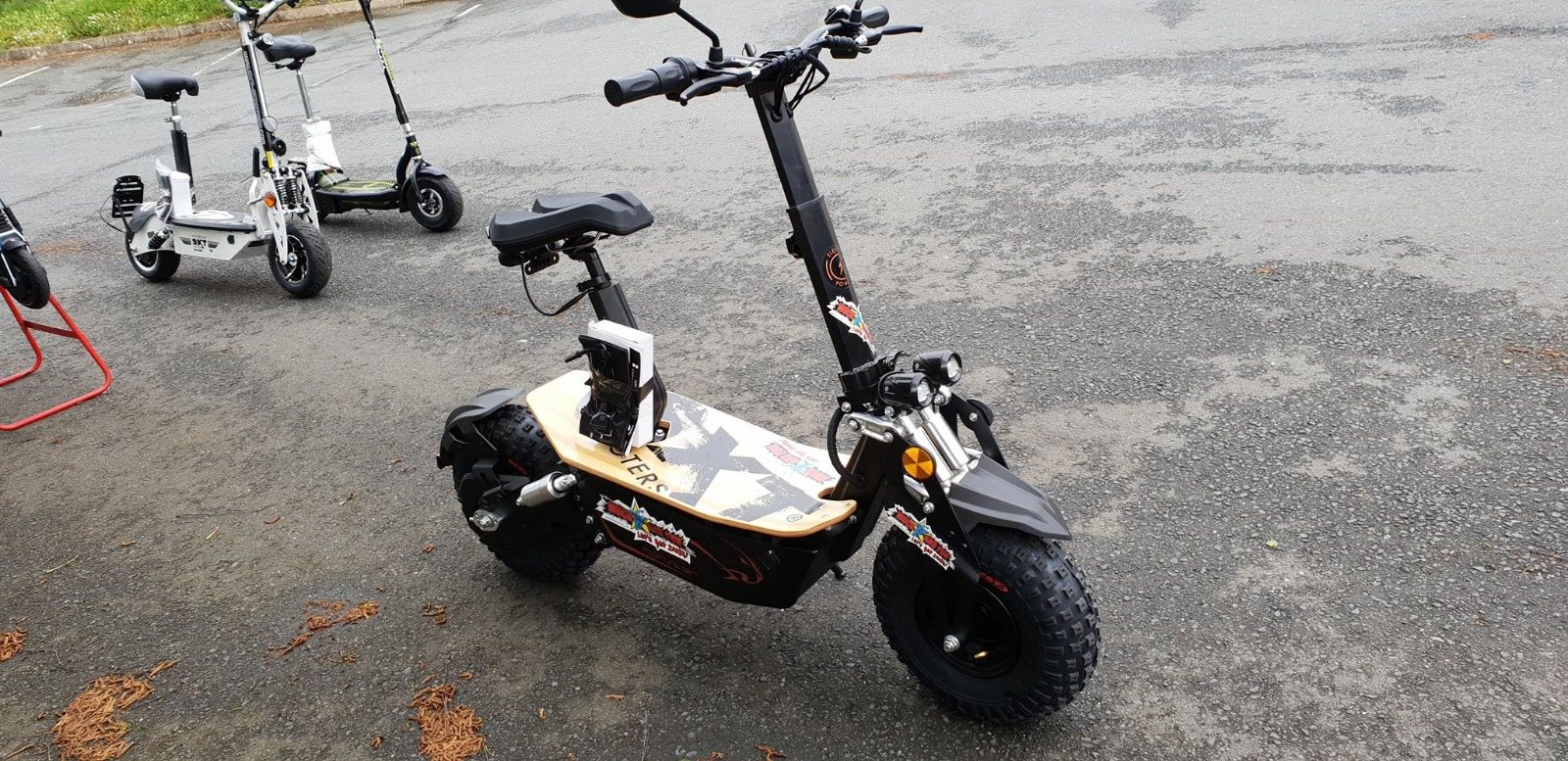 LITHIUM BATTERY OPTION MEANS 45 MK RANGE AND IS LIGHTER
SIMPLY AMAZING QUALITY AND DESIGN GAME CHANGING SCOOTER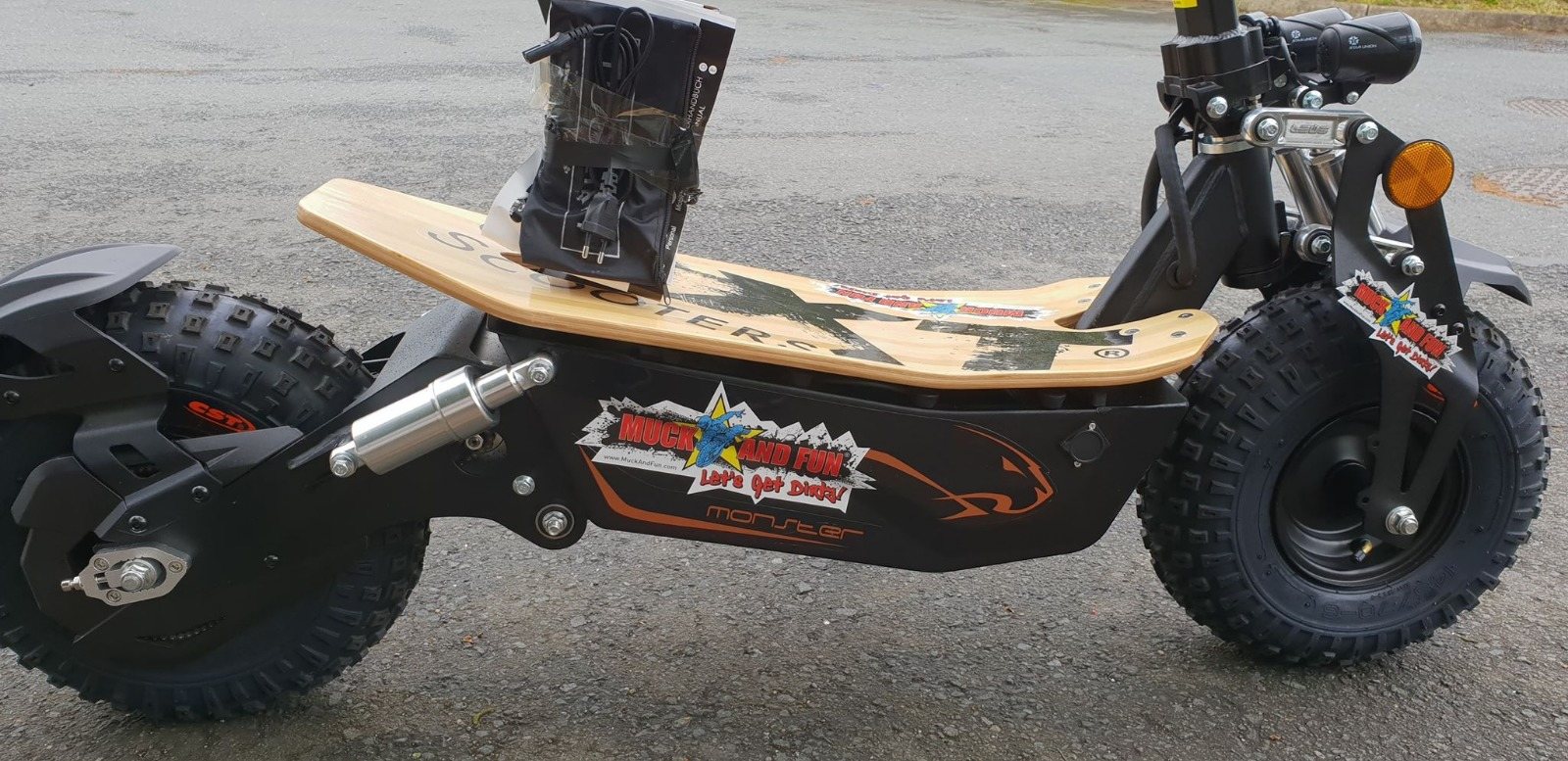 SCOOTER IS A WORK OF ART
MORE SMILES PER CHARGE THAN ANYONE CAN WANT
NOT MANY SCOOTERS MATCH THIS ONE REAL MEGA SCOOT !!!!
OUR BIGGEST - BADDEST - FASTER MEGA SCOOTER PACKAGE PRICE WITH HOME DELIVERY
Sxt Smiley scoot monster 3000 watt
THINK normal scooters are maybe 2 or 300 watt multipy by 10 you get the idea of what these do
WE do loads of performance scooters the biggest range on planet earth some 20 different scooters all on muckandfun.com and also facebook.com/smileyscoot for loads more info
THIS scooter moves and guaranteed to make you smile
VIDEO show our first test drive after building and testing
SMILEYSCOOT is located at muckandfun in Wicklow Ireland numbers 1 off road shop
THIS scooter will blow your mind
WE just changed how HUMANS get around
2000 WATT means up to 50 KPH top speed and a Range of up to 30 km
SERIOUS speck on this scooter
WE do a massive range of petrol and electric scooters
2 LED spotlights in the front
LED tail light with turning signals looks amazing built into the saddle
Also integrated in the stylish rear light is a brake light
The seat as well as the handlebars are height adjustable, so that the vehicle is outstanding, individually and steplessly adjustable to different body sizes. The saddle is removable - also the lower part of the seat post can be removed after loosening of 3 screws. The handlebar can be folded down to about half the height, so that the entire vehicle can be stored in a space-saving manner reduced to half the height.
Eco mode 25 km/h and full throttle
SUPERB build quality and design
ABOVE all Guaranteed to make you smile
LITHIUM BATTYERY VERSION € 2275.00
SXT 300 Watt E scooter ( SEAT-CHOICE-25KPH-DELIVERY OR COLLECTION € 475.00
SEAT COMES OFF AND SCOOTER FOLDS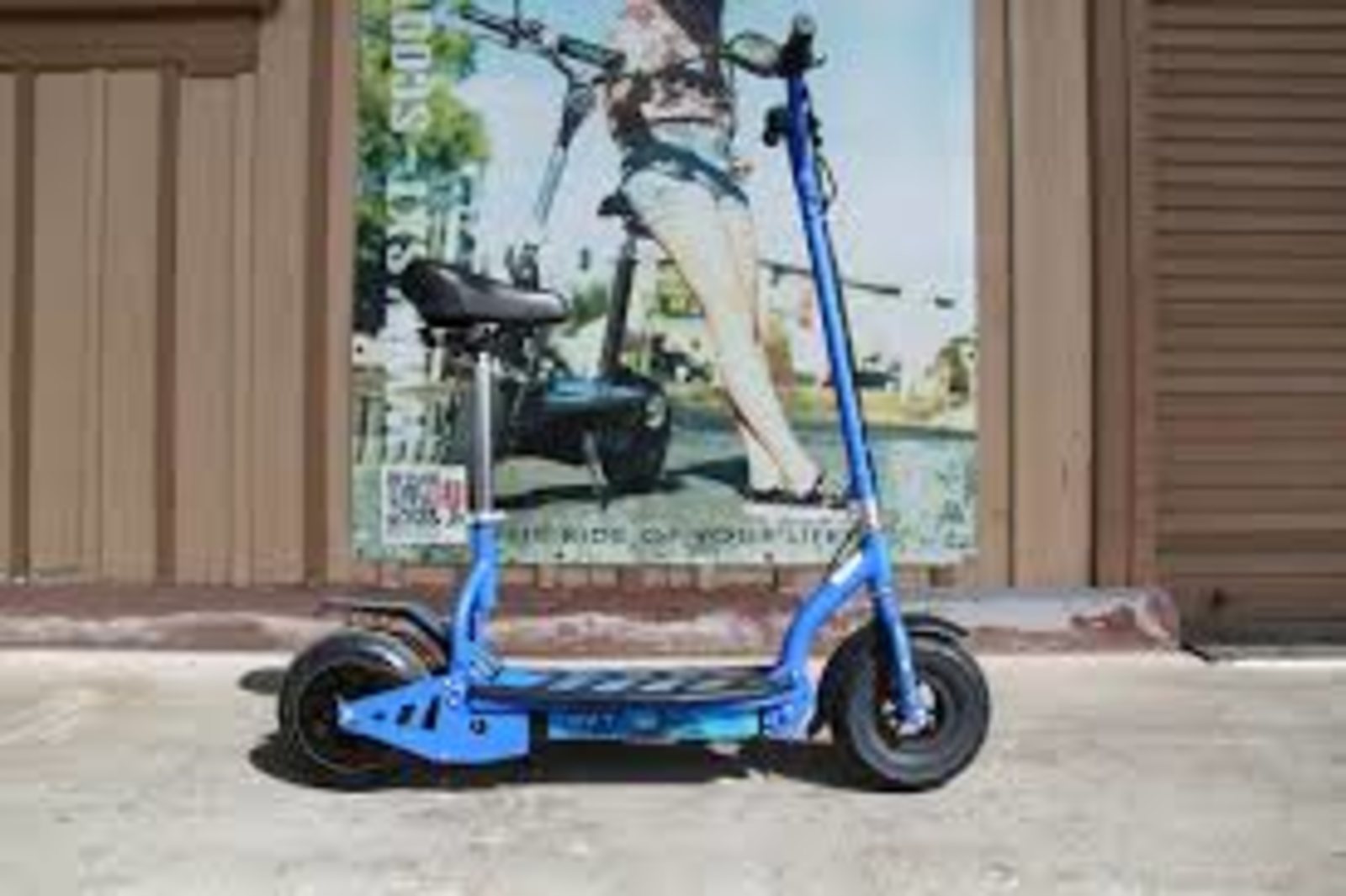 GERMAN BRAND 2 YEAR WARRANTY BUILT AND TESTED BY US IN WICKLOW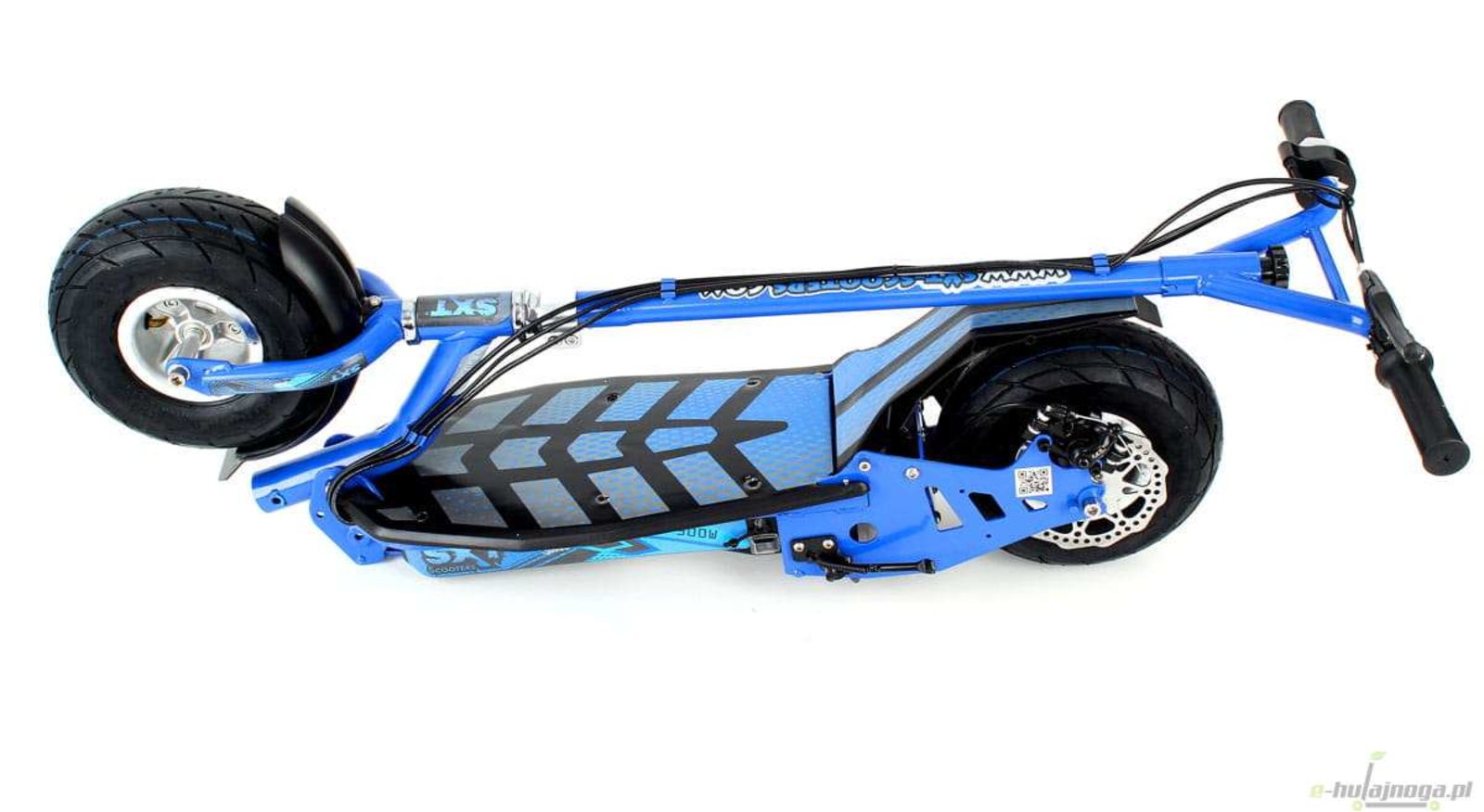 ABOVE ALL MAKES YOU SMILE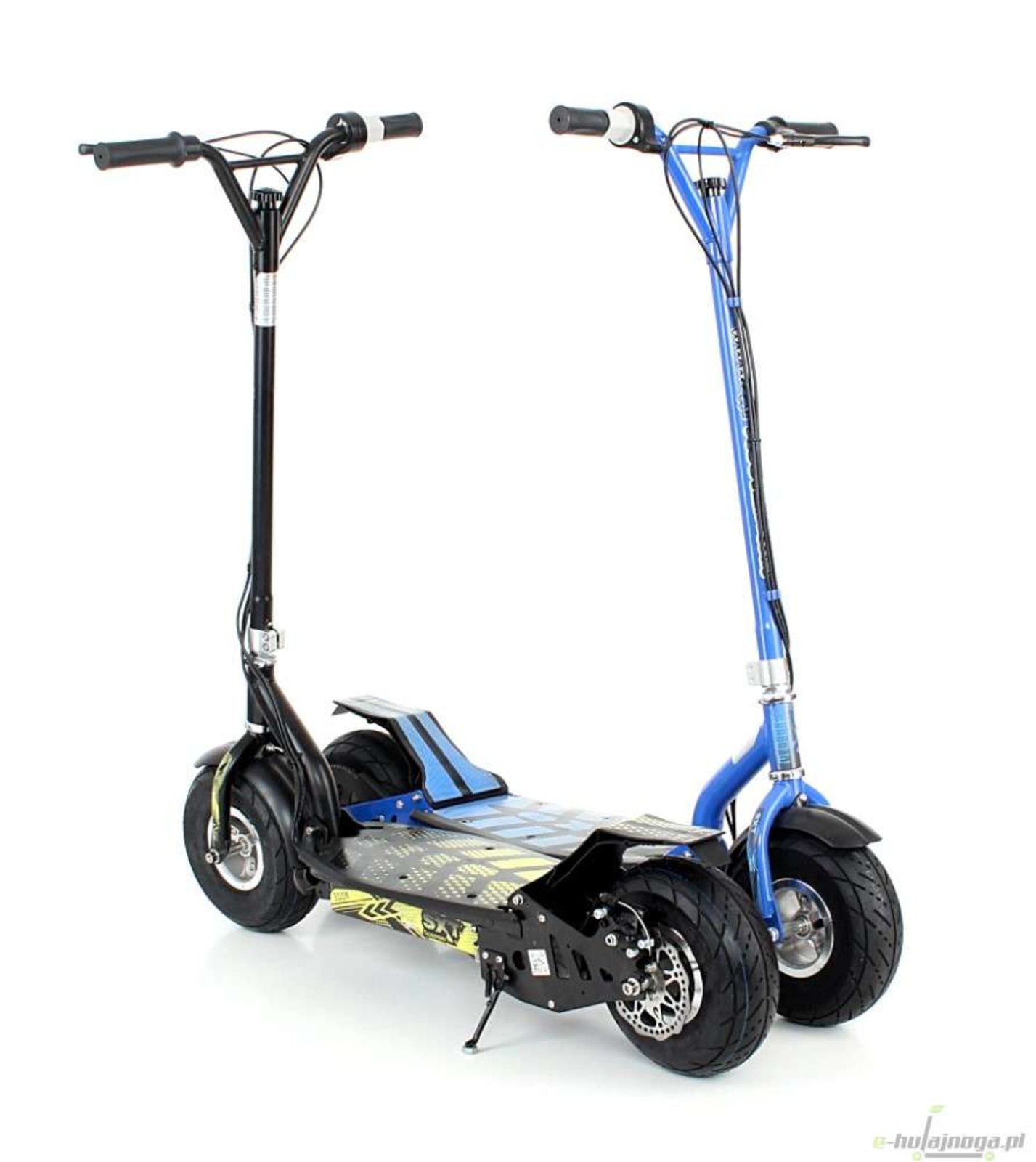 ALL NEW SXT STAND ON OR SIT DOWN SCOOTER FULLY ROAD LEGAL ALL EUROPE
SXT 300 WATT SCOOTER @ muckandfun and Smileyscoot in Wicklow
Way more comfortable than the solid wheel scooter going around this is SXT this is 2 YEAR factory warranty
SPECIAL OFFER FULL PRICE € 595.00 NOW € 475.00 WITH 2 YEAR WARRANTY
Home delivery all Ireland
Best of both worlds seat or stand up what ever suits
WE HAVE THE WOLDS BIGGEST RANGE OF PETROL + ELECTRIC SCOOTERS
he SXT 300 bridges the gap between children's scooters and large adult models. This electric scooter is suitable from design and its size equally for adolescents and adults. Using the scooter without the removable saddle gives the rider a feeling of freedom while driving wind blowing in his face. Despite its size, this model weighs only 19 kg including lithium batteries and is excellent for taking it everywhere with you
The motorization of the SXT 300 with 300 W is strong enough to accelerate the scooter up to 25 km/h. The maximum range is about 22 km. In some of the EU countries such as Austria and Holland these scooters can be normally used on public roads without any further authorization. Standard attached to this electric scooter are front and rear mudflaps that protect the driver from splashes and whirled dirt and dust. In addition to this the scooter has a built in LED Battery status indicator.
Power is transmitted from the 24V 300W motor via chain to the rear axle. Thanks to the beefy 3.00-4 pneumatic tires with tube, this scooter gives a very secure feeling and can be operated easily on loose surfaces
Safety first a 140mm disc brake at the rear
SCOOTER folds for ease of carry and storage WE are based in Ireland we HAVE full time workshop staff
SXT Folding Electric bike (DELIVERY-or COLLECTION] € 1095.00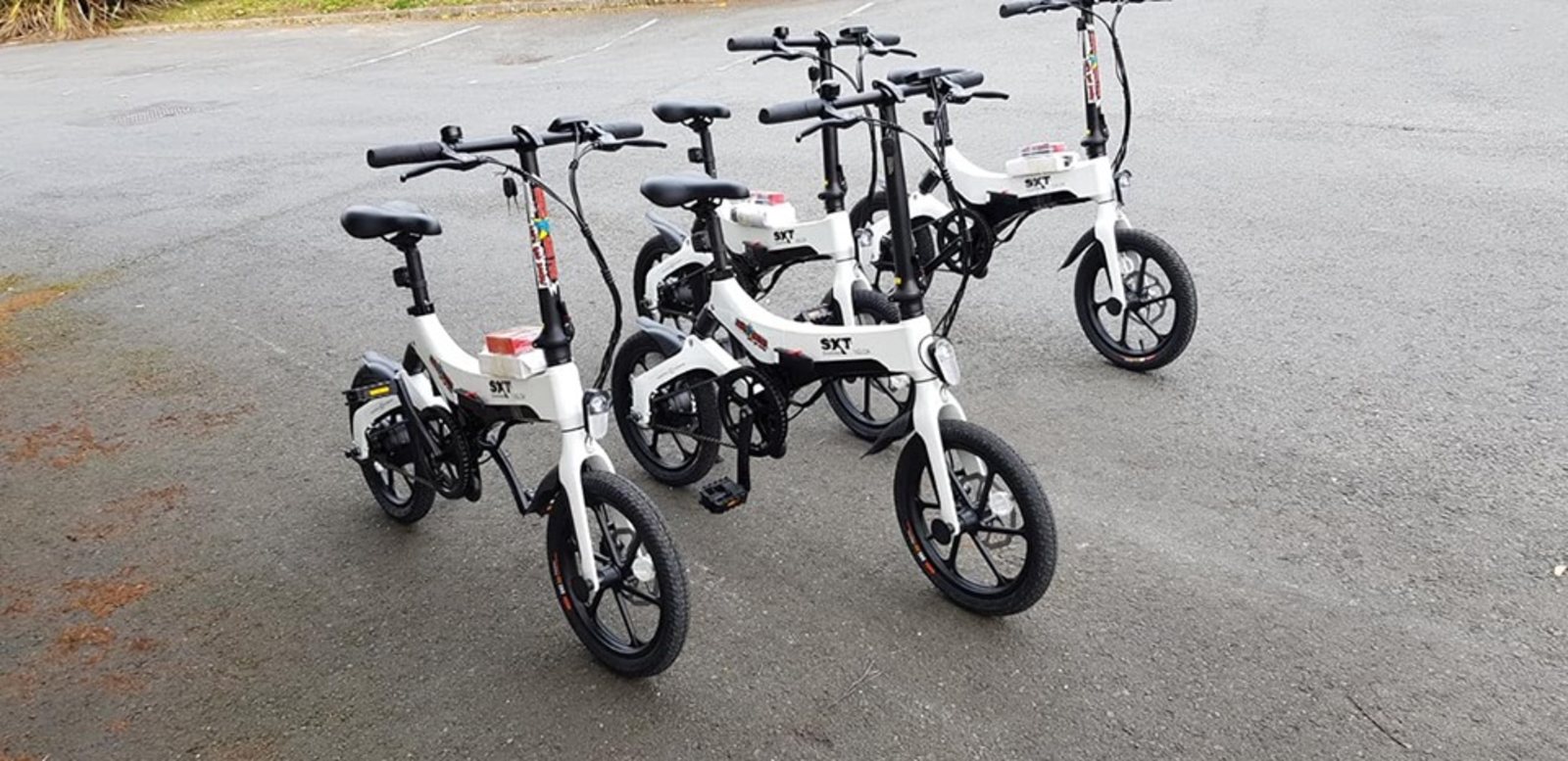 GERMAN BRAND BIKE FOLDS UP 2 YEAR WARRANTY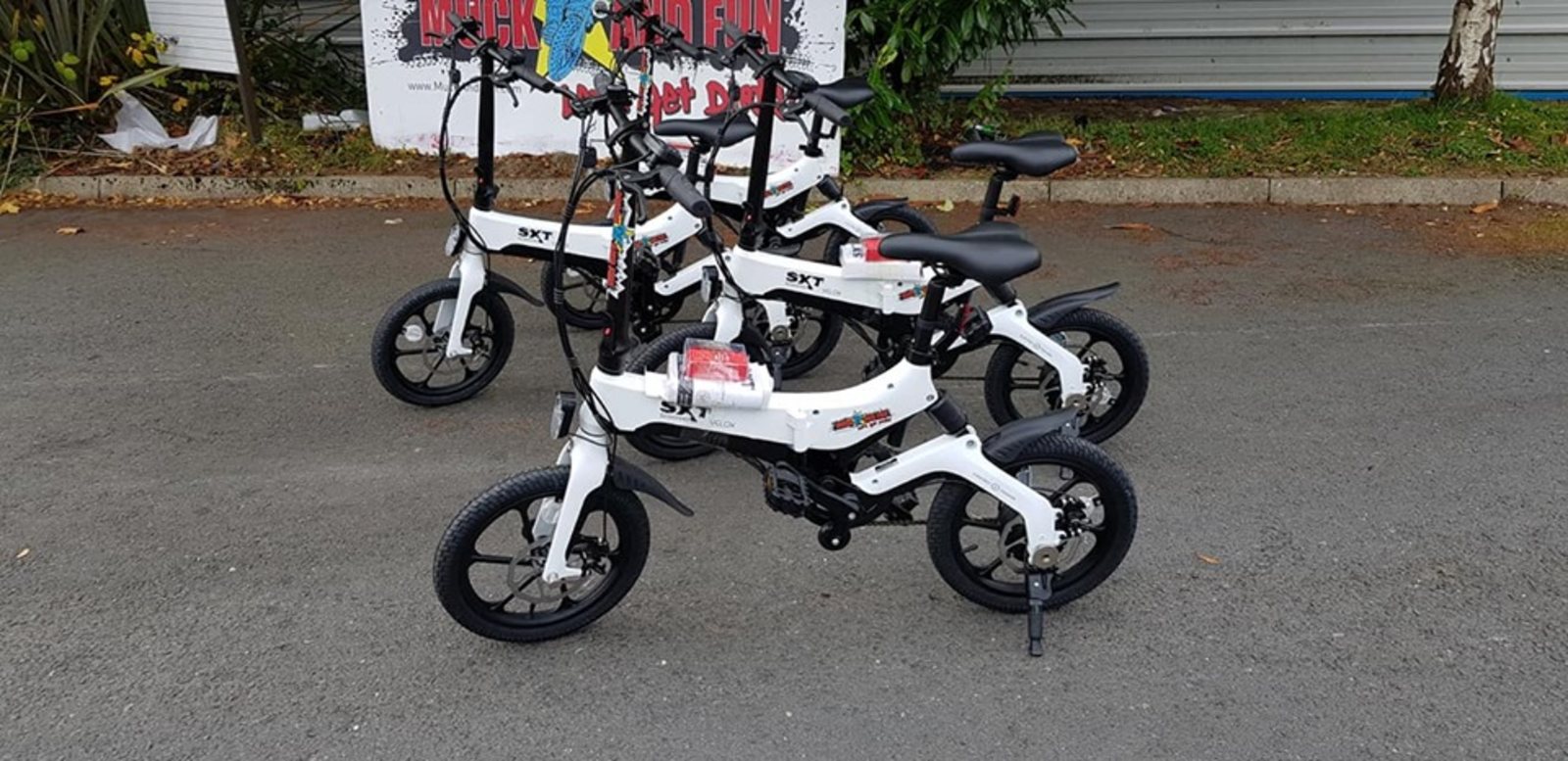 ABOVE ALL MAKES YO SMILE AGAIN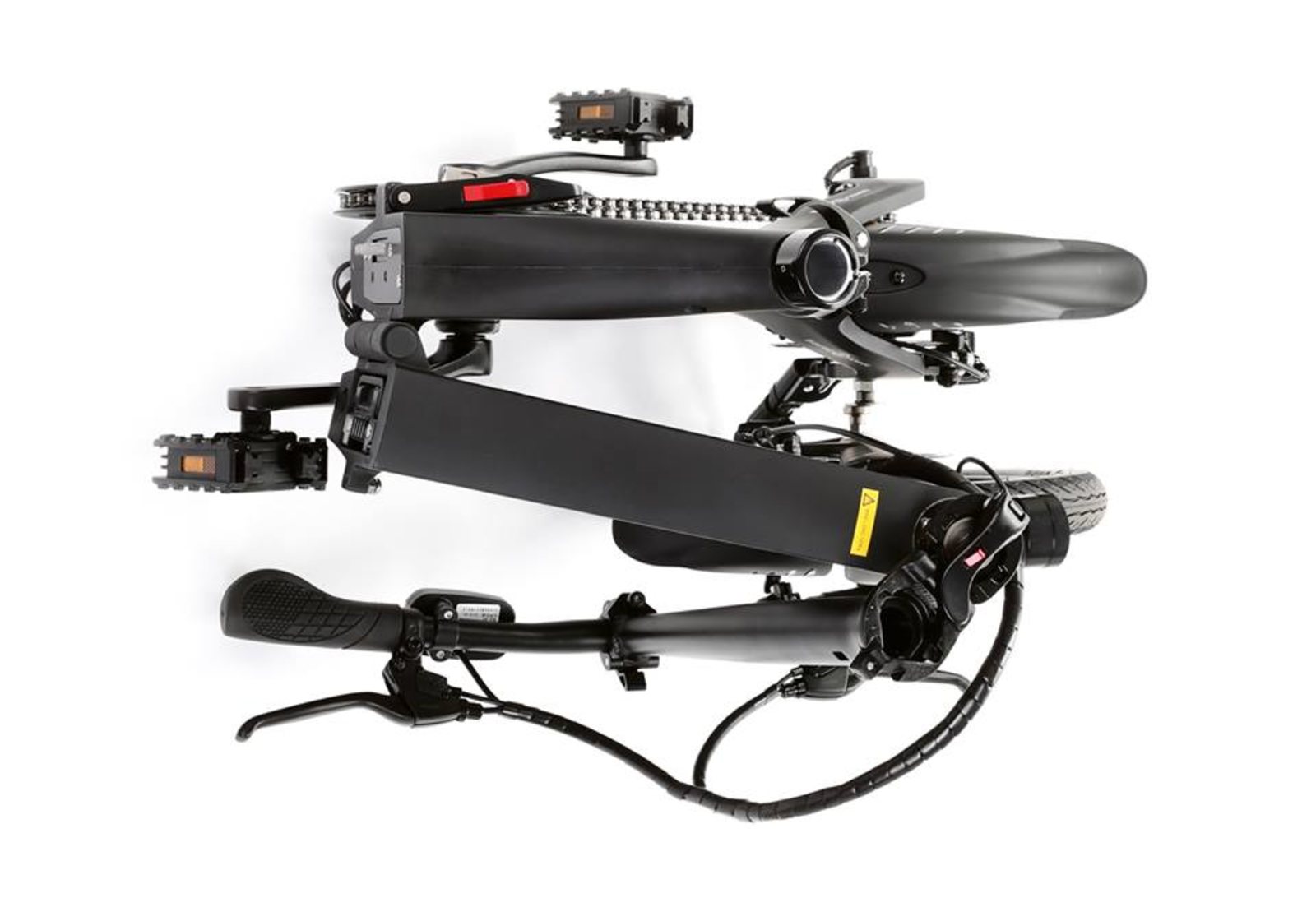 SXT from Germany here is our Velox amazing folding electric bike
QUALITY and design is amazing on this bike
VERY light weight and FOLDS easy
NO more hard work walking or cycling and ITS 100% road legal without tax and insurance
HOME delivery nationwide and Bike arrives built tested ready to use w
Max. motor power (in watts) 250
Max. climbing slope (in degrees) 15
Battery removable for charging
3 DIFFERENT speed settings
36V lithium ion battery powered by high end LG 18650 cells is fixed and housed theft-proof
250W and a torque of 12 Nm and can be controlled in 3 different levels - Sport / Normal and Eco mod
WEIGHT is only 18.9 kilos you lift in one hand
WE HAVE THE WORLDS BIGGEST RANGE OF SCOOTERS
The ergonomically-shaped saddle is height-adjustable and extended seat posts, as well as a different gear ratio for the front sprocket on which the pedals sit, are available as an option to adjust the pedaling speed at higher speeds if desired
WE do petrol and electric scooter also . Some of our famous folabalbe scooters do over 60 KPH
muckandfun.com HAS A PAGE FOR SCOOTERS and also facebook.com/smileyscoot
All scooters arrive build - tested - ready to use
WE have full workshop facilitates - We DONT just sell we fix
SXT Ultimate LITE 60 KPH Electric ELECTRIC SCOOTER VERY FAST € 1595.00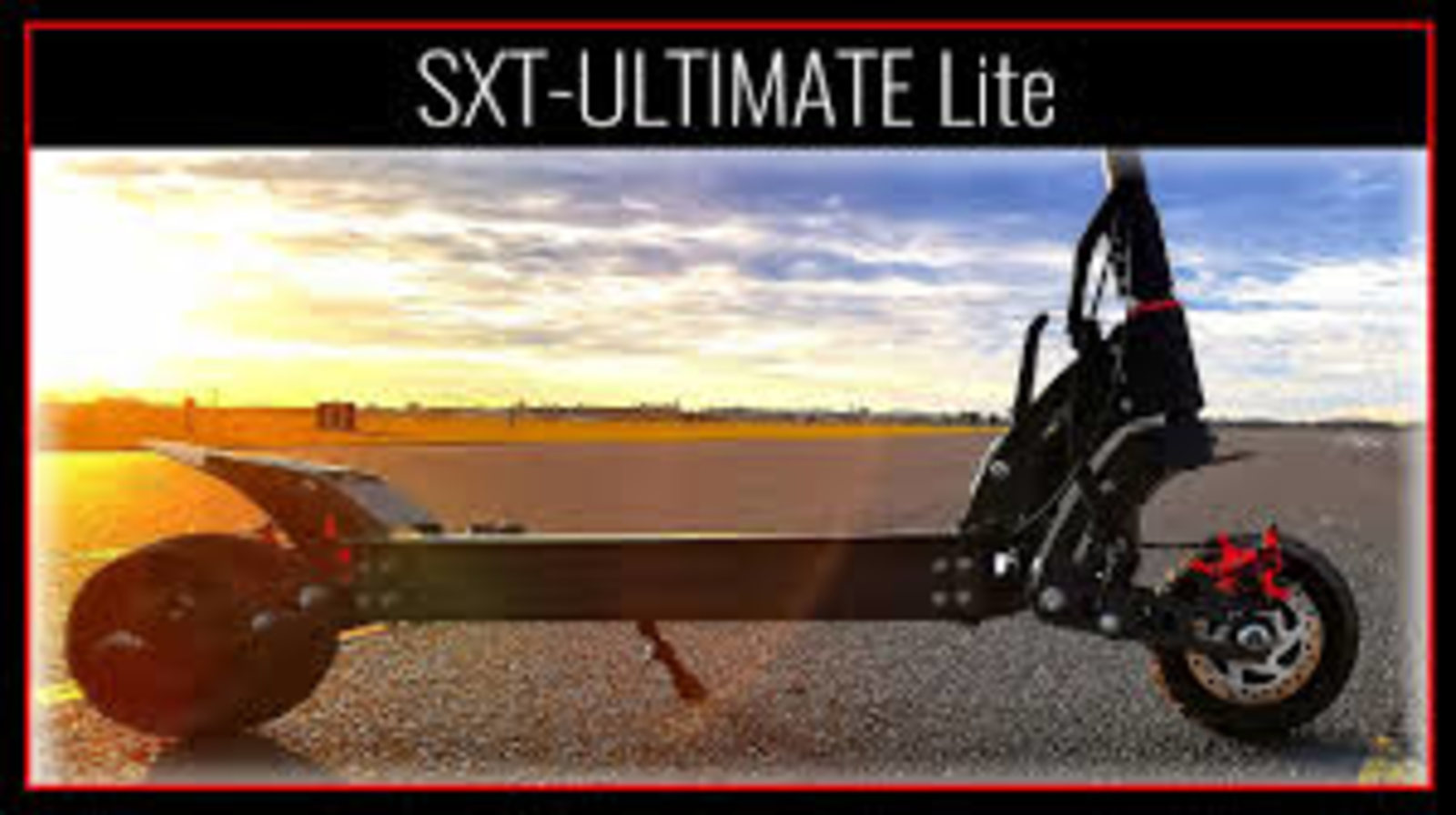 1 OR 2 WHEEL DRIVE JUST LIKE A QUAD THIS SCOOTER ROCKS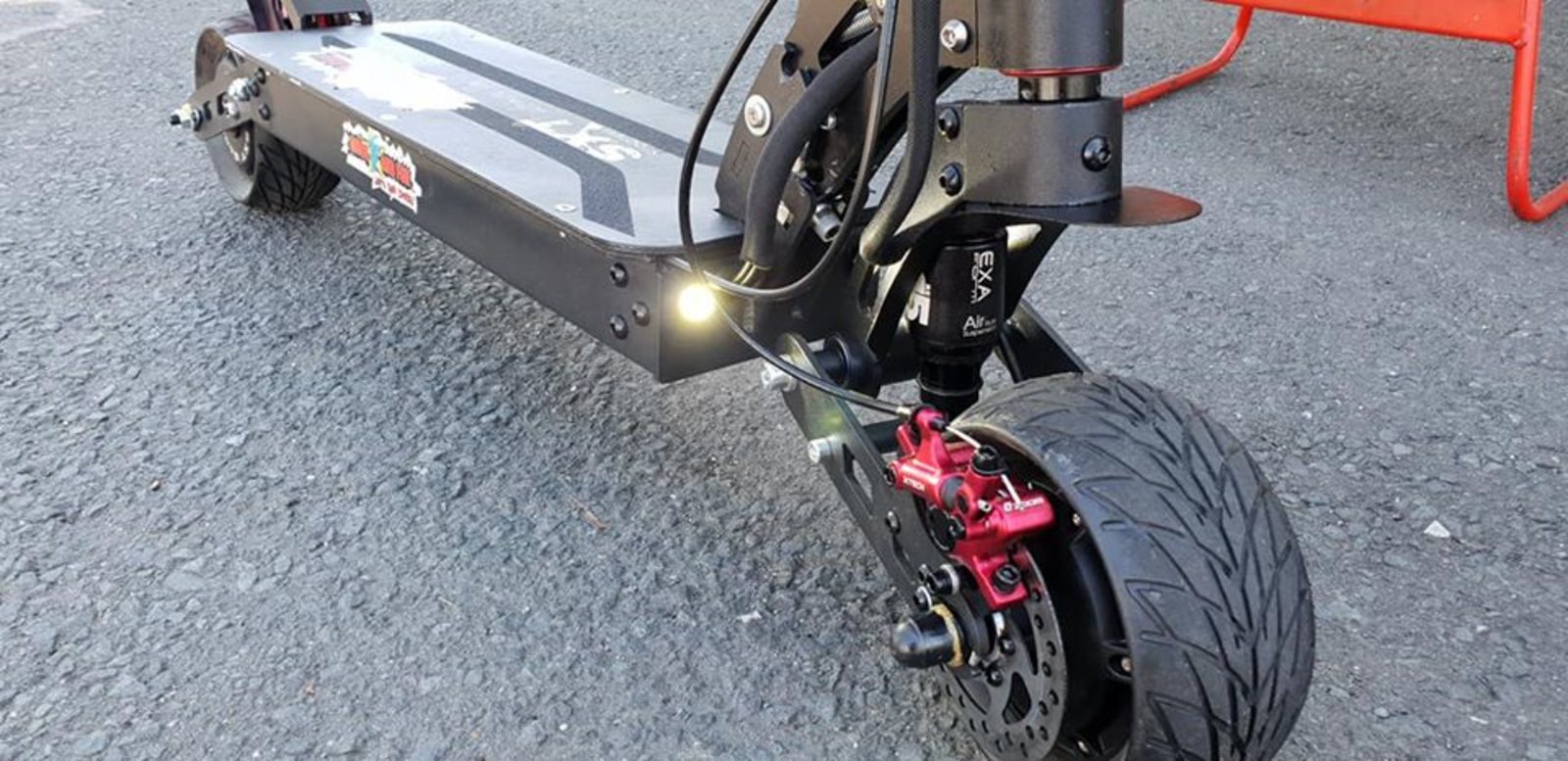 AMAZING RANGE WITH ITS LITHIUM TOP OF THE RANGE BATTERY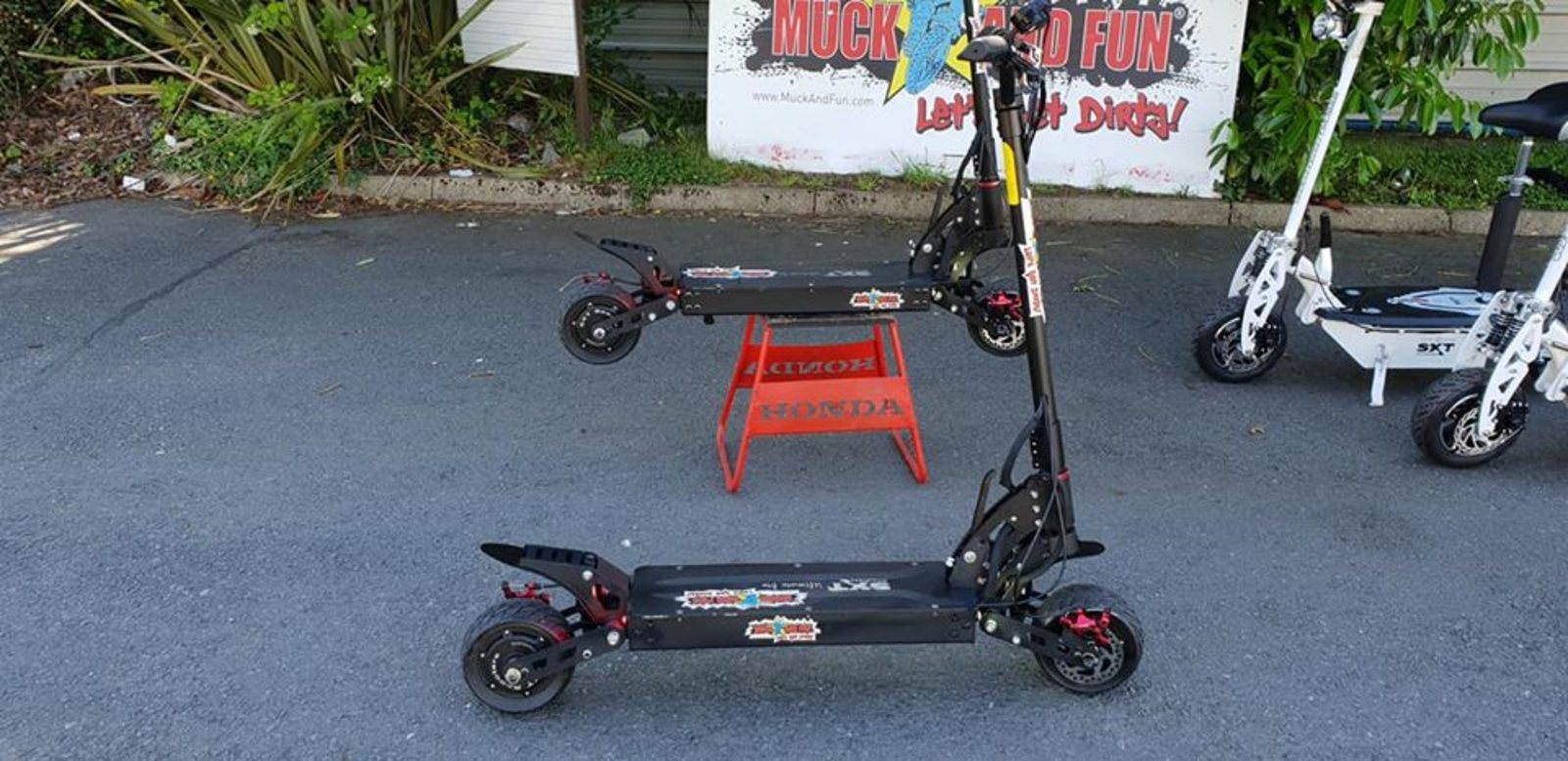 SXT Ultimate LITE the ULTIMATE in performance electric scooters
THIS is a serious machine not to be confused with any others
GERMAN brand with 2 year factory warranty and built by us in wicklow . WE do Scooters in petrol and electric from only € 430.00 FULL RANGE on muckandfun.com and also on facebook.com/smilescoot
THIS scooter ha a range of up to 45 km range
ONE OR TWO wheel drive just like a quad bike nothing stops this scooter
VERY fast scooter but also has 6 speed setting so you can set to very slow and easy to ride also
RRO suspension from jump and kirbs you dont feel anything
very powerful 48V 15Ah lithium battery TOP of the range
BULT in alarm system including immobilizer is also built into the running board. This is activated and deactivated together with the two hand transmitters supplied. Like most of our vehicles, the SXT Ultimate Lite can be folded up to save space and is still relatively easy to transport due to its total weight of 28 kg including battery pack
The ultra wide tread pattern tyres give the SXT Ultimate Lite a distinctive look while ensuring very stable driving experience.
The tires themselves are made of solid rubber which also perform reliably off-road.
The braking system consists of semi-hydraulic disc brakes with hydraulic calipers front and rear with 120 mm discs.
The damping system consists of individually adjustable air dampers front and rear. By adjusting the air pressure, this can be optimally adapted to individual requirements and terrain, resulting in excellent damping and road holding
AMAZING MACHINE GAME CHANGING SCOOTERS AND ABOVE ALL THESE MAKE YOU SMILE AGAIN AVAILABLE @ muckandfun and Smileyscoot in Wicklow the worlds biggest range of performance scooter
SXT LIGHT V5 ELECTRIC SCOOTER (37 kph/delivery)
High power scooter € 1035.00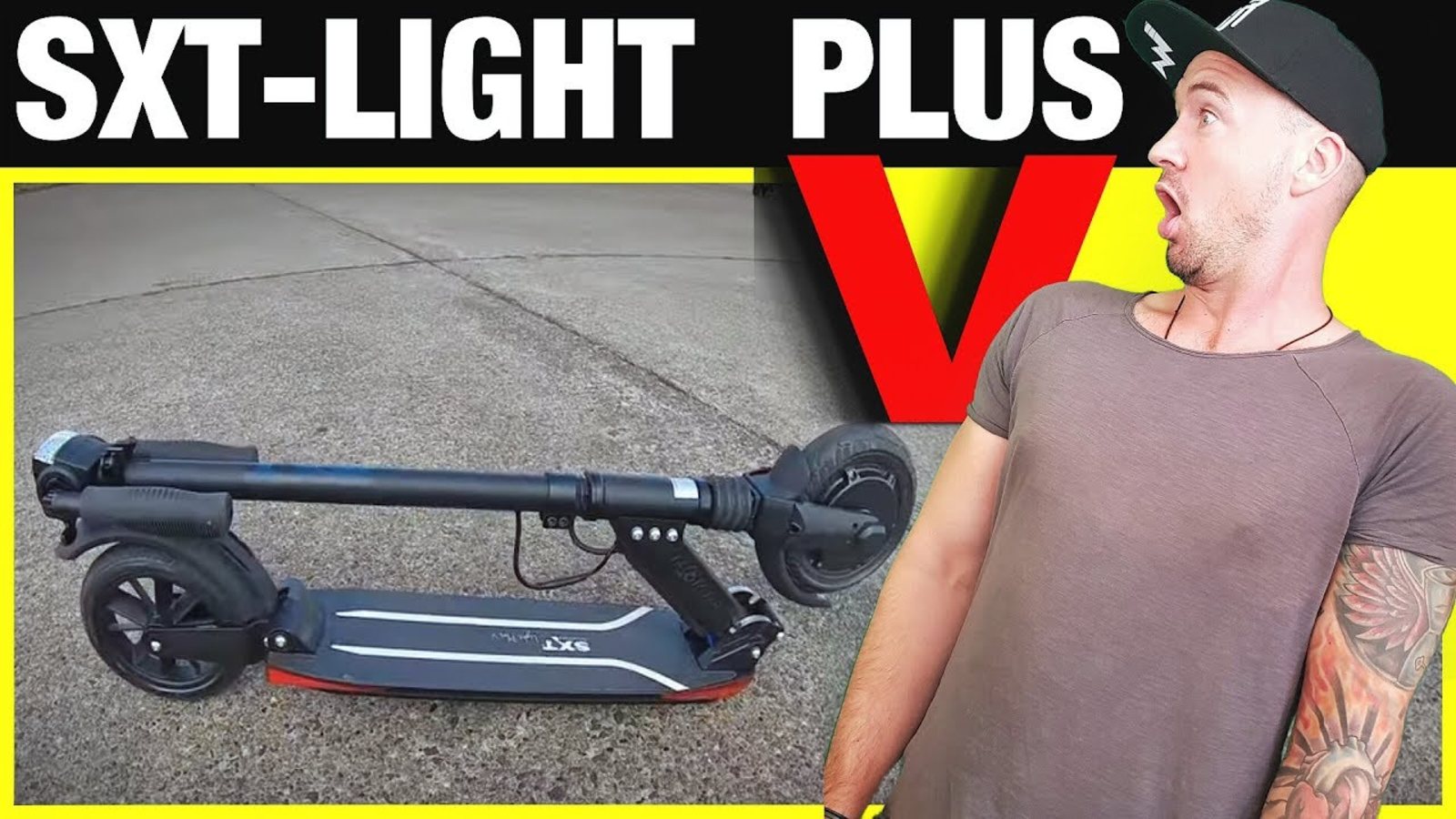 VERY HIGH PERFORMANCE KICK STYLE SCOOTER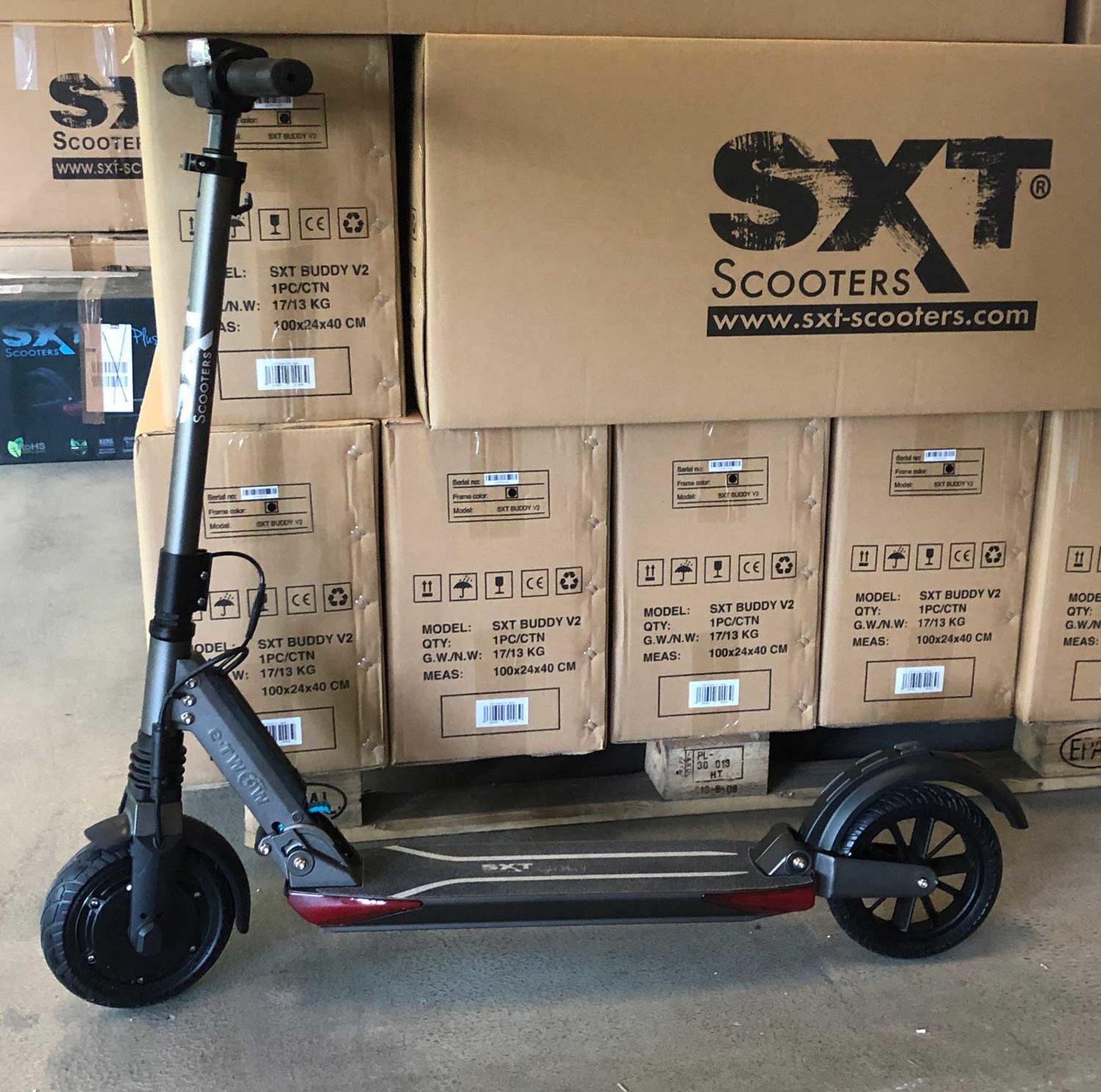 STUNNING BUILD QUALITY AND DESIGN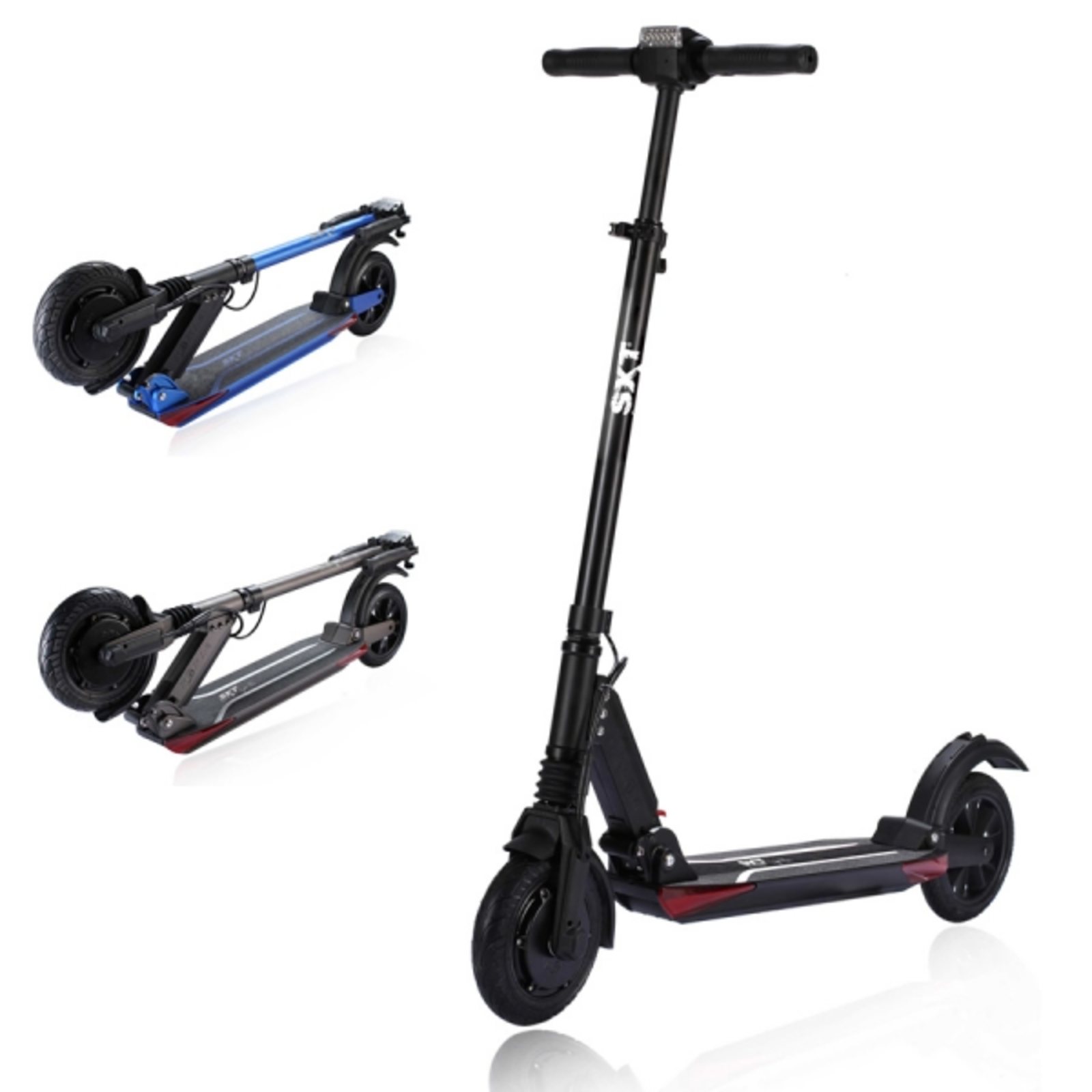 HIGH end professional HIGH power electric scooter
PART of the words biggest range of PRO scooter in petrol and electric
NOT to be confused with other cheap scooters THIS is German brand with 2 year warranty and amazing engineering
40 KM range which is amazing
AMAZING light weight design simple easy to carry around
KERRS technology from F1 racing
larger 36 V Samsung battery with 10,5 Ah / 378 Wh capacity
Its weight of just 11,2 kg including battery is almost unbeatable.
This can be achieved only through the use of highest quality 6061 T6 lightweight aluminum .
WHEN being folded this model can be used and stored really everywhere without problems and placed in every small storage compartment, such as in buses, trains etc.
KERS Technology (Kinetic Energy Recovering System) which is known and also used in all Formula 1 cars. By the electromagnetic brake on the front axle braking energy is recovered and the range can therefore be increased up to 60% more. This is used for the first time in an electric kick scooter.
Equipped with a dual braking system there is the manually controlled electromagnetic brake
The patented UBHI operating unit combines all the operating elements such as throttle, brake, light & light sensor, horn, LCD display & Cruise Control. The built-in LED light has 6 High Power LED's that are controlled by a brightness sensor that automatically turns lights and LCD display lightning on and off. At the rear fender there is a fully integrated LED rear light and brake light. Intermittent and displayed values of LCD displays are daily distance, total distance, speed, battery status,
SXT Ultimate pro 70 KPH Electric scooter mega fast € 1850.00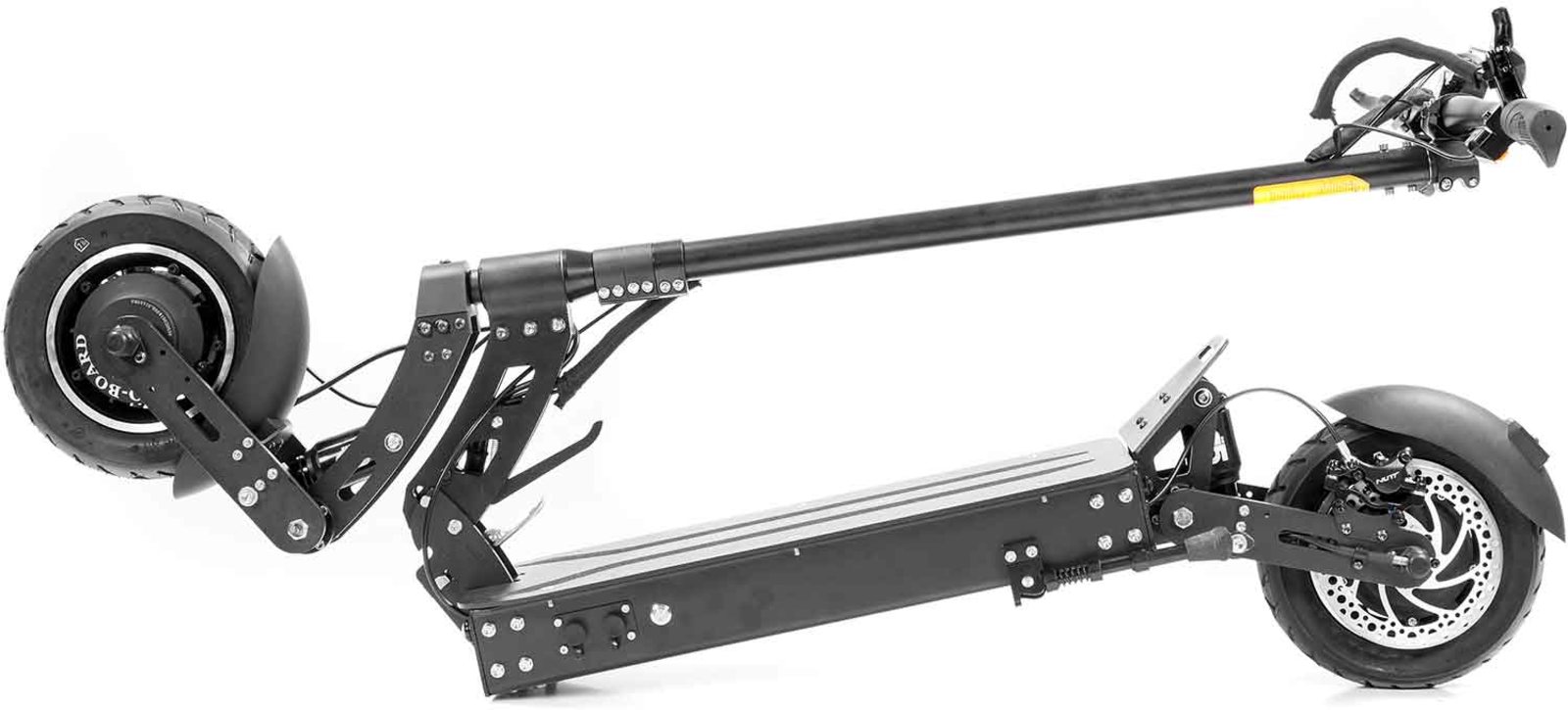 1 or 2 WHEEL DRIVE VERY FAST SCOOTER WITH SLOW SPEEDS SETTINGS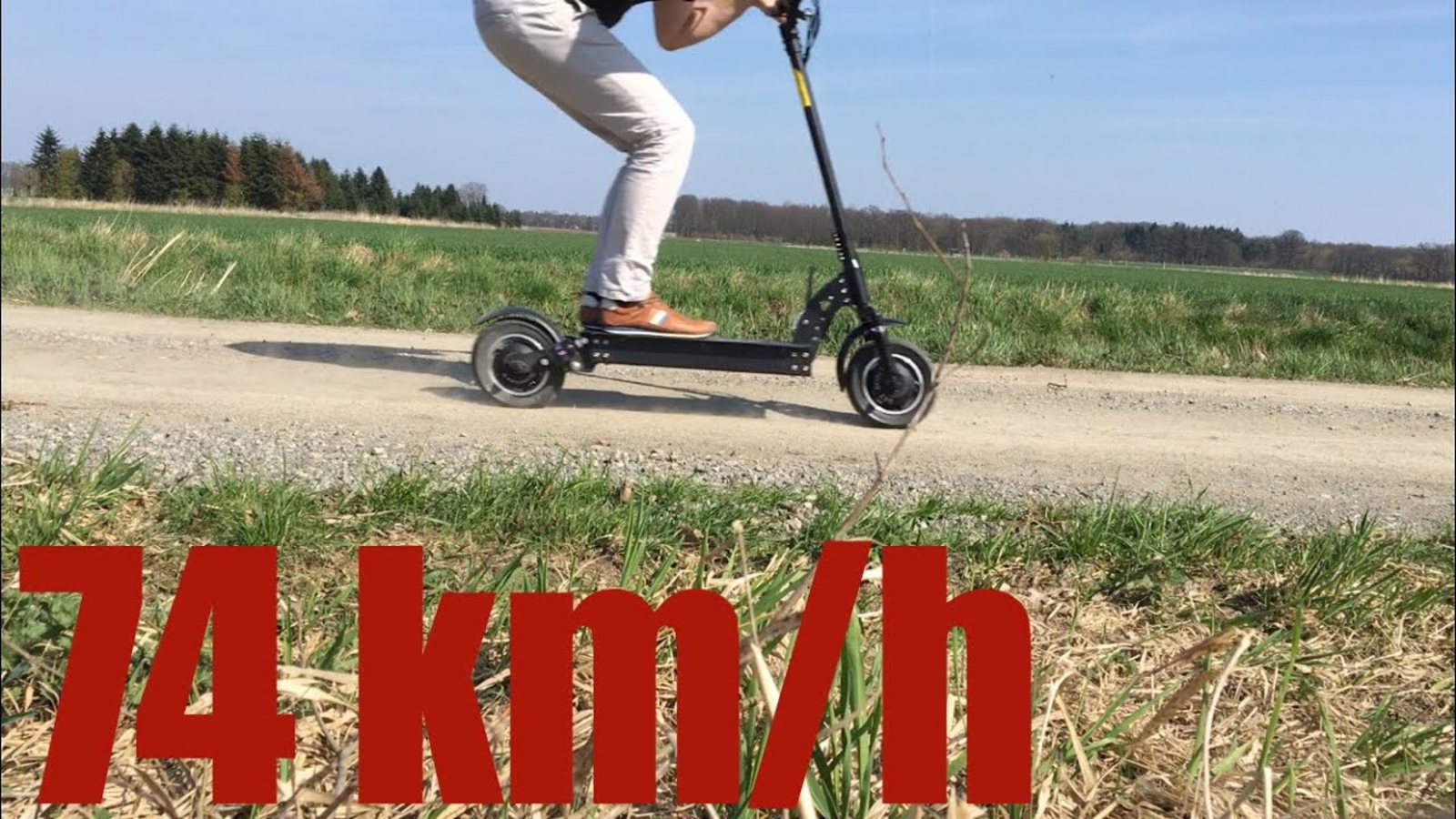 LED LIGHTS HUGE RANGE LITHIUM BATTERY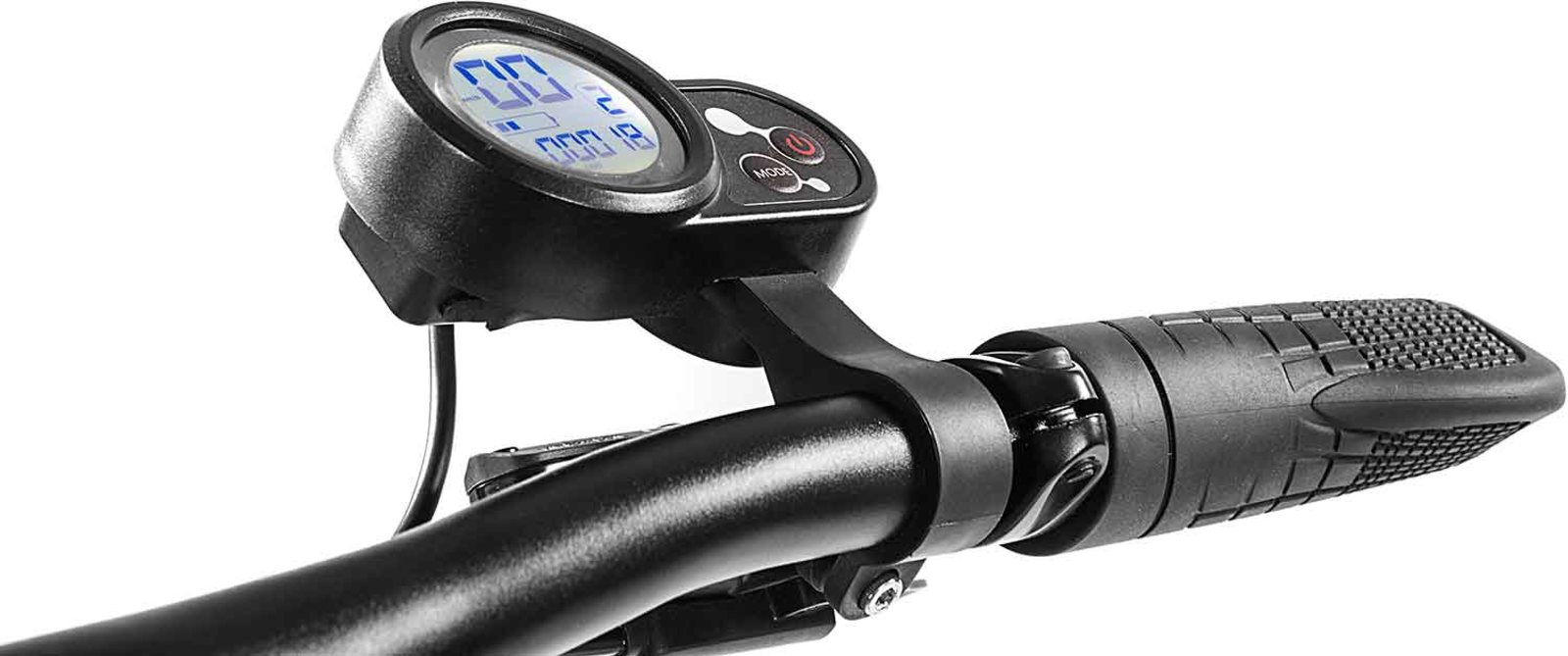 THE ULTIMATE HIGH PERFORMANCE MEGA FAST ELECTRIC SCOOTER
MEET The sxt 2640 watt 70 kph 1 or 2 wheel drive mega scooter
WE have the wrolds biggest range of performance scooters in electric and petrol
THIS scooter is mega fast OTHER versions in stock also
45 km aprox on full charge amazing range
ALSO 1 or 2 wheel drive just like a qaud
5 SLOW SPEED SETTINGS ALSO
BUILT i alarm system the scooter pushes back if you try take it . If fights against being pushed
Fastest compact escooter of the world! The SXT Ultimate PRO is a true racing machine with - CAUTION - extreme motor power!
The SXT Ultimate PRO is completely over-powered, not designed to build range records in spite of a huge battery, is not economical with the tires, its dimensions are relatively heavy, this configuration never gets a road approval, and the ECO button also there to avoid wheel spin when accelerating instead of having a really economic energy consumption.
The throttle grip consists of a finger rip with integrated LCD display which shows the current speed, daily and total kilometers, travel time as well as the current charge status of the battery in the bar graph and the current voltage of the battery in volts. For charging mobile devices, a USB charging jack is located below the LCD display.
SXT High Power Electric Skate board (35 KPH/CHOICE) € 1095.00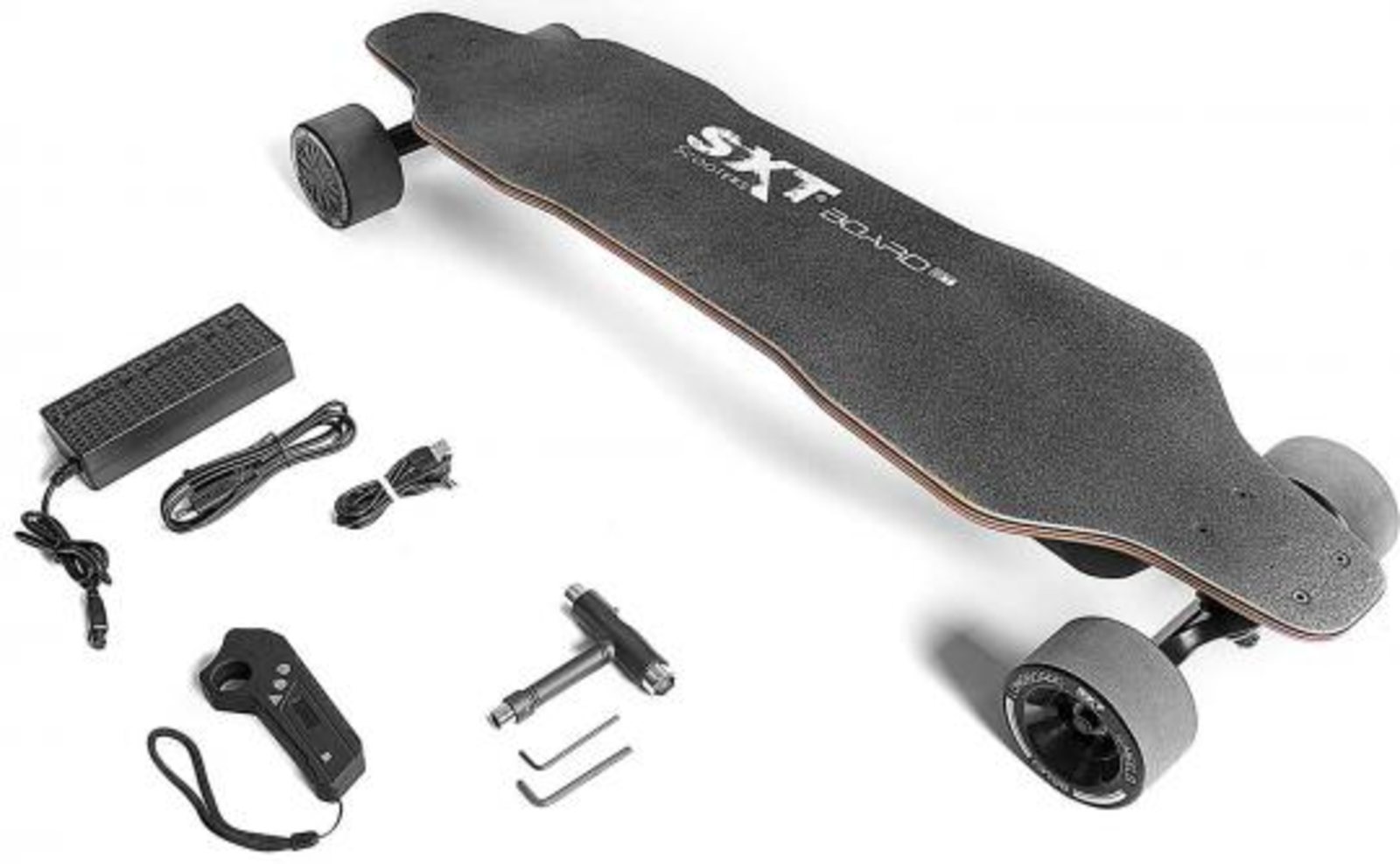 AMAZING FUN LOVE MY ONE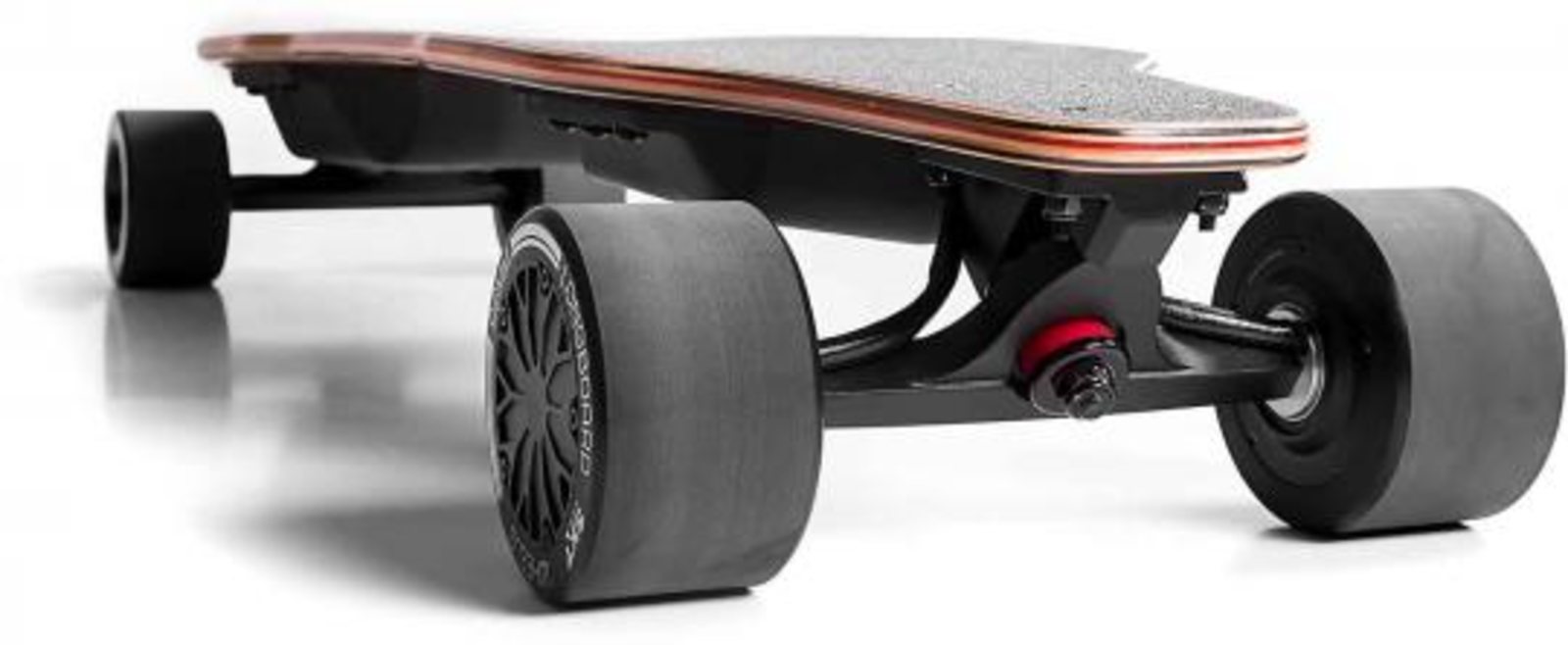 MEET THE ALL NEW electric Longboard with 2 x 350W High Power Brushless Hub-motors up to 42 km/h
AMAZING machine brought to you by MUCKANDFUN + SMILEYSCOOT IN wicklow Irelands largest off road shop
THIS is the real big boys toy
WE have the worlds biggest range of performance electric scooters - e bikes - petrol scooters also
ABOVE all this is fun in a whole new way
The deck of the SXT Board GT is ultra-flexible thanks to its construction made of 8-layer hard rock maple. it is also concave so that it adapts optimally to the feet. The total deck length is 94 cm at a total weight of 7 kg only. SO EASY TO CARRY AROUND WITH YOU
SXT Board GT in connection with the 96mm wheels is only 110 mm. Together with the 275mm wide deck, this enables a very stable and safe standing position
remote control is a 2.4 GHZ wireless R2 control unit with integrated OLED display, which reliably maintains communication between the longboard and handheld transmitter. In addition to acceleration and braking, the remote control also controls the Turbo mode, which is available for 30 seconds. But beware! Extreme accelaration power of + 20% is then available here
TOP of the range lithium battery is standard on this which keeps weight down and range up
2 YEAR FACTORY SXT WARRANTY
brushless hub-motors for SMOOTH easy riding
Board GT, remote control, tool set, charger, adaptor wire, USB charging cable ALL in one package
ABOVE all the most fun you can have on 4 wheels
NEED any more info let us know
SXT ELECTRIC skate Board (35 kph-FINANCE-delivery) € 1625.00
HAVE ONE OF THESE MYSELF LOVE IT FEELS LIKE FREEDOM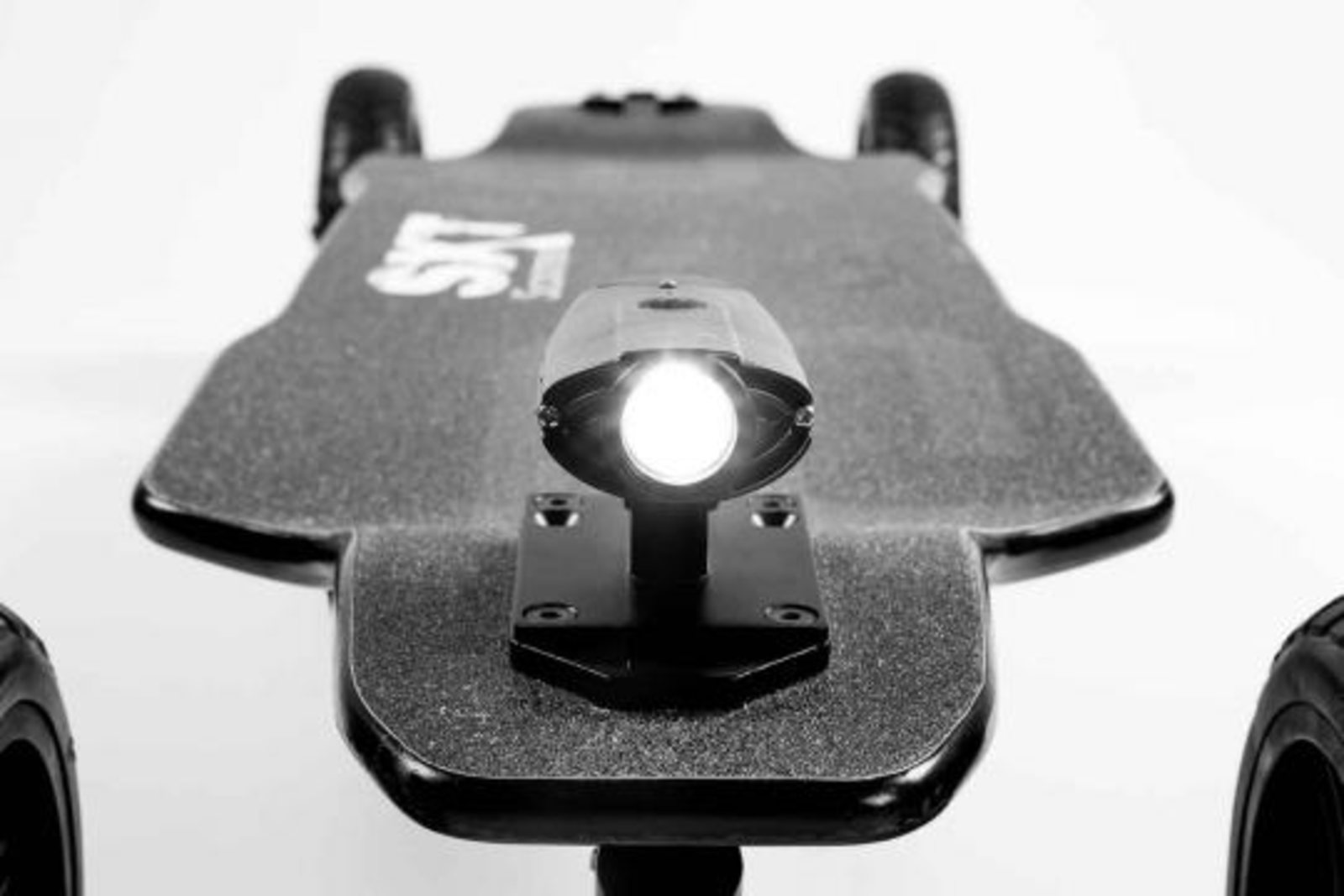 THE ALL NEW AMAZING SXT BOARD X2
Serious fun from MUCKANDFUN + SMILEYSCOOT in Wicklow
PART of the biggest range of performance scooters and skate boards all on muckandfun.com facebook.com/smilescoot
ABOVE will make you smile
The motors are 2 x 1200W high power and high-torque brushless hub motors
completely closed system in which no foreign objects or water can penetrate, so this is 100% maintenance-free and extremely durable. Furthermore, the brushless hub motors work virtually noiselessly, while the belt drive is quite noisy.
OPERATE by remote control which you hold in your hand
ALSO has front built in LED lights
R2 control unit with integrated OLED display,
turbo mode, which is available for 30 seconds. But beware! Extreme driving power of + 20% is then available here
The lithium battery built into the SXT Board X2 consists of a 12S3P system equipped with Sanyo cells. The capacity of the 50.4 V high-voltage battery is 454 Wh. This is enough for a total distance of up to 30 km.
2 x 1200 HIGH power motors
2 YEAR sxt factory warranty
COMES with all chargers for all electronics
MUCKANDFUN + SMILESCOOT have the worlds biggest range of performance scooters in petrol and electric