HONEY I SHRUNK THE SUPERBIKE WOPS !
Muck and Fun the Home our original people to first bring them to Ireland . Others sell Cheap Ones ours are still great value but come with CE approval - Spares back up guaranteed for LIFE !
Pocket Fun - Get two have the crack with your mates
Rossi Started out on these .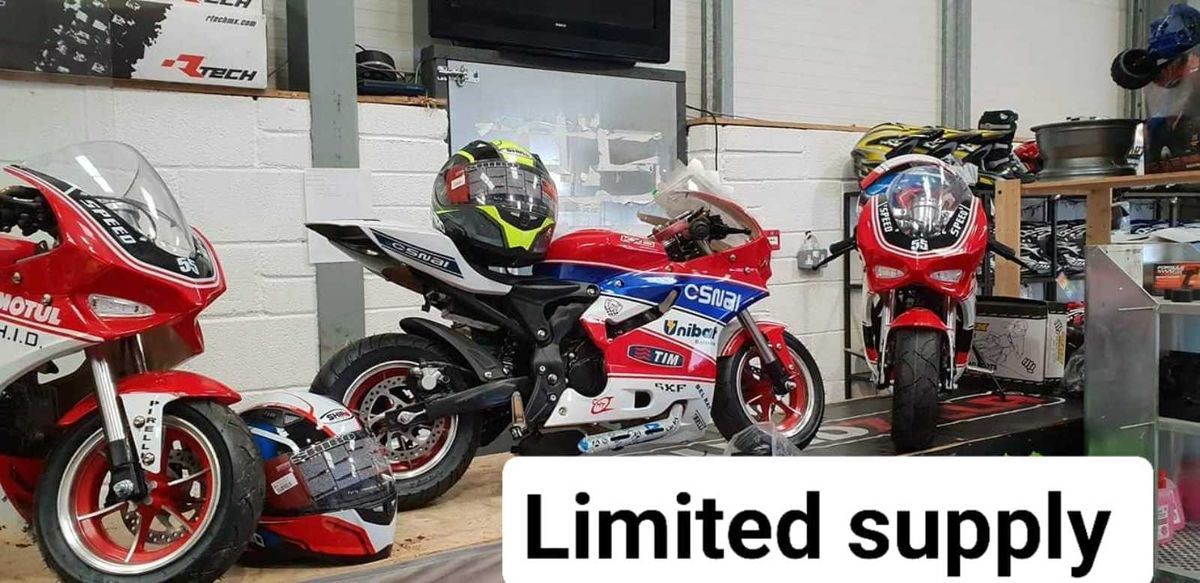 WARNING : Our mini motos are not like any of the cheap rubbish being sold on Doedeal etc.. Our bikes for the price are as good as it gets out side of a full race €1k bike . They last - dont brake - offer great fun and blow the other donedeal sellers who offer home delivery and have no shop or back up out of the water. We cannot recomend ours more highly . This is a really a case of buyer beware with us you have back up guarnateed for life .
OUR LATEST M24A Just arrived please feel free to drop by for a demo ! Also our all new world famous PB008SX mini moto superbike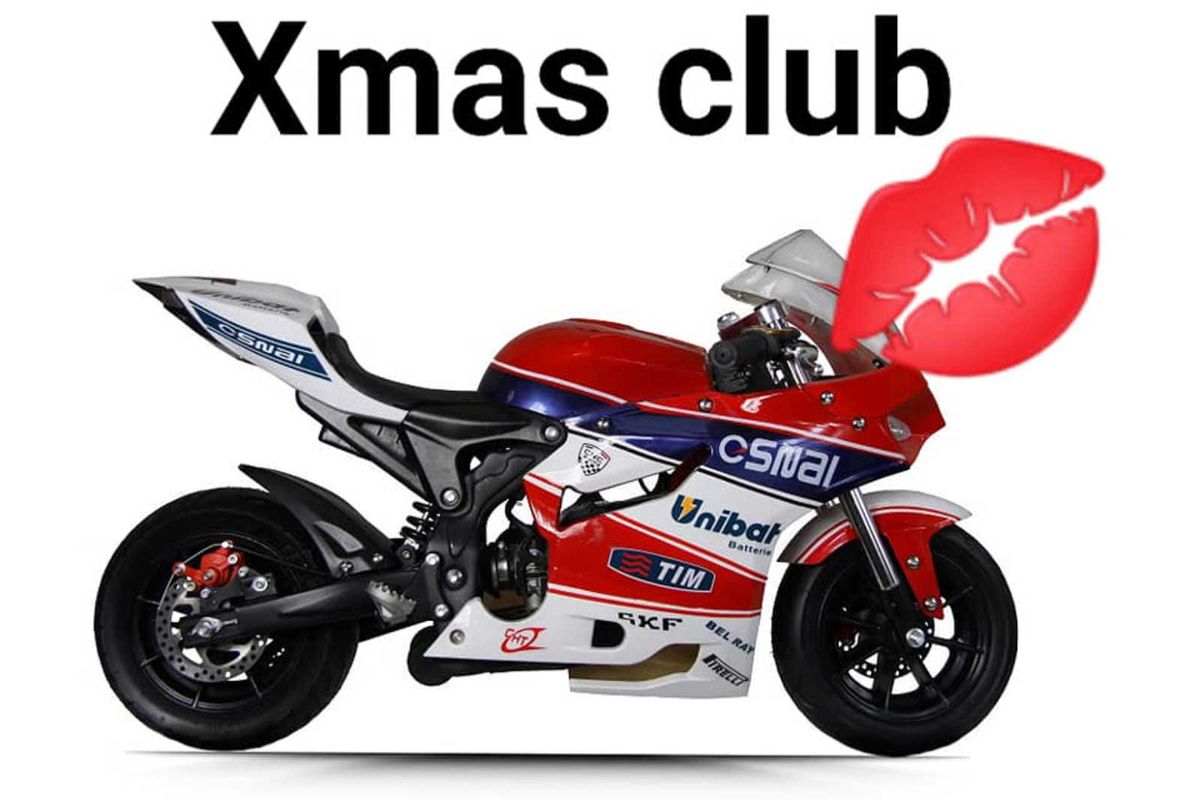 ALL MIDI-MOTO SUPERBIKE only €695.00 2 STRO0KE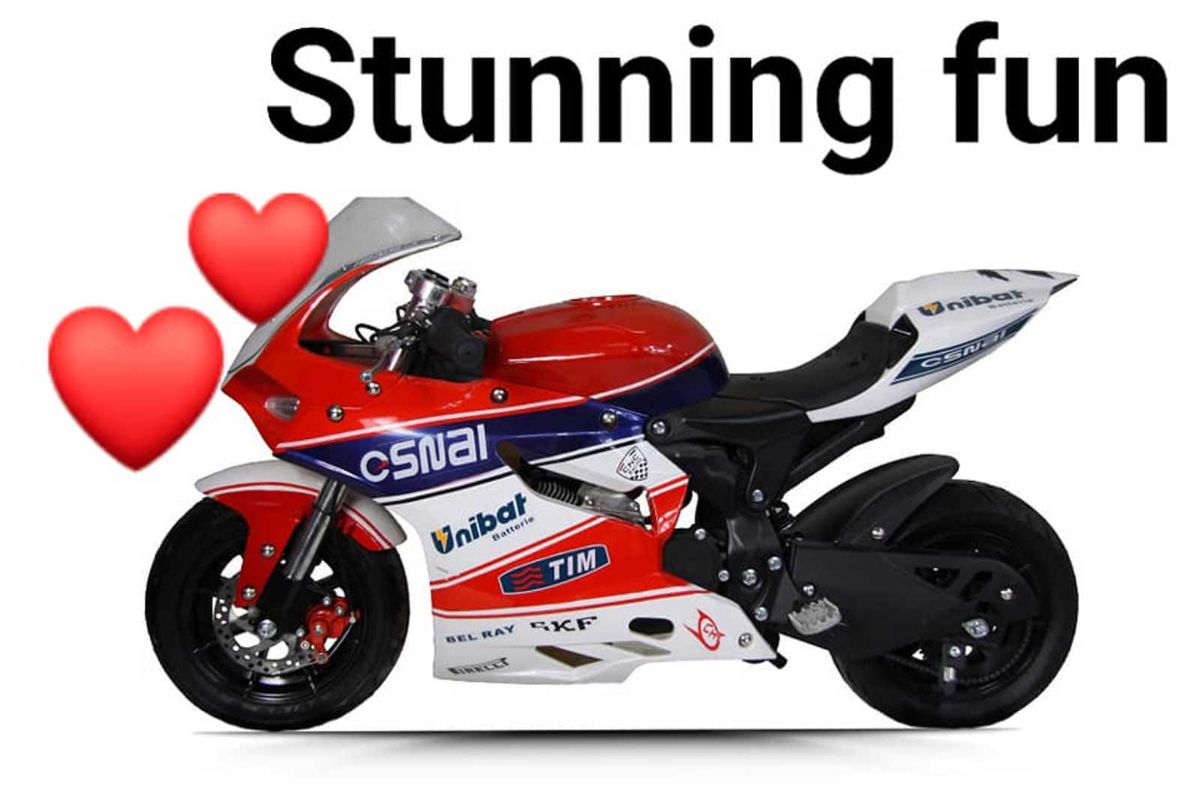 XMAS SORTED - BIRTHDAY SORTED !!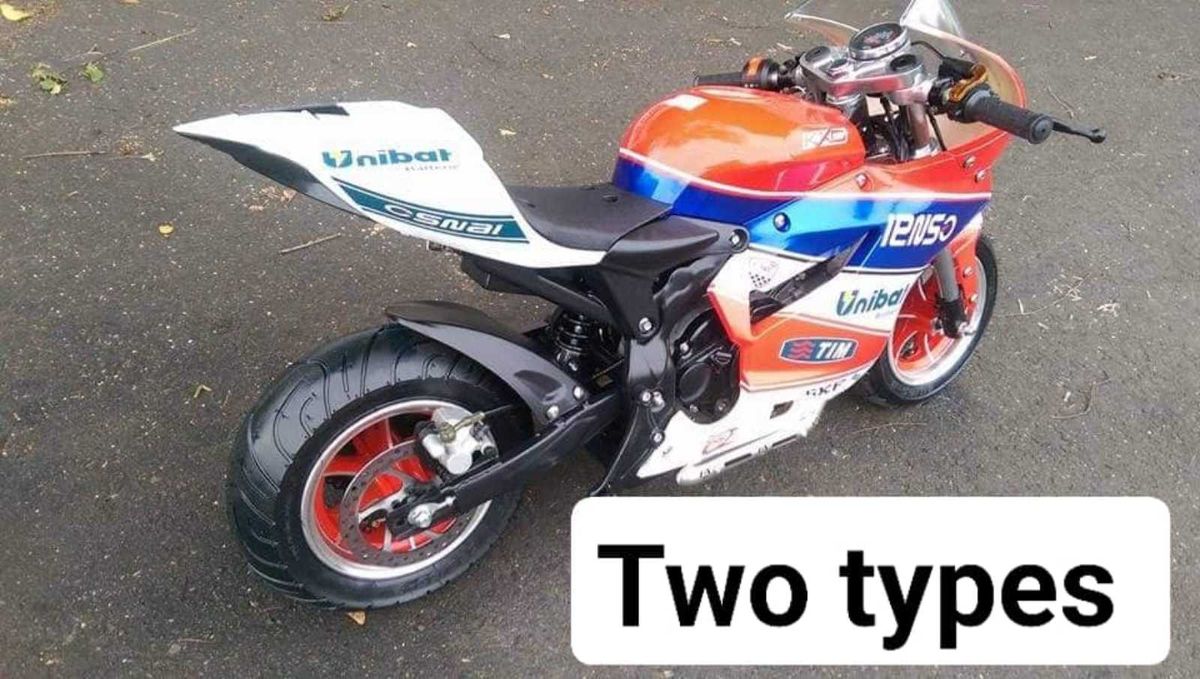 ITS JUST A WORK OF ART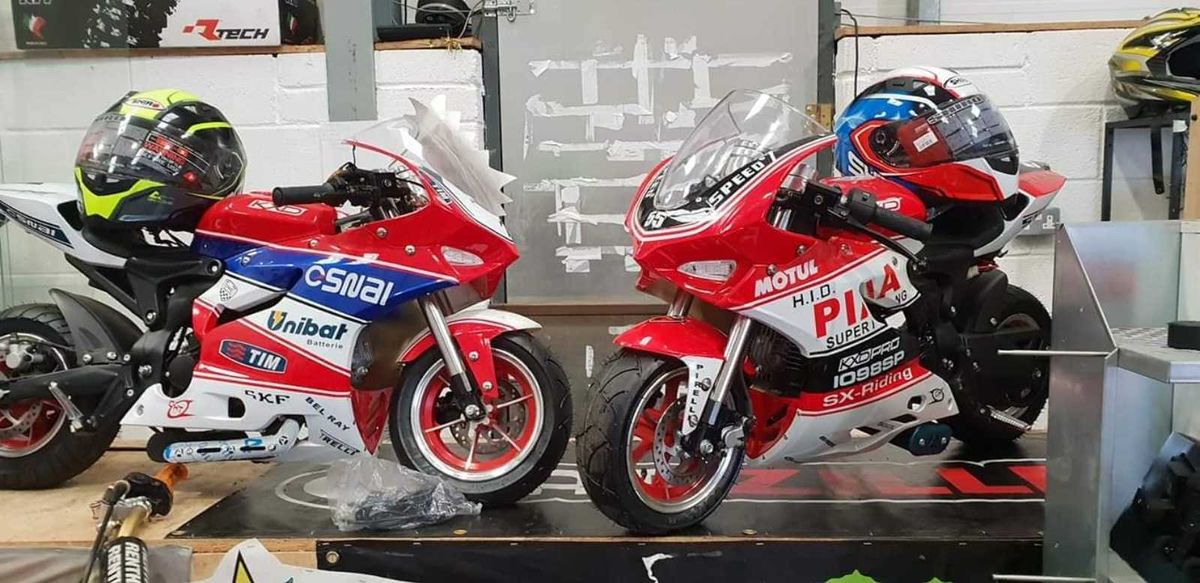 FOR KIDS AND ADULT WHO HAVE NOT + NEVER WILL GROW UP !!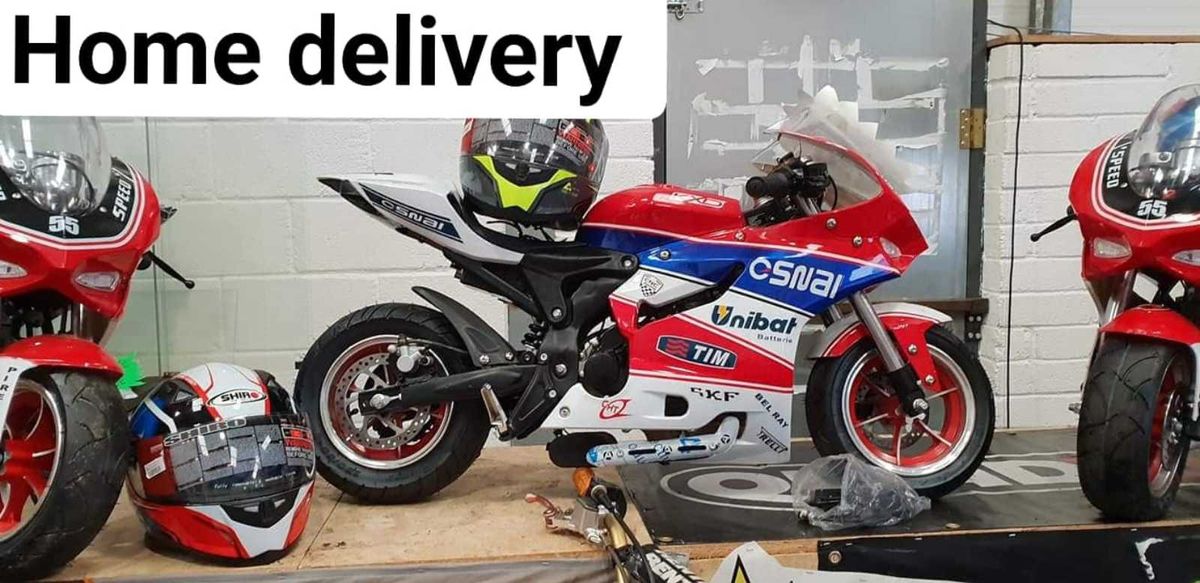 FIRST ONES EVER IN IRELAD NOW IN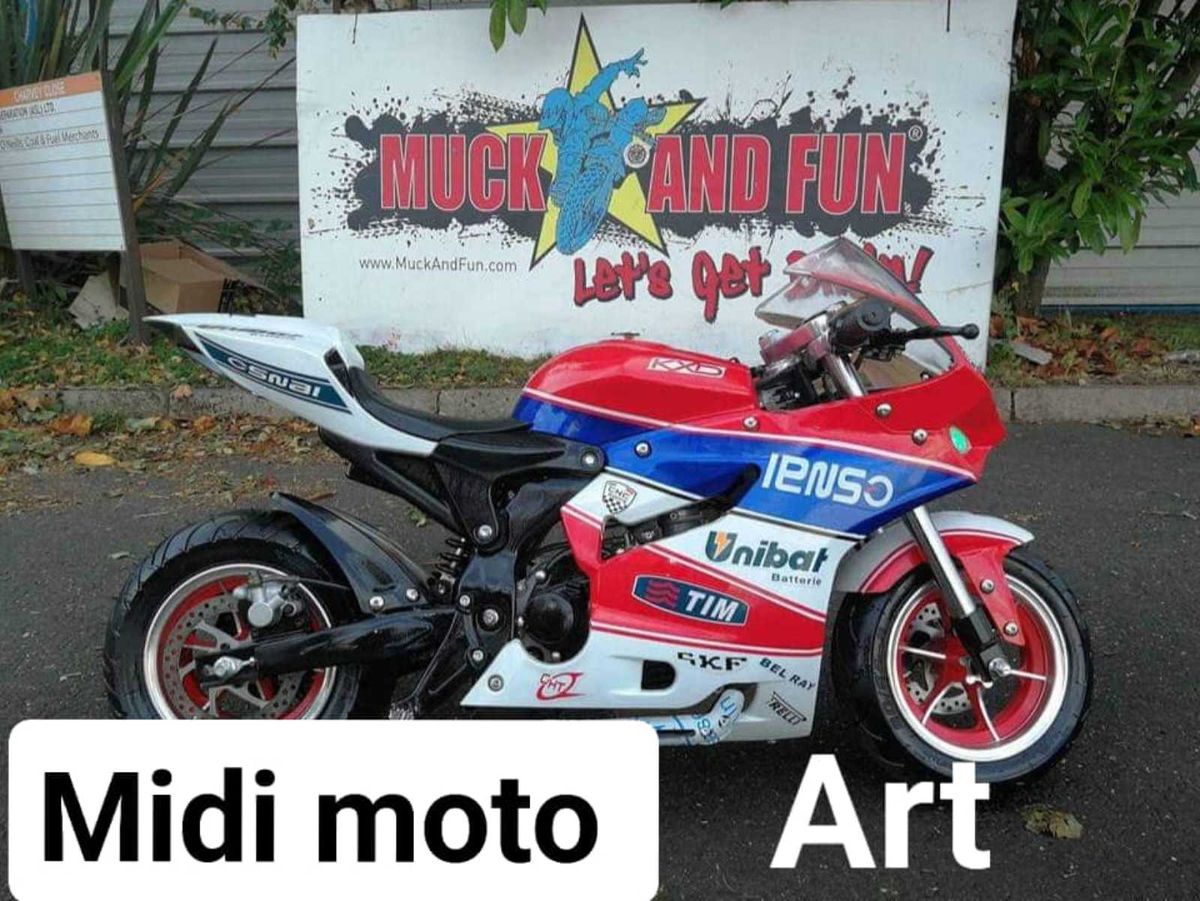 ALL NEW these bikes are a work of art COLOURS can change
OUR all new Mini moto SUPER-BIKE
SERIOUS styling
AMAZING colour scheme
WHAT a gift or a threat for yourself
EXACT copies of world superbikes
LITTLE BIGGER than normal for added comfort
THESE blew us away when we firs got them in - Stunning BIKES and look even better in real life
NOTHING compares to the fun and SMILE these put on your face
HONEY yes Son I SHRUNK Dads superbike !!!
TWO stroke engine 50 CC
FULLY automatic
ALLOY Wheels
rear shock absorber adjustable
removable stand
fork with upside-down
regulator of speed
hydraulic brakes
protective plastic on the chain
Two stroke engine 50 CC
FULLY automatic
ALLOY Wheels
rear shock
absorber
removable stand
forks with upside-down style
hydraulic brakes
protective plastic on the chain
HOME delivery all Ireland only € 60.00 comes built tested ready to use
Technical specifications:
Tank capacity: 1.8 l
Fuel type: 1:25 oil / petrol
Transmission: Chain drive
aluminum mono damper
Tires (F/R): 90 x 65-8 / 130 x 50-8 Top
speed: 50 km/h Starting
system: Pull starter (plastic)
Brake system : disc brake
Extras:
can be throttled to 3 levels
Weight & dimensions:
Empty weight: 27 kg
Maximum load: 70 kg
Seat height from. Floor: 47 cm
Vehicle dimensions (LxWxH): 123 x 48 x 70 cm
Packaging dimensions (LxWxH): 123 x 48 x 64 cm
FOUR STROKE MODEL IN VIDEO
------------------------------------------------------------------------------------------------------------------------------
MT2A MINI MOTO €395.00
This is one of the best MT2A series bikes that you can buy and have been designed and built with the enthusiast in mind, with quality being checked at every stage of production. These are not the cheapest bikes on the market, but without question the quality is unsurpassed by any other mini moto pocket bike costing under €400.00. You really pay for waht you get and other suppliers in the cheap range we would not let in the door of our shop .

Top speed depends on rider weight, but on average you should see 30-35 MPH with the bike in standard trim. At just inches from the ground it feels twice as fast!
The 49cc engine we have is reliable, and with tuning modifications, power can be easily doubled, and speed substantial increased. The excellent geometry means the bike steers, turns in, and corners without fuss. Complimenting its sweet handling are the racing tyres, which work better than any other type tyre in either dry or damp conditions.
To sum up this bike, you have the whole package: a reliable well engineered engine, a race-craft frame, race tyres, and painted fairings.
Designed as a value for money starter bike for fun recreational use, or for those wanting to try mini moto racing for the first time. Both standard and performance parts to uprate this model, are for sale on this very website!
Buy now and you could be riding this tomorrow. It's a great bike!
.
SPECK BELOW Are you the next Rossi !
| | |
| --- | --- |
| | |
| Engine Size | 49cc |
| Braking | Front and Rear disc brakes |
| Engine Spec | 2 Stroke |
| Getting Going | Pull Start |
| Fuel | Unleaded - Mixed with 2 Stroke Premix Oil |
| Top Speed | 25-35 Mph |
| Gross Weight | 25kg |
| Warranty | 30 Days on Engine - Parts Only |
| Frame | High Stress Steel |
KXD MINI MOTO NOW ONLY €395 serious value
GREAT VALUE A REAL SUPER-BIKE REPLICA
50 CC POCKET ROCKET
TWO STROKE
RACE PART ARE AVAILABLE FOR EVEN MORE POWER
STUNNING LOOKS
QUALITY BRAND AT A LOW PRICE
BUILT IT SIDE STAND
DELVERY AVAILABLE
DISK BRAES
mproved body frame, stronger and lighter.
** New improved stronger foot pegs
** Engine: 49cc, air cooled
** Start up: easy pull start
** Unleaded mix 2 stroke engine oil with 1:25
** Safety kill switch
** Instruction manual provided
** Brake: front and rear disc
** Max load capacity: 88kg
** Max speed: 50km/h
** Bodywork size: 960x550x580mm
** Fully automatic, chain driven
All our motos are fully assembled,
NEW JUST RELEASED WHERE ALWAYS FIRST SUPER MINI MOTARD ONLY €350.00
sale price €295.00 sold out
Irelands biggest and best range bar none !
COMES IN : Black Blue Yellow Red

Super Motard - 50cc - Blue

The Super Motard, is a cross between a mini moto race bike and a mini moto dirt bike.

The bikes are designed for racing around on tarmac and flat ground, with the odd gentle off road section thrown in.

Being slightly bigger than a mini moto race bike, riders have the benefit of front and rear suspension, whilst sitting upright means more control and more fun!

The engine is a standard mini moto unit, 49cc in size, and within our performance parts we have dozens of modifications to sup up the power. In fact our high compression head kit doubles the standard factory power output!

Features Include:

49cc 2-Stoke
Tuneable Engine
Front & Rear Suspension
Under Seat Race Exhaust
Front & Rear Disk Brakes
Metal Pull Starter
Wet Tread Pattern Tyres

With mini moto racing now happening every weekend at dozens of karting circuits up and down the country, it's only a matter of time before the Motard has it 's own racing series. This muck and fun Mini Motard gives you high speed thrills with excitement and not forgetting the essential grin-factor.

Despite the small size, it can be ridden by riders of all heights and can carry weight up to 15 stone!
| | |
| --- | --- |
| | |
| Engine Size | 49cc |
| Engine Spec | 2-Stroke Tuneable Engine |
| Braking | Front and Rear Disc Brakes |
| Tyres | Wet Tread |
| Fuel | Unleaded |
| Suspension | Front and Rear |
| Max Rider Weight | 15 Stone |
| Top Speed | 20-30 MPH |
| Seat Height | 48cm |
| Warranty | 30 days, engine parts only. |
| Getting Going | Pull Start |
| Gross Weight | 23KG |
SOME NICE PICS OF OUR NEW SUPERBIKE DONE IN THE STUDIO ENJOY !! WE DO
PB008SX