THIS SECTION COVERS QUADS THAT OLDER KIDS AND PARENTS CAN ENJOY AT AMAZING PRICES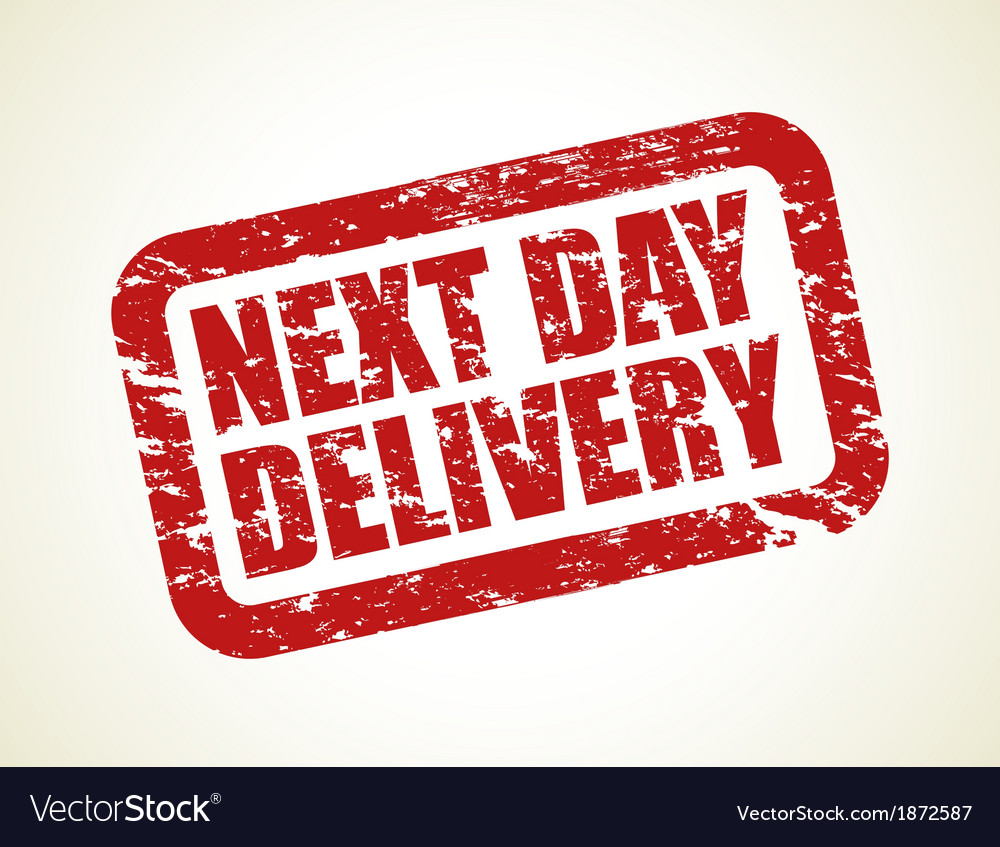 FINANACE FROM IS ON PAUSE FOR NOW
NEXY DAY DELIVERY ALL IRELAND IS AVAILABLE FOR ONLY € 60.00 EXTRA
YAMAHA - SUZUKI - QUADZILLA - HIGHPER - ORION - HAMMERHEAD - SMC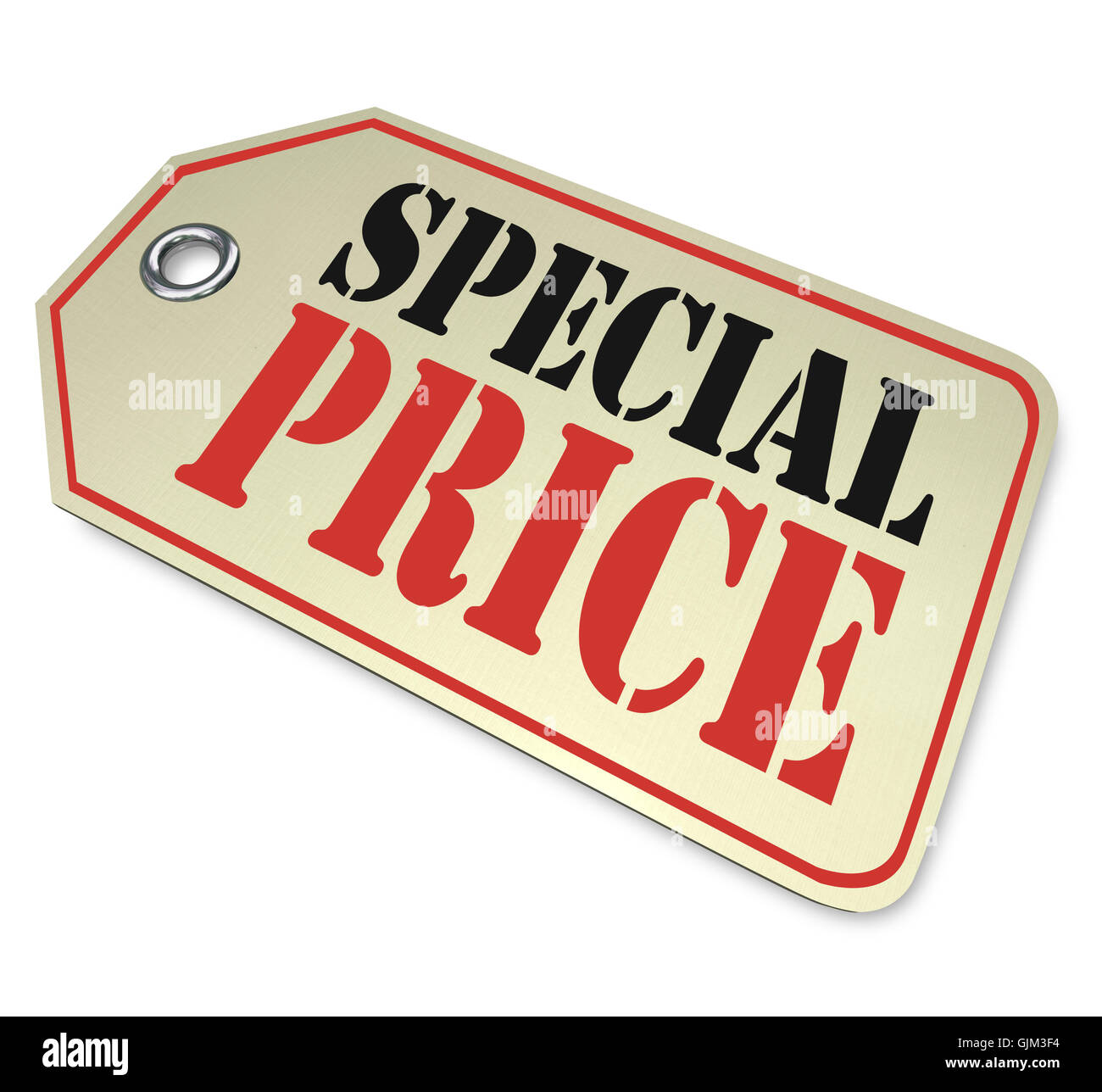 1 AND 2 YEAR WARRANTIES ON ALL NEW QUADS
COST PRICE ON HELMETS AND GEAR TO HELP WITH SAFETY WHILE YOUR BUYING
QUADZILLA QZ 150 (FARM QUAD/FAMILY FUN/VALUE) € 3295
AMAZING VALUE WITH 2 YEAR WARRANTY
BUILT TESTED BY US IN WICKLOW
ITS also road legal so if you want to VRT some day you can
2 YEAR WARRANTY - 2 FREE SERVICES - COST PRICE ON ANY GEAR YOU ALSO MAY NEED
BEATS buying some used quad for more money on Donedeal
HUGE speck and value for money
A NEW Suzuki or Yamaha kids quad costs over € 2600.00 so just shows the value for money
150 CC engine four stroke
HAZARD warning lights an indicators
FULLY automatic with reverse and neutral
PLUG in socket for electrics
SPEED regulator for younger drivers
IDEAL for ward around farm etc. or just for SOME MUCK+FUN
PRICE speck quality blew us away
kxd Outlander SPORTS QUAD 200CC /DELIVERY/FAMILY SIZE} € 2450
AMAZING VALUE QUALITY DESIGN FEATURES
HOME DELIVERY ALL IRELAND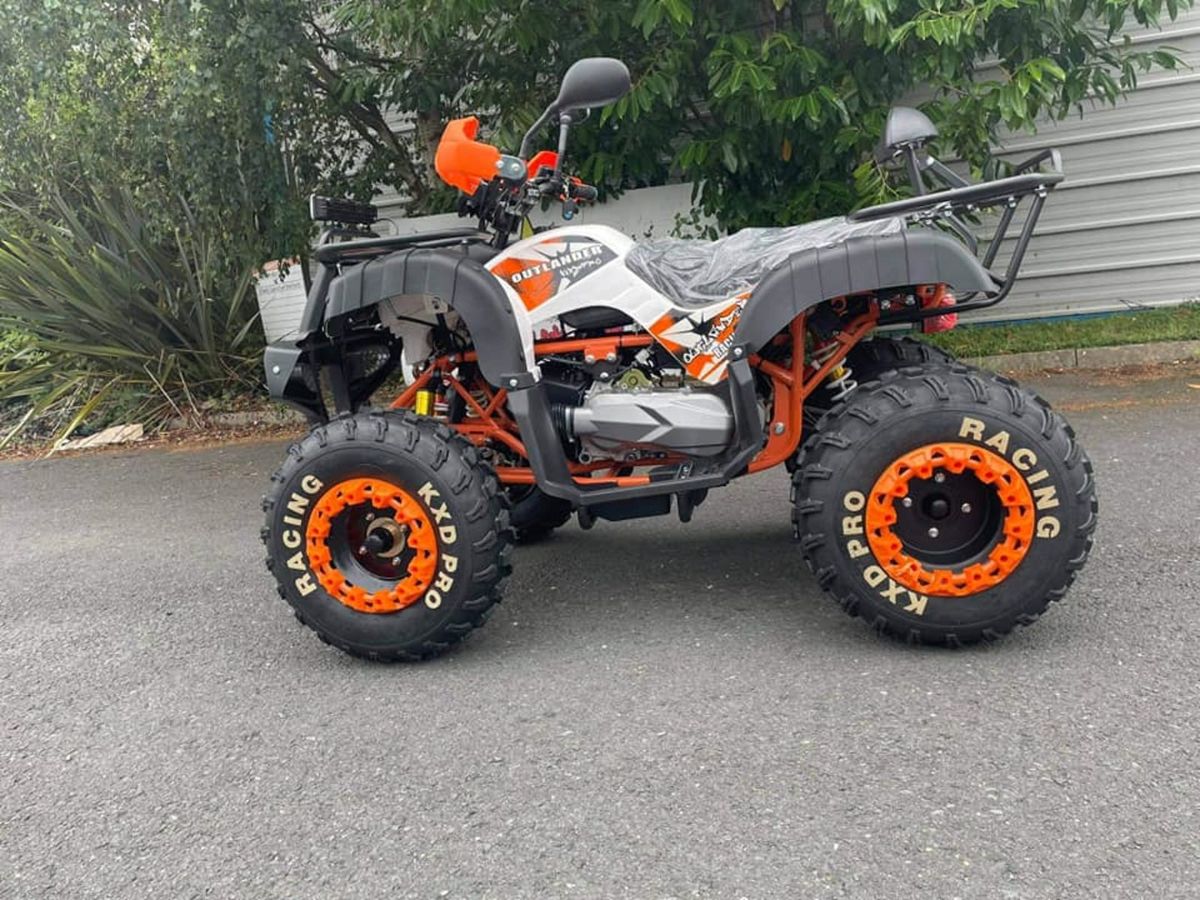 LOADS OF SPECK STUNNING MACNHINE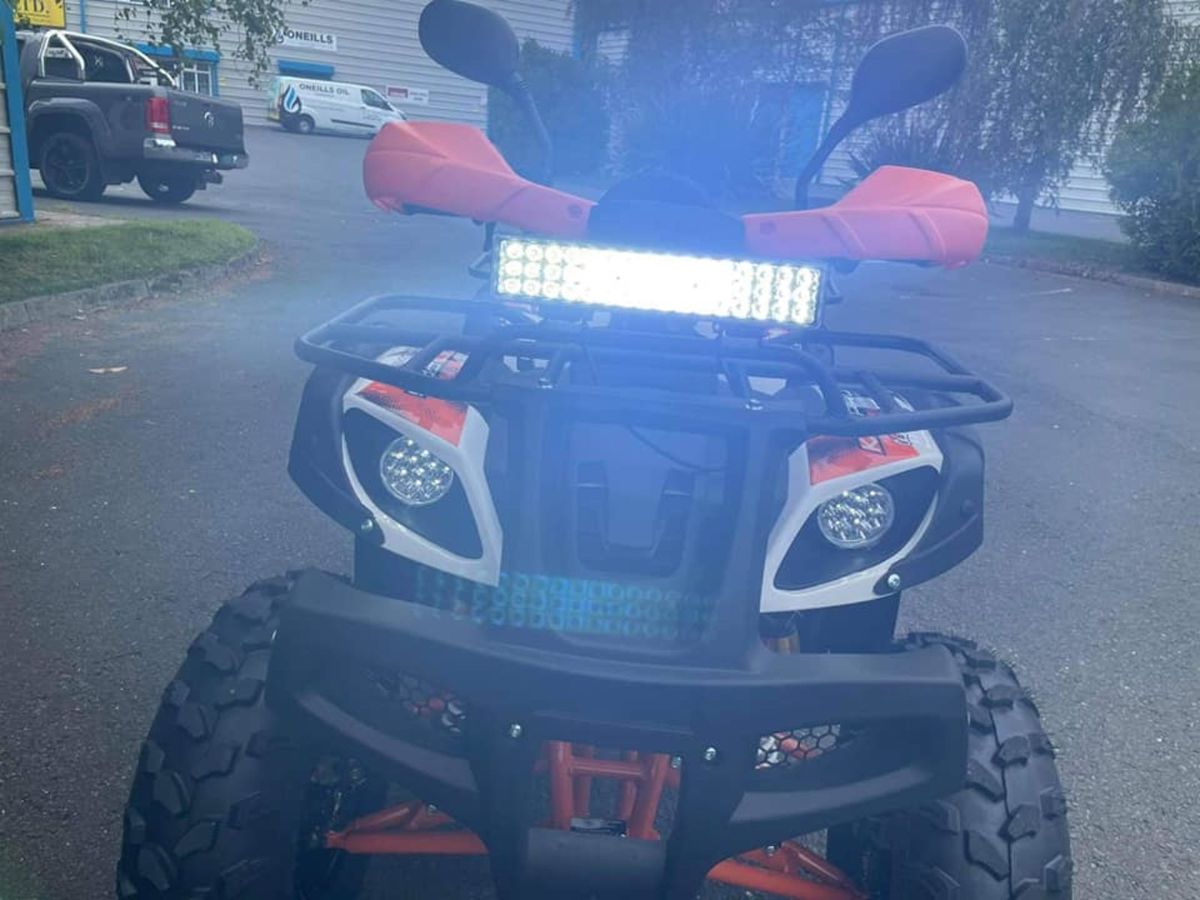 MEGA NEW IRELANDS 🇮🇪 BEST VALUE 200 CC SPORTS QUAD NOW IN STOCK
MUCK+FUN KXD OUTLANDER 200 CC Full size quad PRICE IS only € 2450.00 COMES IN GREEN AND ORANGE DEPENDING ON STOCKS
A basic Yamaha 50 cc quad is € 2600.00 this is full size huge speck 200 cc for less makes you think ?
SIZE wise suits all the family AS it has a speed regulator
GREAT value for money for the size quality and speck
BUILT and tested by us in Wicklow
WE are Irelands largest off road shop
MX BIKES - QUADS - BUGGIES - JET SKIS
1 Year full warranty parts and labour
HOME delivery all IRELAND only € 60.00 comes built and tested ready for fun
BLEW us away when first ones arrived
FULLY auto with speed regulator for younger riders
SIZE wise its suits all the family old and young . YOU can slow right down very easily
NEW IS LIGHT BAR FITTED FOR NIGHT TIMR
REAR grab rail bars passenger
PRICE wise hits all the buttons
it it has hydraulic brakes front and back 200cc 4 stroke engine full automatic forwards and reverse led dash display with speed clock Rev counter and fuel gauge led headlights and led light bar adjustable suspension all round automatic chock remote cut out disc brakes all round 10inch ground clearance hand Gaurd's and mirrors as well as back rest for passenger front and back racks
NEED any more inf let us know
QUADZILLA Qz 300 (WARRANTY-ROAD LEGAL) € 4995.00
BEST VALUE IN ITS CLASS BY FAR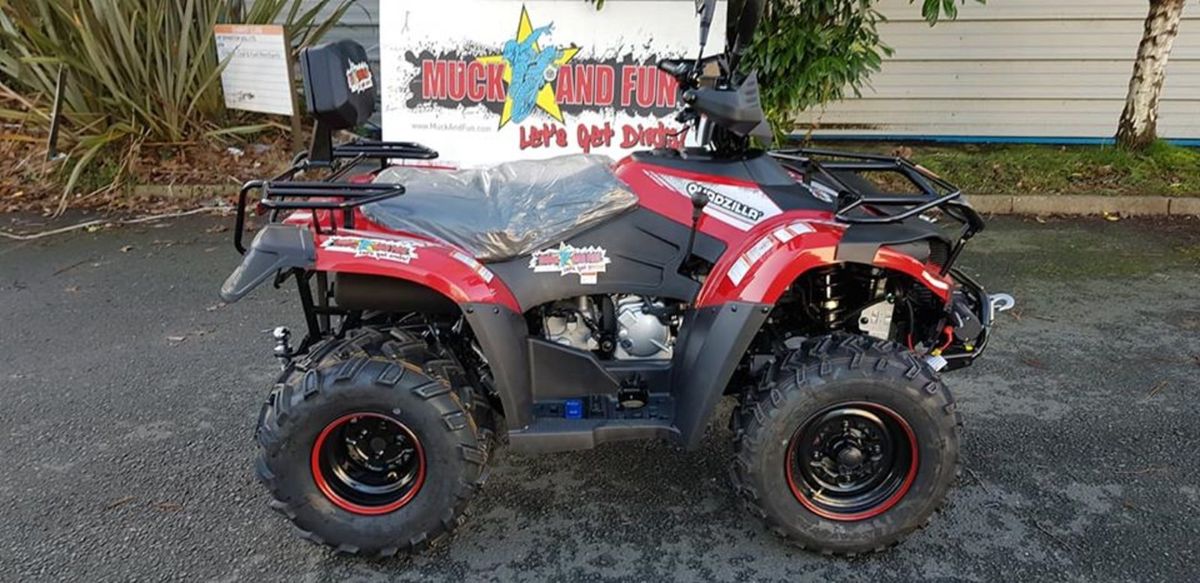 2 AND 4 WHEEL DRIVE FULL ROAD LEGAL
FULL 2 year parts and labour warranty there is nothing we dont know about the Quadzilla range amazing brand and range
WE have imported Quadzilla for last 15 years great brand and speck and quality
THIS quad has the benefit of COC papers to register it for the road now or in the future
WE give 2 Year warranty on all Quadzilla - 2 Free services - Cost price on any gear you may need - Home delivery only € 60.00
ELECTRONICALLY SELECTABLE 2/4WD
LED DAYTIME RUNNING LIGHTS
LOADS of speck you would normally get with other brands
SINGLE CYLINDER, 4 STROKE
ELECTRONICALLY SELECTABLE 2/4WD
HYDRAULIC DISCS FRONT & REAR
PART exchange is Welcome - WE take deposits
AMAZING KXD Ranger 125 Quad (FAMILY SIZE-DELIVERY) € 1350.00
VERY HIGH SPECK 125 QUAD TICKS ALL THE BOXES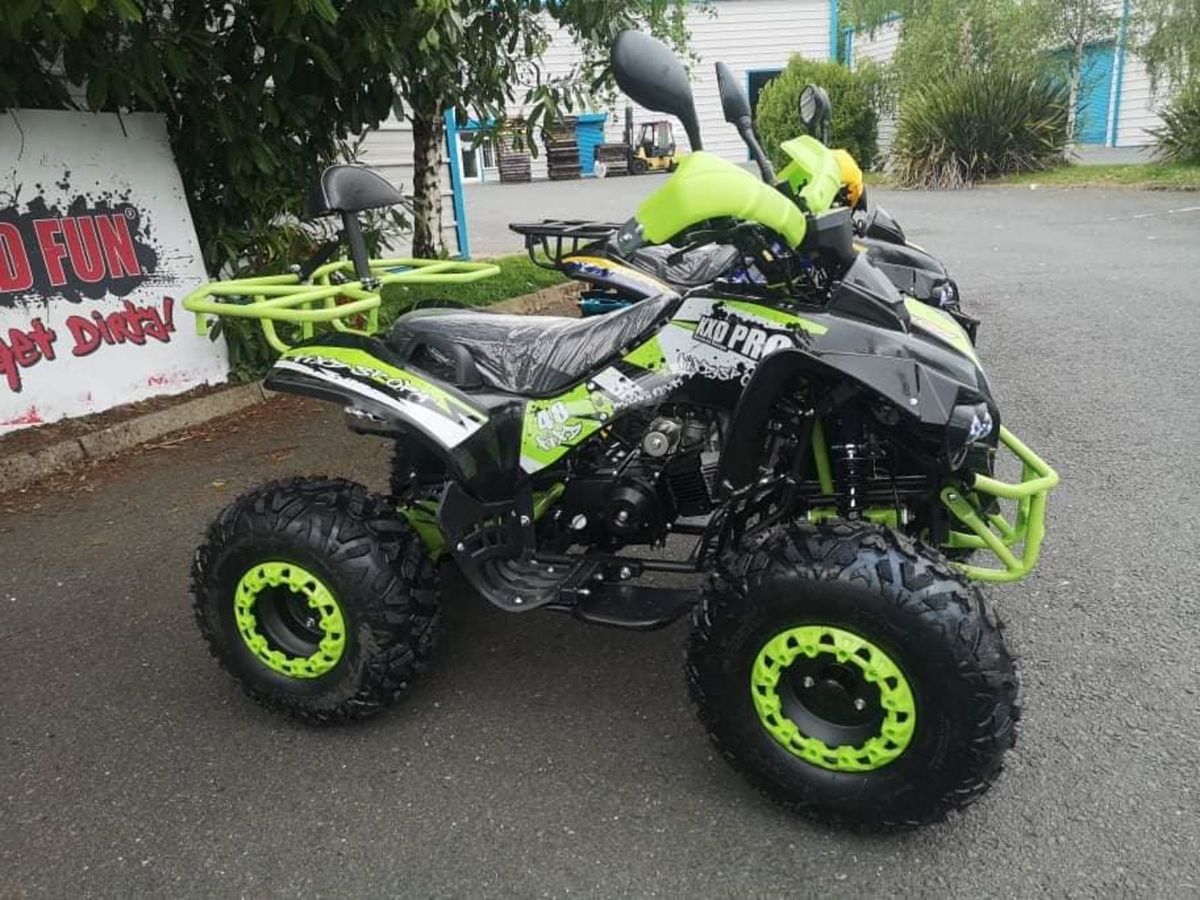 REAR CARRIER FOR WORK OR PLAY
MEET the all new amazing KXD 125 RANGER quad from muckandfun
BUILT - TESTED By us in Wicklow
HUGE Speck amazing value for such a quad with this speck and size
ONLY € 1350.00 Considering a tiny Yamaha 50 cc quad is € 2600.00 you could buy two of these quads
MID size so suit adults and kids can drive to as it has a speed regulator to slow right down
HOME delivery all IRELAND only € 60.00
WE have the biggest range of kids and family size quads in Ireland and Uk more info on muckandfun.com also facebook.com/muckandfun
LOADS of speck to this quad and amazing fun
1 YEAR WARRANTY PARTS AND LABOUR
REAR seat back for comfort
SEMI auto so no clutch and also has reverse
Size L 1350 mm x W 900 mm x H 800mm
ALL adds up to one amazing quad and value for money
RFZ 200 cc SPORTS QUAD (VALUE-QUALITY-DELIVERY) €2450.00
STUNNING QUAD AND AMAZING VALUE APPOLO WORLD WIDE BRAND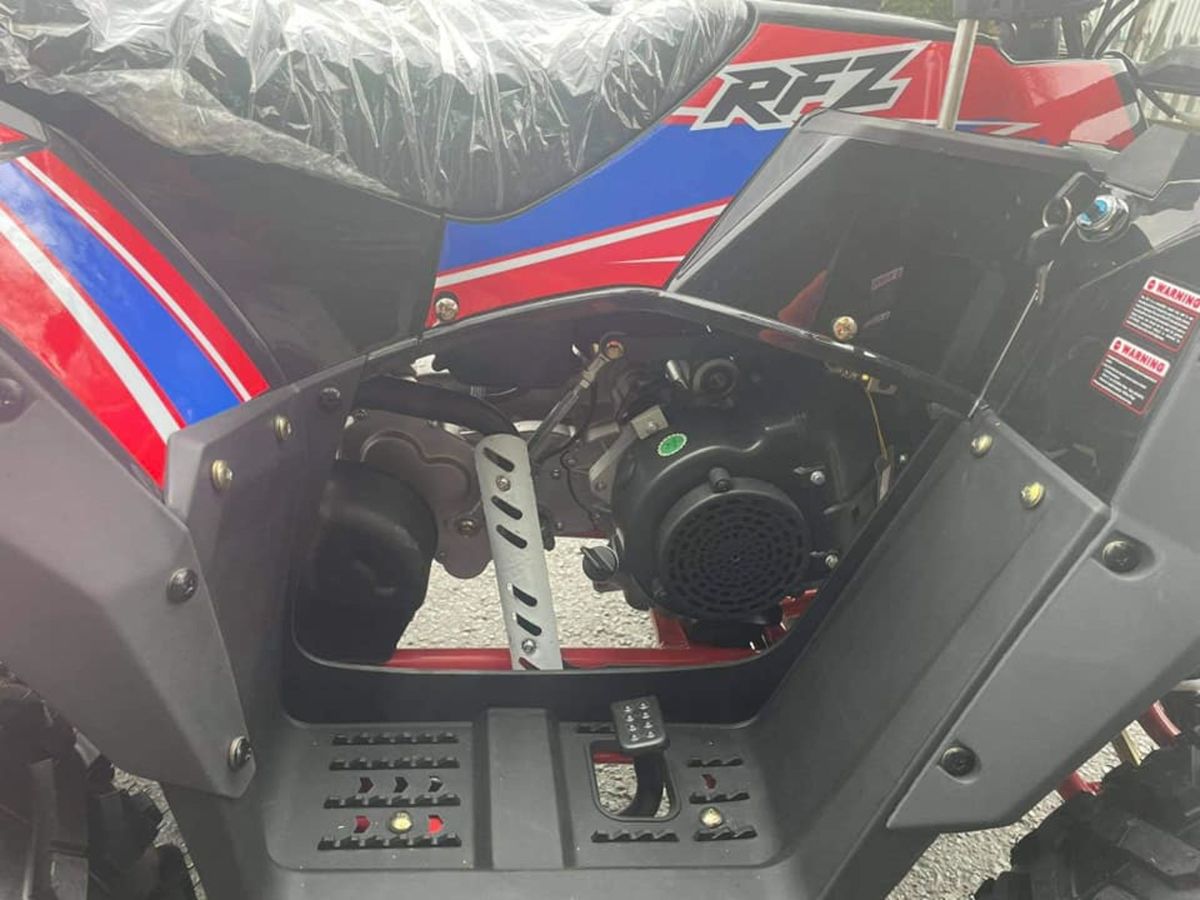 HOME DELIVERY ALL IRELAND ONLY € 60.00 SPEED REGULATOR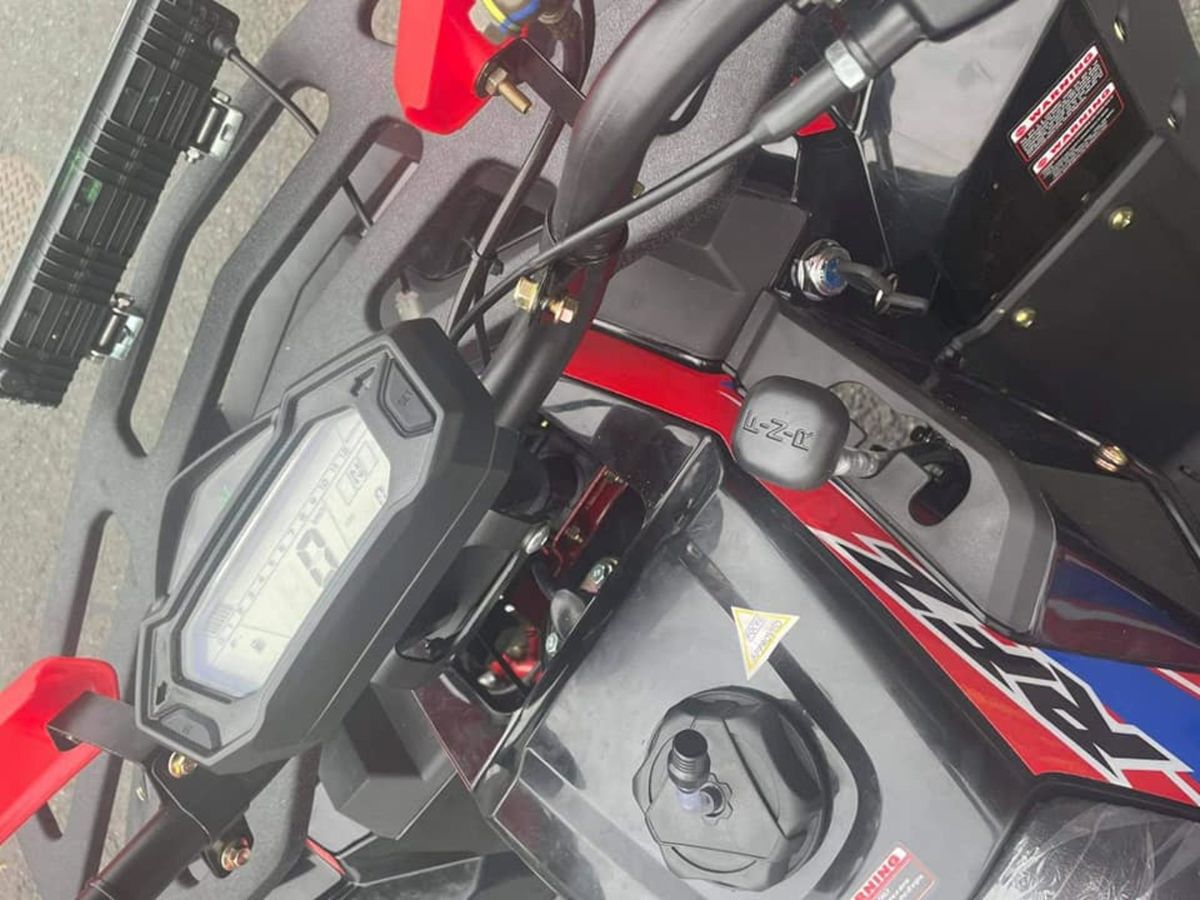 New quad launch today @ muckandfun 200 cc sports quad SUITS ALL THE FAMILY
Rfz Apollo world wide famous brand
IRELANDS BEST VALUE 200 CC QUAD BIKE
HOME delivery all Ireland only € 60.00
VERY high speck quad and amazing value
Amazing value for money considering a new kids Yaaha and Suzuki 50 cc quad is € 2600 makes you think?
WE are Irelands largest OFF road shop full range on MUCKANDFUN.com
Light bar LIGHTS up everything at night while off road
Full lcd dash board gives you all the info
Superb build quality 1 year warranty parts and labour
Home delivery all Ireland only €60
Speed regulator for younger riders
We make off road affordable for everyone
Our kxd 200 sports quad is only €2495 OTHER model like we also do
Honda or yamaha made this be more like € 6000.00
Your basic kids tiny 50 cc quad for kids by suzuki and yamaha is € 2600.00
Game changing quad at this price level
SPEED regulator so you slow all the way down to very slow speed
KXD Ranger 125 FAMILY Size quad (DELIVERY/OTHER COLOURS) € 1250.00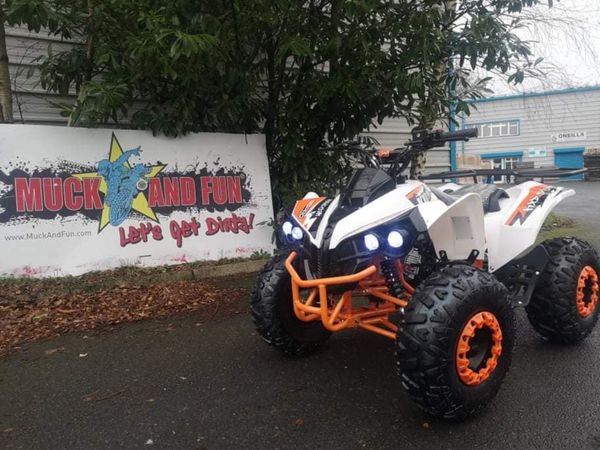 STUNNING QUAD LOOKS EVEN BETTER IN REAL LIFE
HOME DELIVERY OR COLLECTION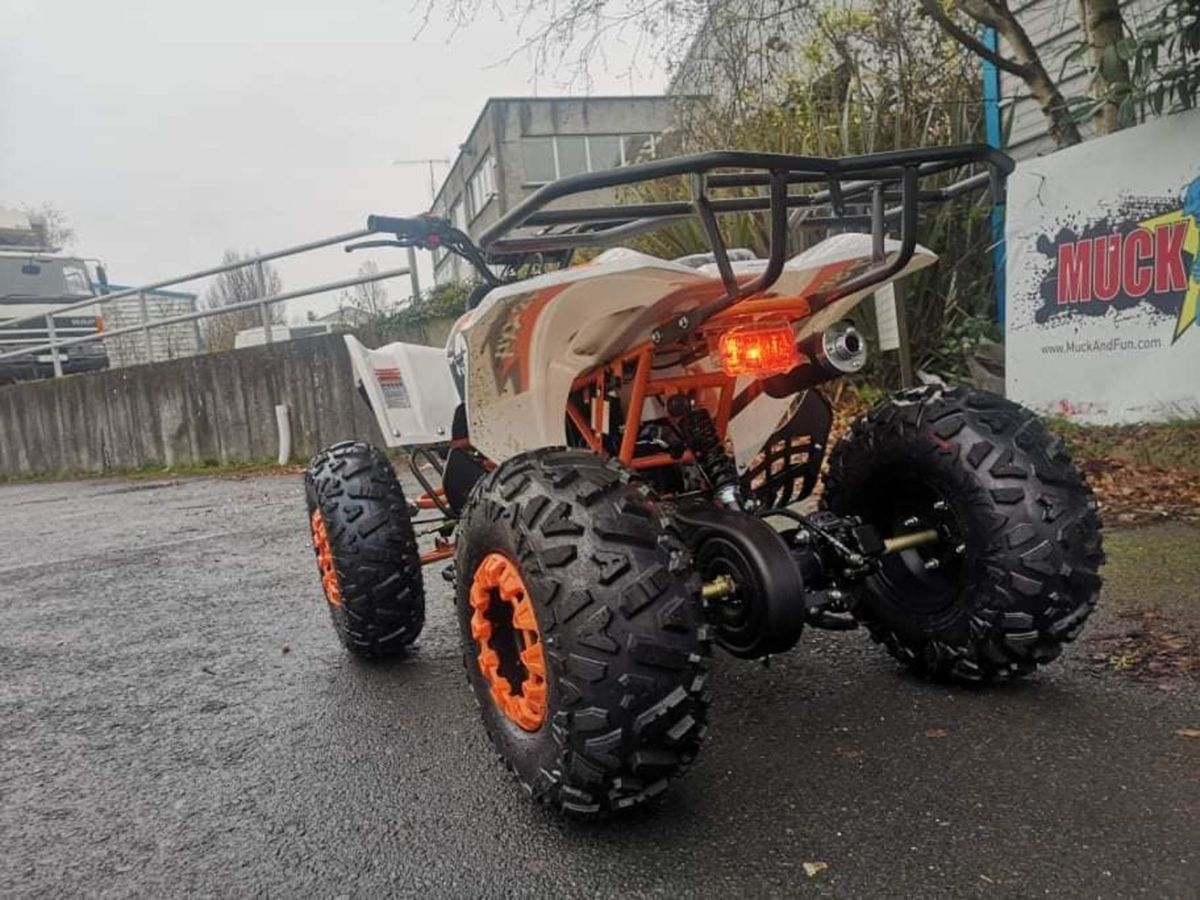 ALL new Kxd ranger 125 family size quad @ muckandfun
NEW model for 2021 NOW in stock
HOME delivery all Ireland only € 60.00
OR collect in store at the shop
Great value
SIZE wise its one that the whole family can enjoy including parents
1 year parts and labour warranty
HAS reverse
HAS speed regulator
125 cc FOUR stroke
LIGHTS
CARRIER to the rear
BUILT by us in Wicklow
GREAT value if you consider Yamaha quad in that size is € 3000.00 and a lot slower and less features we always try to bring you the best value for money
ORION Sniper 120 cc Quad (FAMILY size/NEW) € 1250.00 SOLD OUT
PANTHER 110 kids/adult quad only € 1095.00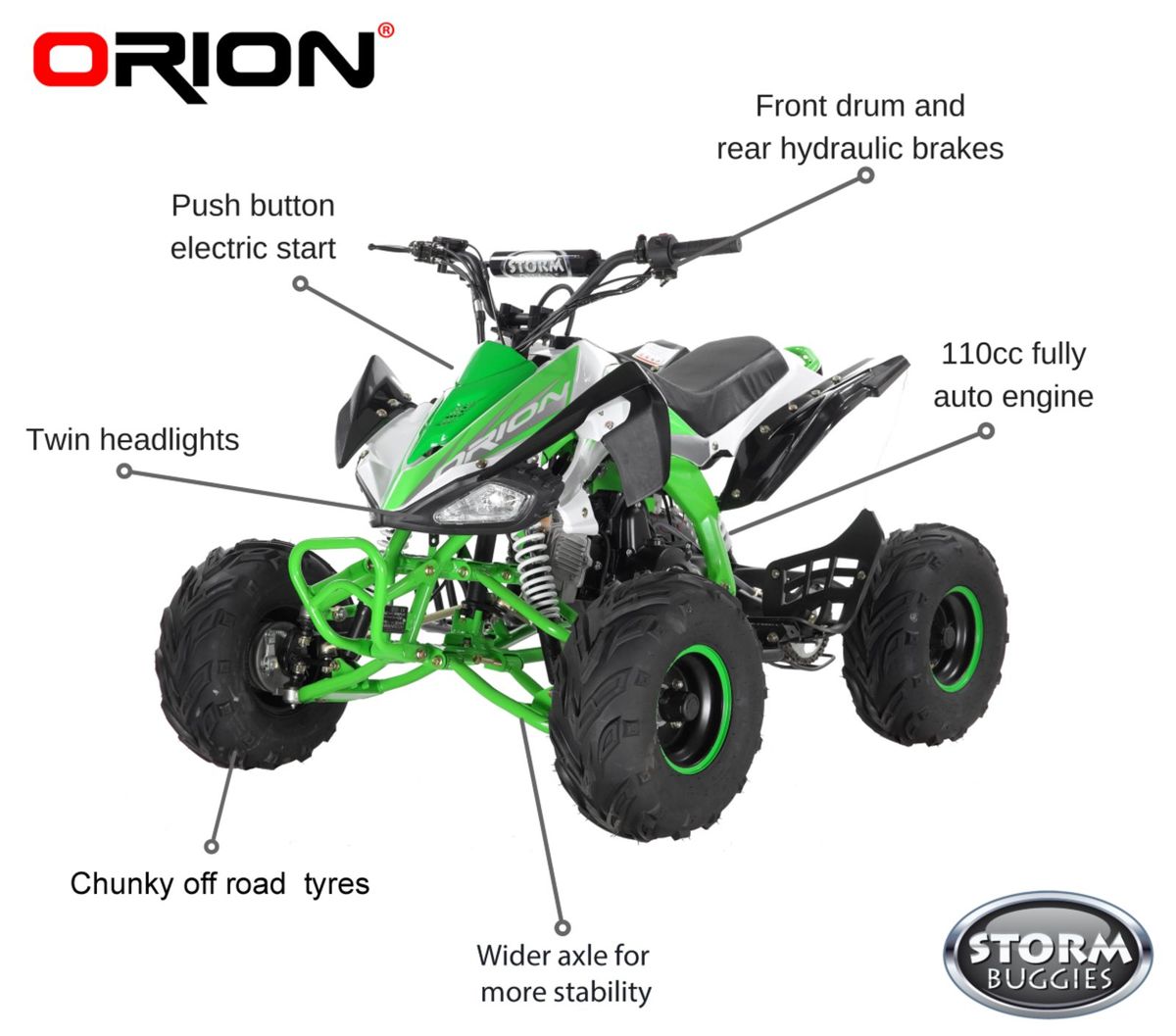 ONE OF OUR BEST SELLING MID SIZE QUADS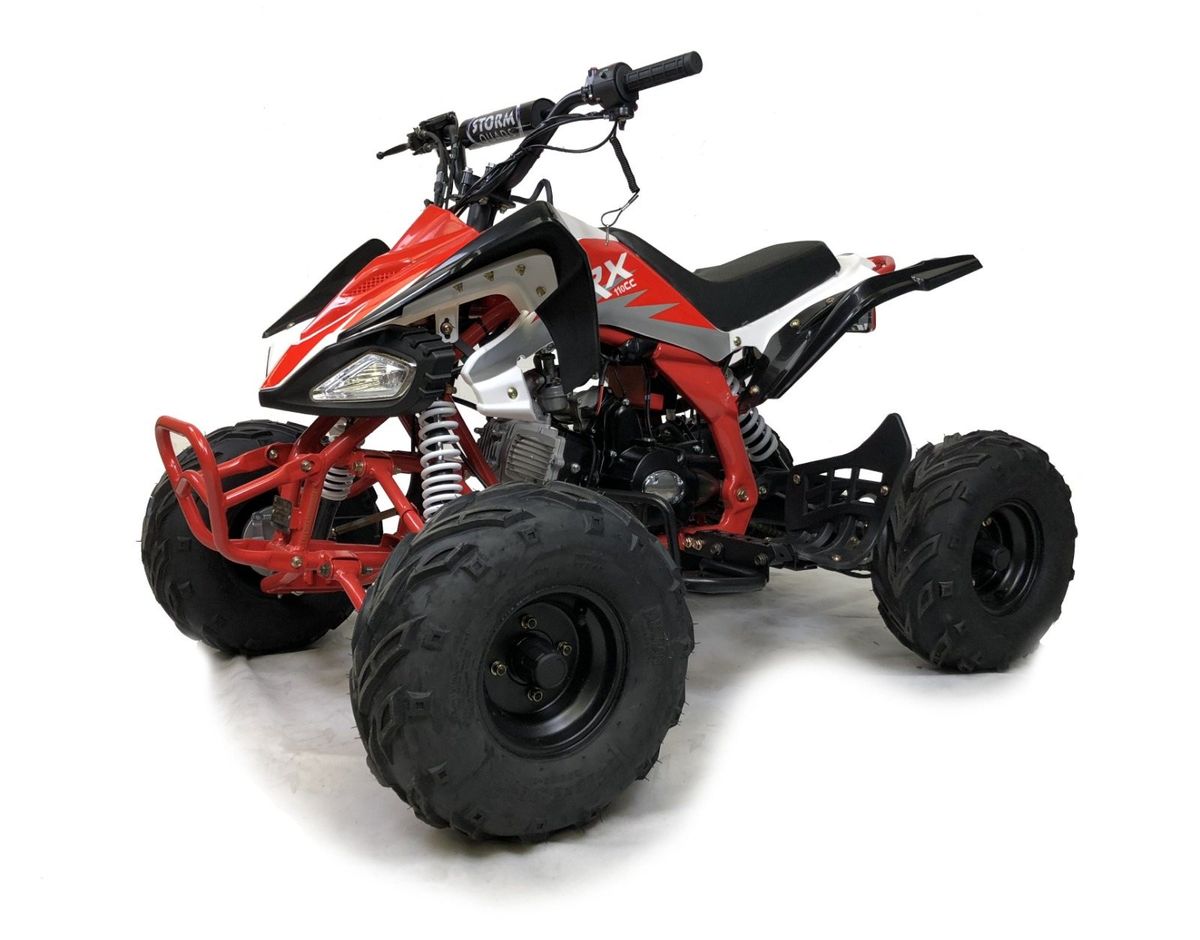 1 YEAR WARRANTY - FULLY AUTO - 4 STROKE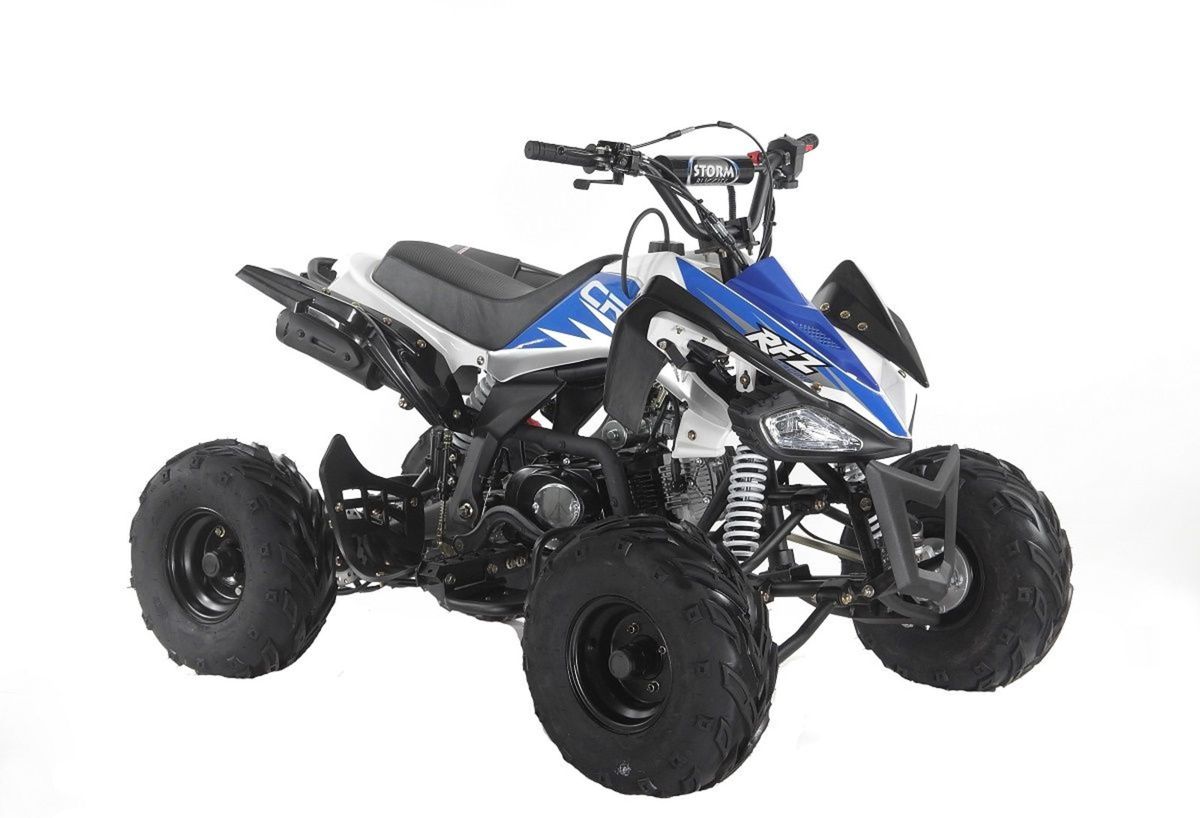 GREAT value for money quality kids quad
FINANCE available
ONE of our best sellers
FULL 1 Year warranty
FULL spares backup quality UK brand built and tested by us in Wicklow
HUGE speck
FULL price is € 1355.00 a real bargain for a brand new quad
FULL 1 year warranty
UNLIKE other inter net sellers we are IRELANDS largest off road shop by a long way with over 200 quads - buggies - mx bikes - jet skis
BUY with full expert backup and we even take them back for trade ins when you need something bigger
YOU GET two free services without time restrictions
Adjustable speed limiter – allows full parental control of top speed
Removable keys – no sneaky riding while you sleep!
Engine cut out switch
Parental safety lanyard (engine cut off chord)
Front bumper and rear chain guard
EEC CE Approved
FULLY automatic gearbox which features the proven 'rev & go' system which is very easy to use. IDEAL for ages aprox 8 to teenage years and even mam and dad can have a go
This is a proven quality quad bike. Please beware of poor copies and cheap unbranded Chinese quad bikes being sold on the internet
30MPH+ (FULLY RESTRICTABLE) to walking pace a real quad to last years
ORDER today get tomorrow
THIS is one of our main quads for Xmas Club
CHROME wheels and chunky tires
HIGHPER 125 Quad (FAMILY SIZE/DELIVERY) € 1395.00
INTERROGATOR
HAS REVERSE - 1 YEAR WARANTY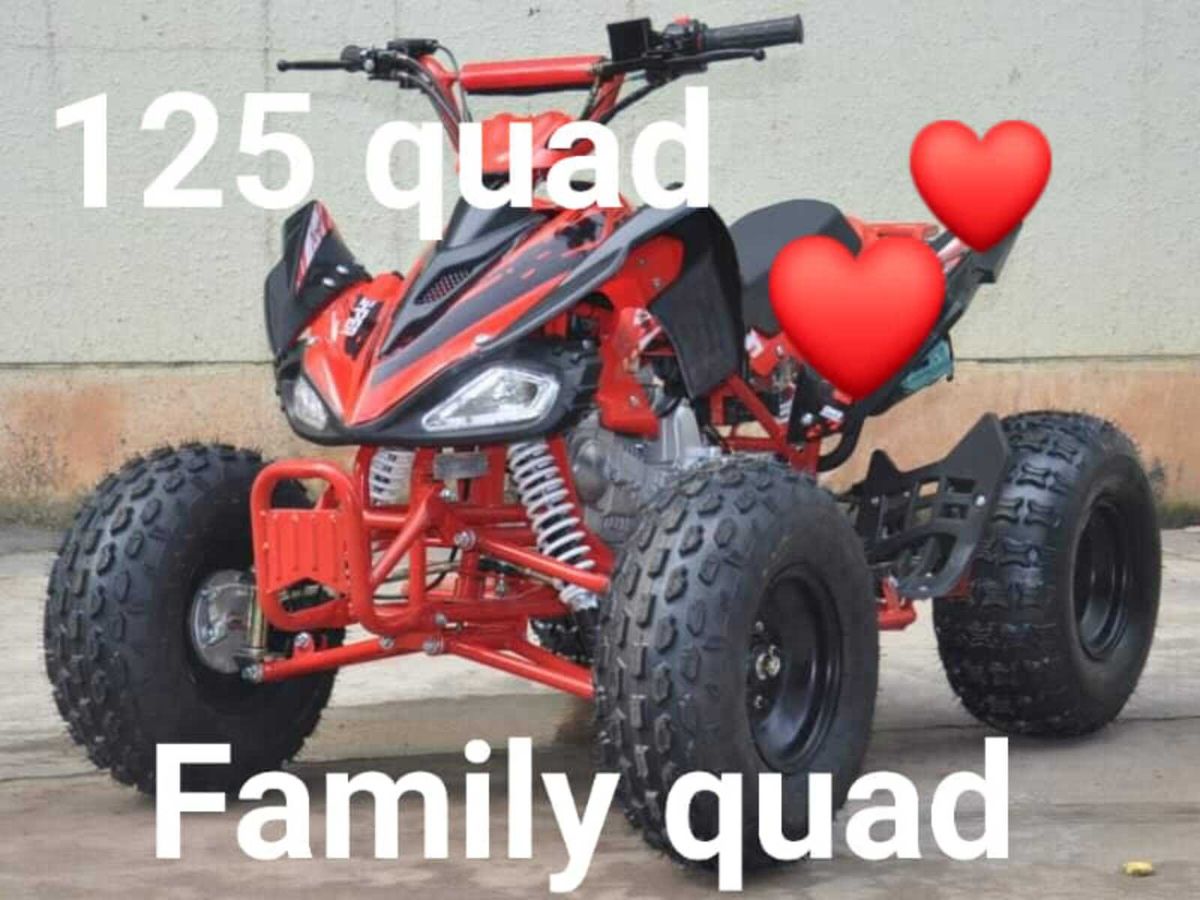 COMES IN REB BLUE GREEN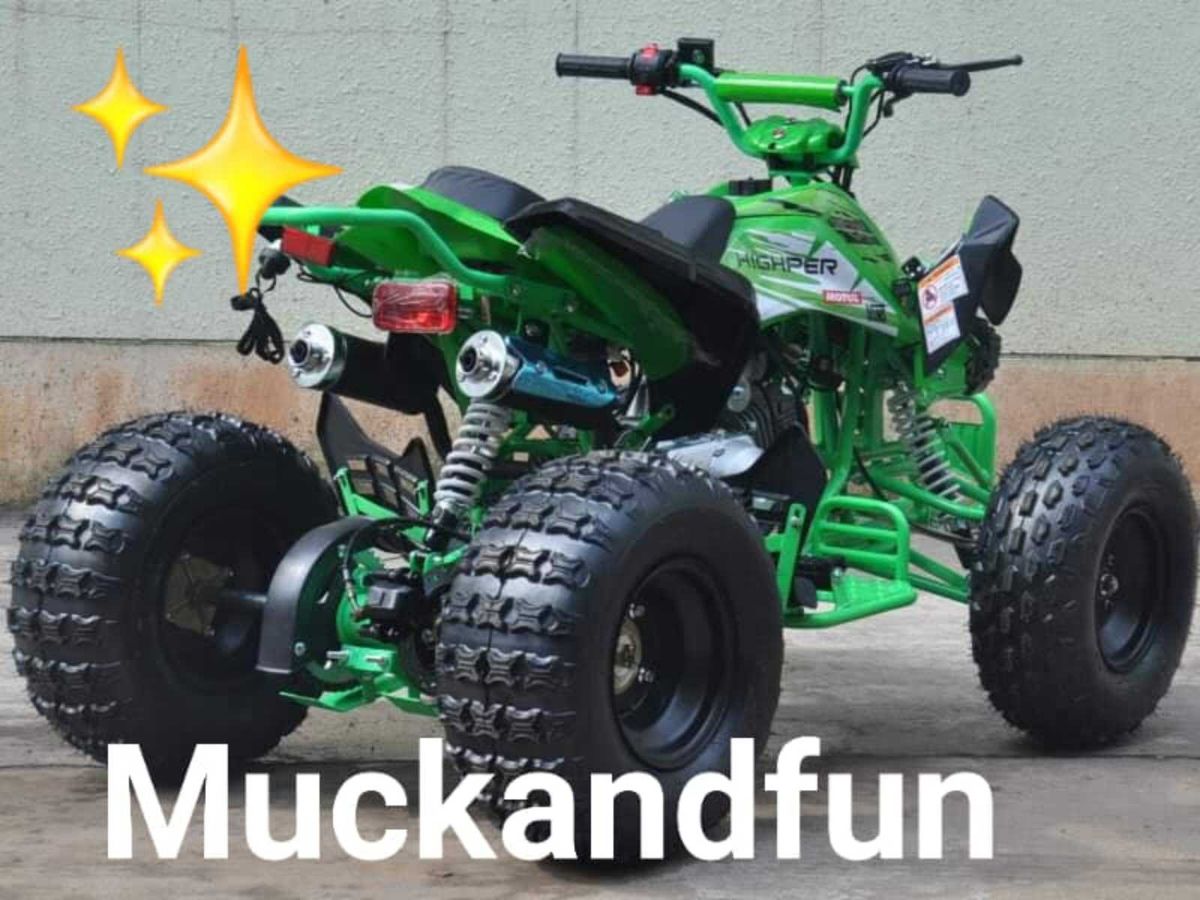 EXCELLENT VALUE FOR MONEY AND SUITS ALL THE FAMILY
OUR ALL NEW MUCK+FUN Highper 125 QUAD
BIGGER than normal so suits kids - teenage - mum+dad AND has speed regulator for younger riders
two FREE services COST price GEAR when Buying
HOME delivery ONLY € 60.00
GREAT value for money and loads of speck
KIDS dirt bikes from € 399.00 and BUGGIES from € 895.00
SPECK wise of our new ATV
FOUR stroke
ONE year parts and labour warranty
HAS reverse
3 GEAR but no clutch so just like a fully auto but with gears for better cruising speeds
3 BRAKES
SPEED regulator
ELECTRIC start
LIGHTS front and rear
TWIN rear exhaust makes it look amazing
FULL length chain guard
HIGH quality plastics and graphics
MX style tires
MATCHING frame colour
SIMPLE easy smooth to ride
YAMAHA Yfm 90 Quad (DELIVERY-WARRANTY) € POA
YAMAHA AND MUCKANDFUN THE WINNING TEAM FOR QUADS 4 THE FAMILY
YAMAHA Yfm 90r kids quad
USE to be called the raptor 90
2 YEAR warranty
2 FREE services
DEPOSITS welcome
HOME delivery nationwide
FINANCE over 12 - 24 - 36 months
VERY high quality kids quad
Yamaha YFM 90 Quad
Electric start
Chain Drive
2WD
Reverse gear
Parking Brake
Automatic Transmission CVT
Throttle limiter
Hydraulic disc brakes
BUILT to last a life time
STUNNING quad