WELCOME TO MUCKANDFU USED BUGGY SECTION
BUGGIES in and out all the time
ALL are best brands with best backup
DUE to demand and CUSTOMERS asking for iit you can now buy our buggies FLAT PACKED
SAVES you money DETAILS at bottom of page
BACUP from us always there for you
ENJOY the fun of builing your kids buggy or your own
its available on the following Hammherhead and Quadzilla
SELLING your or want a trade in please let us know we have customer waiting
BEST WARRANTY in the industry 1 Year PARTS + LABOUR ON NEW
WE ARE THE SHOP THE CHAMP PIKED FOR HIS MEGA ROAD LEGAL BUGGIES
WE ARE MAIN IRISH IMPORTERS 15 YEARS NOW FOR Quadzilla Joyner Hammerhead Coolster + more
CHECK out our new buggies on web site HUGE RANGE CLICK BELOW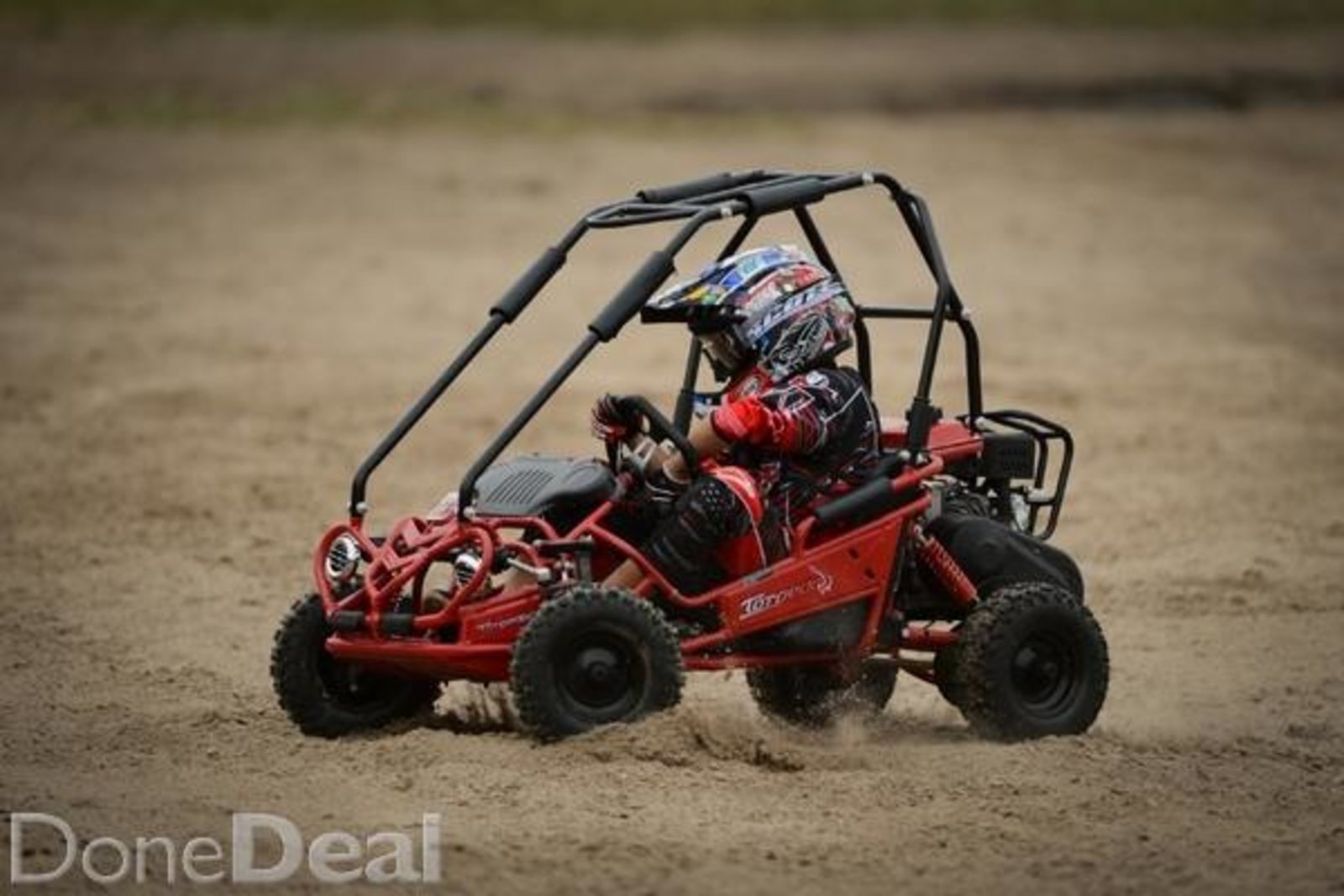 PRISTINE Hammherhead GTS 150 €2395.00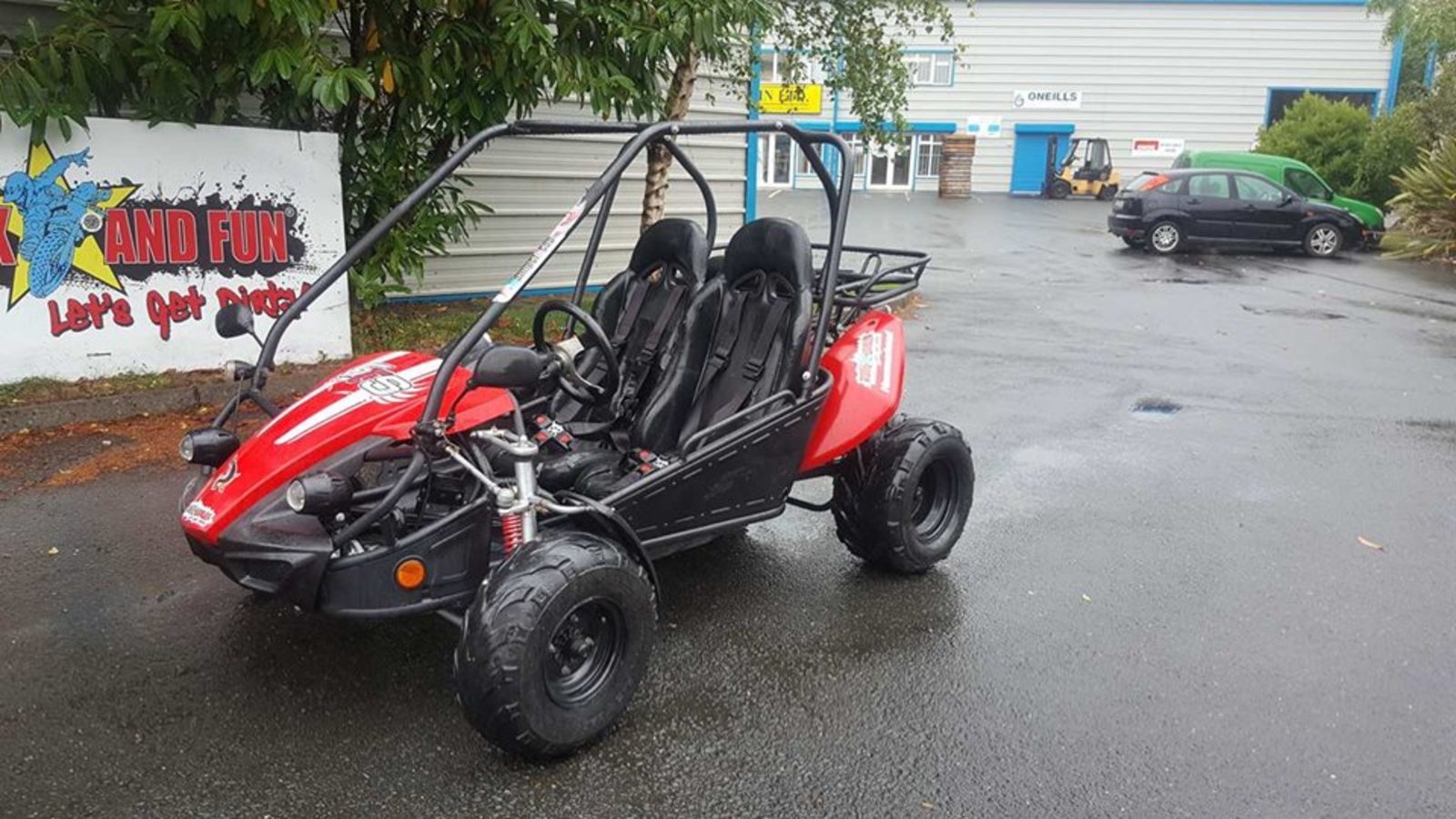 2017 VERSION - 1 OWNER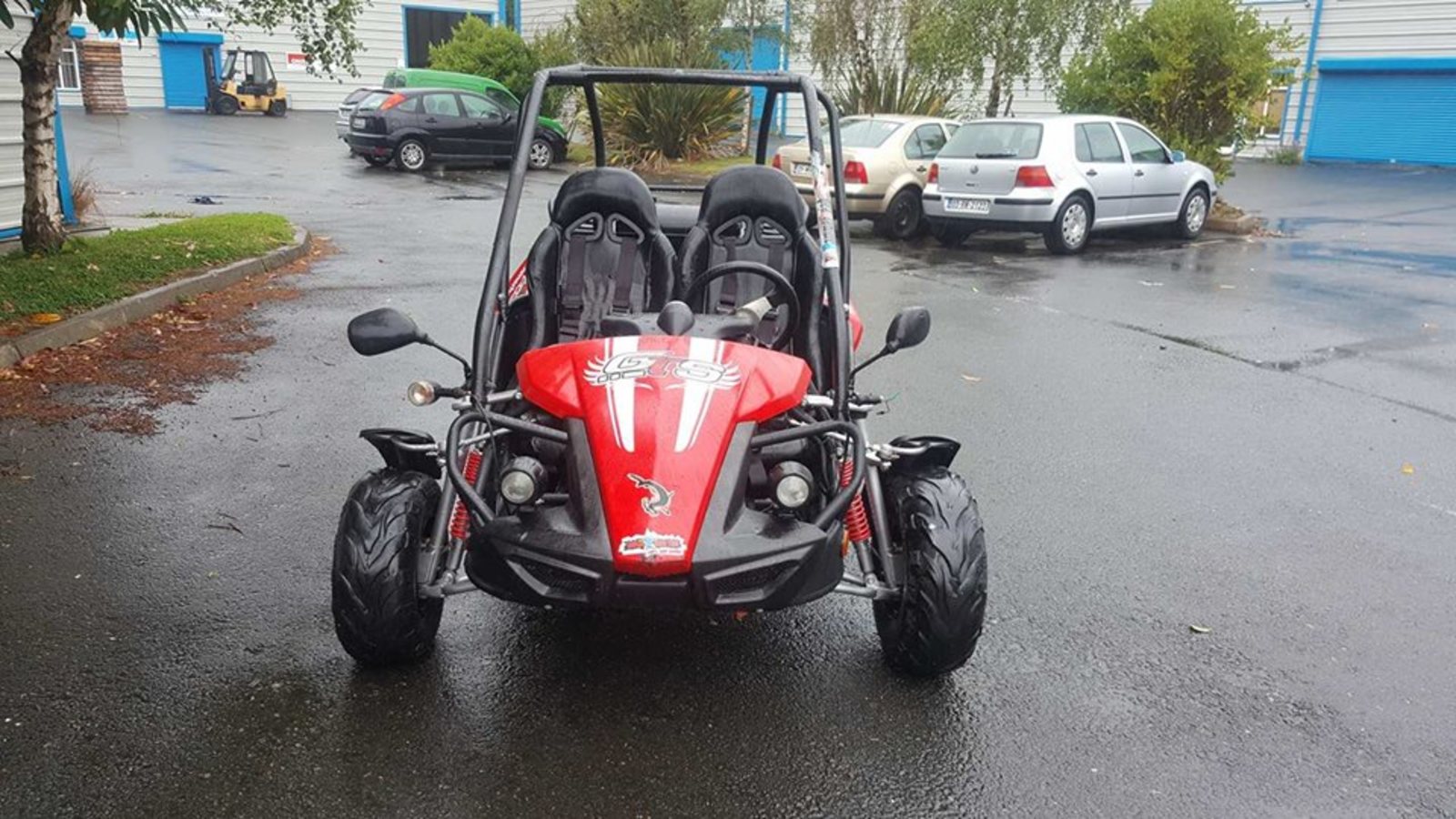 STULL UNDR FULL MUCKANDFUN WARRANTY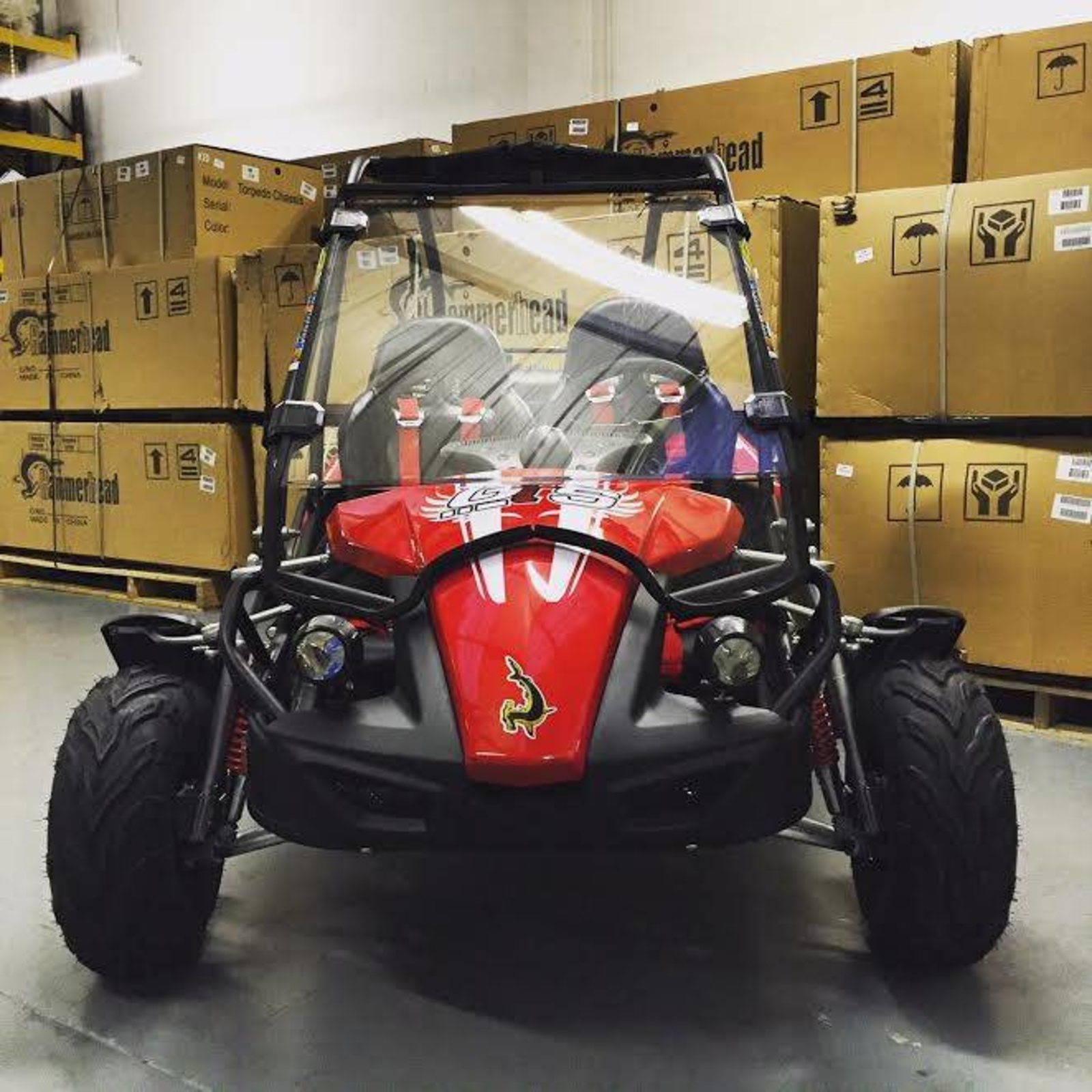 PICTURED WITH OPTIONAL EXTRA WINDSCREEN
MINT condition Hammherhead Gts 150
CANT get enough of these in new or used one of best selling buggies
AS bought by Conor McGregor from us
150 cc FULLY automatic
1 OWNER from new
STILL under full parts and labour warranty ITS 2017 and still on all factory tires - pads - cabels etc. SHOWS how little use
USA speck hammherhead please beware of fakes out there
DISK brakes
FULL spares backup
WE also race tune these buggies
BULLET proof famous reliability and quality
GREAT all round family machine
EVEN has a speed regulator for younger drivers
Proven 150cc GY6 engine (Honda technology)
Full size buckets seats + individual 5 point safety harness
Sporty LCD dash display & speedometer
Dual horns, lights, indicators and even a dash mounted 12v power output
Fully CE approved
BEST looking and quality buggy in its class bar none
Adjustable driver's seat
STILL on original factory tires
PART exchange is welcome
ORDER TODAY AND GET DELIVERED ANYWHERE IN IRELAND NET WORKING DAY
QUADZILLA Wulf XL Family Buggy (DISPLAY MODEL) €1895.00
FIRST ONE IN IRELAND NEW QUADZILLA BUGGY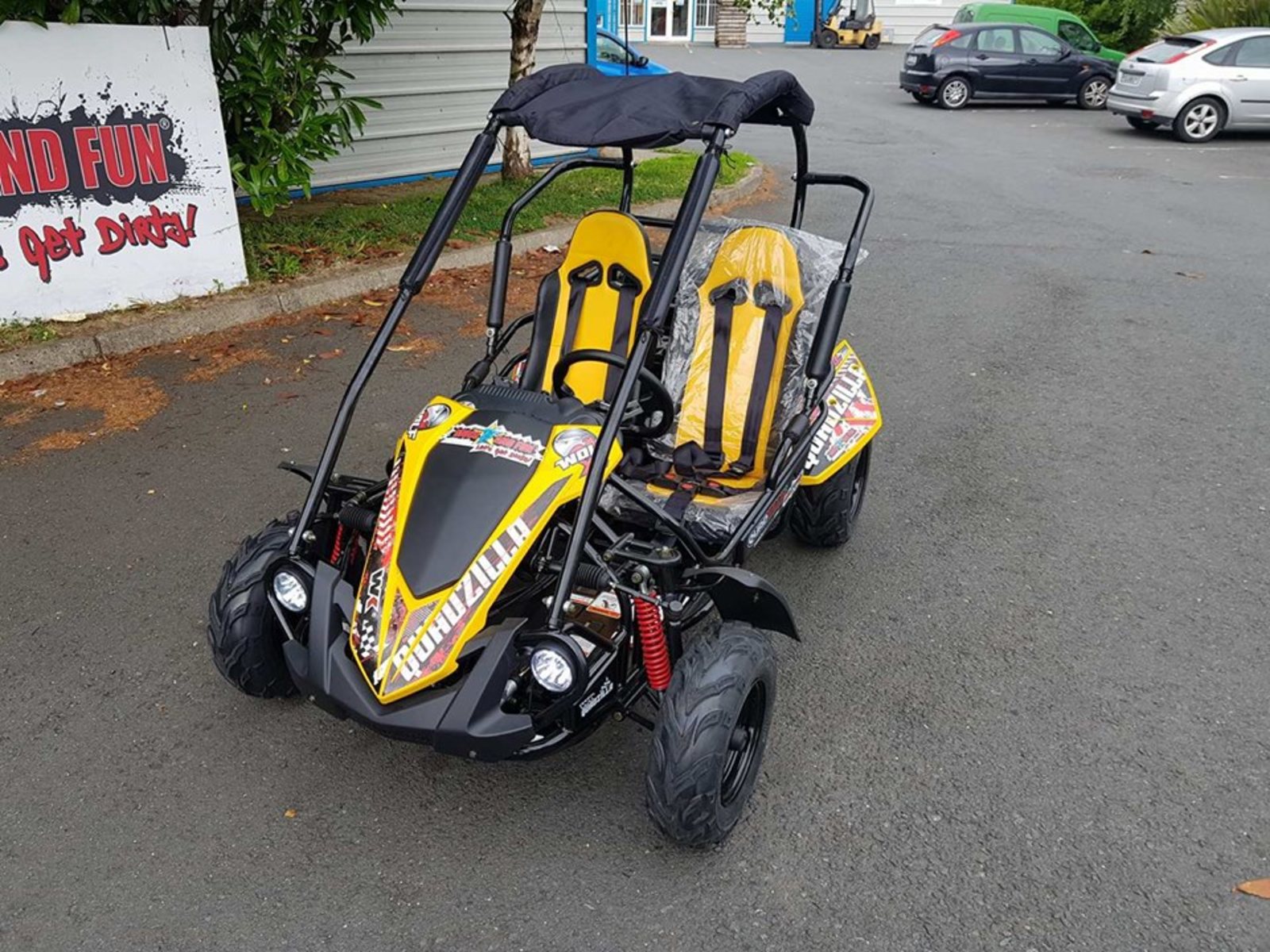 STUNNING LOOKING BUGGY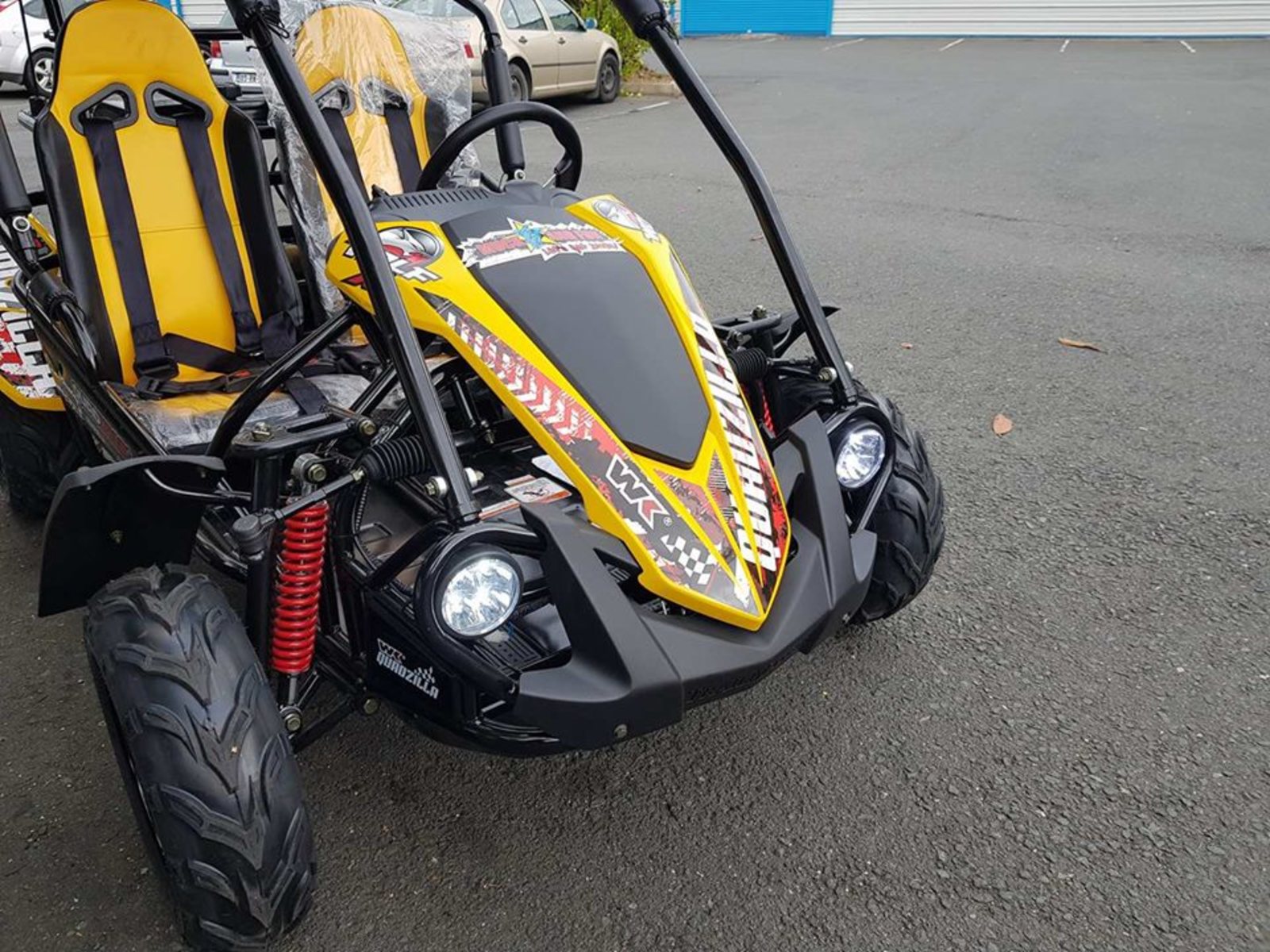 PRISTINE condition display model ALL new Quadzilla Wulf buggy
THE one everyone wants
USED for 3 km only its as new
VERY high speck with full 1 YEAR parts and labour guarantee
THIS was also the very first one in Ireland
TAKES over from our famous Quadzilla Midi Bug
BIG changes and a whole new design
ITS also bigger than normal so Kids from around 8/9 to 100 Years yes it will take an adults not a problem so Mam and Dad can have it go
STUNNING new graphics
WE HAVE THE FIRST BATCH WORLDWIDE we always bring you the latest and greatest
ON muckandfun.com YOU will see Quadzilla Midi Bug / Hammerhead Gts 150 / Quadzilla mini bug / Hammerhead Torpedo along with OUR mega 4 wheel drive road legal buggies z 550 / tracker 550 / z 8 / Tracker 800 plus more
REAR wheel drive fun side ways action
THIS is a proper buggy with VERY powerfull 200 cc engine . THIS means proper power for up and down hills / jumps / donuts . BEST of all there is then a speed regulator to bring buggy down to walking pace so safe fun for all the family
A LOT of Chinese buggies out there are copies and fakes please beware
OUR have proper engines not some cheap engine would not pull you of of bed complete waste of time
OUR FAMOUS 1 Year parts and labour applies
BUGGY ha s electric start with a back up pull start so you need get stuck
DISK brakes
FULL roll cage and safety belts safer than a quad
BUILD like a tank unbreakable really
WE are the official Quadzilla importer for Ireland 15 years now
MINT TOP OF THE RANGE QUADZILLA MINI BUG KIDS BUGGY €875.00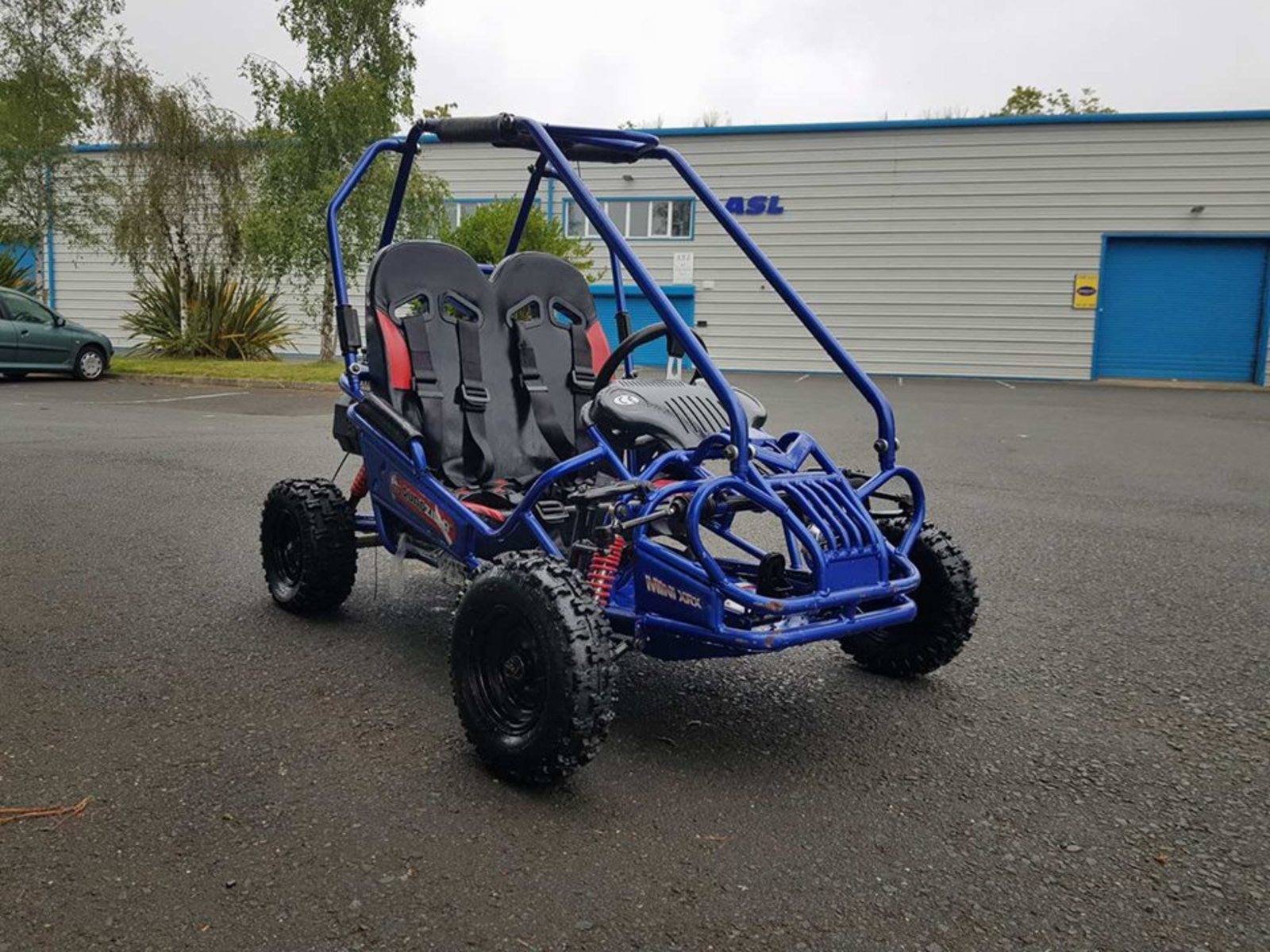 1 OWNER FROM NEW PRISTINE CONDITION
2017 VERSION BANG UP TO DATE
PRISTINE condition Quadzilla Mini Bug
ONLY 1 owner from new
STILL under muckandfun and quadzilla parts and labour warranty
MOST sought after kids buggies on the planet
ELECTRIC start with backup pull start
SPEED regulator so you can slow down to walking pace and then speed up
COMES with powerful 160 cc 4.5 Horse power engine means its a proper buggy for up and down hills - sideways fun - Donuts etc
FULL roll cage
ELECTRIC start
QUALITY shocks all round
REMOTE control
DISK brake
ADJUSTABLE seat
LED lights
VERY safe to use
NEW they are €1175.00 great savings on new and buggy is like new
QUADZILLA MINI BUG €725.00 kids dunne buggy
FITTED WITH UPGRADE TORPEDO ENGINE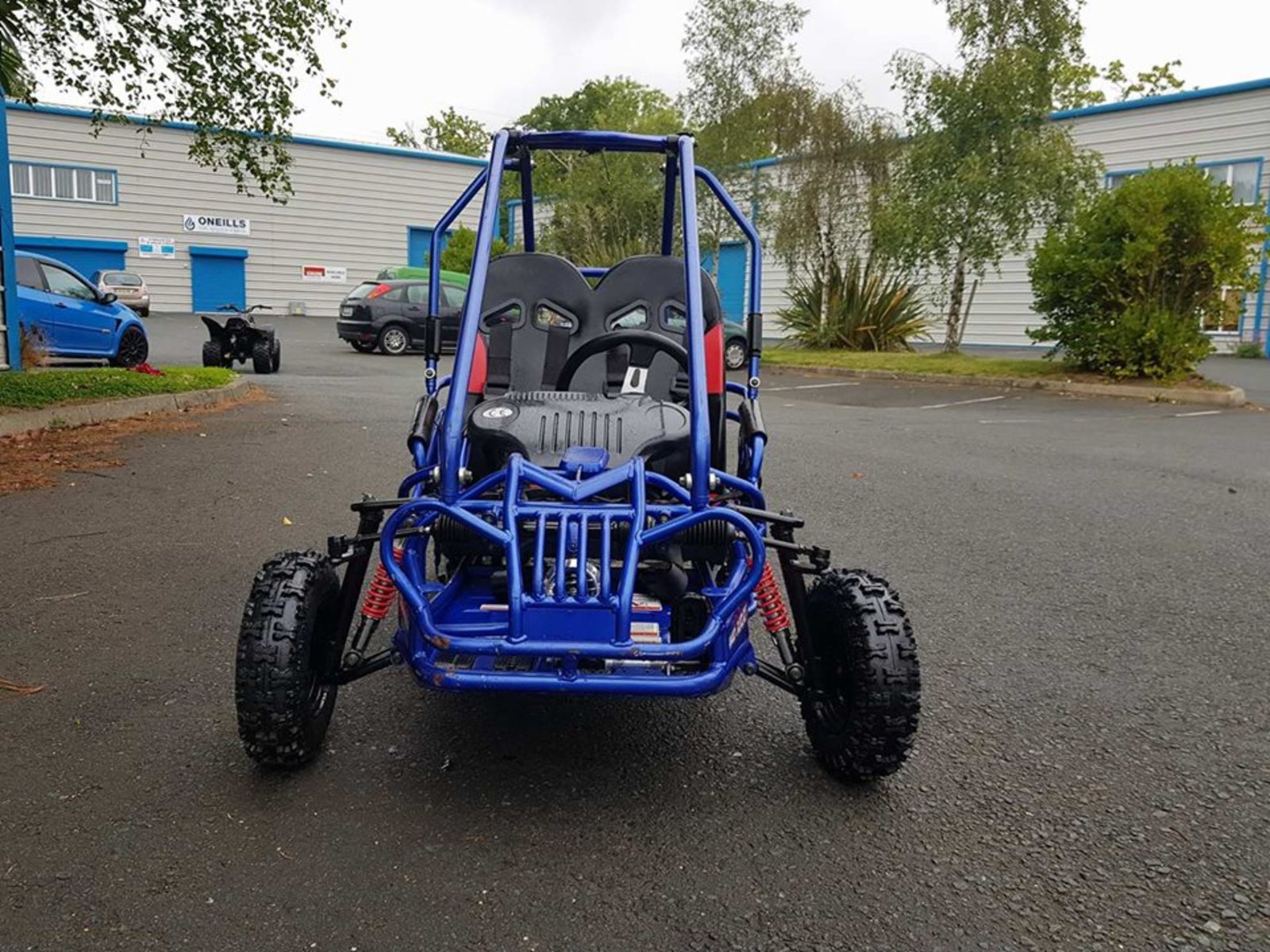 MINT CONDITION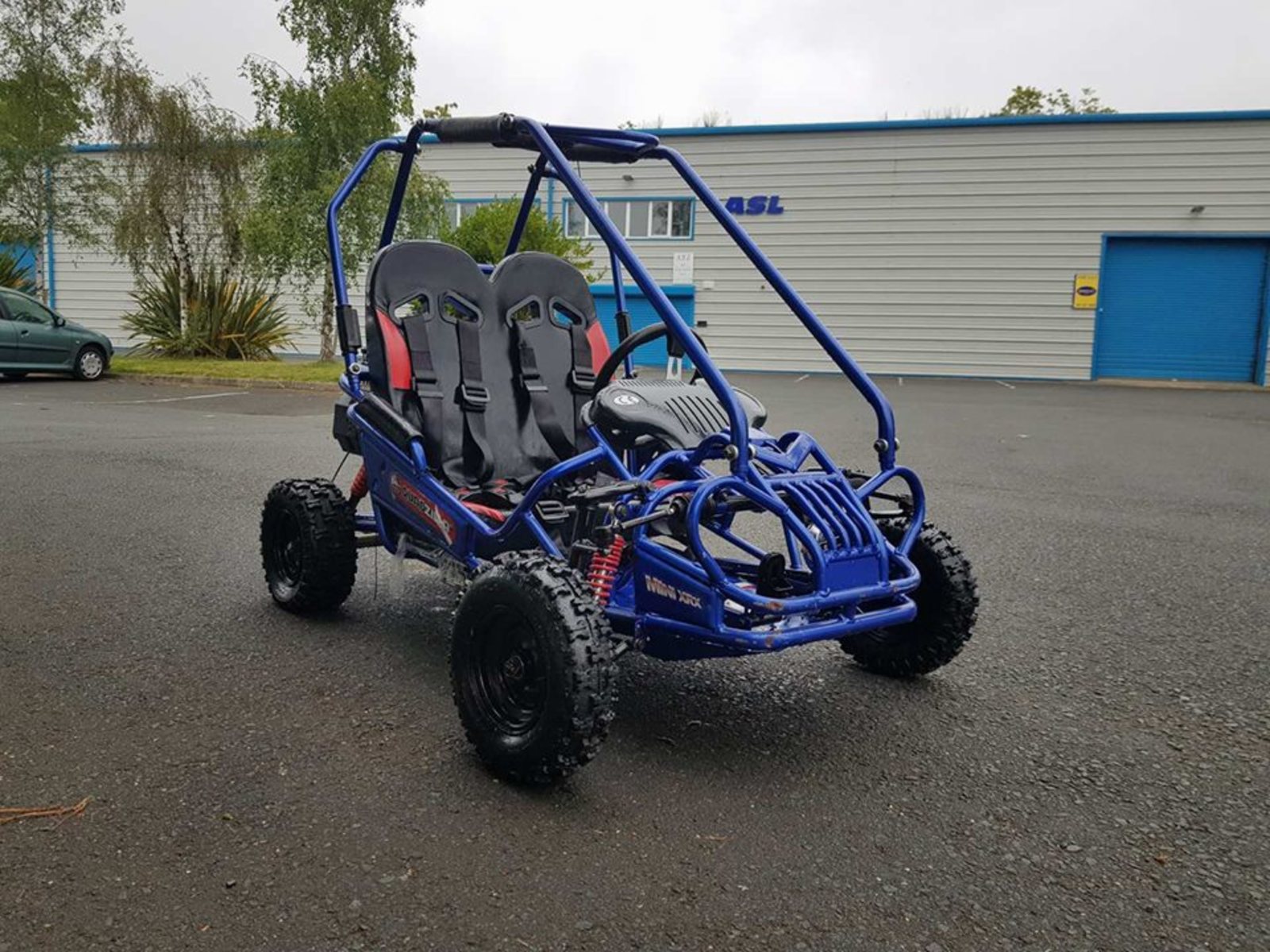 MINT Demo model of our Quadzilla Mini bug
NEW IS €1175.00
FITTED with top of the range 160 cc 4.5 Horsepower Hammherhead Torpedo engine
FULL muckandfun parts and labour warranty
BUGGY is as new
160 CC 4.5 horse power engine means lots of power for proper buggy fun but you still have a speed regulator to slow to walking pace
FULL roll cage
DISK brakes
VERY sage all round family fun
MEGA BUGGY JOYNER 1100 €4250.00 not many for sale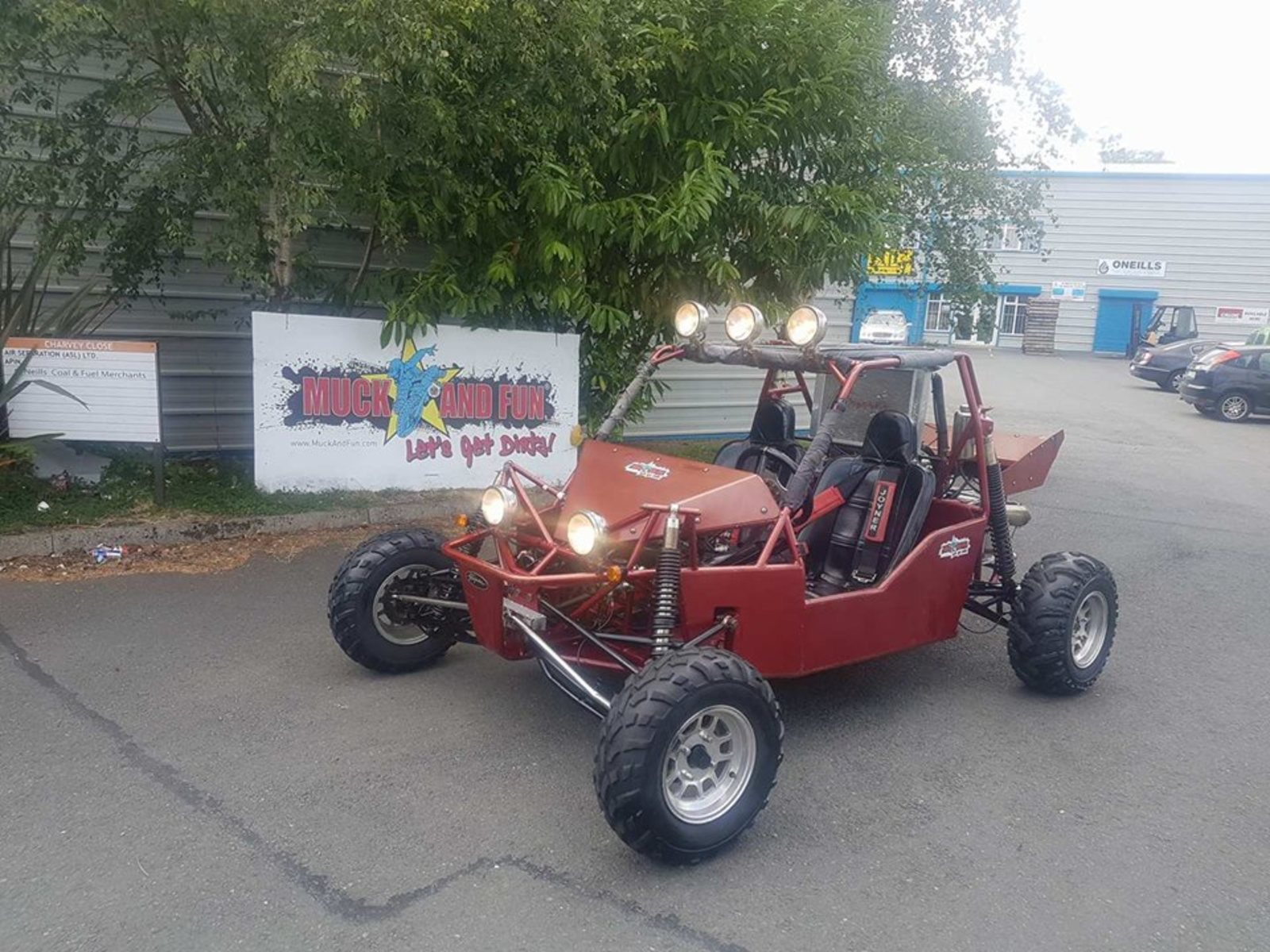 BUGGY IS IN MINT CONDITION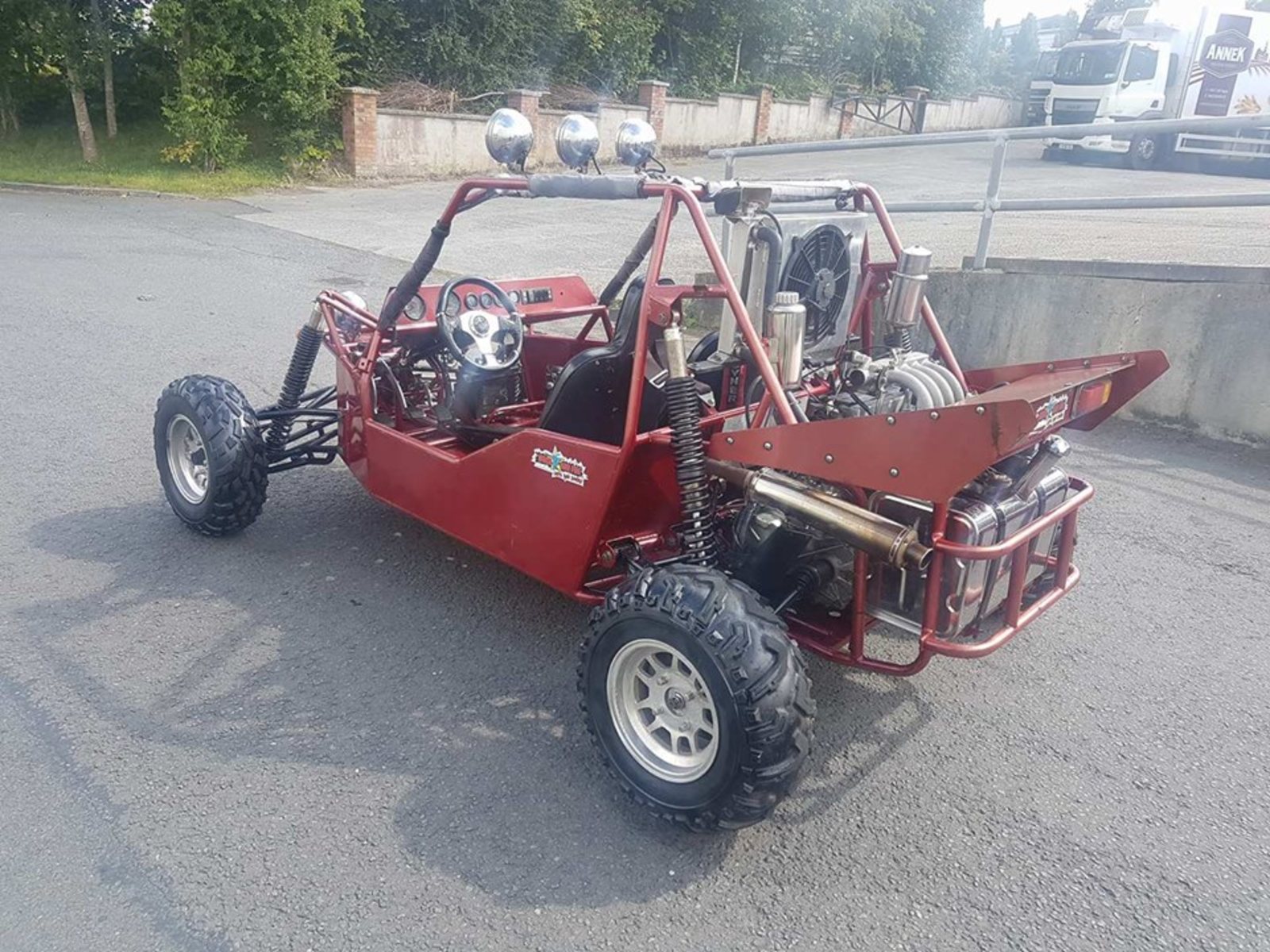 1100 CC Four Cylinder Japanese engine
WELL over €16k NEW SPEICAL IMPORT FROM JOYNER 1100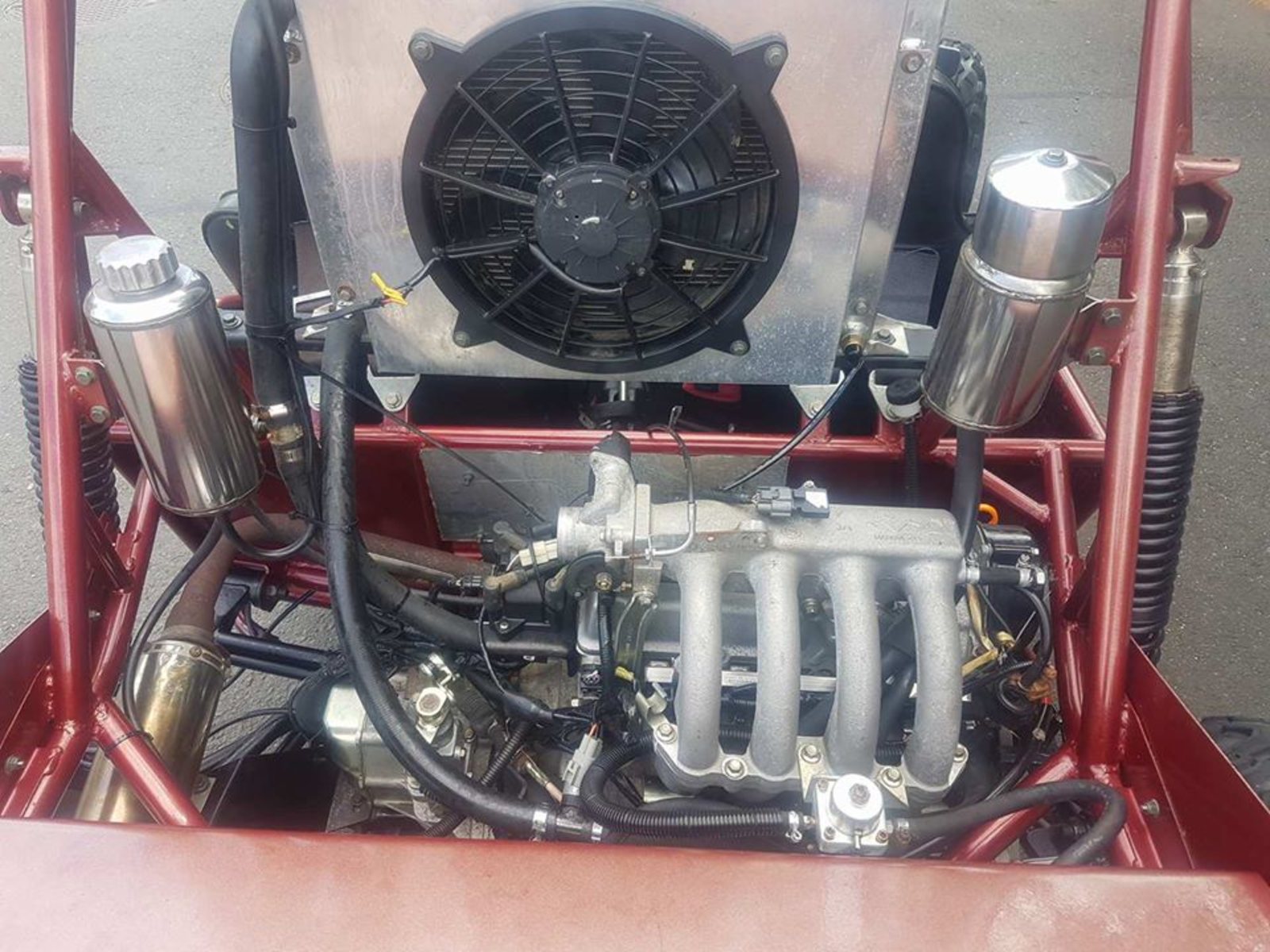 FULLY SERVICED READY FOR SOME MUCK+FUN
THEY dont come around often ONE Mint Joyner 1100 Mega Buggy
SAME brand Conor Mcgregor bought from us
WE sold a new one last year was €16k after duty and shipping from USA so great value
ONE serious big boys toy !!
WITH rage buggies and others well over 25k sterling it can be seen a good value for money + consider that normal 150 cc Buggies are €3k new
COMES serviced ready for
EXPORT order Uk Europe welcome we can arrange delivery
JAPANESE In-Line Four Cylinder, 16- Valve DOHC, Water-Cooled ENGINE
12" Aluminum Wheels
Sport Dash with Full Gauges
Head Lights, Brake Lights, Turn Signals, Hazard Light and Horn
Rear Sport Spoiler with Storage
2WD with 4 Speed Manual Transmission with Reverse
Rear Trailing Arm Suspension
4 Wheel Hydraulic Disc Brakes
4-Point Seat Belts Harness with Sport Bucket Seats
ITS big - It rocks - It stands out sounds unreal
HAS rear spoiler and EXTRA spot lights
KIDS HAMMERHEAD TORPEDO ONLY €999.00
ONE OF OUR BEST SELLING KIDS BUGGIES
MINT CONDITION ONLY 1 OWNER AS NEW
The Hammerhead "Torpedo" 136cc off road buggy is one of the most advanced kids buggies on the market
Designed for the younger children in mind this off road buggy is ideal for gardens as well as having the extra power for hill climbs and to take a passenger.
The high build quality and extremely reliable engine, as always from Hammerhead, makes this petrol go kart far more robust than the usual kids buggy. Ideal for the younger one approx 4-9yrs.
TORPED has very powrfull 168 cc 5.5 horse power engine . THIS means loads of proper buggy fun side ways action and donuts . ITS a proper buggy for years of fun AND best of all you have a speed regulator you can slow to walking pace
pgo BUG RACER 500 €4500.00 THE BEST BUGGY ON THE PLAET FOR FUN
HANDLE LIKE A DREAM AMAZING BUGGY
Leader on the buggy market since 2004, PGO continues to launch innovative new products. After 150cc and 250cc models, which are under-powered and fragile, this is the Bug Racer 500.
At nearly 3m in length and 1.6m wide, the Bug Racer brings something new to the buggy market. With its comprehensive equipment line-up and comfortable ride, this is one big toy. And PGO have thrown in to the mix a snazzy design and some superb aluminium wheels.
Ground clearance is some 320mm and there are aluminium guards available as an option.
Powering the 450kg is a 496cc Piaggio scooter engine, delivering 38 horsepower at 7000 rpm.
Inside the tubular chassis, there are some well designed features, like this steering wheel, and the sports seats, complete with harnesses.
All of the carbon and aluminium elements are optional, or standard on the SPR version. There's even the option of a luggage holder.
The BR 500 exceeded all of our expectations simply the best fun lets get some muck and fun
Compared with previous versions, the new BR 500 is comfortable, with more leg room and improved suspension. Your back will feel the difference.
Braking is faultless, powerful and progressive, thanks to the four discs - 220mm at the front and 190mm at the rear.
« It's so easy, it's like a toy. It's like a big all-terrain go kart. Short gears, handbrake it's easy. It goes anywhere »
The Bug Racer is a pleasure to drive. The 38hp engine offers plenty of power, with speeds of up to 140km/h.
AK 30 sx Honda Powered off road buggy (400cc) €1295.00
POWERED BY HONDA ENGINE ALONE WORTH THIS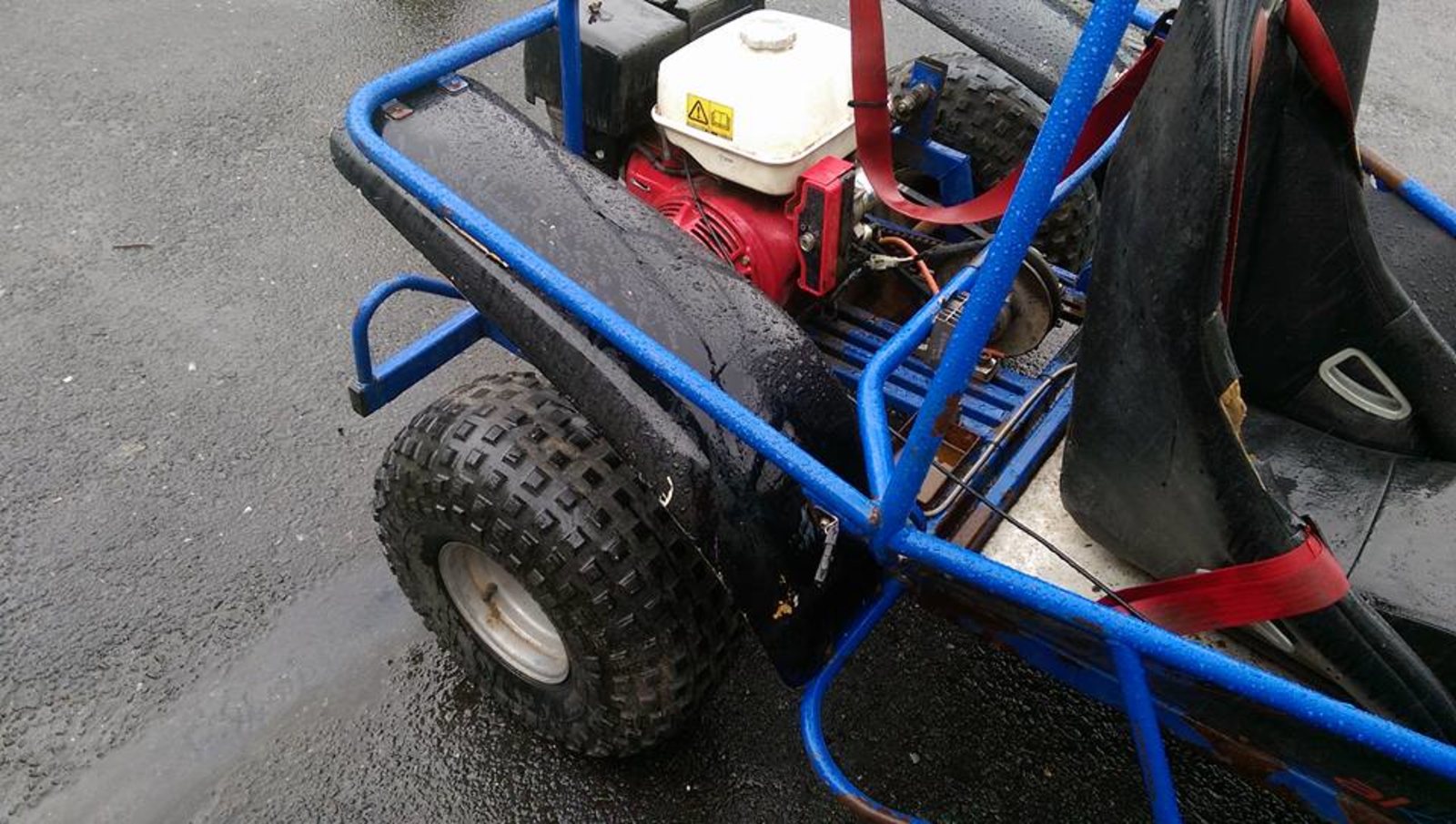 WOULD BE IDEAL FOR A SOME MAD MOTOR CYCLE ENGINE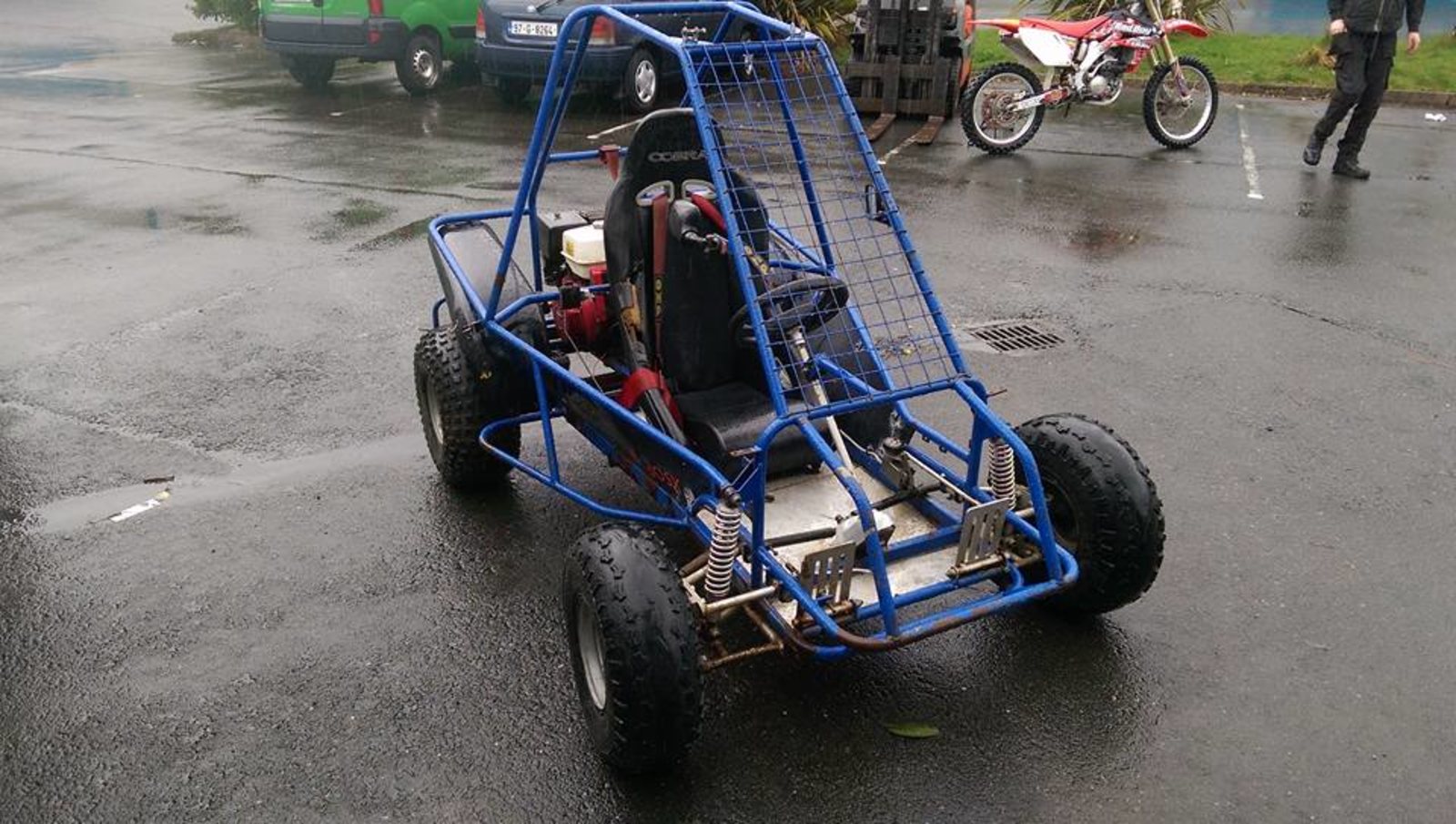 BARGAIN Honda powered go kart made in the Uk
OVER €4000.00 new
BUILT to last a life time
POWERED by a Honda gx 390 cc engne
FULL safety Harness
REAR wheel drive fun
COULD easy be made mint condition again
BROUGHT to you by muckandfun.com IRELANDS largest off road shop by a long way with over 200 quads - buggies - jet skis - enduro - pit bikes and more
Sturdy design using box-section for main chassis rails
Front independent double wishbone suspension, with coil-over-spring adjustable shock absorbers
Swing-arm rear adjustable suspension
Hydraulic disc braking system
Three point rally harness
Rose-jointed heavy duty geared steering assembly
All terrain 20" front and 22" rear tyres
Fully adjustable high back padded racing rally seat
Powder coated high gloss paint finish
4 Stroke electric start with recoil back up
Top speed 50mph
(youtube)enw0TU_Vs_w{/youtube}
HAMMERHEAD GT 150 €1295.00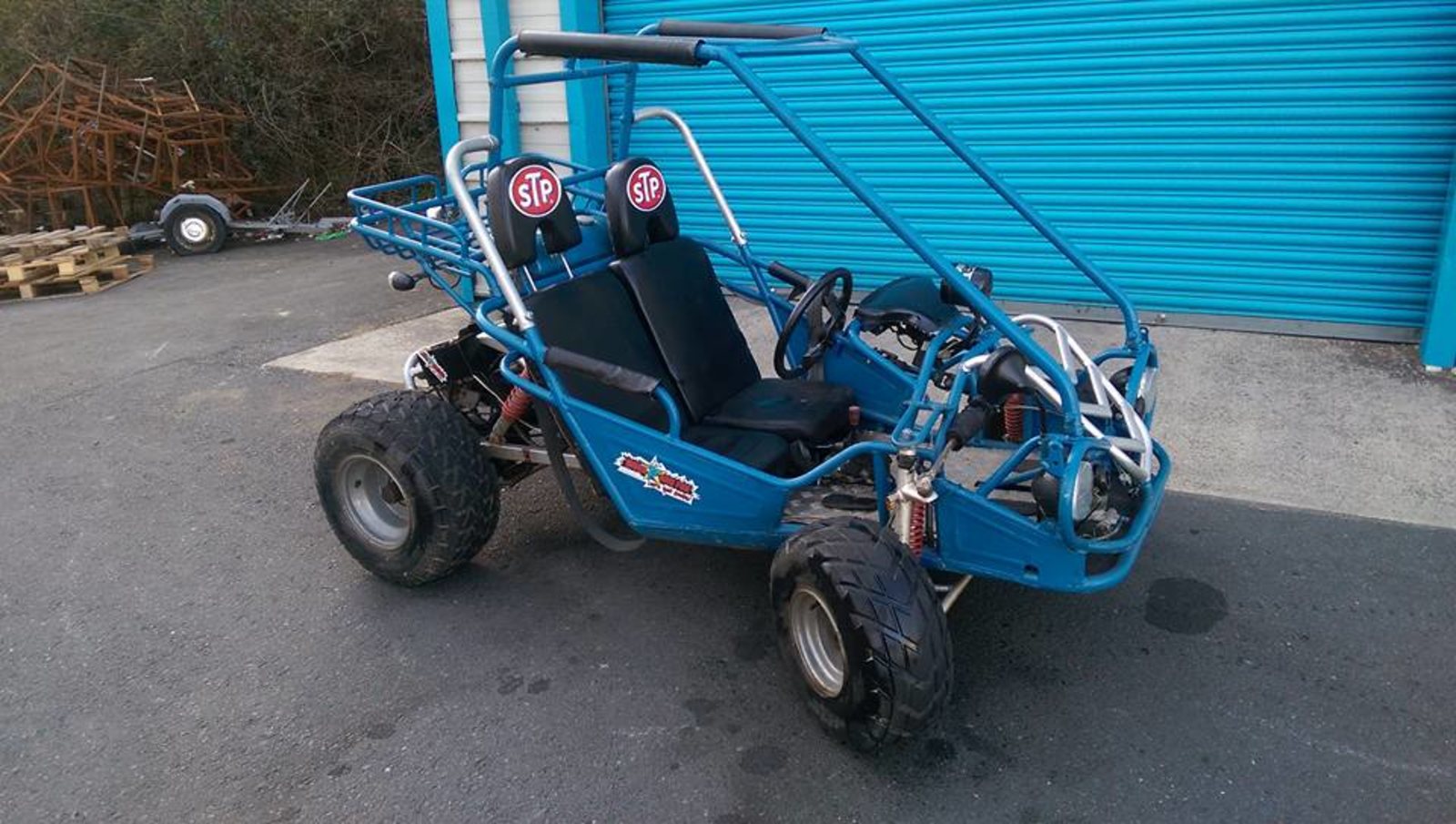 JUST HAD ENGINE REBUILD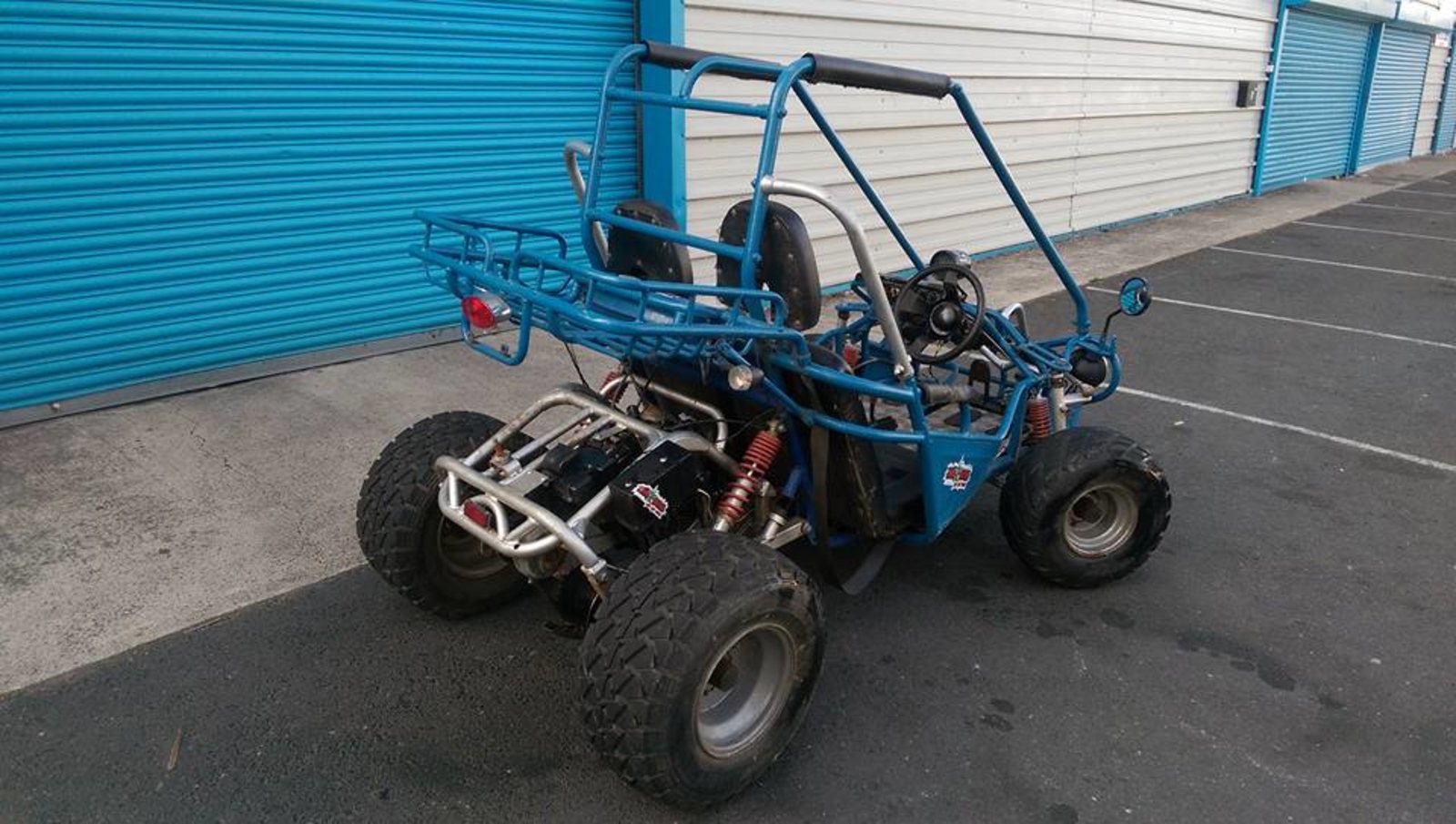 FUN FUN FUN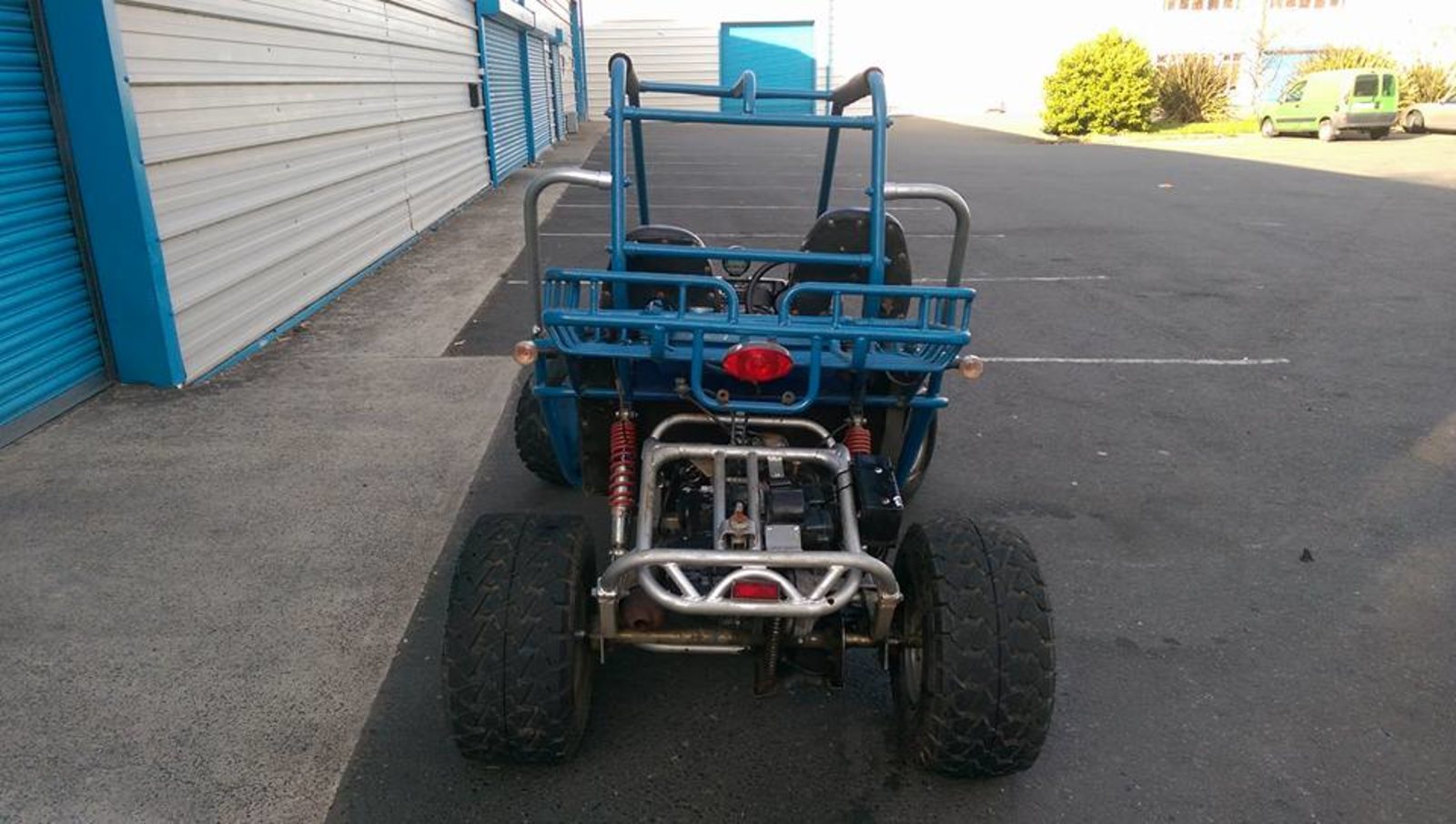 HAMMERHEAD gt 150 cc first up
FORWARD and reverse
FULLY automatic
DISK Brakes
TWO race style bucket seats and belts
NEW €3500.00
FULL top end engine rebuild just done
UNLIKE other brands we gurantee spares on all hammerhead products for piece of mind
FULL roll cage
ABOUT of tlc could look lie new
MINT Quadzilla Midi Bug kids off road buggy €1195.00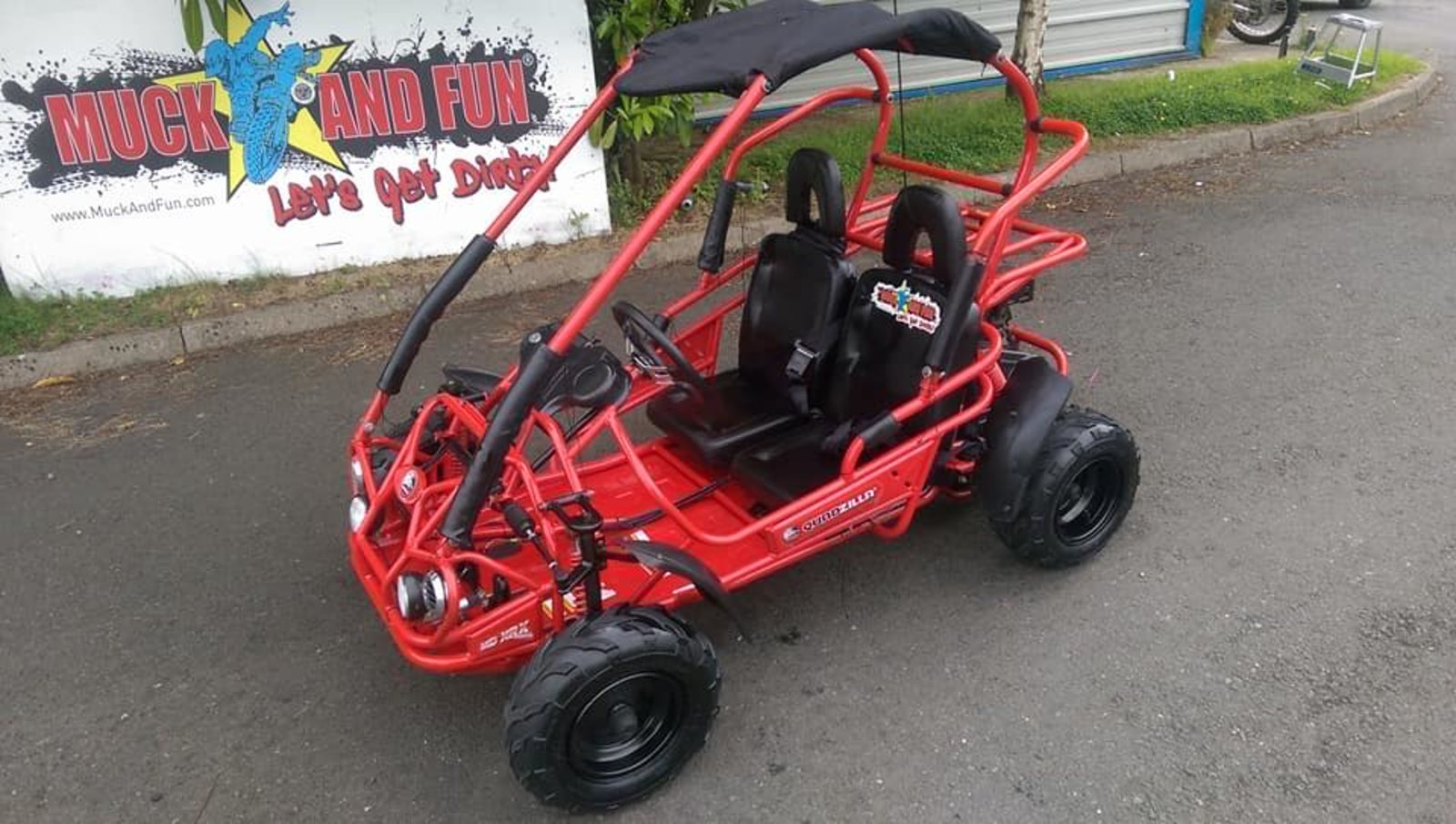 ONE OWNER FROM NEW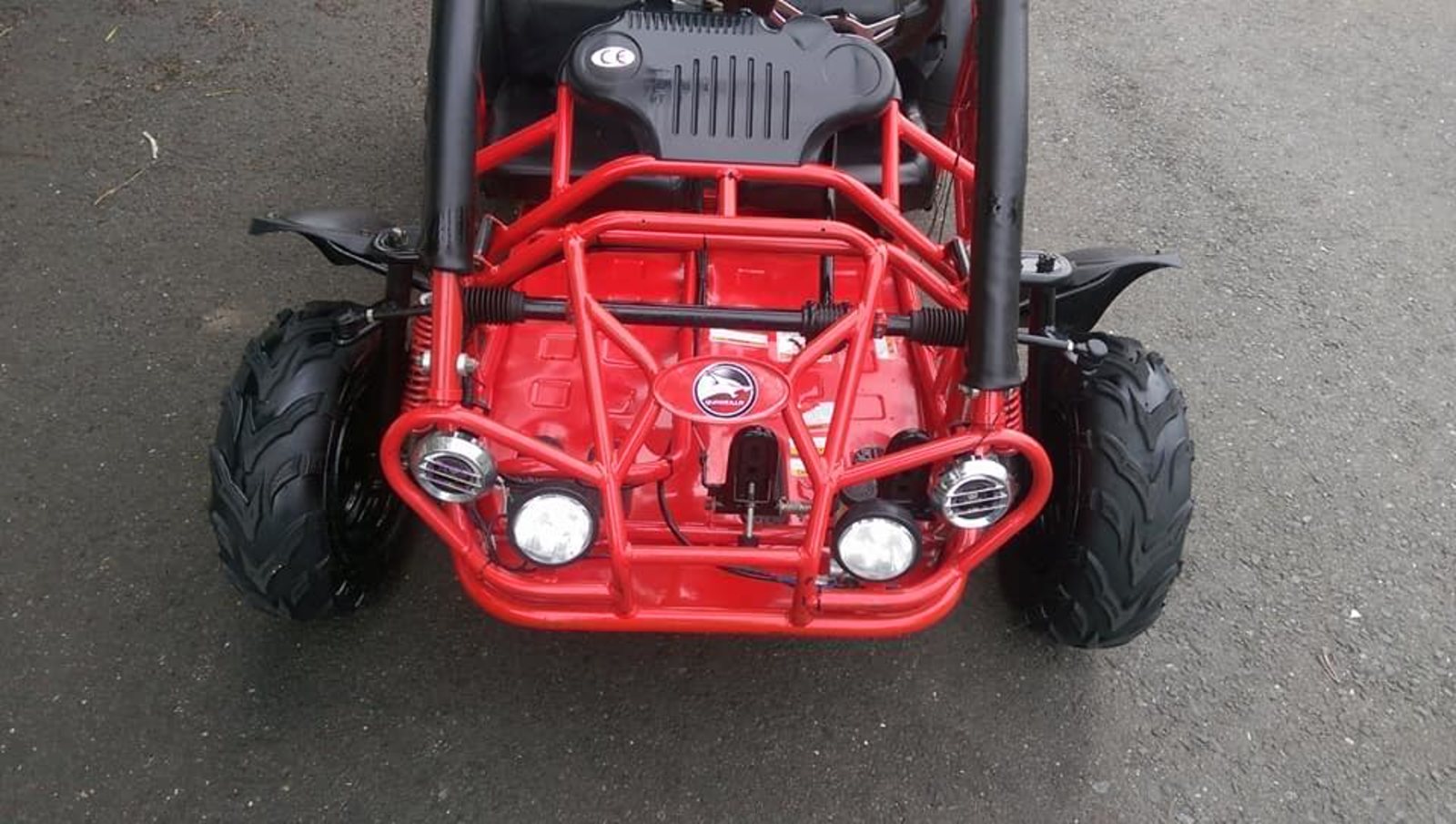 AVAILABLE NEW FOR €1895.00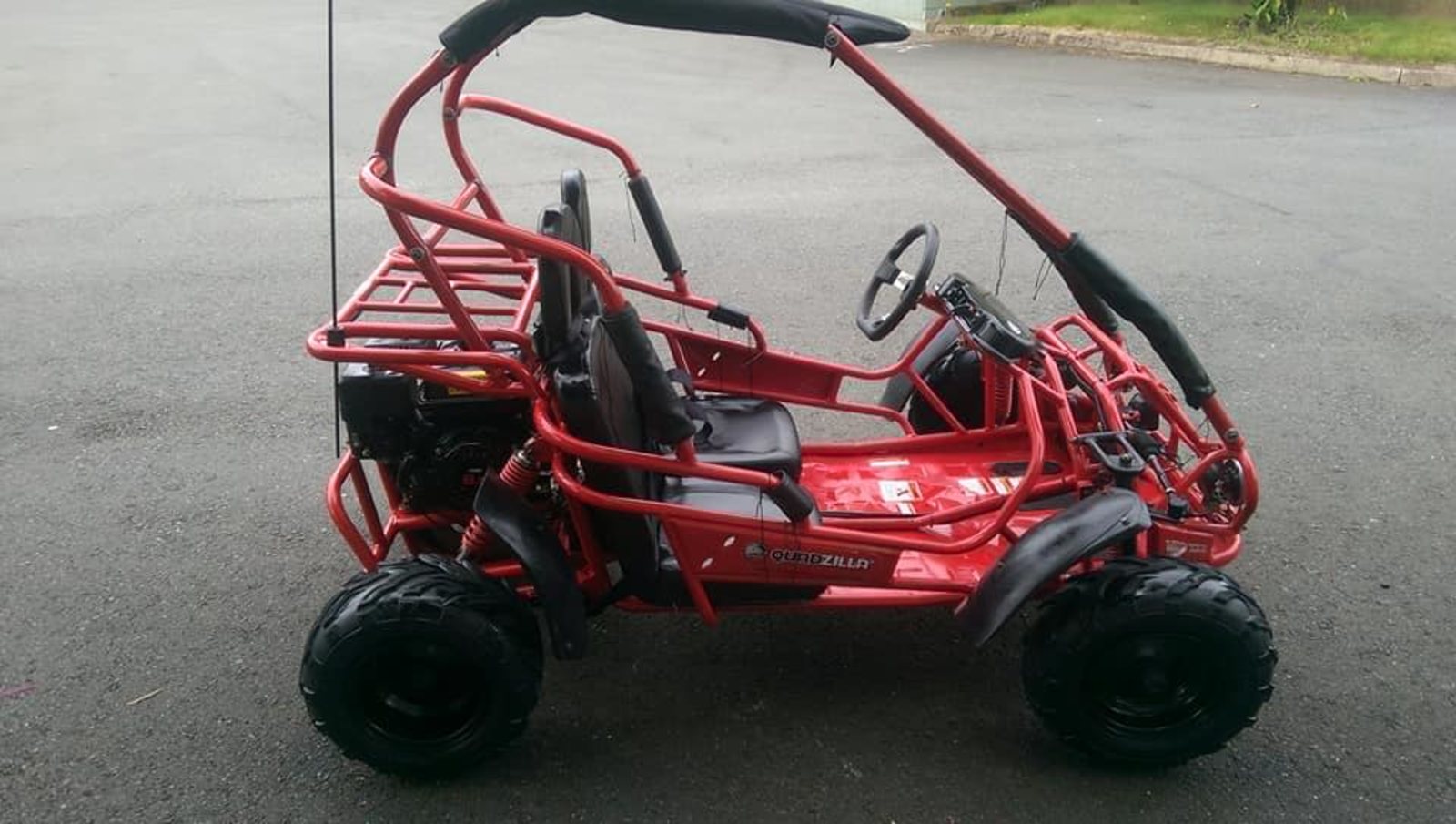 MINT condition TOP of the range kids - teenage - adult buggy
ONE owner from new
STILL on all factory tires - cables etc. as good as buying new
VERY hard buggy to get used as they last a life time
COMES with muckandfun warranty
FULLY serviced
BULLET proof
VERY safe with seat belts and full roll cage
COMES with pwoerfull 200cc OVER size engine this means : LOADS of power for proper side ways fun - jumps - Donuts etc. but best of ALL you have speed regulator so YOU can slow to walking pace
LED lights
ELECTRIC start with backup pull start so you never get caught out
IN kids buggies on muckanfun.com you will see Hammerhead Torpedo - Quadzilla Mini Bug - Hammerhead Mudhead - Hammerhead Gts plus more
FULLY automatic so anyone can drive
BIG enough for Mam and Dad to drive and have some fun
WE are the official Quadzilla importer for Ireland 15 years now
PLEASE beware fake copies of our buggies they are out there
BUILT to last a life time superb quality
PART exchange is welcome
BUGGIES IN A BOX ENJOY THE FUN OF YOUR VERY OWN HOME BUILT BUGGY
DUE to demand and CUSTOMERS asking for iit you can now buy our buggies FLAT PACKED
SAVES you money
BANUP from us always there for you
ENJOY the fun of builing your kids buggy or your own
its available on the following
HAMMERHEAD TORPEDO FULL PIRCE €1175.00 BUILD YOURSELF FOR €1099.00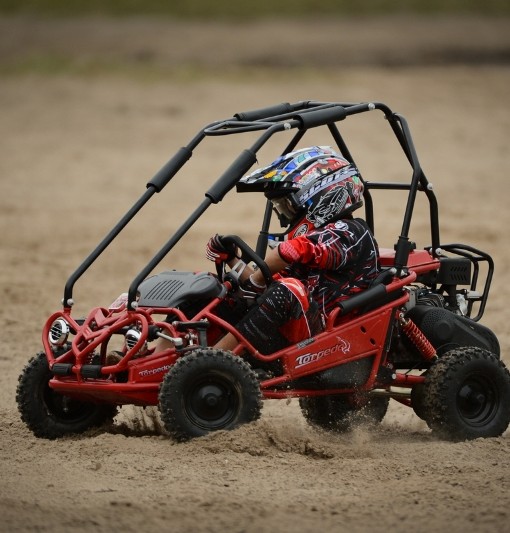 HAMMERHEAD MUDHEAD IN A BOX €1795.00
HAMMERHEAD GTS 150 €2895.00 in a box
QUADZILLA MINI BUG €1099.00 flat packed
QUADZILLA MIDI BUG €1795.00 flat packed
EXPORT - MULTI MACHINE ORDERS PLEASE CONTACT US FOR A QUOTATION
MORE FLAT PACKED BUGGIES SOON
TELL US WHAT YOU THINK OF OUR NEW IDEA WE ARE THINKING OF INTRODUCING IT ACCROSS OUR WHOLE RANGE TO INCLUDE QUADS AND BUGGIES
please note specks are subject to change as we makes improvemnts to all buggies on an ongoing basis